by Texas Homesteader ~
I found a wireless meat thermometer that makes cooking meat to the perfect temperature a breeze, whether in the oven oven, on the grill or even in my solar oven!
The Meater is a truly wireless meat thermometer that makes grilling or baking meat to the perfect temperature a breeze. And results are sent to my phone!!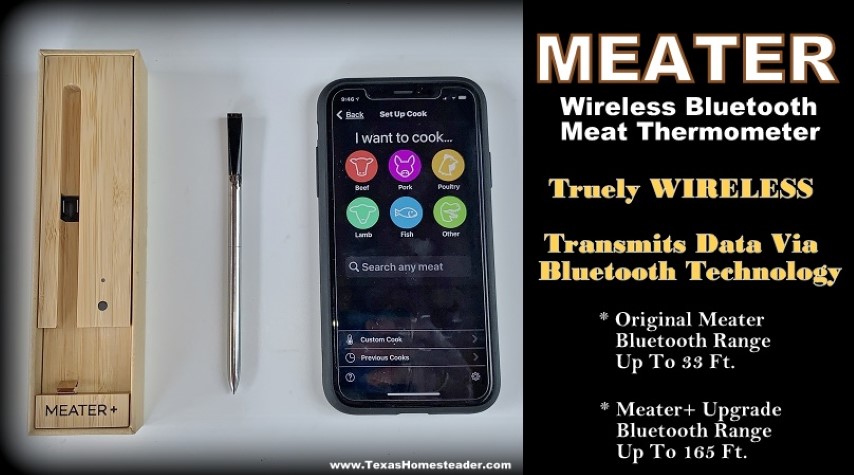 (Note: Some links in this post are for further information from earlier posts I've written. But links preceded with * are affiliate links. If you click them and buy something (almost anything, not just the item noted) I could receive a tiny commission. But the price you pay will NOT change. It's an easy way to support this blog without anything coming out of your pocket. So click often! Thank you!)
Meat Thermometer Benefits
Meat thermometers are nothing new. They're certainly a handy kitchen helper to easily check internal temperatures of meat.
That way you can be assured it's reached a safe cooking temperature without overcooking it and making it dry or tough.
But could I find a fully wireless meat thermometer? One that could communicate through Bluetooth? A thermometer that would send data directly to my smart phone?
Oh yes I did! And you're not gonna believe how easy it makes cooking meat to perfection, y'all!
Different Food Thermometer Options
There are many different kinds of food thermometers I use in my Homestead kitchen. They're all helpful for different purposes.
Instant Read Thermometer:
Most often in my kitchen I reach for my trusty *Instant Read thermometer. I bring it out when I'm Making Homemade Yogurt or homemade cheese to make sure my starter has achieved proper temperatures.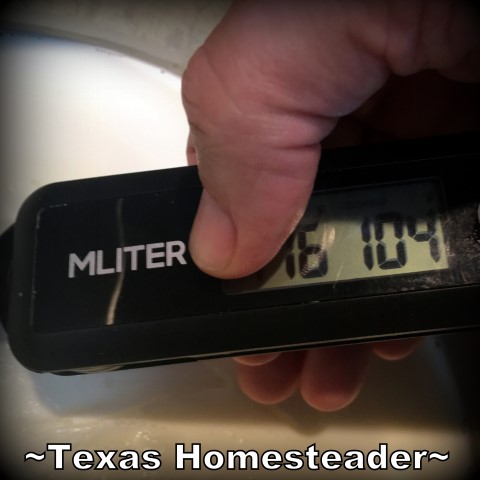 But I can use that handy instant-read thermometer for any number of tasks, including checking internal temps of meat.
It's easy and fast to check temps for your food with results delivered in mere seconds.
I also have a *Wired Digital Thermometer that helps me check cooking in progress through a digital readout.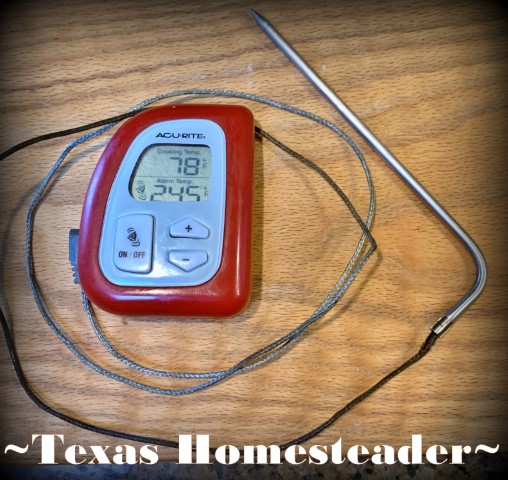 I insert the probe into the food I'm cooking, set the target temperature and it tracks the temps throughout the cooking process.
When the target temperature has been reached, the base will beep letting me know it's ready. How handy!
I use this wired probe often in my *solar oven.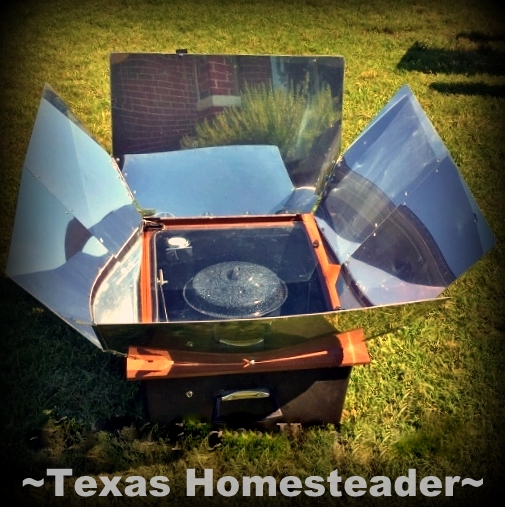 I'll insert the probe into my food and run the wire beneath the glass lid of my solar oven and plug it into the digital readout base.
When the proper temps have been reached the digital base will beep letting me know it's ready. And let me tell ya, that's handy. It removes all the guesswork!
Wireless Thermometer
But when using the wired thermometer in my solar oven I'm still constantly going outside and checking temps and/or listening for the beeps, checking the orientation of the solar oven, etc.
What if I could track that cooking progress from my smart phone??!! Oh yeah, that would free my time without worrying that I needed to hover around the solar oven keeping check on things.
And it would offer RancherMan the same benefit when he's cooking on his grill or smoker. Such a device would be so convenient to have. But is there any such thing??
Why yes there is! Enter the *Meater Wireless Meat Probe.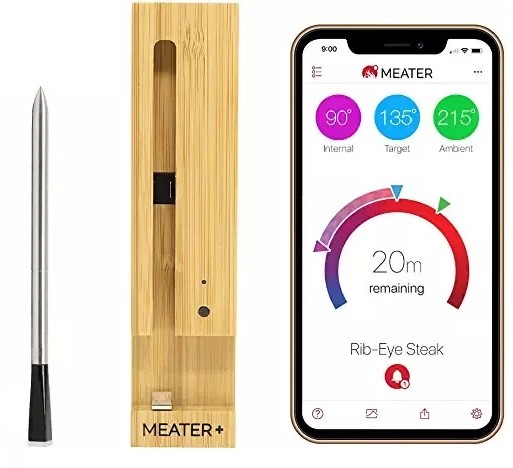 NOTE: This is not a sponsored post, y'all. We purchased the Meater+ cooking thermometer ourselves and I gave it a spin to see how we liked it. We found we absolutely love it and I wanted to share our experience with you.
Now if you click a link proceeded with "*" and buy something I could receive a small commission for that. But I'm keeping it real with ya – this thing is
A-W-E-S-O-M-E !!
Meater Wireless Thermometer Features:
100% Wire Free. The Meater wireless thermometer uses Bluetooth technology, not wires to transmit data.
Wireless Bluetooth Range. The Original Meater thermometer can transmit up to 33 ft away in an open area. The Meater+ upgrade can transmit up to 165 ft away in an open area.
Extended Range Option. Extend your Meater+ range even further or even inside using wifi.
1 Probe, 2 sensors. The Meater thermometer comes with 1 probe containing TWO sensors. One sensor monitors internal meat temps and the other monitors ambient temps inside your oven or grill.
Quality Built. The probe is made of stainless steel and heat-resistant ceramic for durability.
Guided Cook System. The app includes easy-to-follow options which allows you to choose what kind of meat you'll be cooking and how well-done you want to cook it.
Time Estimator Algorithm. Estimates the cook time required to be able to serve the food at the temperature you've set, including rest time.
Easy Monitoring. You can monitor the progress of your cooking from your smart device. It uses Bluetooth technology!
Battery Power. The Meater uses a single rechargeable AAA battery. The bamboo docking station is also a Bluetooth transmitter and charging station. It charges the Meater over & over again. (So far 6 months for us on same AAA battery)
Original Meater Wireless Meat Thermometer
The Meater thermometer is fully wireless, y'all! It communicates via Bluetooth, not wires. An app loaded smart device makes it all so easy.
Just choose the type of meat you're cooking – beef, chicken, pork, etc. Then choose how you want it cooked – rare, medium rare, well done, etc. The app will track the cooking progress and even let you know an estimated time it will be cooked to perfection.
The bamboo storage box that the Meater thermometer is sold in serves as the probe's storage box, charging station and also its Bluetooth connection.
The box connects wirelessly to the Meater's probe sensors and then transmits the information to an app on my smartphone.
The *Original Meater meat thermometer will transmit a signal to your smart device up to 33 ft in an open area (ie: no walls, windows, etc to weaken the signal).
The original Meater works great if you're grilling at a park or while sitting in your backyard under a shade tree with friends.
NOTE: Keep in mind that Bluetooth emits a weaker signal than wifi or cellular since it's meant to be utilized at close proximity. So Bluetooth signal going through walls and windows will be much weaker than in an open area.
Upgrade To Meater+ For Wider Range
We upgraded to the *Meater+ Wireless Thermometer for our personal use. That extends the Bluetooth wireless range to 165 ft. in an open area.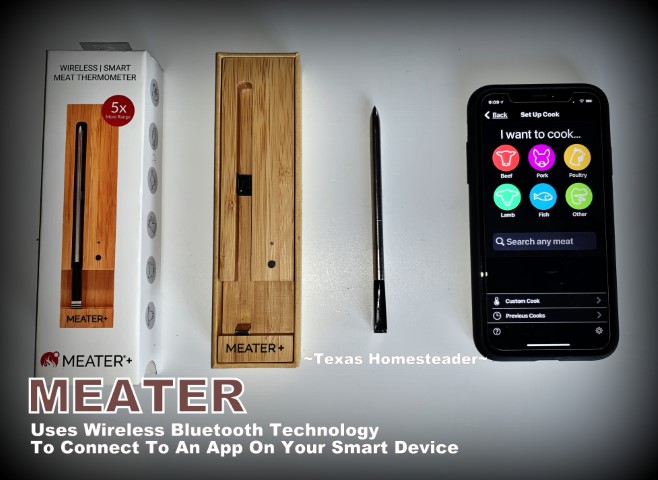 We even extended it further by using another wifi-connected device (our tablet), which will basically tether off the Bluetooth connection of the Meater+ and send the information to our router and the app and our smart phone picks it up from there.
NOTE: This does require TWO devices to use the extended wifi capability.
Using The Meater+ Wireless Meat Thermometer
So after inserting the Meater+ temperature probe into the meat, we laid the thermometer's Bluetooth box next to the grill or solar oven. Then we placed our wifi-connected tablet within the Bluetooth signal area.
That way the information goes to the app on my phone and I'm free to roam anywhere that my wifi will reach. I can be working in my garden and still be able to keep tabs on the cooking going on in my solar oven!
Wireless Thermometer Benefit
The greatest benefit of this Meater thermometer is that it's truly wireless. Other meat thermometers require a wire to connect the probe to a monitoring base.
But this Meater meat probe does not. It transmits the information through Bluetooth technology to your smart device. So it will work even with rotisserie cookers where others might not!
And the Meater probe has two sensors, one on the tip of the probe placed inside the meat and the other sensor is at the other end of the probe to monitor ambient temperatures. So you'll know what the temp is inside the meat as well as inside your grill.
Solar Oven Monitoring Using Wireless Thermometer
I can even use this ambient temperature data for monitoring my solar oven. I know when the ambient temps start to drop I might need to adjust my solar oven to track the sun more efficiently.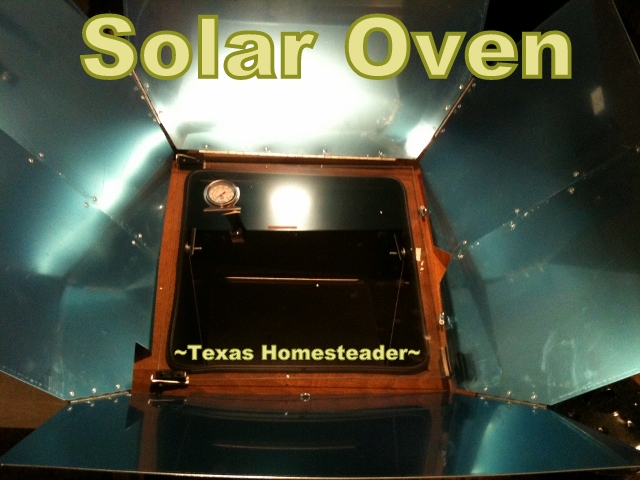 This keeps me from running outside over & over again just to check to see if my solar oven is still at the most efficient position toward the sun.
When I see on my smartphone that the ambient temps have dropped, I know it's time to go out and adjust the solar oven.
Grill or Smoker Temp Monitoring
RancherMan uses that ambient temperature function to monitor the ambient temps inside his smoker or grill as well.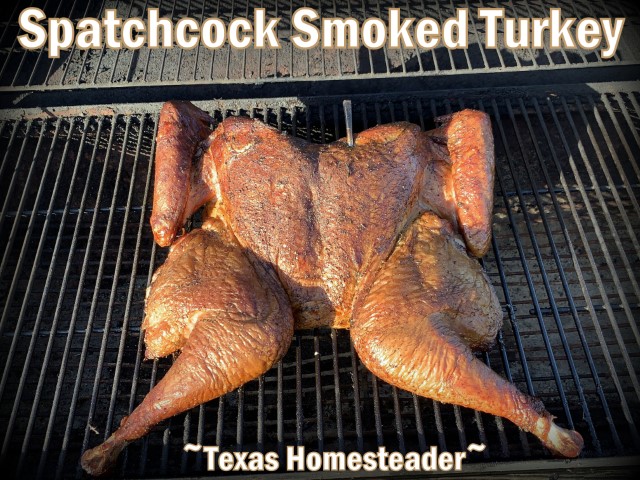 His grill has a thermometer he can view from the outside. But the Meater actually monitors the temps next to the meat, which is the information he actually needs.
Monitoring the ambient temps right next to the meat keeps him from opening the cover of his grill unnecessarily, which would affect the temps he was trying to maintain inside.
He knows when the app shows him the ambient temps are fluctuating he'll either need to add more fuel or adjust the vents to maintain the temperature that he desires.
And he never has to step outside to check grill temperatures! It all can be seen from his smartphone.
Estimator Algorithm
The Meater app includes an estimator algorithm. I love this feature.
It estimates how long it will take for the meat's internal temps to reach the target temperature based on the internal as well as ambient temps. That's a HUGE benefit!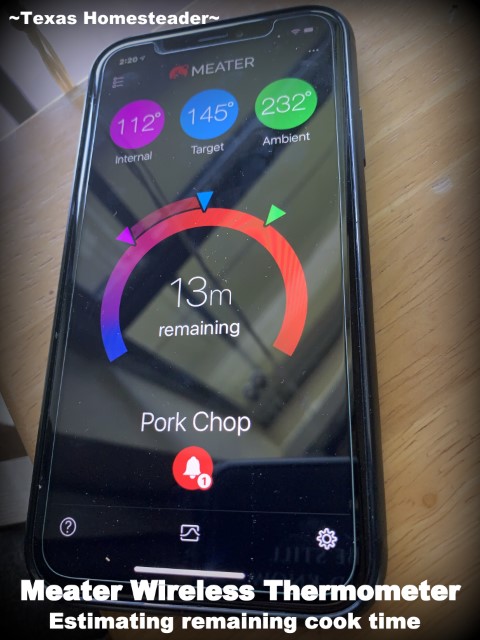 I know how much longer I have until those Boneless Pork Chops are ready to be served. That gives me an idea of when I might want to start preparing the side salad or steaming those garden-fresh green beans.
One Thing To Caution
This wireless meat thermometer is a wonderful device. We love it and we use it. A LOT!
But there's one thing that needs to be cautioned about. And it's important, y'all!
There's a notch on the temperature probe that you'll want to pay particular attention to. It's mandatory that the probe be inserted into the meat at least to or even slightly past that notch!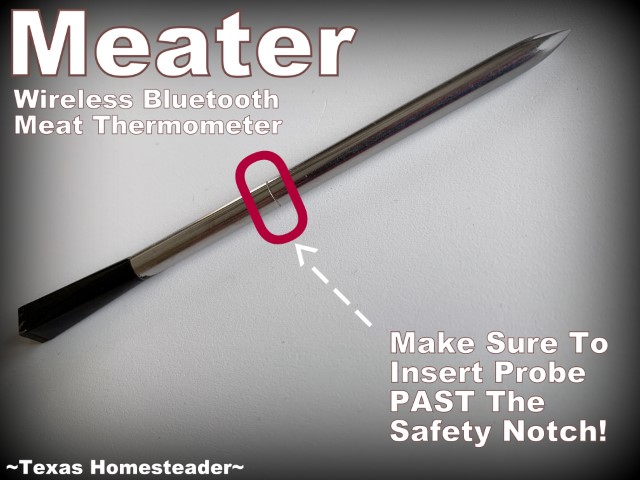 If you don't insert the probe deep enough for that notch to be inserted into the meat, your handy dandy wireless thermometer can be ruined.
So before you put that steak or pork chops on the grill, always double check to make sure the probe is inserted properly.
Meater+ Temperature Probe System
As I said earlier, we love the Meater wireless meat thermometer. And we purchased the Meater+ to extend our range. I highly recommend it.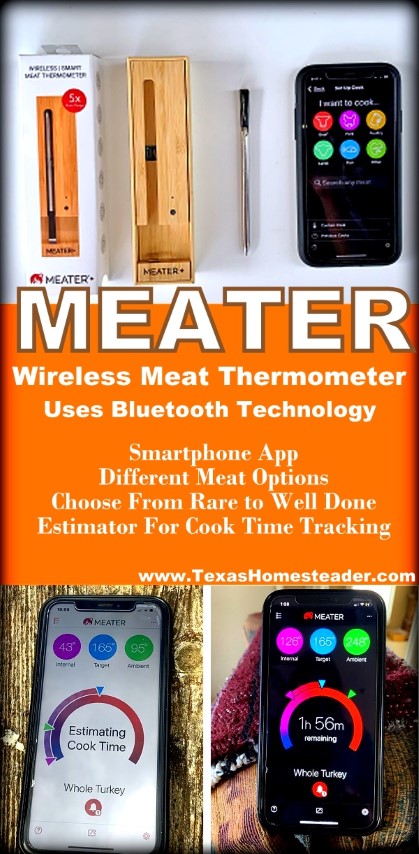 So whether you're using this on your grill, smoker, or in a solar oven – this wireless meat probe is game-changing, y'all!
~TxH~
Links In This Post:
Product Reviews


C'mon by & sit a spell! Come hang out at our Facebook Page. It's like sitting in a front porch rocker with a glass of cold iced tea. There are lots of good folks sharing!
And you can also follow along on Pinterest, Twitter, Instagram
If you'd like to receive an email when a new blog post goes live,
subscribe to our Blog!