by Texas Homesteader ~
*contains affiliate link
How safe is your drinking water? We found an easy test that helps offer peace of mind that our drinking water is safe. It would be a great comfort when travelling abroad too! Come see our water-testing experience.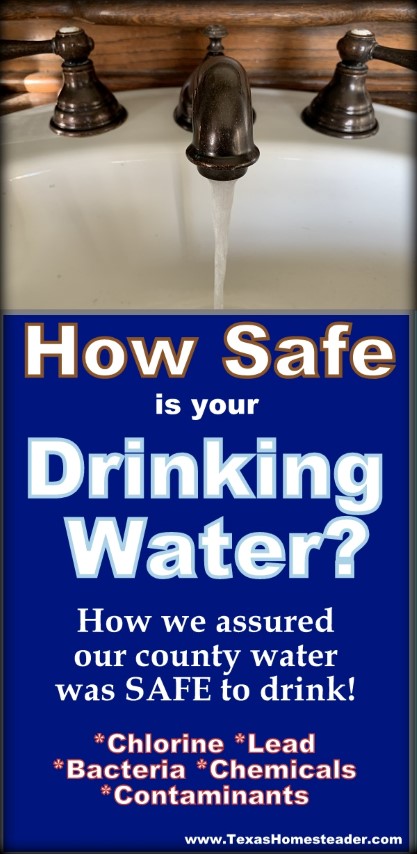 (Note: Some links in this post are for further information from earlier posts I've written. But links preceded with * are affiliate links. If you click them and buy something (almost anything, not just the item noted) I could receive a tiny commission. But the price you pay will NOT change. It's an easy way to support this blog without anything coming out of your pocket. So click often! Thank you!)
Drinking-water safety has been in the news lately. To be honest, I'd never really given it much thought. I'd always assumed the water coming from our faucet is clean and safe.
But should I?
I want to know: Is our water safe to drink? Or should we take additional steps such as installing a whole-house water filter?
So I suggested to RancherMan that we have our water tested.
How Safe Is Our Drinking Water?
Living out here in the boonies we're on treated water from a rural water supply district. The closest town to us has treated water provided by the city, although they're obviously rural as well.
But on social media I often see 'boil water notices' for those city-water customers when there's a break in their aging pipes.
Then it occurred to me – although our water pressure goes down frequently – sometimes to zero pressure – we've never EVER received a boil water notice from our rural water supplier. And we've been customers over a decade. Hummm…
Water Quality Report Availability
The state requires that we have access to annual water quality reports. So once a year we can download a report. RancherMan signed up to receive an email notice each year when it's ready to view.
You'd think that would offer some level of water-safety comfort, right? But that report is very difficult for me to decipher.
Plus by the time the water sample is taken, sent to the lab, tested, reported & our email comes and we're able to review the test results, RancherMan says the water quality report is generally 3-6 months old already!
So to augment this months-old water quality report we've sent water samples to our county's water department for testing as well, thinking that would be a better solution.
But again – the report was difficult to read. I'm not sure we got much out of either of those complicated reports. What does it all mean? Is our water good? Or bad? Or…
Water Safety Testing Kits
So we went looking for something better. We stumbled upon Safe Home drinking water testing kits from EnviroTestKits and decided to give them a try.
I like that Safe Home Water Testing Kits are made right here in the USA. And they have several water-testing options, both in-home testing as well as EPA-certified lab testing. It seems there's a test for every budget and nearly every pollutant.
And I really like that by using these kits the water samples will be tested promptly, with an easier-to-read report sent to us. No more 3-6 month wait to find out how safe our water is!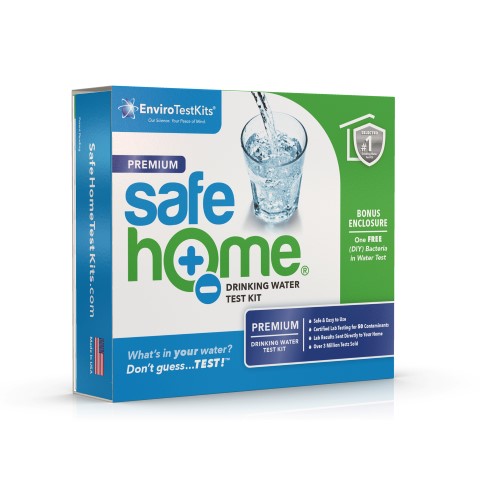 In looking at Safe Home's water-testing products I see they have several options.
Drinking Water Test-At-Home Kits
There are test-at-home kits that are inexpensive and give quick results.
Whether you're on a treated-water system such as with city or county water, or if you have a private well on your property – there are tests for that!
These in-home water test kits give limited test results for specific pollutants. The results are interpreted by the consumer based on changes in color on various test strips.
So these tests report more of a range rather than the exact numbers that lab-tested kits would report.
Lab-Tested Water Kits
But if you want to pull out the big guns, there are also test kits for water samples that are sent to and analyzed by an EPA-certified lab.
They're more expensive than the test-at-home kits. (from $13 for the DIY bacteria test to $400 for Ultimate, premium or PFAS tests as of this writing)
But the lab tests are much more exact and offer significantly more detail. A few of their lab-tested options:
Each of these tests vary on pollutants they're testing for. There's even specific tests for lead, arsenic or bacteria. The prices vary based upon what information you need.
EnviroTestKits sent a water test to us as no charge in exchange for our review. But rest assured, there's no arrangement of free product in exchange for a positive review. I'll be open & honest about my experience. Read on, dear friends.
Deciding Which Water Test We Needed
In speaking with Ryan over at EnviroTestKits about testing options, he recommended the *Safe Home Premium test in our situation.
It will send our water samples through lab testing for such common pollutants as Chloride and Total Dissolved Solids. But this in-depth test will test for much more – 50 parameters, actually!
The cost for that test would have been almost $200. Yowza! But this test was sent to us at no charge for us to review.
We also decided to purchase for ourselves the *City Water Test Kit for comparison's sake. It an in-home test with a significantly more limited scope, testing for 12 parameters. But the test kit was only about $30.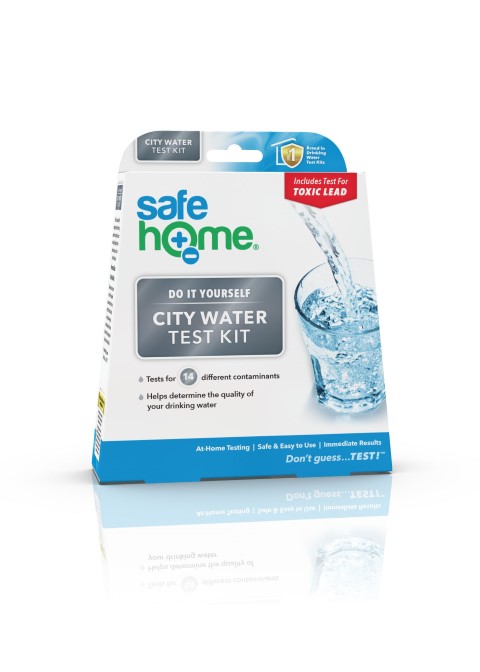 I'd think it would be important to decide why you're testing your water in the first place and what information you're hoping to acquire.
Then be sure to purchase the kit that would most appropriately answer those questions for you.
It doesn't help to go a cheaper route if that won't provide the information you need, ya know?
Now on to our water testing…
Safe Home Drinking Water Lab Testing Kit
The Premium lab-testing kit arrived quickly. RancherMan went online to register our kit with EnviroTestKits & we were a assigned a kit registration number for that test. That number goes on the form that will be mailed back with our water samples to the lab.
And collecting the sample was easy. RancherMan simply filled vials with water, closed them up & stuck them back in the box they were shipped in.
The box in which we received the testing kit was also the return box to send water samples back to the lab. And our kit also came with a pre-paid, pre-filled shipping label.
So after collecting the water samples the vials were packaged back into the box and shipped to an EPA-Certified lab for testing. There was no extra postage cost for us to send the samples, it was all included as part of the purchase price. This was quite convenient for us.
When the samples were received by the lab we got a confirmation email. A few days later we received update emails as they neared testing completion at the lab.
Overall it took about a week for our water to be fully tested by the lab after they received our samples.
Reading Our Water Testing Lab Report
We received an email indicating that we could now download our report. The report was pretty easy to read with bold color-coded symbols.
So you could scan down the list looking for the red STOP SIGN for any contaminants that were higher than EPA recommendations.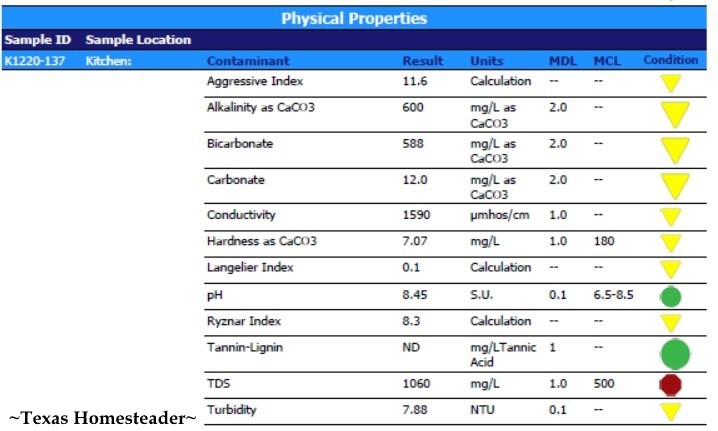 (There were several more pages in this test report than shown above.)
But although this report was significantly easier to read than the reports from our water supply district or the county water department, we still had some questions.
So we contacted Safe Home and asked them clarification questions about chloride test results (which was tested) vs chlorine (which is not tested), as well as some general questions about the test results.
DIY In-Home Testing
We also purchased the DIY *City Water Test Kit. It was only about $30 (as of this writing) and it tested for 12 different contaminants – such things as chlorine & lead.
We were specifically interested in chlorine since the chlorine levels in our water appeared to be high if the swimming-pool aroma and slick feel of the water was any indication!
This in-home testing procedure is easy as well. You're basically taking several water samples, dipping treated test strips into each sample and waiting varying amounts of time. Then you simply compare the resulting test colors on the strip to a color chart.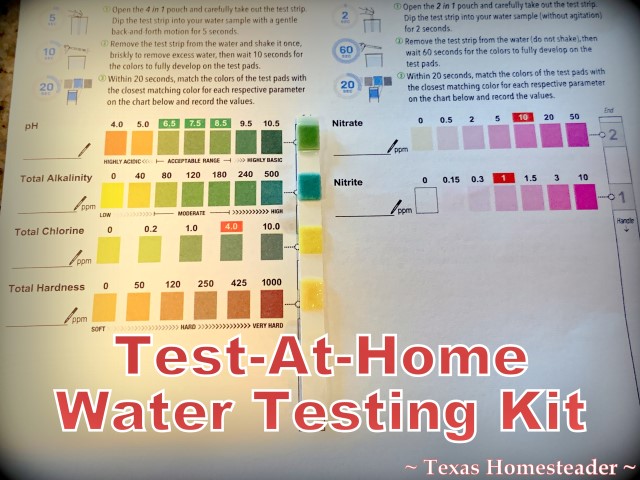 There were several more pages in this test booklet than shown above.
The lead test that was included in this home-test kit had a slightly different testing procedure. It came with a plastic vial & pipette along with the test strip. Instead of a few seconds, that one needed 10 minutes time.
How Does The DIY Test Compare?
I felt the DIY in-home testing was pretty inclusive of things we were interested in testing for. But found a couple of the tests were difficult to determine exact color variants because they are very close from one level to the next.
The in-home test relies on your comparing color scales, whereas the lab test gives actual, hard numbers.
In comparing the two kinds of tests, the in-home test reported some of the same pollutants that the lab test kit reported, albeit somewhat harder to decipher and not near as detailed.
But for those items the results for the in-home test ended up matching closely to the lab test.
Water-Safety When Traveling
And the Safe Home people pointed out that the same *On-Site Water Test Kit you use for your home water testing would also be great to use if you're traveling abroad.
Wow, I'd never thought of that – but what a comfort when you're on vacation somewhere far away & wondering about the safety of the water you're drinking.
Again, you'll want to decide what information you're looking for and how you want to see that information in determining which drinking water test to order.
Overall we were pretty pleased with our experience with Safe Home water testing, both the lab test as well as the DIY home test.
And I now have a great peace of mind that our drinking water is safe.
Safe Home Water Testing Kit Positives
Simple to order
At-home tests simple to complete
At-home tests helpful to test water when travelling abroad
Online test registration for lab test is fast & easy
Water samples easy to obtain
Shipping back to the lab was effortless
Many lab-test kits include FREE return shipping to the lab
Several different lab & DIY testing options & costs
Safe Home Water Testing Kit Negatives
Full Lab testing can be expensive
At-home testing can be individually interpretive for color scale
The folks at EnviroTestKits are passionate about what they do and they welcome the opportunity to talk to you about water testing! You can email any questions to ETK Contact Page, or etk@EnviroTestKits.com. They'll help you decide what water test is best for you.
Tell 'em Texas Homesteader sent ya!
~TxH~
Product Reviews


C'mon by & sit a spell! Come hang out at our Facebook Page. It's like sitting in a front porch rocker with a glass of cold iced tea. There are lots of good folks sharing!
And you can also follow along on Pinterest, Twitter, Instagram
If you'd like to receive an email when a new blog post goes live,
subscribe to our Blog!