by Texas Homesteader ~
RancherMan & I work outside every day, rain or shine. We're either working cattle or fixing fences. There's garden work and tractor work. Day in, day out – we're outside working. Now we LOVE our lives here don't get me wrong, but sun protection is something we take very seriously.
We're careful to wear our Sun-Protective Shirts when we're working outside. And for my small blue Ford 32 hp tractor, RancherMan made sure I had a heavy canvas canopy to protect me from the sun. But his larger tractor didn't come with a canopy, just a ROPS (roll bar).
Now I hated that he wasn't protected and constantly nagged I mean reasoned with him to get something to protect himself from the sun. But he protested mightily, saying: "I'm having trouble finding one that fits the ROPS on my tractor. Plus I'd want a rigid canopy. And since I often work around trees when I'm mowing I just don't know if I should get one for my tractor"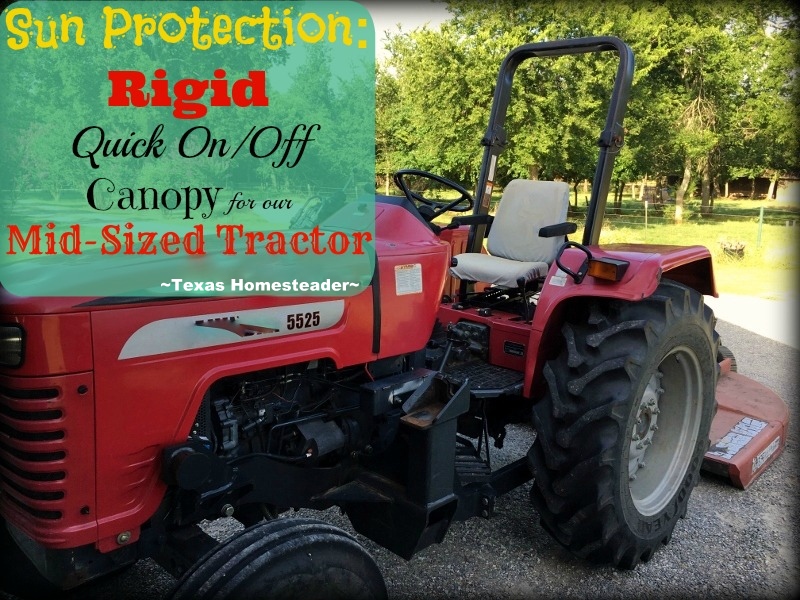 So we went searching for rigid canopies that could attach to the ROPS for his particular tractor. One that could also be easily removed if desired. Our research led us to a company called Sun Guard who sold rigid canopies for many different makes & models of tractors/zero-turn mowers. They were reasonably priced & it appeared they might fit the bill quite nicely.
Their canopies came with a quick on/off option that we were looking for and we could even get it in a color to match RancherMan's tractor so he finally decided to give it a go!
Now Sun Guard was interested in me sharing our canopy experience with you here on the blog so although we purchased our canopy, they gave us a discount to be able to install, use & review their canopy.
But y'all know I'm going to tell it like it is. These words are all mine!
We dealt with Jim at Sun Guard. He was prompt to answer our questions & was very courteous to deal with. Once we placed our order our canopy was shipped to us quickly via Fedex, weighing only around 34 lbs.
I was a little disappointed to see that there was a tiny crack on one of the surfaces from shipping. We sent the picture below to Sun Guard but RancherMan informed Jim that there was no need to even worry about it because it didn't affect the structural integrity and it was barely noticeable. And I had to admit he was right, if RancherMan wasn't pulling the edge to make the small crack show better for the picture I couldn't even tell where it was.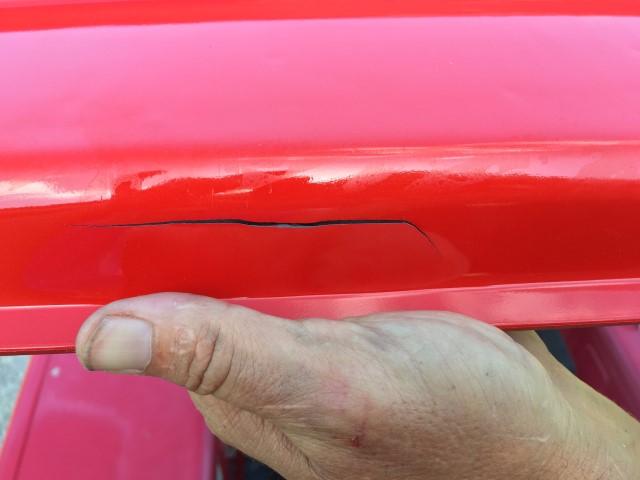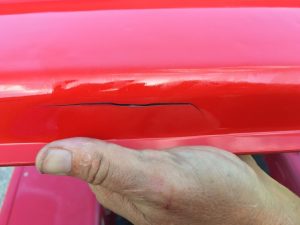 We were pretty excited to get started & get our new canopy installed! We pulled everything out of the box: the rigid canopy, the hardware, braces and frame. I LOVED that our ranch name was lettered right onto the back of the canopy – that's a very affordable option they offer that we thought added quite a special touch.
I was also pleased to see that the canopy package came with just these few simple brackets made of heavy steel, hopefully the small number of parts to assemble means it will be a cinch to install!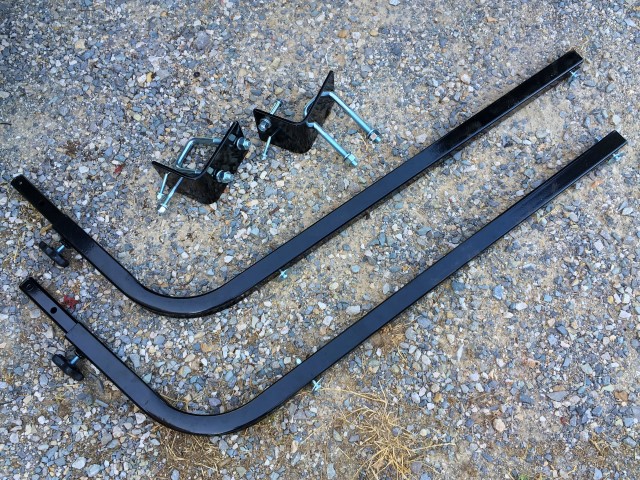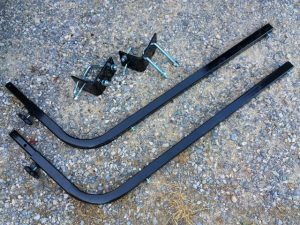 RancherMan installed the main support brackets on the ROPS with the hardware that was included and then attached the metal canopy frame. He lined it up and made sure it was all level before finally tightening it down with a ratchet wrench.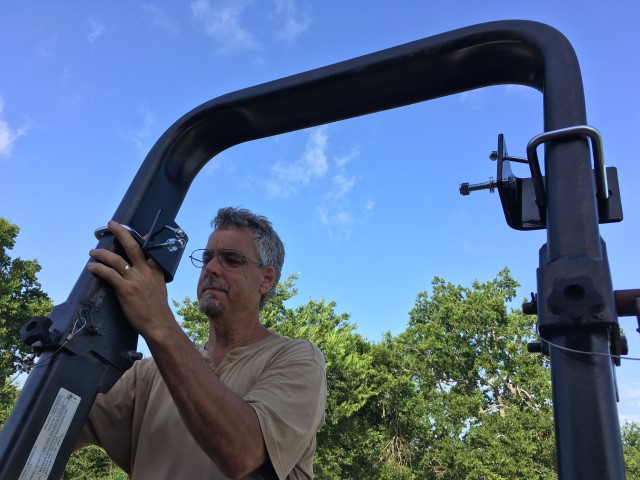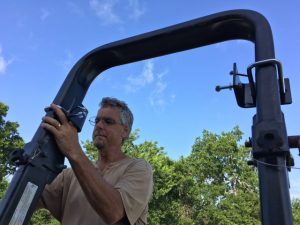 Once everything was leveled up the way we wanted it, we drilled holes into the heavy steel main support bracket and bolted it down with the included hardware. Since this step involves drilling into heavy steel, you'll want to have to have a new, sharp 1/4″ drill bit made for steel! But this step is an important one since it allows you to position the canopy exactly where you want it, that second bolt keeps everything sturdy during the jarring actions of driving a tractor.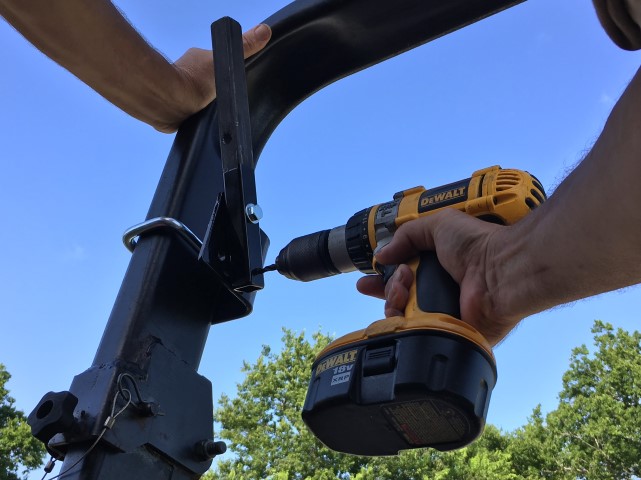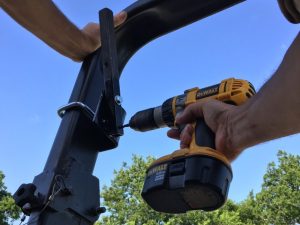 Now it's time to mount the canopy itself. It wasn't very heavy and RancherMan lifted it up, placed it on the frame and made sure everything was straight. Then he drilled through the pre-existing holes on the metal frame into the canopy and anchored everything down with the included hardware.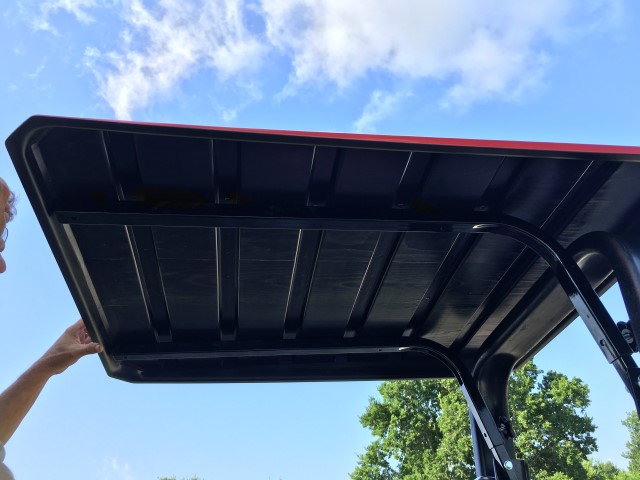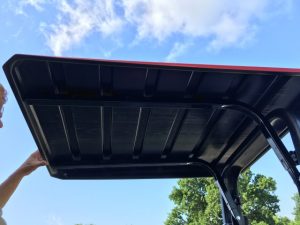 Wow, now that went really fast! Here's the quick-read version:
Use U-Bolts to attach mounting brackets to ROPS using included hardware
Attach canopy frame to mounting bracket & assure everything's level
Drill hole into mounting bracket through per-existing canopy-frame hole & bolt down
Align the canopy onto frame and drill through existing frame holes into canopy
Attach canopy to frame using included hardware
Now that's what I call EASY installation! But how easy will it be to take the canopy off when RancherMan needs to mow around the trees and such. Remember, here's where the real importance lies for my handsome man!
I'll tell ya, it lived up to his expectations. All he did was loosen the hand knobs on either side of the canopy, gripped each side of the frame and pulled up. The canopy came off easily and effortlessly in less than 10 seconds! Then he reinstalled the canopy just as quickly.
Now I realize those are all pretty big words & I'm sure you're thinking "TEN SECONDS??!! Really??" Seeing is believing, y'all – here's a video of him removing and replacing the canopy:
Now folks, this is EXACTLY what were were looking for! And here are a few facts that make me feel good about our purchase:
Sun Guard Canopies are made right here in the U.S.A.
Their website says canopies are sized for various tractors, zero-turn mowers & equipment up to 50 hp (although our tractor is 55 hp & it fit our tractor fine)
Canopies can be painted by the manufacturer to closely match your tractor or mower
Installation bracket design allows you to chose the height, slope, location, etc that works best for YOU.
The hardware and brackets are heavy-duty 14 ga. steel tubing
The canopy is made from heavy gauge high impact resistant ABS plastic
Optional Quick On/Off Brackets are the WAY TO GO! (trust me on this…)
Option to have custom lettering added to the back of the canopy – add the name of your ranch or farm, whatever you like!
Shipping is prompt and Sun Guard employees are courteous & helpful
Comes with a 1-year limited warranty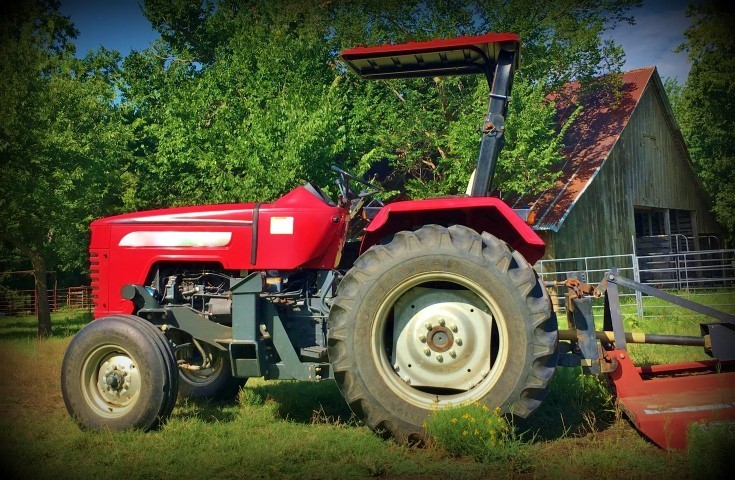 RancherMan & I both couldn't be more pleased with the ease of dealing with the Sun Guard company and we love our new canopy! The ease in installing the canopy as well as the ease of removing and replacing it quickly is exactly as advertised & those features make RancherMan a very happy boy!
Man oh man we should have done this years ago. I'm happy to recommend this product to anyone looking to protect themselves from the sun while on their tractor!
~TxH~
Want To See Other Sun-Protection Posts?


C'mon by & sit a spell! Come hang out at our Facebook Page. It's like sitting in a front porch rocker with a glass of cold iced tea – lots of good folks sharing! You can also follow along on Pinterest, Twitter or Instagram.
If you'd like to receive an email each time a new blog post goes live it's EASY to
Subscribe to our blog!
Save
Save
Save
Save
Save
Save
Save
Save
Save
Save
Save
Save