by Texas Homesteader
*contains affiliate link
Summer's HERE, y'all! RancherMan & I work our homestead every day, so much of our daily activity involves being outside. Sun protection is important but we both hate the feel of sunblock. Plus I don't like the thought of slathering chemicals on my skin every day anyway.
So we're careful to protect our skin by covering it instead – wide-brim hats (helllooooo cowboy!) and long-sleeved lightweight shirts are often worn while mowing the yard or doing hours of tractor work. But c'mon – although it helps, that's not much actual sun protection. I need to find clothing that protects us while keeping us comfortable.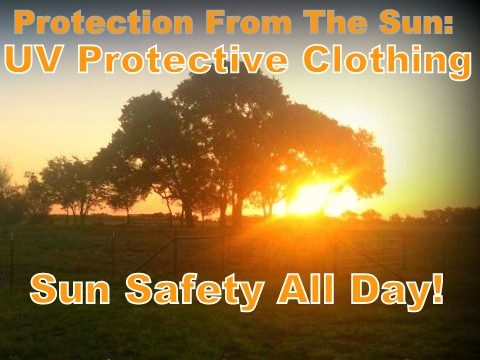 Now although these shirts were sent at no cost to me to try out & review, please remember that my words will be my own. I'll share the real story with y'all, no fluffy obligatory stuff from me, oh no!
The fine folks at Vapor Apparel agreed to send sun-protective shirts for both RancherMan as well as myself. That way we'll be able to compare our individual experiences with the performance of the shirt.
About Vapor Apparel's Solar Shirts
Per Jennifer over at Vapor Apparel:
These garments are made with 100% Microfiber (a special performance spun polyester)
The garment's UPF/UPX INCREASES with each washing. In fact, after 25 washes the UV-B % block reaches coverages of: 99.44% dry and 99.92 wet!
These solar shirts are actually endorsed by The Skin Cancer Foundation for their sun protection.
RancherMan will be using his long-sleeved solar shirt during the 4 to 5 hours-long chore of mowing the yard. (yeah, it really takes that long!) He also used it for several hours on the tractor mowing pastures. I will be using it primarily for my gardening chores since they typically involve the same measure of sun exposure time as his mowing the yard.

When the shirts arrived I was pleased with the colors. RancherMan prefers to wear tan so I'd requested that color for him. I'd requested a pretty water-blue for myself. In addition to RancherMan's plain tan shirt, Vapor even sent additional long-sleeve & short sleeved solar-protective hunting-themed shirts for him to try.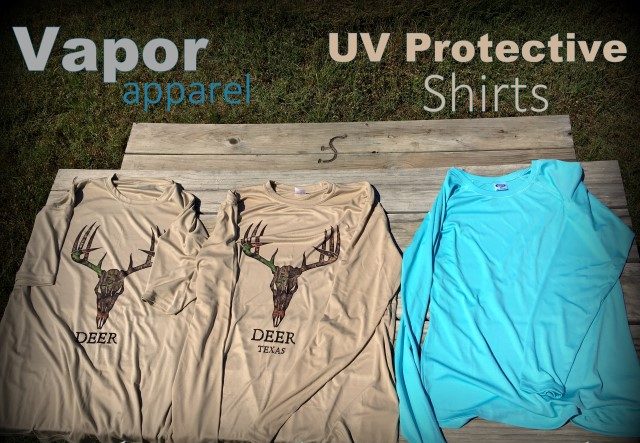 The shirts were sent with minimal packaging, folded only in a single plastic envelope. I'd really have preferred the shipping to be in a cardboard envelope like USPS offers so I could just compost the packaging afterwards. But as much as I hate plastic, at least this shipping envelope will be reused soon.
Let's Give These UV-Protective Shirts A Test Run
When I handed the shirts to RancherMan his first exclamation was "Wow. These shirts feel like sleepwear!" LOL – well I guess if you can mow the yard in your PJ's that's a GOOD thing, huh??
RancherMan tested his shirt while mowing the yard – an hours-long chore for him today. To protect his skin from the sun he typically wears a regular light-colored long-sleeve cotton T-shirt for his lawn mowing chores. But today he's trying out a sun-protective *Solar Long-Sleeve shirt.
The weather was blue-sky sunny and the temps were around 90 degrees. Hot and humid – typical weather for our area of NE Texas this time of year.
RancherMan's observations about the men's shirt:
My Observations:
I'm testing out my shirt for gardening chores. I'll be in the sun all day so I'm wearing the *Ladies Solar Long-Sleeved shirt along with denim jeans, a wide-brimmed hat and gloves.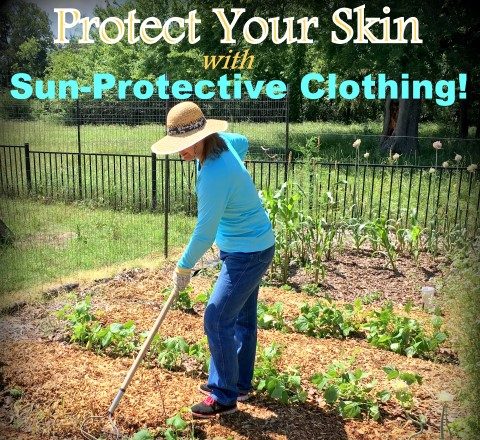 Here are my thoughts about the women's shirt:
Although I love that I'm so protected from the sun, I wonder if this shirt is just too pretty to limit its wear to schlepping around in the garden. 🙂 It may very well be worn when we're out & about running errands too. It's too pretty to be strictly a work shirt.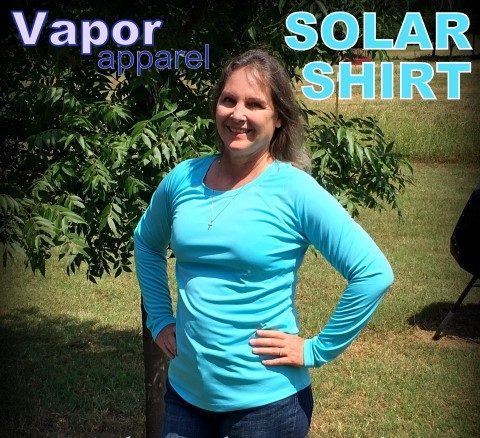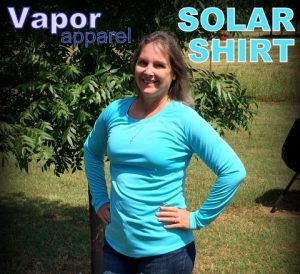 About Vapor Apparel
I wanted to dig a little deeper into Vapor Apparel as a company. So I asked Christopher a little about their company and he referred to Vapor Apparel as "The little guys who have worked hard to make themselves a little less small". I LOVE THAT!! They've been in business since 2004 – 14 years. Yet some of their employees have been there for 10, 11, and 12 years!
He also said:
Their people are REAL (and dealing with several of the employees in arranging for this review post I believe it!)
They have over 100 employees & contractors in South Carolina
Recognized by the South Carolina Department of Commerce for their Economic Development Impact.
Both the Mossy Oak garments and decorated apparel are made in their SC facilities
Some shirts are manufactured in Columbia, but they do have Made in the USA garment options available in specific solar colors.
I can say each & every person I've dealt with over there have been friendly, polite, helpful and efficient.
Conclusion? We Love The Shirts!
I'm very appreciative of the Vapor Apparel folks for sending these shirts to RancherMan & me to try. I must say I'm pretty impressed with these solar shirts. Personally I love the feel of them (although RancherMan prefers a traditional cotton look & feel to the silky-type qualities). I'm very pleasantly surprised at how much cooler they keep me in that hot Texas sun. I was really skeptical given the heat & humidity of NE Texas. The thought of wearing a long-sleeve shirt seems like madness!
But yeah, they really DO keep me significantly cooler than a short-sleeve shirt would. Not only do they block that hot sun from hitting my skin, but the wicking action also helps keep me cool. A true skeptic at first but no more!
I found Vapor's *Solar Shirts on Amazon, but also found them *online at WalMart. (They're a little cheaper at Walmart, y'all! But they can be difficult to locate in the store so order them online via the WalMart link above)
So if you too are concerned about the sun's harmful rays on your skin but don't want to slather on sunblock every day, check out Vapor Apparel's solar-protective shirts. They're light, comfortable, affordable and look terrific!
~TxH~
Want To See Other Sun-Protection Posts?


C'mon by & sit a spell! Come hang out at our Facebook Page. It's like sitting in a front porch rocker with a glass of cold iced tea – lots of good folks sharing! You can also follow along on Pinterest, Twitter or Instagram.
If you'd like to receive an email each time a new blog post goes live it's EASY to
Subscribe to our blog!