by Texas Homesteader ~
*contains affiliate links
Did y'all know there's such a thing as 'Plastic-Free July'? Me neither! But you know I hate plastic so I'm loving anything that has to do with eliminating more of it. And it's perfect timing since recent buying decisions had me looking for disposable utensils.
Wait a minute, WHAT Tammy??! I thought you hated disposable things!
Yes, you're correct… But we were hosting an outdoor family reunion I didn't want my good flatware going outside & being lost or thrown away accidentally. And you KNOW I'm not gonna use anything plastic!
So I went online searching for options. I was intrigued to find compostable forks, knives and spoons. There are many manufacturers out there but PerfectWare utensils by Perfect Stix were actually WAXED. I knew right then & there that I'd be buying those!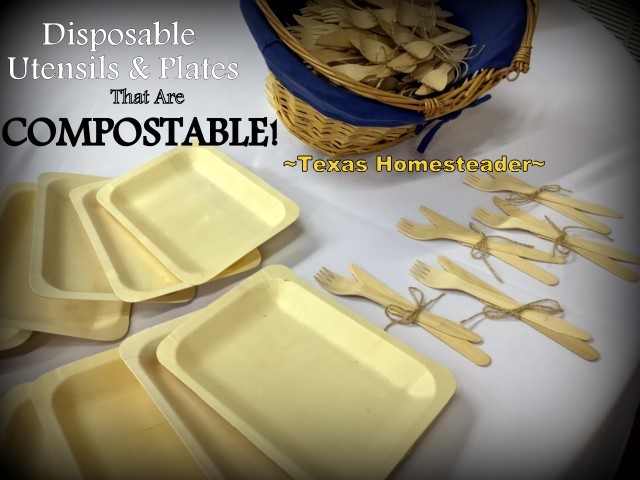 * Now let me say first of all that I purchased the compostable utensils myself. But Perfect Stix sent an additional supply of their product to me at no cost in exchange for my honest review of their products. If you decide to purchase some yourself through one of the links contained in this post I may receive a commission. But the price you pay will NOT be changed. It's an easy way to support this blog without anything coming out of your pocket.
In researching I found there were various manufacturers of compostable flatware. But I didn't find any others that were wax coated.
In the past I'd tried a bamboo toothbrush and had to become accustomed to the feel of wood in my mouth. I'd think these waxed forks would solve that problem. Their ad read:
6.5″ Wooden Forks with wax coating. Our 100% compostable Birchwood forks are much stronger than other wooden forks on the market. Each fork has an FDA approved wax coating to take away the wood taste when enjoying your food. The forks also feel much smoother than others on the market.
So I ordered a supply of PerfectWare waxed forks from Perfect Stix and anxiously awaited their arrival. When they were received I was a bit surprised at the packaging. They were enclosed in a clear plastic bag which of course I was a little disappointed in given their product specifically touts its compostability. Interesting…
I plan to contact them and request more environmentally-friendly packaging material in the future. Plastic bags are not compostable nor recyclable where I live. So I'll attempt to reuse this bag somewhere before it's thrown away.
Seeing landfill-bound items with my order did not make me happy, although I was happy to compost the paper padding & cardboard box.
But the biggest surprise is the fact that the packaging really doesn't contain any helpful identifying information. Perfect Stix sells a variety of products, both waxed & unwaxed.
But there's no information on the packaging as to what I'm actually receiving. Just stickers with a bar code on one side and a warning not to let kids play with plastic on the other.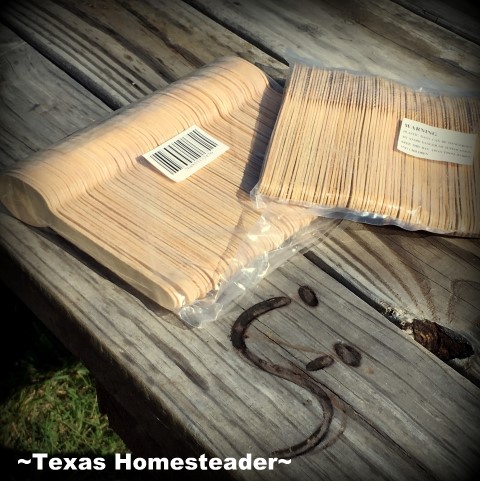 Still, on the day of our reunion I gave them a try. I popped them into wide-mouth canning jars and it made an adorable presentation. Plus everyone was intrigued at the thought of compostable wooden flatware.
Mission accomplished in getting more environmentally friendly options in people's minds. It's important to get folks talking about it!
Waxed Coating, or Not??
When I used these forks at the reunion I wasn't sure if I'd actually received their waxed version that I'd ordered. I'd never had waxed utensils before so I wondered if I was expecting more from a waxed product than it could deliver.
Although the forks were very smooth and comfortable to eat from, I didn't detect a waxed coating. There was still a wood feeling to my mouth when I ate from them.
I'd already disposed of the plastic bag my compostable utensils had been sold in. So after the reunion I contacted the manufacturer via email.
Since I experienced many previously unanswered emails from them in the past, I more forcibly requested them to verify that I did indeed receive the waxed version of their utensils.
They promptly got back to me this time. The design & development manager indicated they had experienced email problems with my previous emails requesting information prior to ordering.
They said they would be happy to send a replacement for my order, plus knives and spoons as well as a few wooden plates if I'd agree to do a consumer review post for these utensils.
Now because she saw them at our family reunion, my baby sister bought PerfectWare waxed compostable utensils for her daughter's wedding. I love the fact that because these were used at our reunion there had been environmental awareness created. My sis said she'd also seen them at another friend's wedding as well.
Yeah, word's getting out! Disposable cutlery is out! *Compostable Cutlery is IN!
Although I've not yet opened the replacement cutlery that Perfect Stix sent, I did notice that the utensils at the wedding appeared to be lightly waxed, unlike my experience with the ones I'd purchased for our reunion.
My sis also purchased Perfect Stix's compostable *Wooden Plates for the wedding. HOW COOL! Wooden compostable plates!
Then earlier this week she stopped by the homestead and brought cheesecake to celebrate my BIL's birthday. I was very pleased to see that she brought these PerfectWare utensils & wooden plates for the cheesecake too.
Yep, I believe my baby sis has definitely been bitten by the green-living bug! Am I a proud big sister or what??!!
I figured now's the perfect time to experiment with the compostability of these wooden plates and compostable utensils. So after we enjoyed the cheesecake I tossed the plates and forks into my *Tumbling Composter (Yes, I love this thing!) Each day I plop more compostable material into the composter – apple cores, cantaloupe rinds, spent plants from my garden, etc. and give it a little turn.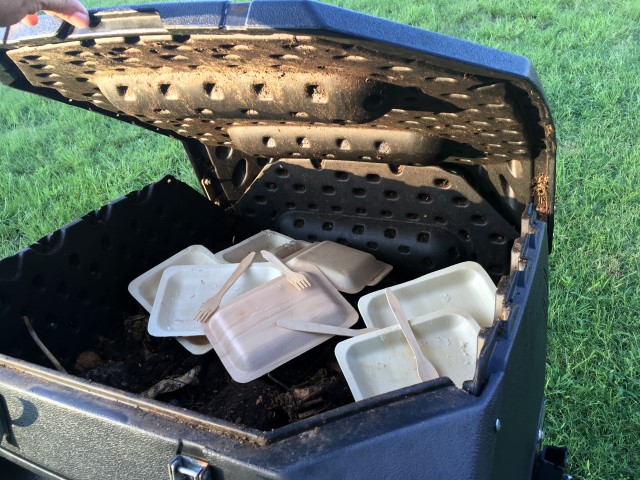 I checked them this morning & was pleasantly surprised to see the forks and plates appeared to have begun breaking down.
Now mind you, I didn't got prospecting through the composter very deeply. But the picture below is after less than a week in my composter.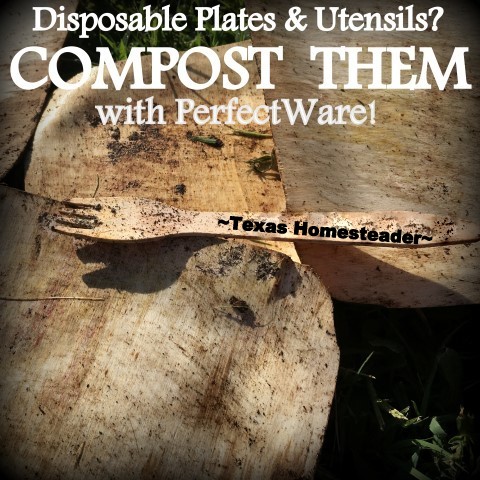 The compostable utensils are made of thicker wood than the plates so they will of course take a bit longer to compost. But the plates have already lost their structural integrity and are soft & bendable.
I'm not sure yet exactly how long it will take for everything to break down completely but I'll be keeping watch to see.
So here are the pro's & cons I've found from my experience with Perfect Stix's products, both their PerfectWare waxed utensils and their wooden plates:
Perfect Stix Waxed Utensils & Wooden Plate Advantages:
They're an environmentally friendly, compostable option for disposable items.
These products from Perfect Stix are pretty inexpensive! There's not much difference in cost with buying them versus buying the crappy plastic utensils or (gasp) styrofoam plates!
The waxed coating makes it more comfortable to have a wooden utensil in your mouth.
The plates are rigid enough to easily hold the

hors d'oeuvres

at the wedding.
The plates appear to compost pretty quickly – toss 'em in your composter and give 'er a tumble! I believe the utensils will compost quickly as well.
It gets the important conservation conversation going – people notice & are intrigued. Yea – go green!
Perfect Stix Disadvantages:
This company is often not responsive to their email inquiries. Several emails are often required for responses!
The utensils come in an oftentimes non-recyclable plastic bag.
The bag the utensils are sold in don't contain any usable identifying identification.
The plates may contain natural differences in wood color, which may initially confuse party-goers thinking it may be dirty until you explain it's wood.
Even with the few setbacks I experienced, all in all I'd say I was very pleased at my purchase. And I was very pleased with the experience with these products at the wedding my sister hosted.
Since I refuse to buy plastic utensils these compostable ones will be my go-to when I need something disposable from now on. I'm thinking they may make awesome gifts too for the frequent backyard bbq chef! Let's get the environmental conversation going!
~TxH~
Links In This Post:
Other Great Posts About Reducing Plastic
Reducing Household Waste
…and Many More


C'mon by & sit a spell! Come hang out at our Facebook Page. It's like sitting in a front porch rocker with a glass of cold iced tea – lots of good folks sharing! You can also follow along on Pinterest, Twitter or Instagram.
If you'd like to receive an email each time a new blog post goes live it's EASY to
Subscribe to our blog!
Save
Save
Save
Save