By Texas Homesteader ~
I'm 55 years old, y'all. Old enough for my eyes to require reader glasses. But I can't wear glasses all the time because otherwise the ole eyes still see pretty well. That means I'm always searching for my readers when I need to see finer detail.
This creates more problem in the kitchen than anywhere else. I'm constantly fetching my readers to measure when I'm cooking. What a pain!
I really loved the look of the new larger-print Pyrex measuring cup so I reached out to Pyrex and asked them if they'd send me one to review. Glory be, they said yes!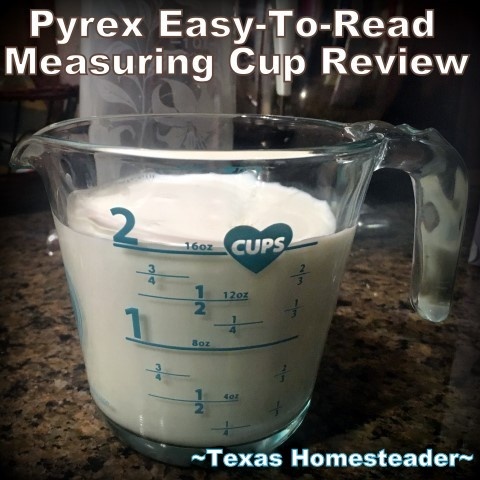 Now although this measuring cup was received at no cost to me to try out & review, please remember that my words will be my own. I'll share the real story with y'all, no fluffy obligatory stuff from me, oh no!
When my new 'Love' series measuring cup was received I was delighted to see it had turquoise markings, although I see they have different colors & designs too. I already have two not-so-easy to read glass 1-cup measuring cups and a hefty embossed (but equally hard to read) 4-cup measuring cup. So this 2-cup will get lots of use. It seems so many times I need between 1 and 2 cups of liquid in my recipes! Especially when I'm making RancherMan's favorite fluffy Sandwich Bread, since I make it so often.
Pyrex 'Love' Collection Attributes
Let's compare the new with my old standby… Well, this new one is certainly PRETTY. Hey, just because it's functional doesn't mean it can't look nice #amiright? I pulled out my old reliable (yet hard for me to read) Pyrex 1-cup measuring cup and this brand-spankin' new 2-cup one and sat them side by side.
Yeah, this is going to be wonderful!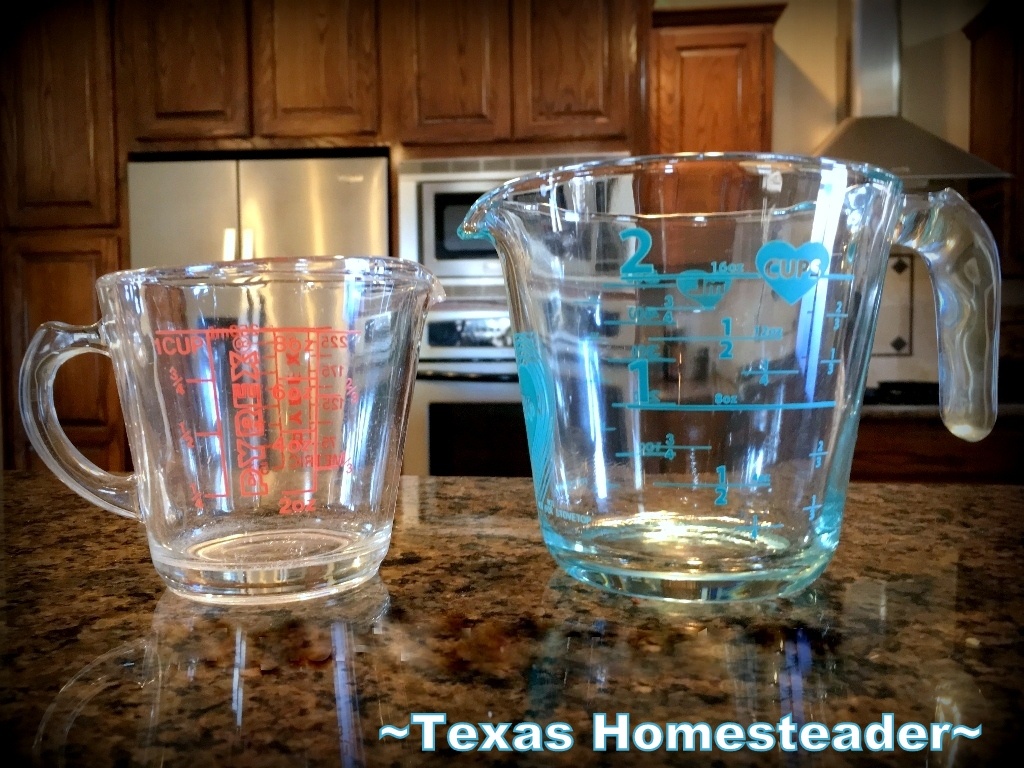 One of the very first things I noticed when I used the new one was the pour spout. For whatever reason it seems any time I try to slowly pour from my measuring cups the liquid dribbles down the side and makes a mess. This 2-cup measuring cup seems to have a deeper pour spout. It pours beautifully – no mess!
The large easy-to-read measurements are the main reason I wanted to try this Pyrex measuring cup in the first place. Oh yeah, my eyes are gonna love this!
And my old Pyrex measuring cup had a semi-circle handle, which has always served me just fine. But this new one has an open-ended handle which actually helps nest my measuring cups so much easier. I love that.
And there's a little extra space beyond the full 2-cup measure and the top of the measuring cup. So there's less chance of spillage. A good thing for me since I'm often clumsy errr I mean distracted in the kitchen. Less opportunity for a mess is a good thing in my book!
According to the Pyrex site,
Love 2 Cup Turquoise Measuring Cup

Dishwasher, refrigerator, microwave & pre-heated oven safe

Non-porous surface does not absorb food odors, flavors or stains

Proudly made in the USA

2 Year Limited Warranty on Pyrex glassware
Potential Problem With The Print Rubbing Off?
But I've also read several more-recent complaints that these newer measuring cups may have trouble with the print rubbing off. Interesting, I've had my old one for decades and I've never had a problem. And I sure don't baby my cookware. I microwave it often and into the dishwasher it goes when it's dirty. This new complaint is interesting.
So I reached out to Bridgette @ Zeno Group (Pyrex's public relations agency) and asked if they'd seen an uptick in complaints about the print rubbing off. I told her I'd owned a 1-cup Pyrex (the old style with the red print) for decades. My old Pyrex workhorse measuring cup has seen heavy microwave & dishwasher use and I'd never had a problem. Is there something different about these newer measuring cups that makes them not as durable? I told her I wanted tips other than dishwasher use since their site indicates it's dishwasher safe. Obviously my old one has seen lots of dishwasher action with nary a problem
However her answer was:
No we have not received an uptick in these type of complaints in the recent years. The reason some measurements may fade while others don't can depend on multiple variables, mainly the type of dishwasher soap used (some may make measurements fade more rapidly than others). Dishwashing tends to shorten the life of kitchenware products due to heat and aggressive detergents. For best results, or if in question, hand wash items with a soapy cloth or sponge and dry immediately.
So I'm not sure why the older Pyrex measuring cups of past decades would be any more sturdy than these new ones but I guess time will tell. Rest assured I have no intention of treating this new 2-cup measuring cup any more differently than I've treated the older ones. I'll be sure to come here & update if I experience any trouble. And I'll also contact Zeno group for explanation if that happens.
Here's what I see as the pros & cons.
Pros:
Made in the USA (yea!)
Turquoise & pretty, pretty, PRETTY!
Advertised to be dishwasher, refrigerator, microwave & pre-heated oven safe
Does not absorb odors or stains
Easy-to-pour spout
Easy-to-read measurements
Handle design makes it easier to stack measuring cups
Extra room above 2-cup measure to help eliminate spills
2-yr Warranty
Cons:
Several complaints that the print rubs off quickly. This is a biggie and we'll see if I experience any problems in the coming months.
Pyrex states this measuring cup is dishwasher safe. Yet their PR firm recommends hand washing if there's any question? They seem to blame dishwasher detergents for reported failures, but I feel if it's not really dishwasher safe perhaps that feature needs to be removed from their website?

But so far I admit that I'm thrilled with my new 2-Cup Pyrex. It's gorgeous, it's roomy & it stores beautifully. It's been a very welcome addition to my kitchen! And my experience with Pyrex products has always been positive. Pyrex is a company name I trust.
I couldn't find the 'Love' collection available on Amazon but as of this writing Pyrex still sells them on their site. But you can find other Pyrex easy-to-read measuring cups on Amazon *here and the 100-yr anniversary addition with free shipping (as of this writing) on *Wal-Mart.
~TxH~
Links Mentioned In This Post:
FINALLY! A Soft, Fluffy Sandwich Bread
*Pyrex 2-Cup Glass Measuring Cup on Amazon
*Pyrex 2-Cup Glass Measuring Cup @ Wal-Mart


C'mon by & sit a spell! Come hang out at our Facebook Page. It's like sitting in a front porch rocker with a glass of cold iced tea – lots of good folks sharing! You can also follow along on

Pinterest

, Twitter or

Instagram

.
If you'd like to receive an email each time a new blog post goes live it's EASY to
Subscribe to our blog!
*WalMart & Amazon affiliate