by Texas Homesteader ~
Food waste – we all hate it. We work diligently to make sure none of that food we've paid our hard-earned money for is wasted.  But are we doing all we can? Maybe…  But maybe not!  Have you ever thought about eating your compost?
Stay with me now, I'm not suggesting that you root through the compost heap and snack on its contents. Today I'm talking about food destined for the compost heap.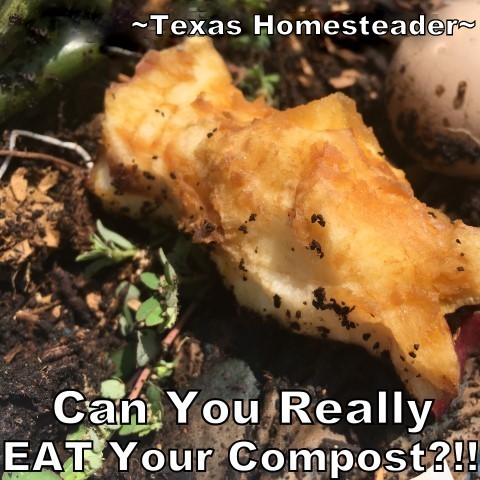 Veggie Trimmings
The tough neck & stem parts of an onion are typically destined for the composter. But instead I separate the paper skin and the tough onion parts. Then I chop the onion trimmings & dehydrate them. I use my coffee grinder to grind them into onion powder and BOOM!
I've easily saved those savory onion sections previously deemed too tough to eat & also replaced an item I used to have to buy.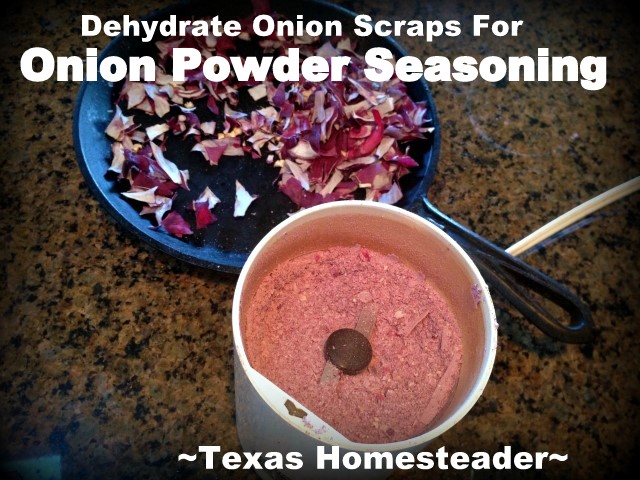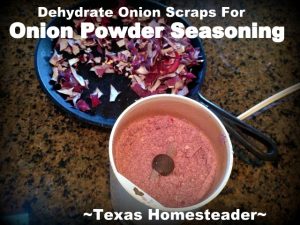 I do the same thing with bell peppers, seeds & ribs from jalapenos and other savory veggie scraps. They're dehydrated & ground for seasonings. I have a small jar for each of these byproducts.
Dehydrating Extra Fresh Produce
How about making sure fresh produce never reaches compost-worthy status in the first place?  For instance, I often buy a bunch of celery for a specific dish and then wonder if I'll ever use the whole bunch.
(spoiler alert – the answer is always NO!)
So after I use the fresh celery for my entree I'll often dehydrate the rest, both stalks and leaves.  The leaves are crushed and added to my crushed celery spice jar. The chopped ribs are dehydrated and placed in a glass jar in the pantry.
Now it's easy to add dehydrated chopped celery to a simmering soup. It'll rehydrate right there in the stockpot!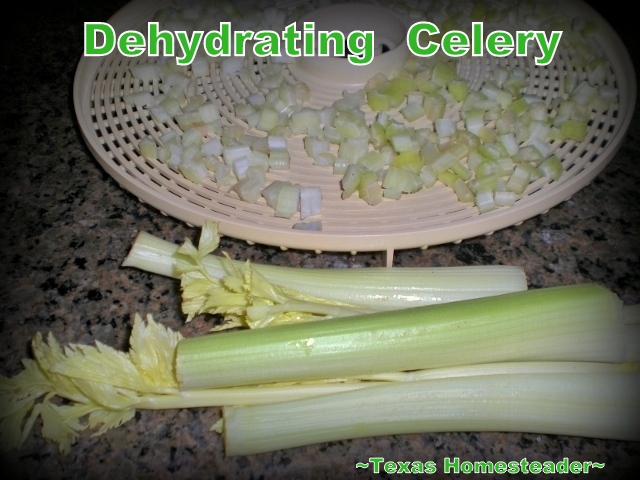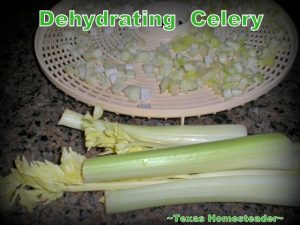 Regrowing Celery
What about that base part of the celery? Well don't toss it in the compost! That base section can be placed in water until it grows a few roots and then transplanted. More fresh celery growing again for FREE!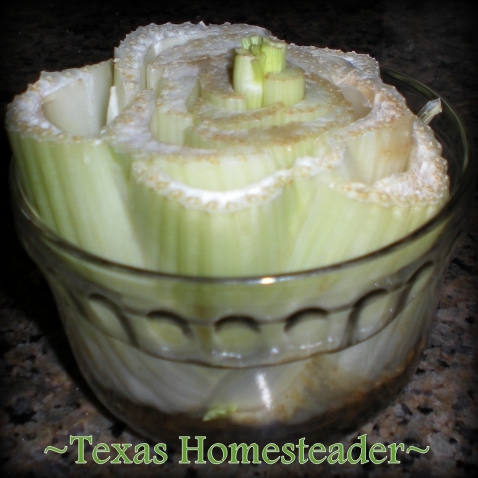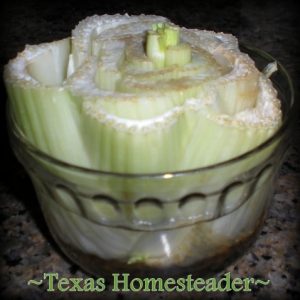 Fresh Herbs
Whether rosemary, basil, sage or oregano, it can all be dehydrated for later. I harvest a stem of fresh herb & strip & chop the teaspoon of fresh herb for my recipe. But what about the rest of that stem?
Easy, I'll strip, dry and crush the remaining leaves. I add them to a seasoning jar for each herb.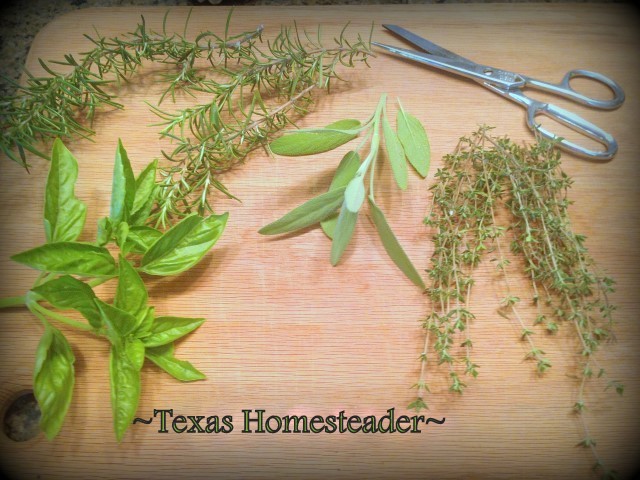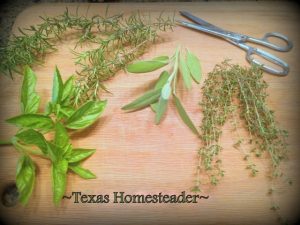 Replanting Sprouted Produce
You know the drill.  You bought that head of garlic but things got away from you.  Next thing you know it's gone too far. It's sprouted.
Wait a minute…  sprouted?  Why not PLANT it?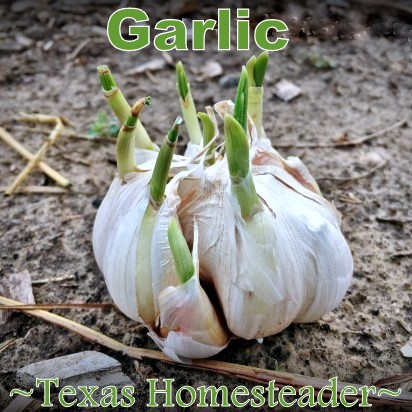 Yep, separating & planting each clove from that head of garlic will result in a whole new head from each individual clove, giving you much more garlic than you started with! This is my favorite food waste tip of all.
I've done the same thing with a sprouted red potato, cutting it up into chunks and planting them to grow into much more fresh produce than I started with!
Bread Crumbs
RancherMan loves me to make his favorite soft-fluffy sandwich bread. And when I cut that bread into slices it sometimes makes a mess on the counter. But do I sweep those crumbs into the compost bucket? Nope, they're my own version of homemade breadcrumbs!
I keep a small glass jar in the cabinet to hold them until I need them to bread Potato Cakes or pork chops. If needed I can even season them with those same dried herbs I didn't toss in the compost earlier!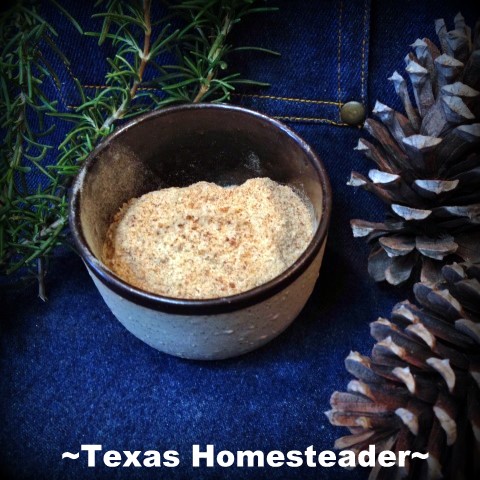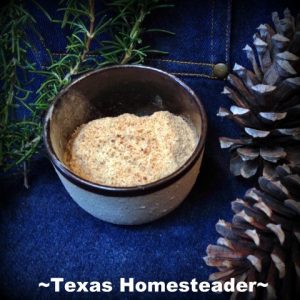 Fruit Peels/Cores Into Vinegar
Fruit peels & cores can be saved from the compost pile because they can easily be made into vinegar. I've made both apple cider vinegar & pineapple vinegar from discarded core & peels. It's a simple process, it's eliminated food waste and once again, I've made for myself a product I used to have to buy.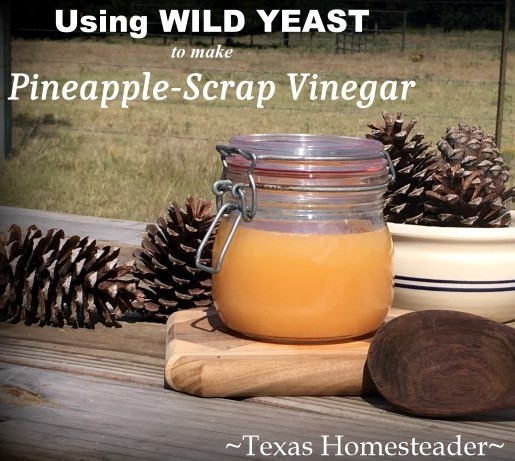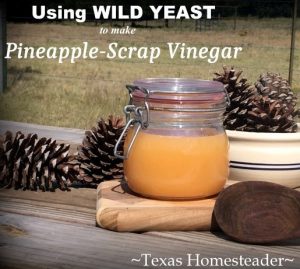 Bone Broth
After that delicious chicken is enjoyed for supper and the carcass is picked clean, the bones and trimmings are set aside. I place them in a slow cooker (or pressure cooker if I'm in a hurry) and turn that waste into the most delicious, healthy broth you ever tasted. Yet another thing I used to buy that now I've provided for myself.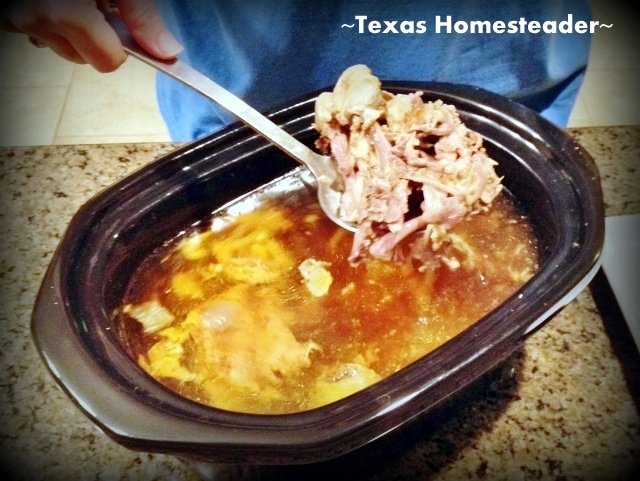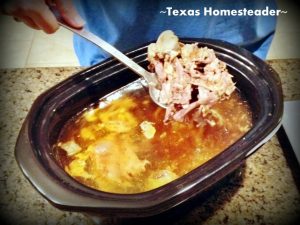 And you can even make that healthy bone broth even easier. Now that I have an Instant Pot, I can make Instant Pot Broth with true push-button convenience! It really doesn't get any easier than that, folks.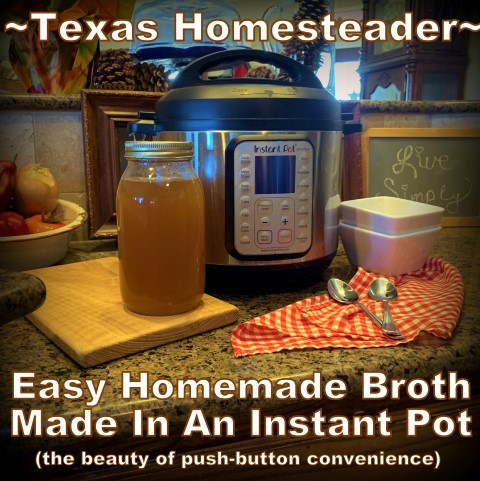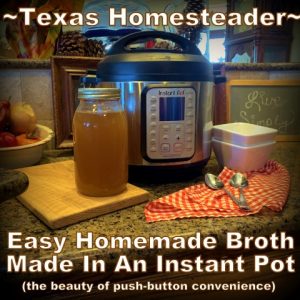 Whichever method you use, making broth is incredibly easy.
And healthy.
And CHEAP!
So if you decide to try these food waste tips, try this one first.
And the next time you're headed for your compost bucket with the last scraps of food, take note.  Hummmm…  Can we EAT this??  Oftentimes the answer is 'YES'!
~TxH~
Links In This Post:
Other Eating-It-All Posts: Leftovers
…and MUCH MORE!


C'mon by & sit a spell!  Come hang out at our Facebook Page . It's like sitting in a front porch rocker with a glass of cold iced tea.  There are lots of good folks sharing!  And you can also follow along on Pinterest, Twitter & Instagram
If you'd like to receive an email when a new blog post goes live,
subscribe to our Blog!