by Texas Homesteader ~
I recently cooked a whole chicken in my slow-cooker and had visions swirling in my head of all the different ways I could still use the rest of the chicken to feed us.
Hummm… I wonder how many times I can feed RancherMan & myself with this one small bird? Y'all know I love a good challenge, and challenge ACCEPTED!
I sat out to use it all, and I've really gotten a lot of mileage out of this one chicken, check it out!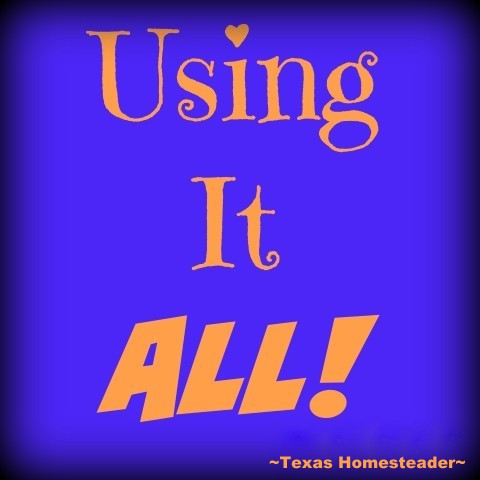 There are only two of us here at the Homestead these days. But that one chicken fed us so many times and in so many different ways.
Let's count them off – you can click the links to see my recipes.
Of course the first round was spent cooking the entire bird in my slow cooker. It was seasoned with spicy savory spices such as cayenne, chili powder and paprika.
After supper I pulled the remaining meat from the thicken. I placed the bones and trimmings in my slow cooker, filled it with water and a splash of vinegar and allowed it to simmer all night. It resulted in several quarts of healthy delicious stock.
I used some of that chicken stock to make Cream of Chicken soup for my next meal. Making my own "Cream-Of" soup saves us money in our food budget. Plus it's void of those questionable ingredients and heavy salt often present in the commercial stuff.
Armed with my Cream of Chicken soup I quickly whipped up a flaky crust and assembled a delicious Chicken Pot Pie. Now this is one of RancherMan's favorite ways for me to use leftover chicken. And it's so easy!
There was still plenty of chicken meat & broth left. So I opted to whip up some homemade dumplings & make a hearty meal of Chicken & Dumplings. There was even enough leftover after our supper to feed us several chicken & dumpling lunches as well.
Now our leftover chicken is starting to be scarce. But it only takes a small amount of meat when you couple it with tender-crisp zucchini noodles and season it all with Herb-Bombs!
Now that's a lot of mileage from one small bird! But by thinking outside the box I was able to feed RancherMan & myself several delicious meals and wasted nothing.
That's not only healthy & good for the grocery budget but it makes me feel good too knowing I've been careful with our resources.
How are your favorite ways of 'Using It All'?
~TxH~
New Meals Remade With Leftovers
…and MUCH MORE!


C'mon by & sit a spell! Come hang out at our Facebook Page . It's like sitting in a front porch rocker with a glass of cold iced tea. There are lots of good folks sharing! And you can also follow along on Pinterest, Twitter & Instagram
If you'd like to receive an email when a new blog post goes live,
subscribe to our Blog!
Save