by Texas Homesteader ~

I'm not gonna lie, I love the convenience of a slow cooker. I have two different sizes of slow cookers and they're busy cooking something all of the time here. Sometimes both slow cookers at the same time!
I'll admit I'm Tammy & I'm a slow-cooker addict. ("Hi, Tammy…")
But what's not to love? I mean, you combine ingredients the night before or even in the morning, set the crock in its base, turn it on and supper cooks while you're not even there. Now that's the kind of laziness convenience that speaks to me!
One of my favorite main dishes to cook in my slow cooker is a spicy sticky chicken. I have no idea where the name comes from, but stay with me now – you're gonna LOVE THIS!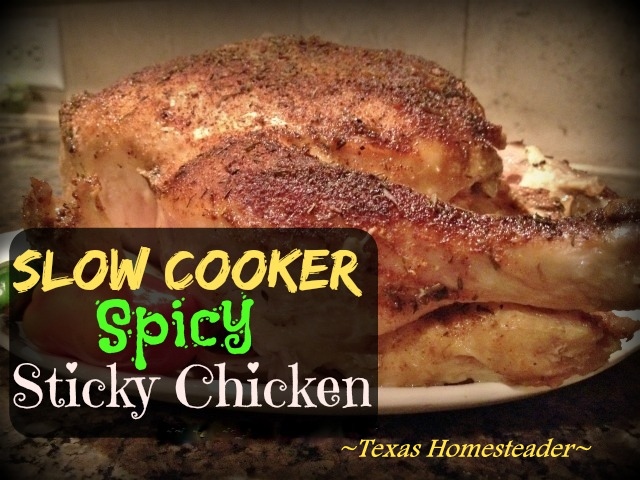 Slow Cooker Simplicity
Our eldest daughter shared this recipe with me several years ago. She commented "I know how y'all like spicy food and this has some great seasonings like cayenne pepper and paprika".
And boy oh boy was she ever right! These days this is our favorite way to enjoy inexpensive whole chicken.
Add to that the convenience of throwing the ingredients in the slow cooker in the morning and leaving for work, then walking into the house tired & hungry that evening to the delightful aroma of supper already prepared & ready? Well now that's a winner, folks!
Preparing Whole Chicken
First I pull out the chicken, rinse it off and set it aside to allow the water to drain off. While the chicken is drying I combine my spices in a bowl – paprika, cayenne pepper, cracked black pepper, chili powder, garlic powder, onion powder, thyme, and salt.
Now that my spice mix is prepared I'm ready to deal with that chicken. I trim off excess fat & skin. But I'm careful to place the trimmings into a bowl in the fridge for use later. I'll explain why in a minute.
Next I rub my mixed spices over the entire surface of the chicken both inside and out, reserving just a little to sprinkle on top of the chicken after it's placed in the slow cooker crock. It makes the meat look nice when it's prepared. Now my mama always taught me "Presentation is half the meal" and she's right. I've always used that theory in my kitchen and I've taught it to our children as well.
Aaaanyway, after the chicken is fully seasoned I quarter an onion and place it inside the chicken. I'll admit sometimes I add the onion and sometimes I skip this step altogether because (say it with me now) "Flexibility is key in our Homestead kitchen!"
The chicken turns out beautifully either way. So if you don't have an onion handy don't let that stop you from trying this recipe.
Chicken Into Slow Cooker
OK now that my chicken is prepared for cooking I place it into my slow cooker and sprinkle my reserved seasonings on top.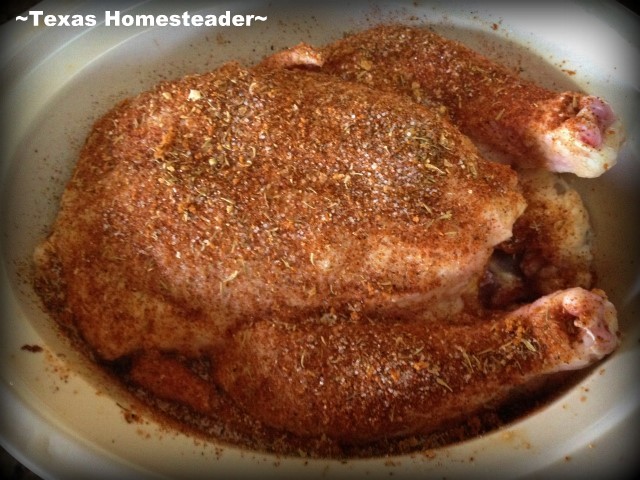 There's no need to add any liquid. The chicken will make it's own broth as it cooks.
And y'all, listen carefully: You're gonna want to save that savory liquid to give you a jump-start to making your own chicken broth with the chicken trimmings you saved in the fridge as well as the skin & bones.
That's right, even after this chicken has done hard duty feeding your family it still has even more to give and you certainly don't want to miss out!
Now, turn that slow cooker on low and step out to tackle the world. That chicken will be slowly cooking to perfection while you're away.
Supper Ready When YOU Are!
When you drag yourself back home after a hard day at work, remove your Wonder Woman cape and arrive back in your kitchen you'll be so glad you planned ahead this morning.
The aroma of perfectly seasoned chicken will cause you to go into a trance. Dinner is a snap now!
No need to gather up the kids and drive to the local fast-food place to plunk down your hard-earned money on a substandard fast-food meal. You're looking at real home-cooked goodness right in front of you. Add a couple of sides or maybe a nice salad and you're all set.
Yeah, that Wonder Woman cape isn't hanging in the hall for nothin' sistah…
PLUS there are six (yes count 'em – S-I-X) ways I'm able to use this one chicken! See how I fully utilize this one bird in six different ways.
Slow Cooker Spicy Sticky Chicken
Easy slow-cooker chicken recipe with spicy seasonings like cayenne pepper and paprika. This is our favorite way to enjoy inexpensive whole chicken!

Ingredients
INGREDIENTS:
1

whole chicken,

rinsed & drained

1

white onion,

quartered

1

tsp

paprika

1

tsp

cracked black pepper

1/2

tsp

cayenne pepper

1/2

tsp

onion powder

1/2

tsp

thyme

1/2

tsp

chili powder

1/4

tsp

garlic powder

2

tsp

salt
Instructions
INSTRUCTIONS:
Remove chicken from packaging, rinse bird and set aside to allow water to drain. In the meantime in a bowl mix the spices.

Rub chicken skin generously inside & out with seasonings, reserving a small amount to sprinkle on top later.

Insert quartered onion into chicken cavity and place chicken in slow cooker. Sprinkle top of bird with remaining seasoning.

Cook on low 8-10 hours or until meat thermometer placed into the thigh section (but not touching bone) reaches 165 degrees.

Remove chicken from slow cooker and allow it to rest for about 5 minutes. Then carve & enjoy.
~TxH~
Want to see other Meal Ideas?





C'mon by & sit a spell! Come hang out at our Facebook Page. It's like sitting in a front porch rocker with a glass of cold iced tea. There are lots of good folks sharing!
And you can also follow along on Pinterest, Twitter, Instagram
To receive an email when a new blog post goes live it's EASY to
Subscribe to our blog!
Save
Save
Save