by Texas Homesteader
*contains affiliate link
I don't make pie crust often. I mean, it's just RancherMan & me in our empty-nest home these days. So making pie is something I typically only make for larger gatherings a few times a year. But occasionally I'll need to make a pie crust for things other than a pie.
Thankfully this recipe makes a delicious flaky crust in no time.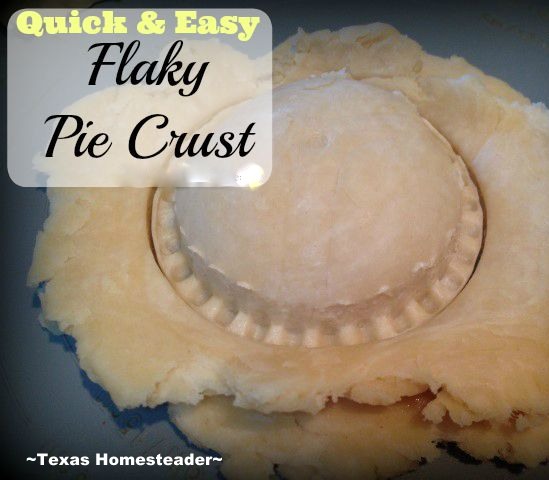 Recently I made a homemade Chicken Pot Pie and I needed crust for that. (it was delicious by the way)
And even more recently while the grandbabies were visiting I made some baked Apple Hand-Pies. Those are little apple pies you can eat with one hand – kinda like fried pies. And of course I needed the crust for that as well.
Simple Homemade Pie Crust
To make the crust I measured out 2 cups of flour and added 1 teaspoon of salt and mixed it together.
Then I added 2/3 cup shortening and mixed it all together until it was all crumbly. Some people use a pastry cutter to complete this task. But I always just use freshly washed & dried hands to get the mixture just right in a snap.
Then lastly I added 6 Tablespoons of water and mixed it all in until it looked like a dough ball. I usually start out this step with a fork and then finish up with freshly-washed hands.
(Note: Some links in this post are for further information from earlier posts I've written. But links preceded with * are affiliate links. If you click them and buy something (almost anything, not just the item noted) I could receive a small purchase. But the price you pay will NOT change. It's an easy way to support this blog without anything coming out of your pocket. So click often! Thank you!)
When your crust dough is complete simply divide it in two and roll each half into a 9″ circle. (I use a pastry mat similar to *this one to make the transfer less messy and help keep the crust in one piece)
So there ya go – Easy Peasy! My recipe is below.
Pie Crust (double 9")
A flaky homemade pie crust is easy. I make it savory by adding broth instead of water if I'm using it for a pot pie. So flexible! #TexasHomesteader

Ingredients
Ingredients
2

cups

all-purpose flour

1

teaspoon

salt

2/3

cup

shortening

6

tablespoons

water

(or broth if for savory dishes)
Instructions
Directions
Mix flour and salt in a large bowl. Cut in shortening until mixture is completely blended and appears crumbly.

Add water and mix thoroughly with clean hands. Dough will form into a ball when it's adequately mixed. The dough will be sticky and tough if too much water is added, and it will crack and tear when rolled if too little is added. Only if needed add additional water in just 1-Tablespoon increments.

Cut dough in half and roll each half out for your 9" pie crust.

To bake: 375 degrees for 35 minutes
~TxH~
Holiday Cooking Tips & Recipes
SIDE DISHES
DESSERTS
BREAD
INGREDIENTS
FOOD SAFETY
Save
Save