by Texas Homesteader ~

I stumbled upon this handy trick of peeling a hard-boiled egg in just seconds using a jar and water. Yes it works, I even included a video as proof. Check out this fun kitchen hack.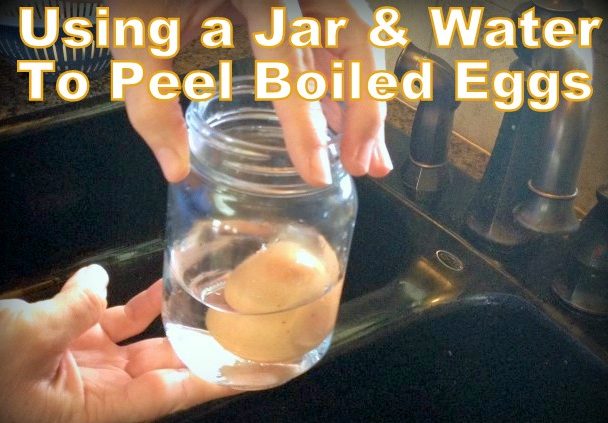 Eggs Are A Healthy Natural Snack
RancherMan & I have several free-range hens and they provide us with an ample supply of fresh healthy eggs.
I like to boil up a whole pot of them at a time and keep 'em in the fridge for a high-protein snack for him to grab-n-eat when he's hungry. But he really likes the convenience of having them already peeled when he reaches for them.
Instant Pot 'Boiled Eggs' WITHOUT The Shell
Hey, I'm a happy girl that RancherMan's eating something provided right here from our homestead instead of reaching for sugary or salty snacks. So I'm very willing to make it as convenient as possible for him.
When I'm making eggs for RancherMan's snacking, I most often make Instant Pot Boiled Eggs WITHOUT The Shell.
Then I just have to separate the eggs and place them in a covered bowl. I'll keep them in the refrigerator for RancherMan's grab-n-go snacking convenience.
Cooking Hard-Boiled Eggs On The Stovetop
But sometimes you need an actual egg-shaped boiled egg. Such times as when you're making Deviled Eggs, for instance.
Luckily there's an easy way for me to cook and peel hard boiled eggs easily.
I first take the eggs out of the refrigerator for about 30 minutes. Then boil enough water to cover the eggs in a large saucepan.
Once it begins to boil I'll lower the room-temperature eggs into the boiling water. I've read that this 'shocks' the eggs enough to make them easier to peel. An old wives' tale or not? I'm not sure. But I always do it just in case!
Then I let the water come back to a boil and cook the eggs for 3 minutes.
After that 3 minutes is up I'll turn off the heat, cover the pot and allow the eggs to stay in the hot water for 10 minutes more.
Why I Boil, Cover & Rest My Boiled Eggs
It seems everyone has a favored way to boil their eggs. So you might wonder why I'm boiling them for 3 minutes and then resting them further in the covered pot in the hot water for another 10 minutes?
The answer is simple. I'm just using the residual heat. It saves us on cooking fuel to allow the eggs to continue to cook in water I've already heated to boiling instead of allowing them to boil a tiny fraction shorter time and then pour out the boiling water.
But whatever method you like to use to boil eggs, just make sure they're hard boiled and not medium or soft boiled. You're gonna need those boiled eggs to be able to withstand a beating here in a minute! Soft boiled won't stand a chance. LOL
Draining & Cooling Hard-Boiled Eggs
Now that the eggs have stayed in a covered pan in hot water for 10 additional minutes, I strain out the water by pouring water and eggs into a colander.
Then I allow the boiled eggs to cool completely. Oftentimes I even leave them in the colander after they've cooled and stick the whole thing in the fridge overnight to chill.
Kitchen Hack For Easily Peeling Boiled Eggs
But when I'm ready to peel a bunch of eggs for my handsome RancherMan I can pull out the chilled eggs and drop one into an empty glass jar. The chilling helps to make sure the cooked egg is solid as it can be.
Then I add water to just below the height of the egg in the jar, then place my hand over the mouth of the jar and shake as vigorously as I can for about 5 seconds.
The egg then peels super-easily. Sometimes the shell is even floating around in the water by itself leaving my egg completely peeled without me touching it again!

Wanna see this coolage in action? Well the proof is in the pudding, as they say.
Check out this video…
Hey, anything that makes my time spent in the kitchen quicker is a winner in my book, no??
I will say it helps if your eggs are hard boiled and not soft boiled. You want a good, firm white to take this kind of abuse!
It also helps if you've popped the cooked eggs in the fridge for awhile after you boil them to get them good and cold. A cold, cooked white is a little more durable during the shaking.
But this always works beautifully for me. Give it a try and let me know what you think!
~TxH~
Other Kitchen Hacks


C'mon by & sit a spell! Come hang out at our Facebook Page. It's like sitting in a front porch rocker with a glass of cold iced tea. There are lots of good folks sharing!
And you can also follow along on Pinterest, Twitter, Instagram
If you'd like to receive an email when a new blog post goes live,
subscribe to our Blog!
Save
Save