TAMMY'S NOTE: This No-Sugar challenge documents Ashley's 30-day attempt to remove PROCESSED SUGAR from their diet.  This challenge allows her to use natural sugars such as honey or true maple syrup, therefore it's not meant for a diabetic alternative, simply a personal-health challenge. 
by Ashley
*contains affiliate link
I did it!  I've made it all the way through week two and I've only gone through twelve breakdowns!  Ok, so maybe it really hasn't been as bad as I thought it might be.  I will admit that this has been, by far, one of the most difficult challenges that I have ever decided to take on.  It was mildly easier than week one, but it was still rough on the sugar cravings.
I've also become painfully aware of how much and how often we are surrounded by food.  Every day is someone's birthday or a celebration of some sort where someone will bring donuts in the morning, a cake in the afternoon, or suggest going out for a nice dinner at a favorite restaurant.  Saying no almost feels like an insult on some occasions, but say no I did! If you haven't already done so, check out how we fared on Week 1.  Then read below to see how my second week of absolutely no sugar went.

Largest Issue: Work Hours
My biggest issue so far has been at work.  I've been bringing my lunch with me every day, which usually consists of a lean meat and three or four different types of vegetables like broccoli, cauliflower, slices of bell pepper, tomato, cucumber, a legume of any kind, and a small portion of baked chicken or turkey. However, everyone else at the office is accustomed to grabbing fast food with each other and eating together.  I have endured sitting with them and eating my healthy but delicious meal while they chow down on their burgers and fries, cakes, pies, chips, and cookies.
I smell the grease and my mouth waters while I sit there and say "no way!"  What I didn't expect though was the teasing and added temptation. For the first few days they paid no attention to my meals, but after a while they asked why I would always decline going out and eating with them.  Once they learned what I was doing, the teasing came on and it came on strong.  Words full of "Wouldn't it be nice if you could eat this cookie?" and "That's a silly diet, you don't need to be on that." and there were food offerings All. The. Time.
I knew they were just playing around and didn't mean for any of it to be malicious at all, but it certainly made it more difficult for me.  However I still pushed through and kept my resolve.  Hey,  I never said this was going to be easy!
No-Sugar Challenge Helpful Tips
On the bright side I have discovered more tips that I am more than happy to share with you.  Here they are:
1.  Always have a snack with you no matter where you go.  My favorites were dried fruit, a handful of nuts, or baby carrots.
2.  Don't let yourself get hungry!  When your energy starts leaning toward the low side your body craves a quick energy source and that is usually sugar.  Find fruits and vegetables that are high in fiber to keep full after meals.
3.  Prepare enough food to have breakfast, lunch, and dinner for three or four days.  You will end up having to prepare most of the things you eat from scratch.  So having backup meals in the fridge or freezer really helps.
4.  Prepare a whole chicken to eat and then use the bones to make healthy chicken stock.
5.  Make your own dressings and spreads like this stupid-easy hummus to dip veggies like celery and carrots in.  It's so good you'll feel like you're cheating.
But What Does It Cost?
I know one of my concerns was the possibility that my food budget was going to skyrocket with this challenge.  But I found I'm actually paying less!  After I factored in eating out at work every day for both me and my husband and going out to eat together on occasion, it was so much cheaper to eat mainly what I made from home.
With this challenge, the five days a week we were working we would pick up food for lunch, additional groceries of mostly snacks and quick-to-grab foods for on the go I kept at home and added in the restaurant trips we would take on weekends.  I rounded everything up to keep math simple.
Weekly cost of eating before:
Groceries for a week: $60
Lunches for work: $50 (about $5 per day for five days for each of us)
Going out together: $40-$80 (depending on the restaurant and if we went once or twice a week)
Weekly grand total: $150-$190 (ouch)
Weekly cost of eating now:
Groceries for a week: $100 (um…wow)
It helps that at this time of year produce is cheaper, especially fruit.  Those prices will fluctuate week to week depending on if we grab breakfast somewhere to save time but overall I feel those prices are fairly accurate.  My grocery bill included everything from breakfast to dinner and had fresh fruits and veggies, nuts, meats, and raw ingredients to make snacks instead of buying them.
Even when the prices go back up in the winter it will be cheaper than going out to eat, and still be more healthy.  It's truly opened my eyes to exactly how much I was spending on food.  It just seems like more to me now because I'm buying everything at once instead of one meal here and one meal there.  Now if I can just get the sugar cravings to go away…
Refined Sugar-Free Dessert
Bonus…we now eat dessert!  This "ice cream" is surprisingly delicious and is as smooth and creamy as your store bought, sugar-filled ice cream at the store.  Ah-Maze-Ing!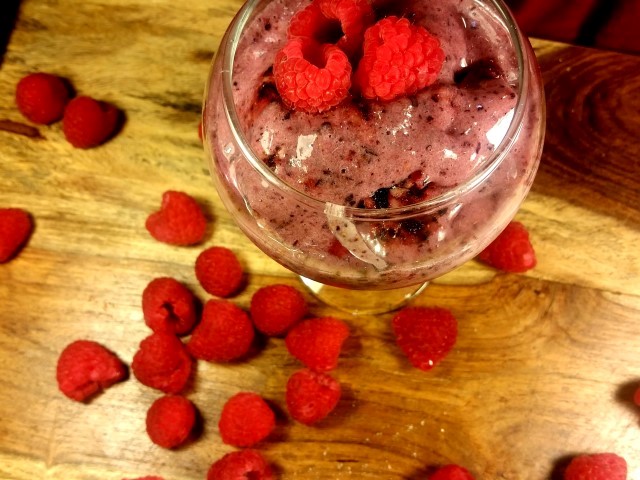 Ok, this recipe was so simple and delicious that I could easily see myself giving up ice cream all together!  It's creamy like ice cream and the flavors are endless.  Curious yet?  The recipe is as simple as you want it to be and the flavors are almost endless.  I chose a raspberry flavor because that's what I happened to have on hand.

Here's the recipe:
HEALTHY Sugar Free "Ice Cream"
Ingredients:
1 to 2 sliced frozen bananas
1/2 c frozen raspberries
Instructions:
Add frozen banana slices and berries into Nutribullet, food processor, or ninja and blend until creamy. (I used my amazing *Nutribullet)
Yup.  It's really that simple.  You can make it more of a sorbet if you add less banana and more berries, or even more creamy with more banana and less berries.  You can also do other fruits like mango or watermelon or mix several together.  Seriously, the options are endless!  If you pour a little bit of coconut water (or juice or beverage of your choice) into the blend, you can pour your mixture into freezer molds and have frozen popsicles!  I'm so upset I haven't been doing this already.
This "ice cream" is surprisingly delicious and is as smooth and creamy as your store bought, sugar-filled ice cream at the store.
~  ~  ~  ~  ~  ~  ~  ~  ~  ~  ~  ~  ~  ~
NOTE:  You're encouraged to read all four weeks of her Sugar-Free Challenge Journey where she shares tips & sugar-free recipes:
Week ONE
Week THREE
Week FOUR
~TxH~


C'mon by & sit a spell!  Come hang out at our Facebook Page. It's like sitting in a front porch rocker with a glass of cold iced tea – lots of good folks sharing!  You can also follow along on Pinterest, Twitter or Instagram.
If you'd like to receive an email each time a new blog post goes live it's EASY to Subscribe to our blog!
*Amazon affiliate
Save