~by Texas Homesteader ~
*contains affiliate link
Recently I became interested in something I'd previously never really given much thought to: our toothbrushes.
What a shame that these things are sold entombed in a hunk of plastic (not recyclable in my area) and the toothbrush itself was made of plastic too. How crazy did it now seem to use this plastic toothbrush for 3-4 months and then toss it in the trash only to replace it with a new one and repeat ad infinitum.
Maybe it was time for me to put my money where my mouth was (groaaaaan – bad pun intended. LOL!)
So I started researching and found there are toothbrushes made of biodegradable, compostable bamboo. I'm intrigued!
The Woodzee company graciously sent a small supply of their bamboo toothbrushes for me to try.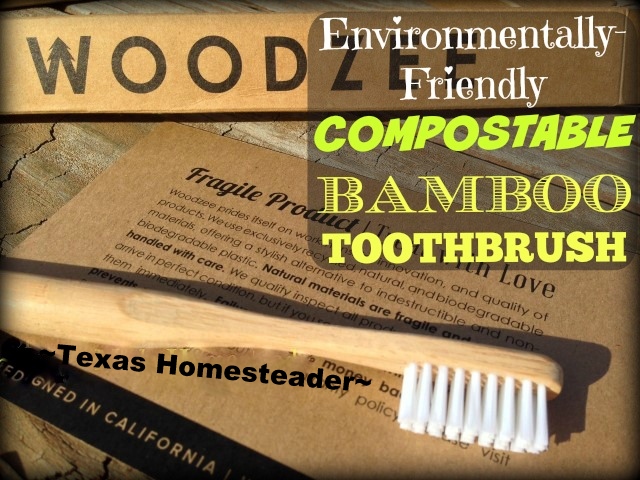 Now I should mention here that although Woodzee, Inc. supplied the toothbrushes for my review at no cost to me, my thoughts and my review of these toothbrushes are my own honest opinions.
According to the Woodzee website, "…our Woodzee toothbrush reduces contribution to the 50 million pounds of plastic toothbrushes thrown in landfills yearly." I reached out to Woodzee, Inc. for information on their bamboo toothbrushes and owner Luke Winter said:
"I decided to produce bamboo toothbrushes because it boggles me that everyone around the world for the most part brushes their teeth. At the same, almost all of the toothbrushes are made of petroleum based plastics. Most do not chew on their toothbrushes so why do the majority of toothbrushes produced are plastic? I want to open others eyes to exploring new ways to make products we use daily that can be produced using sustainable materials." <sic>

Manufacture Questions:
I'd never dealt with a compostable toothbrush before so I had many questions: Do they last as long as the conventional plastic toothbrushes? Are the bristles compostable too? Where are the toothbrushes manufactured? Mr. Winter confirmed to me the following facts:
The toothbrushes should last as long as conventional plastic toothbrushes. He cautioned that he uses water-based ink for the graphics so they may fade over time, but water-based ink is a good thing, no? YES!
The nylon bristles are not compostable but so far other options for bristles that are compostable are not satisfactory. Woodzee is still working on a 100% compostable toothbrush.
The toothbrushes are currently produced in China, although Woodzee is currently pursuing U.S. production avenues. (YEA! Love that.)
Toothbrushes are produced from bamboo, a sustainable material that grows much faster than trees
Receiving My Bamboo Toothbrushes
So Woodzee sent out a few bamboo toothbrushes for me to try. When the toothbrushes were received I was thrilled to see that each toothbrush was inserted into a compostable paper sleeve, packed into a small brown compostable box.
Both of these materials were simply tossed into my composter when I removed the toothbrush. Love it!!
I was however not pleased to see that these toothbrushes were all shipped in this plastic envelope.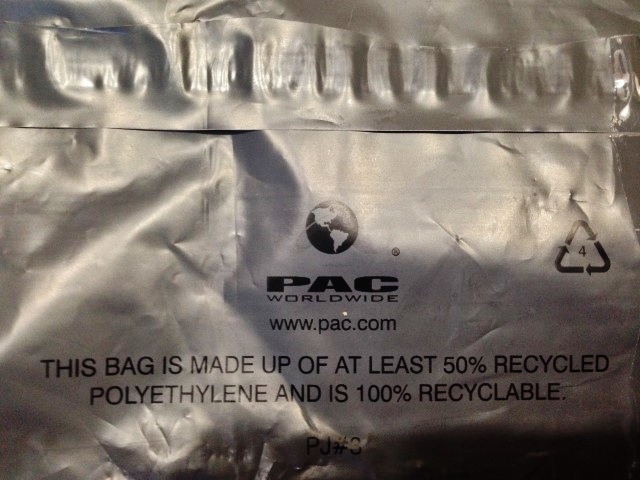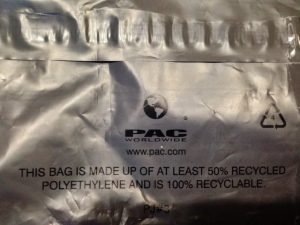 Although the envelope is made from at least 50% recycled content and is itself recyclable – we have no recycling facilities available where we live. So the plastic will have to be repurposed somehow or go to the trash. Y'all know how I HATE that!
I feel plastic in any of its forms, recyclable or not, is not sustainable. It can be recycled but that relies upon consumer action, and plastic never goes away! I assume there are others who may buy these toothbrushes and will share our recycling predicament so I asked about this shipping material.
Marley Marl (blogger relations) responded that they preferred to ship in this recyclable plastic bag instead of a larger box to reduce the overall carbon footprint, and he offered to take the envelope back from me & recycle from their location. Kudos to them for being willing to go above & beyond for environmental reasons which was nice.
But to me that's adding steps that in all probability won't be repeated by many who receive these toothbrushes in this plastic & are left to find a way to dispose of the bags. And again, plastic never goes away. So recycling isn't an ideal answer for me anyway.
Using Our Bamboo Toothbrushes
Shipping envelope aside, I was anxious to give these fancy-schmancy bamboo toothbrushes a try! How will they measure up to the standard plastic toothbrushes of our past?
Well the toothbrush is much lighter weight than the chunkier heavier plastic ones, I really like that! I'll admit it did initially feel a little different to have the bamboo portion of a toothbrush touching the inside of my cheek but I think that's just a learning curve difference. It's not uncomfortable, just different. I wonder if I can add a little food-grade wax to the back of the toothbrush head? Hummm…
I also found that some of the bristles dislodged after the first week of use. But RancherMan's toothbrush did not suffer this same condition. So I'm assuming either my method of brushing was dislodging bristles or perhaps these few loose bristles were just a tiny manufacturing defect for this one toothbrush. I clipped them even again & didn't notice any further loosening of bristles.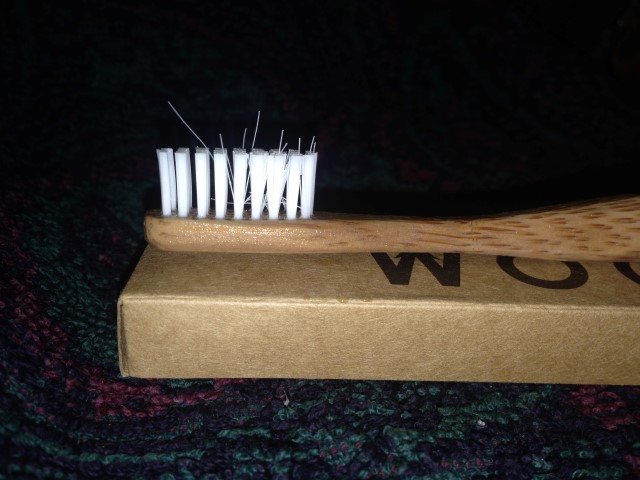 Of course I asked RancherMan what he thought about these new toothbrushes. He said he felt the bristles are a little softer than what he's used to but I didn't notice a difference in bristle firmness from the toothbrushes I've typically purchased for us. (I always purchase the soft bristles as is recommended by our dentist.)
So each of us had small differences in experience when we began using these toothbrushes. But both of us agree that we felt it was just a learning curve.
Bamboo Toothbrush Pros & Cons
So below is a quick summary:
Woodzee Toothbrush PRO's
Packaged in compostable paper box
Toothbrush protected by a compostable paper sleeve
Toothbrush made using bamboo, a sustainable material that is easy to reproduce and grows much faster than trees
Graphics printed with water-based ink
Toothbrush is lighter-weight than bulky plastic versions
Handle of toothbrush is fully compostable (I'll probably find ways to repurpose first)
Woodzee Inc. has a Conscious Consumer Program to stay involved with world-wide sustainability – I like dealing with these kinds of organizations!
Woodzee is continuing to research sustainability improvements for their products & manufacturing
Woodzee Toothbrush CON's
Currently manufactured in China (US production being pursued)
Shipped from Woodzee in plastic envelope
Nylon bristles are currently not compostable
Costs more than cheap plastic toothbrushes
Different mouth feel to adjust to from traditional toothbrushes
Conclusion
All in all I'm pretty pleased with my decision to try a compostable bamboo toothbrush. I have been using it with my own Homemade Toothpaste for several weeks now. After the initial learning curve I feel comfortable brushing with this toothbrush.
But most of all I feel good knowing that this one change has been a step in the right environmental direction for me. I also feel good dealing with an environmentally responsible company who's willing to reach out & do more for the environment – everything from production location improvements, to compostable component research, to replanting trees, etc..
Yes, it's more expensive to buy a compostable toothbrush than the cheap dollar store plastic ones. But eliminating as much plastic from our home is a matter that's important to me.
If you are also concerned about the amount of plastic coming into your home and wish to check out bamboo compostable toothbrushes you can find them here –> Bamboo Toothbrushes
~TxH~
Zero-Waste Hygiene


C'mon by & sit a spell! Come hang out at our Facebook Page. It's like sitting in a front porch rocker with a glass of cold iced tea – lots of good folks sharing! You can also follow along on Pinterest, Twitter or Instagram.
If you'd like to receive an email each time a new blog post goes live it's EASY to
Subscribe to our blog!
Save
Save
Save
Save