by Texas Homesteader 
For the past several years I've been on a quest to provide more & more for myself and my family.  I started out small and gained momentum as the years went by – I've come a long way baby!  Now I cook from scratch almost every night and I've learned to make my own Homemade Yogurt and homemade desserts.  I've learned to make my own Flavored Mayonnaise and simple homemade cleaners.  But what about toothpaste, can I do something there?  Hummm…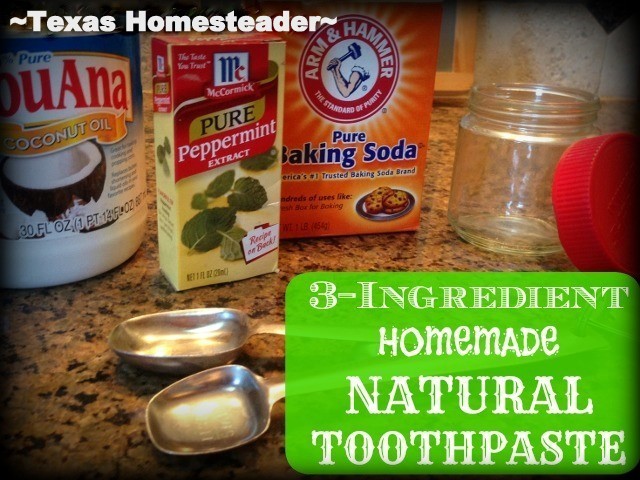 While perusing my news feed on my Texas Homesteader FB page I stumbled upon a recipe shared by One Ash Farm and figured I'd give it a try.  I mean heck, I've always got coconut oil and baking soda in the kitchen.  And although I have commercial mint extract, I'm soon going to experiment with making my own mint extract using the mint I planted when my aunt shared her abundance with me.
Years ago I experimented with brushing my teeth (GENTLY!) with baking soda (with my dentist's blessing). But I just couldn't get past the baking soda taste.  But now that I'm seeing a recipe adding mint flavor and coconut oil I thought I'd give it a go.
Note About Coconut Oil In The Sink:
Update: It's been brought to my attention by one of the followers of our Facebook Page that many who use this recipe don't spit it into the sink, but spit into the trash instead to keep the coconut oil from solidifying and blocking their pipes.  Hummm… never thought about that.  We have a septic tank so this bears looking into. If you're concerned, avoid spitting this homemade toothpaste into the sink.
Anyway, I thought I'd share with you the recipe I'm using.  Different people may have different dental-hygiene needs so be sure to clear this with your dentist. Mine said it was fine for my teeth, provided I brushed without too much scrubbing pressure. Baking soda can be abrasive if you're not careful!
Easy 3-Ingredient Homemade Toothpaste
Ingredients
3

Tablespoons

coconut oil

1

teaspoon

baking soda

1

teaspoon

mint extract
Instructions
I mixed all the ingredients into a small glass jar and gave it all a good stir. I keep this jar in the vanity in my bathroom. Since the temps in our home are still pretty warm the mixture is currently liquid. I swirl it around to get the baking soda mixed in completely and pour a small amount onto my toothbrush and brush away.
Recipe Notes
Once it gets colder my coconut oil may solidify so I'll need to chunk the mixture up a bit to place on the bristles of my toothbrush - we'll see how it goes. I think I may love making my own minty-flavored natural toothpaste!
~TxH~
Zero-Waste Hygiene
Other 'Use Whatcha Got' Ideas


C'mon by & sit a spell!  Come hang out at our Facebook Page.  It's like sitting in a front porch rocker with a glass of cold iced tea – lots of good folks sharing! 
To receive an email when a new blog post goes live it's EASY to
Save