by Texas Homesteader ~
When RancherMan & I bought this piece of NE Texas paradise we were enamored with the rich history of the property. Apparently over the decades it's been home to several homesteads, I'm assuming one of the first was in the 1880's when our barn was built! The most recent home was located at the front of our property but it burned down in the late 1950's. We've discovered whispers of their past lives that they left behind – so amazing!
There were two deep cement cisterns located where we think were either side of the house. One had to be covered up when we moved here, but we preserved the deeper one to use as our Outdoor Irrigation for my veggie garden.
At the time we were living in the big city. Someone had a small cedar fence that they pulled down – it was almost brand new. That would be PERFECT to frame in our little cistern! So we brought it here and constructed a cute little wishing well with that discarded fencing & some leftover metal roofing. It looked cute & kept the cattle out of trouble when they were around the cistern.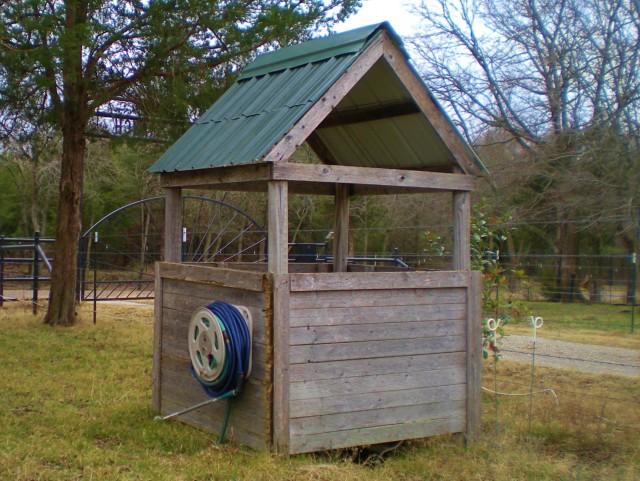 Cistern Cover Weathering
But over the years that little enclosure has really been deteriorating. We were worried about cows rubbing on it or even one of our grandbabies getting into trouble around it. I wanted to rebuild it but RancherMan wanted to just take it down.
To protect all involved in the meantime a good friend came & welded a heavy cattle guard over the top of the cistern. But when they removed the crumbling wishing well, RancherMan cut off the metal roof top and sat it aside so I could rebuild the enclosure later if I liked.
And there it sat for a few months. Now that I've gotten used to the wishing well being gone I'm not sure I need to rebuild after all. But I was worried about an area around the cistern where small critters had come & gone beneath the wishing well wall. Sometimes a small animal such as a rabbit would fall in & drown in the cistern. Although I hated for little critters to be drowned, now we have our little miniature Schnauzer Bailey to worry about too.
Protect Small Animals From Falling Into Cistern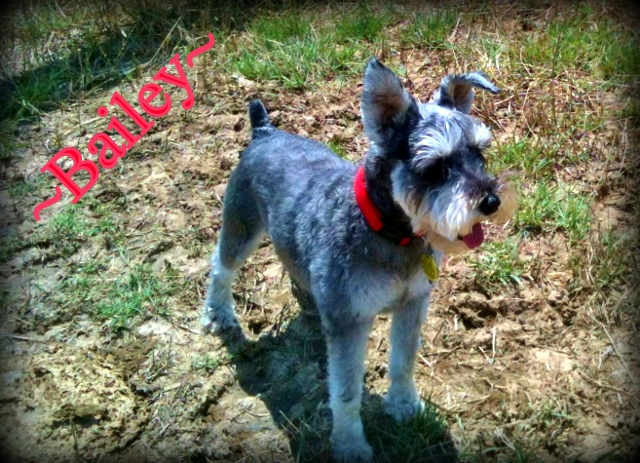 Although she's not near fast enough to catch them, she loves to chase the rabbits. Is she small enough to chase a rabbit under that gap & perhaps fall into the cistern too? With the cattle guard welded on top, how would I be able to save her if she fell in? Hummm… I need to secure that cistern to make sure she stays safe too.
RancherMan & I discussed options. What if we had our friend come back out & weld a metal bar across that gap and the gaps on the other 3 sides too? Or what if we laid large rocks or bricks in front of it? Perhaps we can just lay something across the ground in front of it making the gap too small for Bailey to fit through.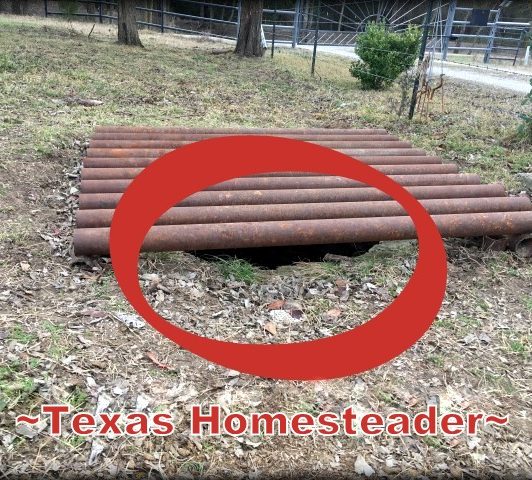 Use Whatcha Got!
I put on my thinking cap. Y'all know my battle cry: Use whatcha got!
Maybe instead of having more bars welded I'd try a t-post laid on its side alongside the cattle guard in front of the gap. I fetched one from the shed and took it to the cistern, setting it in place. I stood back to take a look.
Well, it helps make the gap smaller but I'm not sure it makes it small enough. Could Bailey push past it in the fury of rabbit chasing? Let's keep thinking.
Next I pulled a piece of PVC we had leftover from a previous project. I laid it alongside the cattle guard & stood back again to take a look.
Well, it would certainly work, it does make the gap way too small for Bailey to get into trouble. But, well, it's UGLY. I guess I could paint it but would the paint stay? Would the PVC deteriorate in the sun? Could I deal with that much UGLY in my view? Still thinking…
Then a little light bulb came on. There have been fences around paddocks from those previous homesteads of days gone by that RancherMan & I have both moved & removed over the years. We loved the old Bois D'Arc wood posts so we'd stacked them out of the way. I've used those beautiful posts for various projects such as building up beds in my veggie garden and also decoratively in my flower beds. What if we used some of those posts to block the gaps at the cistern? Y'all know that old ironwood will be around for a long time!
A More Natural Look To Solve The Problem
We went into the barn pasture & fetched 4 straight posts and brought them back to the cistern. I laid them alongside the cattle-guard in front of the gap and stood back to take a look.
YES! It looks much more natural than the garish color & material of the PVC pipe. And it covers the gap more completely than the t-post did. Plus although way too small for Bailey, there's still plenty of space at the bottom for rainwater to drain into to help replenish the water in the cistern.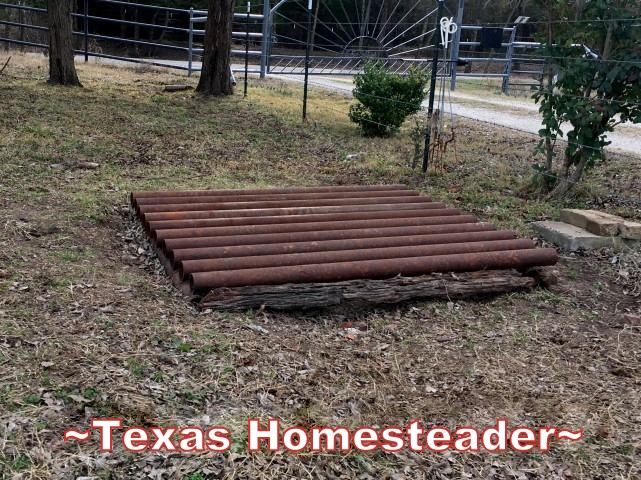 And again – it's Bois D'Arc. I won't have to even think about worrying about this again for years, maybe decades! I think this will work quite nicely. Once again my battle cry 'Use Whatcha Got!' fulfilled a need and saved money to boot.
Repurposing The Roof For Chicken Shelter
But what about that metal roof section RancherMan had saved for me? Well y'all remember we moved our chickens into our garden area recently. I noticed last summer they really needed a place for shade during the heat of the day. This roof section is ventilated quite nicely and will offer them shade.
So we carried it into the chicken coop where it will continue to serve a purpose for our little homestead for the foreseeable future.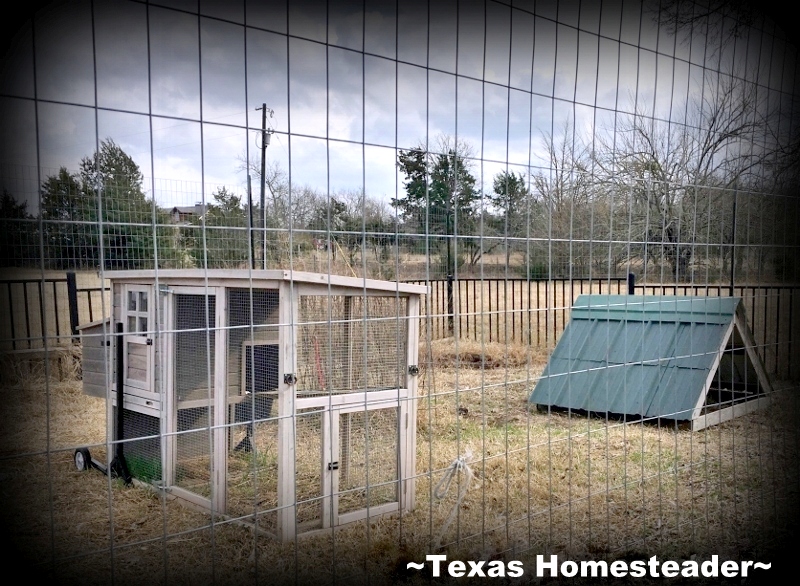 A little shade for our hens and I think it looks cute in there too – a little A-frame chicken retreat! LOL
Use whatcha got, y'all!
~TxH~
Links In This Post:
Other 'Use Whatcha Got' Ideas


C'mon by & sit a spell! Come hang out at our Facebook Page . It's like sitting in a front porch rocker with a glass of cold iced tea. There are lots of good folks sharing! And you can also follow along on

Pinterest

, Twitter or Instagram
If you'd like to receive an email when a new blog post goes live,


subscribe

to our Blog!
Save
Save
Save
Save