by Texas Homesteader

*contains affiliate link
With two consecutive years of drought, conserving water is all the buzz these days.  But conserving our natural resources has always been something that's important to me. Water is such a precious resource and there are concerns that our nation's water supply is being over-tapped in many areas.
There are lots of ways to conserve water inside the house. Things such as turning off the water when you're brushing your teeth, using low-flow aerators in your faucets and washing clothes and dishes only when the machines are full.  Of course we do all of those things but today I want to focus on water usage outside the house.
Water Use Outdoors
I read recently on an EPA-sponsored website that about 30% of the water used by the average American family is used outdoors.  That means there's lots of water that can be conserved!
We try to use only collected rainwater for outside purposes.  I've certainly had to buckle a few times from my stubborn "Use only rainwater when watering plants" mindset in order to save our trees and shrubs during the last two years of drought.
But typically our outside water usage is 100% from rainwater collection. Although there have been minor start-up costs involved with my water conservation efforts, I'm blessed to have a very handy husband who can pretty much fabricate anything I need done for very little cash outlay.
Water Barrel To Capture Rainwater
We have a rain barrel attached to one of our downspouts to collect rainwater from a section of the roof.  This water is used for various tasks such as washing off garden tools, adding moisture to the compost or watering nearby shrubs and flowers.  RancherMan outfitted this food-grade barrel with a faucet on the bottom and a hand-pump on the top.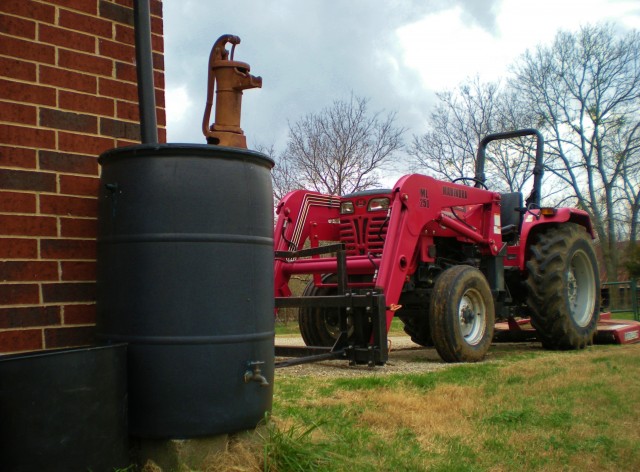 He also installed an overflow that drains into an adjoining container when the rain barrel is full.  There's never standing water in the overflow container for long since it's ideal for dipping my watering can into when watering potted plants on our back porch.

I also use this water when rinsing out my compost container or adding moisture to the *compost tumbler.  And since the rainwater barrel is set up on a cinder-block platform, water can easily be gravity fed through a water hose when we water the trees.
Underground Cistern
We also have an underground pipe connected to another downspout that runs to a cement cistern.  Rainwater is collected from this part of the roof and travels directly to the cistern.  This old cistern was constructed many years ago and was used by a previous household that used to stand here until the early 1960's.  We now use that same cistern to collect and store our own rainwater.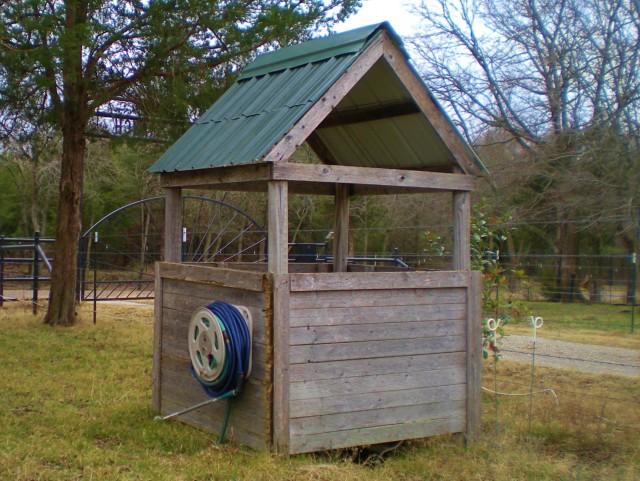 This cistern is 20-feet deep and will hold lots of water!  And water collects quickly with even a light rain.  That water is subsequently drawn to irrigate my vegetable garden using a small well pump.  All this water keeps my garden irrigated during the months when rainfall alone is not sufficient to keep the garden going.
The water from the cistern combined with heavy mulching in my raised veggie beds using spent hay from around the hay rings typically keeps our garden productive even during the struggling summer months in Northeast Texas.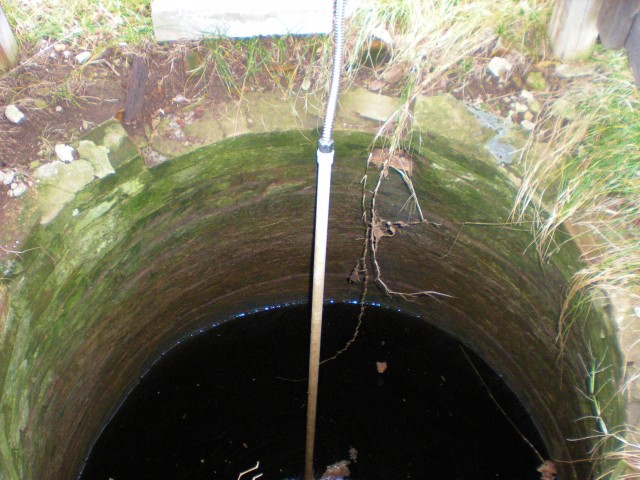 Captured Water From Inside The House
And finally, when we're going through drought I'm conserving as much water from inside the house as I can.  I then turn around & use that water to add water to my outside plants.
For instance I keep a plastic dish-washing tub in one side of my kitchen sink.  If we wash an apple or rinse a glass, that rinse water is captured.
When the tub is full I'll take that water out to the porch and water potted plants with it.  Just another way to put to good use water that would have gone to waste otherwise.  And my plants stay properly watered and grow beautifully.
I've heard about capturing water in the shower when it's running to heat up for your shower.  I may start capturing that water as well.  Every drop counts when you're facing yet another drought!
We can learn from each others experiences – what methods do you use in your household to conserve water?
Other Conservation Posts
Other Frugal Tips
…and many MORE!


C'mon by & sit a spell!  Come hang out at our Facebook Page. It's like sitting in a front porch rocker with a glass of cold iced tea – lots of good folks sharing!  You can also follow along on Pinterest, Twitter, 

or

Instagram
To receive an email each time a new blog post goes live it's EASY to
Save
Save