One of our cows is due to deliver her calf next Monday. It's always exciting when you're expecting a calf but if you're using the A.I. procedure you know the exact day that cow was bred and even the exact number of gestation days for that particular cow. For me it makes the waiting game all the more nail biting because I've known this blessed event is coming since just 28 days after her breeding.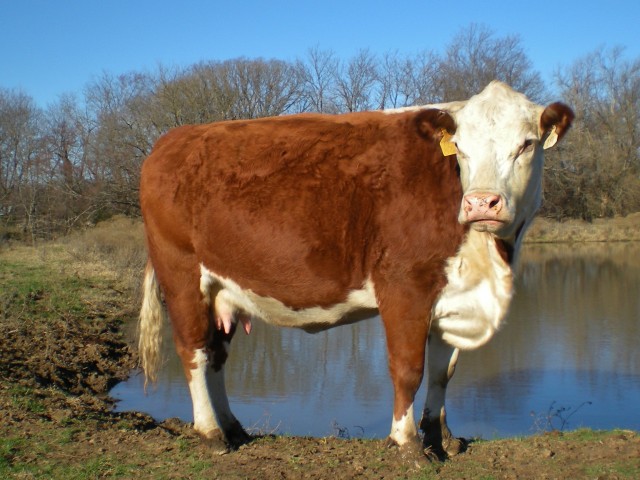 Every day we make a round through the pastures, always including a thorough inspection of our girls and calves. Does everyone look good? Is everyone accounted for? Are all the calves bouncing & happy? Our herd is used to our presence and we're allowed to come close to any of them without anyone becoming alarmed. If they're laying down they don't even bother getting up – to them I'm just one of the girls! Although it's labor intensive to be in each cow's physical presence so often, a gentle herd is worth all the work necessary to maintain it.

But when one of our girls gets close to calving we begin to check her more closely every day. Questions must be answered such as "How's that bag filling" or "Is she springing?" and of course "Does everything look normal?". Now after several days of this, the new mama-to-be begins to get wary of all of this daily attention. She'll see us walking through the pasture toward her and you can just see the words forming in her mind. "Oh no, again??!".
I'll walk up to her speaking softly. I'll take a look all around her observing belly, bag and backside. If I linger too long behind her she'll stretch her neck around to see what I'm doing as if saying: "Um, OK so I've picked up a few pounds, don't make a big deal out of it!"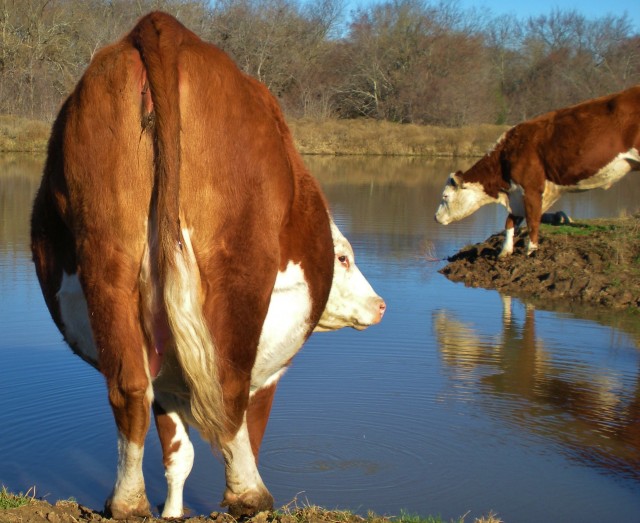 Her belly is growing big now that the calf is due so soon. Of course any woman who's ever had a child before knows exactly how this girl's feeling – I'm guessing she's thinking "After this kid is born, I wonder if I'll be able to get back into my bathing suit by this summer?" LOL
These daily checks will continue until the little one is finally born, and peace and harmony will once again reign at
~TxH~
Other Ranching Articles


C'mon by & sit a spell! Come hang out at our Facebook Page . It's like sitting in a front porch rocker with a glass of cold iced tea. There are lots of good folks sharing! And you can also follow along on Pinterest, Twitter or Instagram
If you'd like to receive an email when a new blog post goes live,
subscribe to our Blog!