by Texas Homesteader

Recently we had a cow give birth to a calf. Although she gave us a fine, healthy heifer calf, she was having a difficult time with her calf emptying one of her teats.
Each day that one teat grew bigger and we'd hoped that the calf would eventually latch onto it like she was the others. (we've had that circumstance in the past and it's always worked out fine)
But the teat began to get so full it was large & tight and too difficult for the calf to attempt to nurse it. So she just didn't.
I was worried about the cow developing mastitis so I knew I needed to take action. I've never milked a cow before. Ever. Until now. Ain't nothin' to it, y'all! I feel like an official country woman now!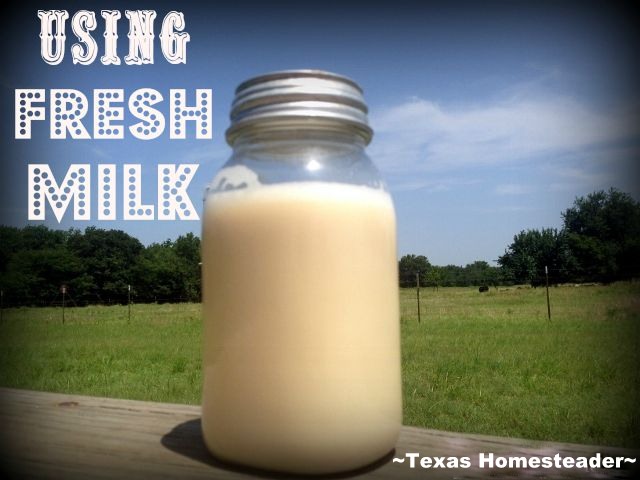 Milking My First Cow
With the first milking I didn't attempt to capture the milk for our use, my goal was simply to strip the teat and hopefully allow the calf to take over from there.
But the next day that one teat was ballooned out again. Although our cattle are a beef breed and not a dairy breed I'd always wanted to try milking one of our cows to get fresh milk for us. Maybe now's the time!
It took about 30 minutes for my clumsy amateur learning curve to get that one quad milked. But I captured almost a half gallon of fresh milk.
Now I wonder what I'll do with it. Maybe I'll make yogurt with it, or maybe butter. And since I'm making homemade bread for my handsome RancherMan I'm thinking homemade butter for that bread might qualify me for wife of the year. I'm just sayin… 😉

Asking For Advice
I've never tasted raw milk before and I wondered if it was an acquired taste or if you just chill it icy-cold and drink up. I'm assuming you refrigerate, wait until the cream rises, skim the cream, then just drink the milk cold.
I love milk but I typically drink Braum's fat-free milk and I wonder if my taste buds should be wary of the difference… So I put the question out to our Facebook followers.
Ellie said: We put our raw jersey milk in a modified freezer in plastic bottles (for our dairy) or plastic pitchers to cool it down quick. For ourselves we skim off the cream and save it for butter and whipped cream, and drink skimmed milk. Jerseys have the most cream and it is a bit too rich to drink it with the milk. To us the jersey milk tastes sweeter than store milk (only reason we do our own cow milk…and because we can and we like the whole process…)
Lois said: We just chill, shake well, pour and drink. Skim as much of the cream off top that you can and then chill milk–make sure you shake it well before drinking to blend any cream you may of missed. Trust me once you get the ice cold taste to fresh milk you'll wonder why you have not been drinking it this way all along.
Kelly said: It's amazing! And so different from store bought skim. I wouldn't call it an acquired taste, because it's delicious from the start, but it's much richer than skim. Our farmer chills ours for us before we pick it up, but we just shake it up and drink it straight. I only skim the cream off the top if I'm making ice cream. Which I highly recommend as well. We love, love, love our local, organic, raw milk.
Separating The Cream
I initially used a large fat separator pitcher to allow the cream to rise. Then I poured the skimmed milk into a large clean canning jar. (NOTE: I found a much easier way to separate the cream from that fresh milk! Check it out, y'all!)
I typically make homemade yogurt almost weekly. So by using this fresh milk for yogurt I'm also pasteurizing it as well since I heat my milk up to 180 degrees anyway.
I made a full batch of yogurt, placing a dollop of homemade jam in the bottom of each jar before pouring in the yogurt culture. It was delicious!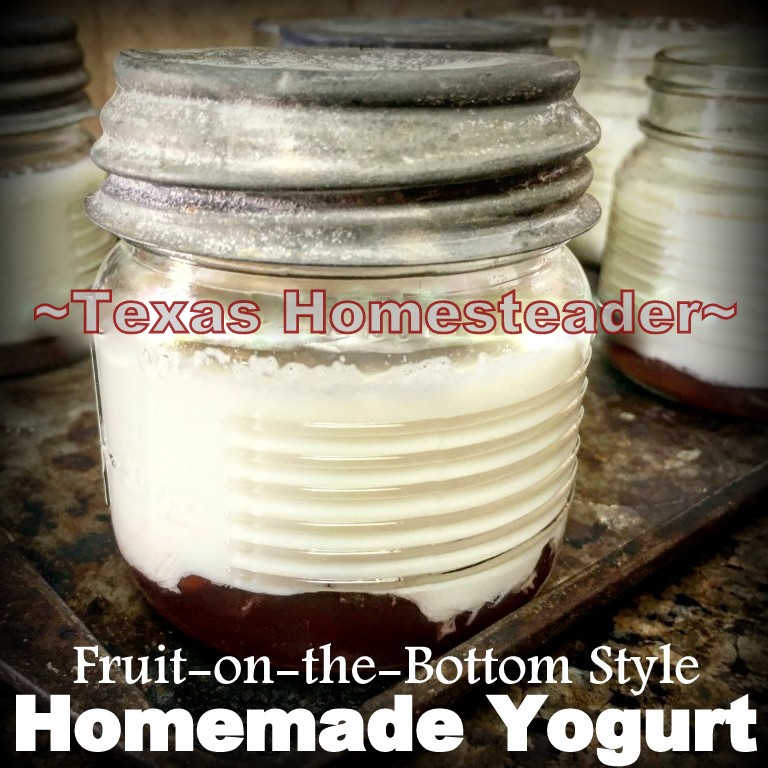 I also used the skimmed cream to make butter (I'll be sure to share that soon!) and the resulting buttermilk byproduct of the butter was used to make my homemade KitchenAid Sandwich Bread. So none of this fresh goodness was wasted.
All in all although I didn't drink the milk raw, I'm pretty happy about all the products we typically enjoy that I was able to make with this milk from our very own cow.
Maybe next time I'll be brave enough to drink that milk raw. What about you – do you love the taste of raw milk?
~TxH~
Links In This Post:
Other Ranching Articles


C'mon by & sit a spell! Come hang out at our Facebook Page . It's like sitting in a front porch rocker with a glass of cold iced tea. There are lots of good folks sharing! And you can also follow along on Pinterest, Twitter or Instagram
If you'd like to receive an email when a new blog post goes live,
subscribe to our Blog!
Save