by Texas Homesteader ~
*includes affiliate link
Ice cream is one of RancherMan's favorite desserts. And it really hits the spot on a hot summer's day.
But you can't just eat ice cream every day. It's not healthy! So I've been serving him a healthier frozen ice-cream-type treat. Only it's made with frozen bananas instead of cream!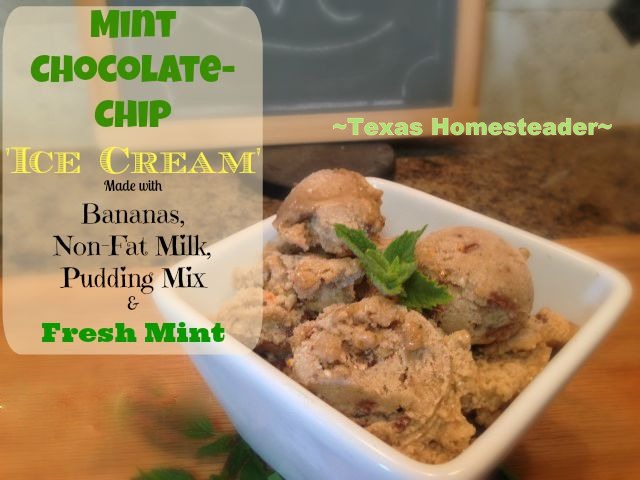 (Note: Some links in this post are for further information from earlier posts I've written. But links preceded with * are affiliate links. If you click them and buy something (almost anything, not just the item noted) I could receive a tiny commission. But the price you pay will NOT change. It's an easy way to support this blog without anything coming out of your pocket. So click often! Thank you!)
Hot Summer Days
It's hot. I mean REALLY hot. Like 'it's hitting around 100 degrees every day for the past week' kinda hot! WHEW!
Now we're in NE Texas y'all and to be honest, heat is just part of the game during the summertime. But I do whatever I can to combat the effects of the heat.
Things like making sun tea outside, using our homemade solar screens on the hot side of the house. And oh yeah – eating ice cream.
Traditional Ice Cream
Today I'm sharing tips on making delicious cold healthier ice cream in a mint chocolate chip flavor.
Now I know it's just not healthy to eat tons of ice cream. But in moderation it's a deliciously cool way to ward off that Texas summer heat. Our favorite actual ice cream flavor is Peach Ice Cream.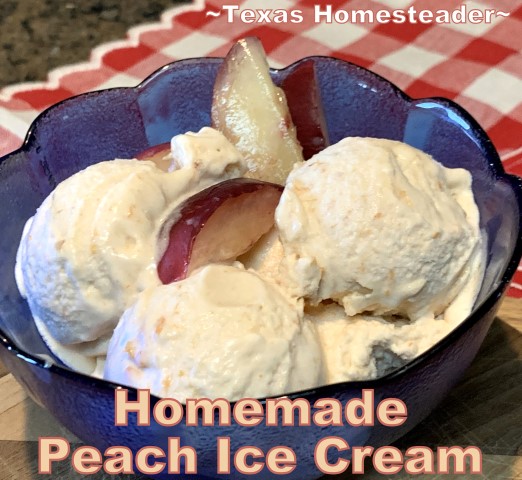 But you can't just eat ice cream every day. So I have a mock 'ice cream' (often called NICE Cream) that I make more often. It's still a sweet frozen treat, just healthier.
Healthier Frozen Treat
I make my 'ice cream' healthier by using frozen bananas, non-fat milk and instant pudding mix. But lately I've been experimenting with flavors for RancherMan and me, and Mint Chocolate Chip is my favorite flavor.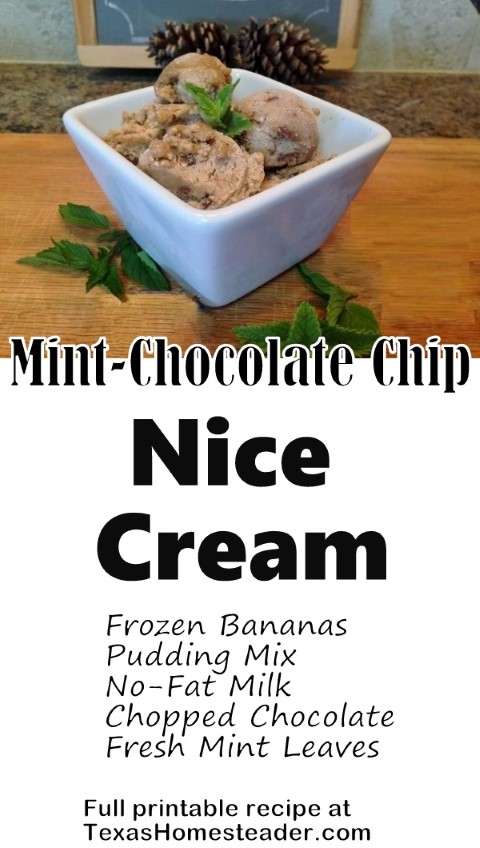 When I first started making this frozen banana ice cream it was usually pretty basic chocolate or vanilla flavored. But as time goes on I like to experiment with more & more delicious flavor combinations.
I've experimented with various ways of making mint chocolate chip flavor too, but I've finally settled on what I believe to be the best recipe.
In past banana 'ice cream' recipes I've always used three frozen bananas. Although it was delicious to me, RancherMan felt that many bananas put a little too much banana flavoring in the ice cream.
So I started experimenting with using only two bananas and it seems to work just as well for me with a better flavor balance for him.
Infusing Milk With Mint
To make this mint chocolate chip flavor I started out by infusing the milk with fresh mint from my garden. So first I harvested a few sprigs of mint, washed & dried them.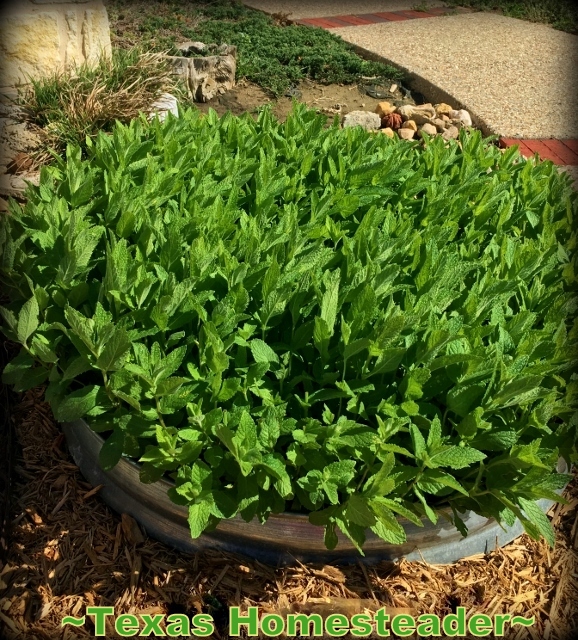 I measured out 1/2 cup of milk, added coarsely-chopped mint leaves and placed the small jar in my fridge. There I allowed the infusion to, uh, infuse for about 3-4 days.
The milk turned a delightful color of mint green which I was really hoping would color my ice cream minty-green as well. (Spoiler alert: it didn't but…)
So now I'm ready to make my ice cream. First I bring out all my ingredients: My mint-infused milk, frozen bananas, instant pudding mix, vanilla, some minced fresh mint leaves and chopped candy bar pieces.
You see, I bought a bag of those little snack-sized chocolate candies after Christmas for a song. Then I stuck them in the freezer for just these chocolate-added occasions.
I unwrapped about 4 fun-sized pieces and chopped them up for this recipe. Mine were fun-sized Mr. Goodbars & they contain chopped nuts for a little extra uumph in my ice cream.
Making My Mint Ice Cream
I poured my mint-infused milk through a strainer to separate the milk from the mint leaves. I guess just because they had been sitting in the milk for a few days I thought I'd remove those leaves. But don't worry, I'll add plenty of fresh mint leaves to my ice cream mixture!
When all the milk had dripped through the strainer I pressed the leaves to make sure I got every precious drop. Ummmm… it smells wonderful.
I poured this minty deliciousness into my *Ninja Blender (Dang this thing is a no-churn banana 'ice cream' making beast!)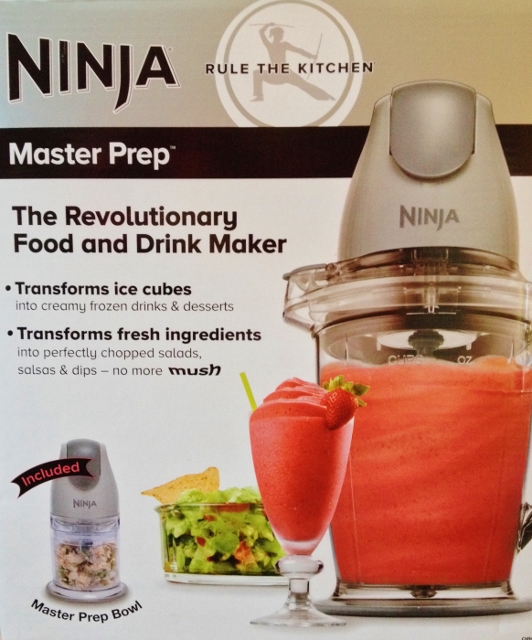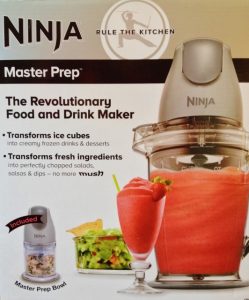 Then I bring out my two frozen bananas and chopped them into about 1/4″ coins – it just makes it faster & easier to get everything smooth if the bananas are chopped a bit first.
I add about a tablespoon of vanilla and a few sprigs of fresh washed mint from my garden and blended everything until smooth.
When it's all smooth I add my instant vanilla pudding mix (I make my own homemade instant pudding mix but you can use the 4-oz commercial stuff if you like) Then I quickly blend again until smooth and voila!
The 'ice cream' is already pretty thick so I poured it into freezer-safe containers. I made Rocky Road flavor for RancherMan & this Mint Chocolate Chip flavor for me.
So I take those chopped chocolate pieces and stir them into my Mint Chocolate Chip ice cream, and into the freezer it goes.
I pulled the ice cream out when it had been in the freezer about an hour and gave everything another good stir. This keeps your 'ice cream' from freezing too solidly.
Then I put it back into the freezer & when it was fully frozen I served it up good and cold. Ummmm… minty-delicious cooling from the inside out!
And this recipe is so much less expensive than buying commercial ice cream. Not to mention it's healthier and has much less landfill-bound trash. SCORE!
Here's my recipe: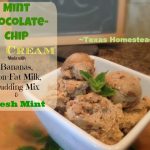 Healthier Mint Chocolate Chip 'Ice Cream'
We like a cold treat and ice cream is RancherMan's favorite.  Here's how I make a delicious healthier mock ice cream using frozen bananas. #TexasHomesteader
Ingredients
2

peeled & frozen bananas,

chopped into 1/4" coins

1

Tablespoon

Vanilla Extract

1

4-oz box

Vanilla Instant Pudding Mix

1/2

cup

Milk,

infused with crushed fresh mint leaves

4

Mini Chocolate Candy-Bar Pieces,

chopped fine

Additional Mint Leaves,

optional
Instructions
Bring out frozen bananas and chop into approximately 1/4" rounds. Strain mint leaves from infused milk and add milk and frozen bananas to blender or food processor. Add 1 tablespoon vanilla and optional mint leaves if desired and blend until smooth.

Add instant pudding mix (or 1/2 cup of your own homemade instant pudding mix) and blend again until thoroughly combined. Pour into freezer-safe container and stir in chocolate pieces.

Freeze for about an hour, then bring ice cream out of the freezer and stir more solidly frozen outer section of the ice cream into less-frozen inner section and return to freezer until completely frozen.
Serve up & enjoy a cold treat!
~TxH~
Links In This Post
Other Easy Desserts


C'mon by & sit a spell! Come hang out at our Facebook Page . It's like sitting in a front porch rocker with a glass of cold iced tea. There are lots of good folks sharing! And you can also follow along on Pinterest,Twitter or Instagram
If you'd like to receive an email when a new blog post goes live,
subscribe to our Blog!
*Amazon affiliate
Save
Save