Many of you know that although we run a permanent herd of Registered Hereford cows and calves, we often purchase temporary stocker animals to utilize the grass that our herd doesn't consume.
It was a hard lesson learned in 2011 when the strongest drought in decades gripped us here in NE Texas. The grass was gone, hay could not be purchased and our ponds were drying up. We had to reduce our precious hand-picked herd to assure we had enough water and grazing for the remaining girls.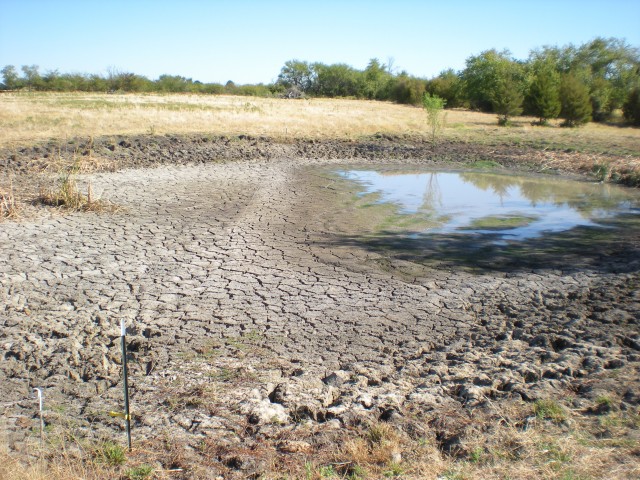 However there is a silver lining. By reducing our herd size we were able to also survive the unpleasant surprise of the repeating consecutive year of drought in 2012. The stocking flexibility saved us from being forced into another heart-breaking herd sell off in 2012. Now we simply increase or reduce our herd size to the conditions of the grass using temporary stocker animals.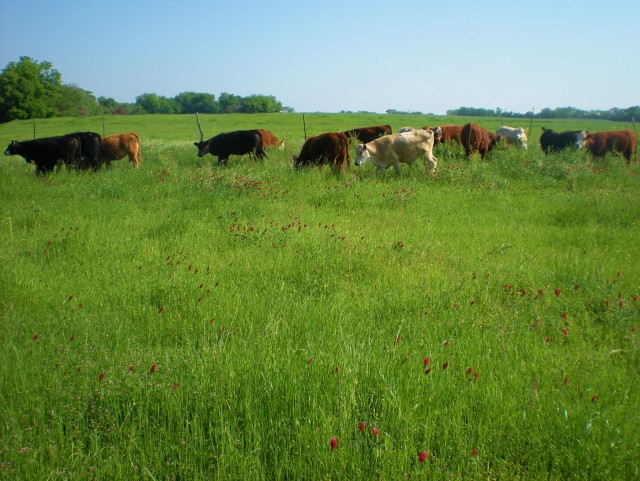 When we purchase animals the first thing we look for is good temperament. There's no room on our homestead for wild destructive animals. Been there, done that, DIDN'T like it! Not only are wild cattle hard on fences, chutes, corrals and equipment, but they can be dangerous for their handlers as well. If the cattle we're considering for purchase appear to be untamed animals we pass them by no matter what the cost.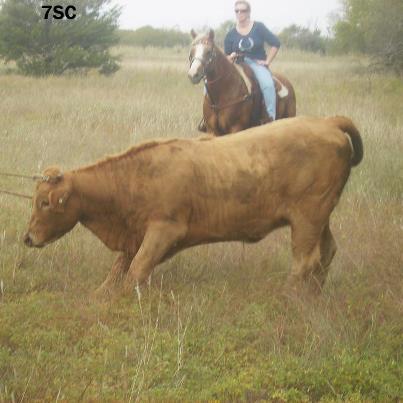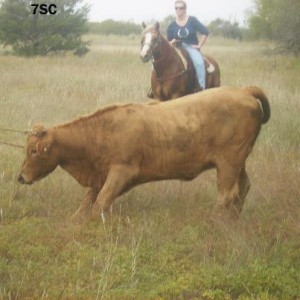 (photo courtesy of 7SC Ranch)
Only after cattle under consideration pass the temperament test do we look at our other requirements. Things such as health, breed, and the absence of horns. Although we have manually dehorned stocker calves many times before and don't have a problem with it, we prefer our adult animals to come to our ranch with no horns. Safety is very important here and even a docile animal has the ability to become excited or agitated. Especially if her calf is involved. Horns just add to that potential problem.
Recently we purchased our first stocker animals of the year – two mama cows with calves at their side and two bred cows. Depending upon the weather and the grass, we'll either buy additional stockers over the coming months or sell these if the grass doesn't hold up. In the meantime these animals will utilize the flush of green grass that our base herd don't use.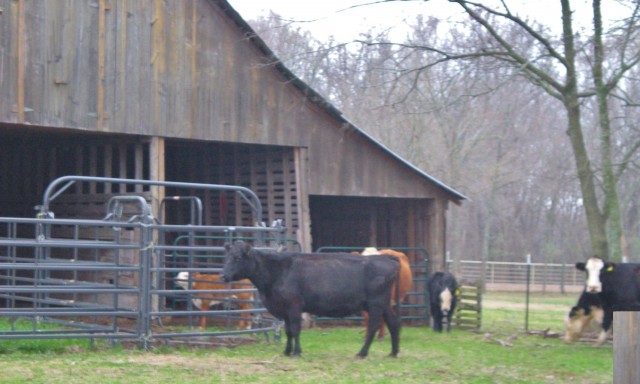 These girls made the final cut – calm, bred, and without horns. We'll send them through the chute for their workup – a round of immunizations, pouring for parasites and a close look at their bodies to make sure they get a healthy start.
We'll swing by our local Co-Op for a new mineral block and a fresh bag of range cubes. Then we'll allow them to finally come out of the pens to become accustomed to their new home. These girls are lucky indeed to be coming here. They'll enjoy green grass and open pastures here and will always be treated calmly and gently. Welcome aboard ladies!
~TxH~
Other Ranching Articles


C'mon by & sit a spell! Come hang out at our Facebook Page . It's like sitting in a front porch rocker with a glass of cold iced tea. There are lots of good folks sharing! And you can also follow along on Pinterest, Twitter or Instagram
If you'd like to receive an email when a new blog post goes live,
subscribe to our Blog!