by Texas Homesteader~
Tough days. I love raising bottle babies each spring but my health prevented it this year. So RancherMan found someone selling a set of bottle babies. They had already been weaned to pasture so that I could still get a dose of that bottle-baby sweetness.
When they were purchased this spring they were brought to our Homestead. Not only to allow me to scratch their cute heads every day but also for us to monitor them to make sure they would all do well in our program.
As they grew larger we began moving them to our offsite pasture to finish growing.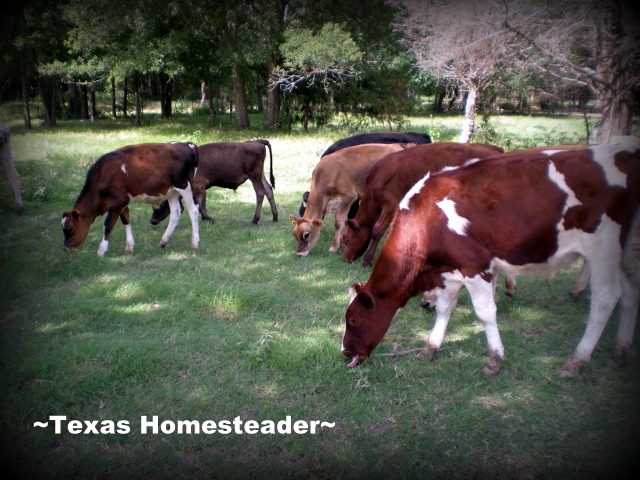 Suddenly A Calf Dies
But several weeks after some of them had been moved, suddenly one of them died. I realize it's a sad fact of ranching that sometimes you lose an animal to an injury, illness, or the many number of things that can go wrong even with a diligent caregiver.
But it was so odd, he never showed any sign of illness. He was fine one day trotting to the trough for range cubes and a scratch behind his ears and then gone the next.
RancherMan and I check the animals on that offsite pasture several times a week but in our Texas heat he had died several hours earlier & was already too far gone when we found him for us to determine for sure what happened to him.
A Second Calf Dies
But then a couple of weeks later the same thing happened to another of our sweet boys, fine one day and gone the next.
But this time we found him very soon after he died. After losing two in such a short amount of time we immediately called the vet out to find out what was going on.
The vet met us in the pasture and performed a necropsy on the calf. He determined that the probable cause due to the indications he saw was… BLACKLEG!!??
Blackleg Disease Is Deadly For Calves
The vet explained to us that the spore for blackleg is common in the soil and it lays dormant for quite a while. But when the animals come into closer contact with the soil such as during a drought when they're nibbling closer & closer to the ground, the organism can be contracted, yet even then will often lay dormant in the animal.
But sometimes for unknown reasons it activates, gets into the bloodstream and is quickly lethal.
Of course we already knew that. It's why blackleg is a mandatory vaccination (among others) for all of our animals as part of our herd health program. Properly protected the chances are minimal that the animal will contract this illness.
Seller Lied About Blackleg Vaccinations?
But here's the curious part – how can it be that this calf died from blackleg when the person we bought him from told us all the bottle calves were already vaccinated – even gave us the product name & vaccination date!
I can't imagine why she'd tell us such a thing if it weren't true. But to lose two animals so quickly in the same way, this would have to be a super-colossal coincidence to be anything other than blackleg contracted by two unprotected animals.
Sadly folks this is both an emotionally and financially painful lesson learned: from now on we'll not take a seller's word that proper protection has been given. We'll take matters into our own hands & administer calf vaccinations ourselves. Even if we're told by the seller that they're up to date.
Goodbye sweet boy…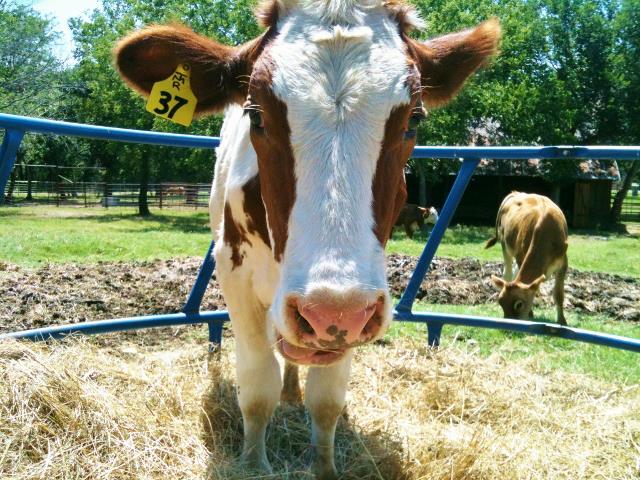 But now what about our other bottle calves?
Although blackleg is not contagious all our sweet babies were loaded up immediately from our offsite pasture and brought home to receive that important vaccination that's a mandatory protection in our herd.
Although we had to vaccinate those remaining calves by headlight since it was already dark, we didn't want to wait one more day!
At least now they're finally protected as they should have been all along. Let's hope we caught it in time so no others will be lost.
~TxH~
Other Ranching Articles


C'mon by & sit a spell! Come hang out at our Facebook Page . It's like sitting in a front porch rocker with a glass of cold iced tea. There are lots of good folks sharing! And you can also follow along on Pinterest, Twitter or Instagram
If you'd like to receive an email when a new blog post goes live,
subscribe to our Blog!