by Texas Homesteader ~
What we do on this ranch is our livelihood, our means of supporting ourselves. It's a wonderful life, yet certainly a hard one. Prudent business decisions have to be made every day. If they're the wrong decisions, we don't get paid.
Period.
Bills don't get paid nor groceries bought. There's no gray area on the pay scale when you're self employed. No mistakes are financially free – no mulligans!
Don't get me wrong, like I said it's a wonderful life filled with many delights. But it can be hard too.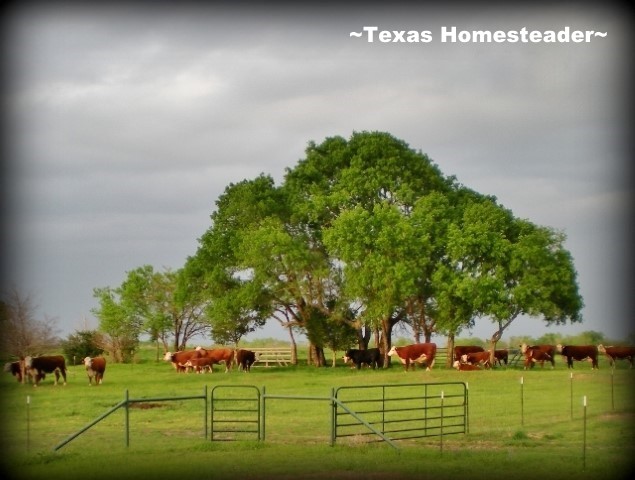 Hard Working Conditions
Although when I worked in the city a day off was in order when ice was on the ground, here inclement weather just means it's time for us to work overtime. There's no bad-weather pay or vacation or sick pay. I've written before about the big ice storm fiasco a few years back. WHEW!
And a few months ago we had a cow to calve unexpectedly early. Although we'd moved her to a nearby paddock so we could check on her daily in preparation for calving, she showed no signs of imminent calving. But she calved early one morning before we checked her… because she was carrying TWINS. Neither calf survived. Heartbreak!
But losses aside, I'm comforted by the life that we're adamant about giving our cattle here. RancherMan & I strive to provide them the best possible life while they're in our care. We pride ourselves on letting them live like a cow, they way it's supposed to be. You know – enjoying fresh green grass, lounging lazily under trees, and a treat from us every now & then. We want to make sure they're given the opportunity to live the cow-life they deserve, and they DO!
Unlike many other cattle herds, our cattle are calm around us. When RancherMan & I stroll through the pastures they may raise their heads to see if we're bringing treats. Or more often than not they may completely ignore us as we pat their rumps when we walk by.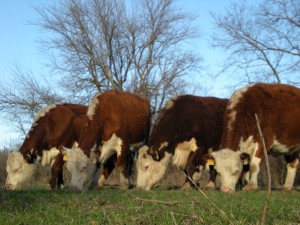 You see, our cattle don't see us as a danger from which to escape, but as careful caregivers. Our deepest desire is that we raise valued breeding cattle that stay in our herd all their life. Their value is much more about the calves they produce for us to sell than their meat value.
Favored Few
Having said that, some animals are harder to lose than others. Good Ole #20 has been a stellar breeder. Our herd bull even came from her. Even as a hulking 2500-lb boy he loves a scratch on the head when we're out in the pastures.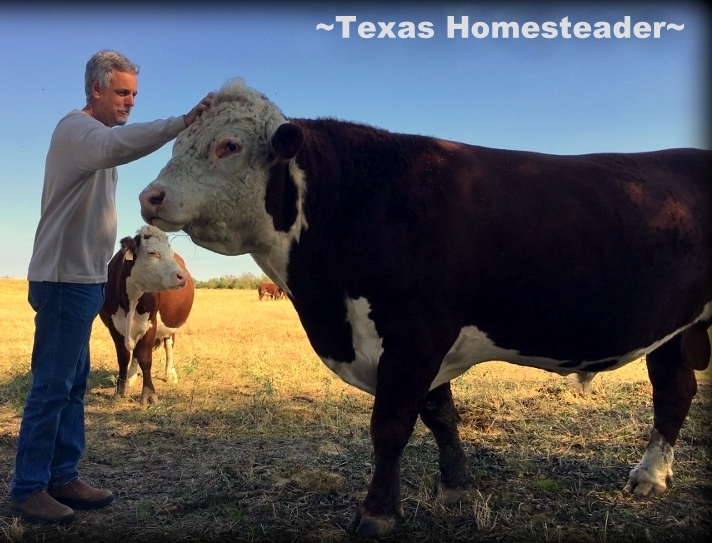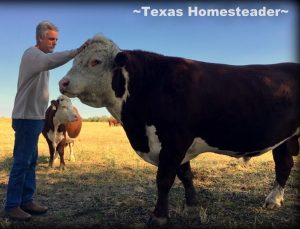 A few years ago we wanted to 'young-up' our herd. So we sold all our older animals and replaced them with young heifers. But not #20! We wanted her to stay in the herd as long as possible, even though we could probably receive more money for her selling her as a younger breeder.
But year after year she kept producing & raising a calf for us. And each time that RancherMan bred her via A.I., she settled the first time, every time.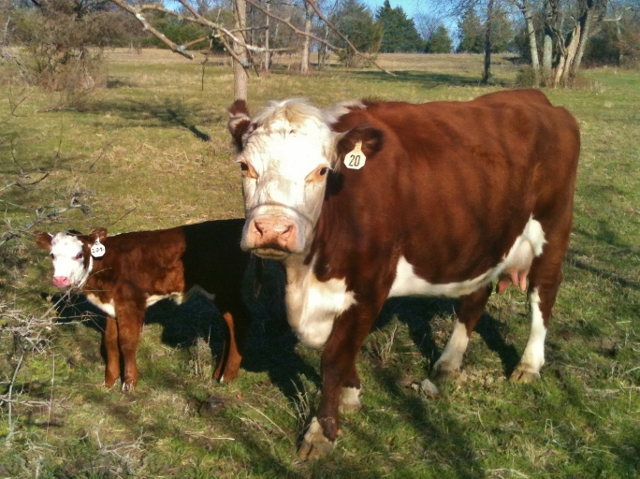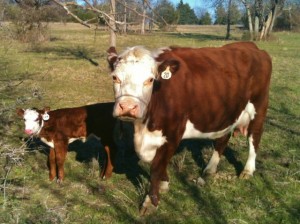 #20's Full Lifetime Spent On The Ranch
These days our good Ole Powerhouse #20 is an old girl at 10 years old. Yet even at her age she's already long-bred to have her EIGHTH calf. Even during the continuous brutal droughts we've suffered here in NE Texas when most cows in our herd skipped being bred, she settled. Year after year she produced that calf. Like I said: Stellar.
But RancherMan approached me recently with the conversation I knew was on the near horizon. Her time had come, I knew he was right. With a gulp I had to help load this girl today. Yep, some are harder to lose than others…
It's Always Sad When They Leave
There are those that say 'it's just a cow', or 'it's just business'. Although RancherMan & I are careful to view our cattle as livestock and not pets, you can't help but to form attachment to the animals you've spent years caring for. Our Power House #20 was one such animal.
I've been told by many people that they would never be able to ranch for a living because they'd get too attached to their animals. It's been suggested that since we raise cattle for a living day in & day out, perhaps we get used to losing animals when we sell.
Nope, it's hard for me every time, no matter the circumstance. When we load up those beautiful heifers who are headed off with their proud new owners to a new pasture, it's hard.

When we sell the bottle babies that we raised from week-old calves, it's hard. Yes the man bought the gentle calves as 'pets' for his grandchildren, but it was no less difficult for me to say goodbye to those sweet boys.

And yes it's doubly hard when we must take one to the sale barn (as in this case) because she's too old to present to our buyers. Hard!
Ya know, like I said – saying goodbye is never easy for me no matter how they're sold. But especially with #20… Goodbye sweet girl.
~TxH~
Other Ranching Articles


C'mon by & sit a spell! Come hang out at our Facebook Page . It's like sitting in a front porch rocker with a glass of cold iced tea. There are lots of good folks sharing! And you can also follow along on Pinterest, Twitter or Instagram
If you'd like to receive an email when a new blog post goes live,
subscribe to our Blog!
Save
Save
Save
Save
Save