by Texas Homesteader ~
We purchased two established hives in the spring of 2016. So far they've done very well.  I've been sharing details of our beekeeping journey along the way.  I've linked to various topics we've already covered below. Feel free to check 'em out!
But when the weather starts turning colder RancherMan begins preparing the hives for winter weather.  He started by placing entrance reducers at the front of the hives.  He did this to keep the cold wind at bay which will help to keep the hive warmer when those cold winds blow.  Plus it gives a smaller entrance for the bees to have to defend against honey robbing too.
But although we feel they're going into the winter with a healthy honey reserve to see them through, we wanted to make sure.  So during an unseasonably warm, sunshiny and windless winter day we decided to go in for a little check-see…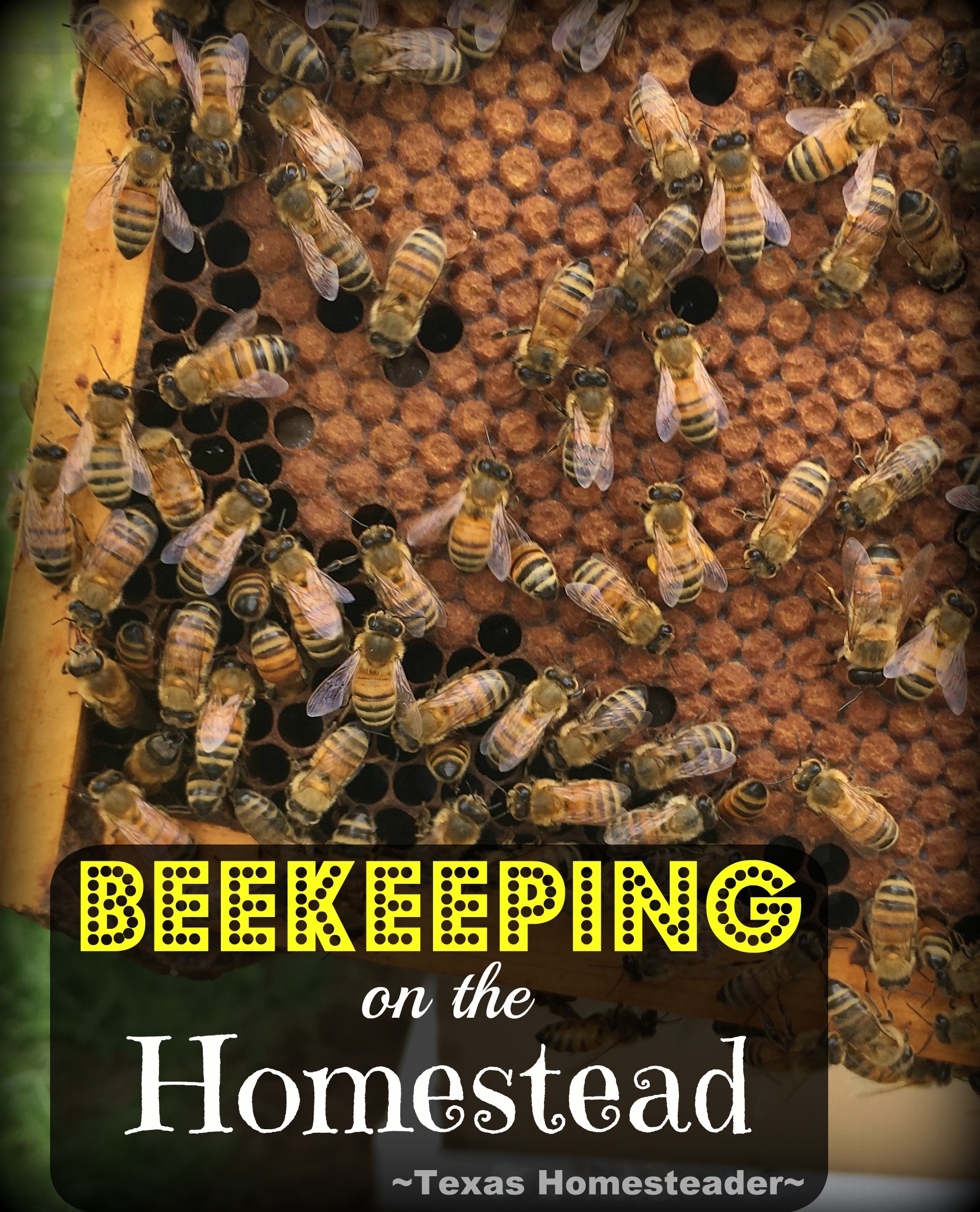 Winter Hive Inspection
When RancherMan cracked open the hive we were very pleased to see lots of activity. He also noted a healthy reserve of honey to feed them even now when their flowering food source is gone.  But we know that the coldest months of winter are still on the way. So we want to make sure they have plenty to eat.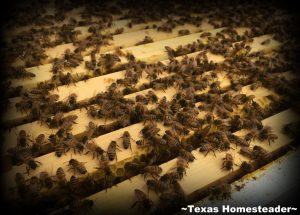 We've heard horror stories of entire hives that starved to death over winter.  Today's feeding will be inexpensive insurance for us!  But we can't just feed them sugar water the way we did over the summer.  It would just freeze in the jar!  In wintertime the feed recommended by our beekeeper's association is granulated sugar.
Winter Hive Feeding
So first RancherMan made a spacer by cutting a frame from a piece of siding insulation.  You know what our battle cry is: "Use Whatcha Got!" He then used duct tape to wrap the edges for stability. This spacer will give us plenty of room to add some granulated sugar beneath the inner cover of the hive.
Once his spacer was complete he placed a single layer of newspaper on top of the frames.  The newspaper will keep the sugar from just falling between the frames and making a mess inside the hive. Then out to the hive we go.
We removed the telescoping lid and the inner cover and placed the homemade spacer directly on top of the hive's honey frames.  Then we poured a 4-lb bag of sugar on top of the newspaper and spread it evenly.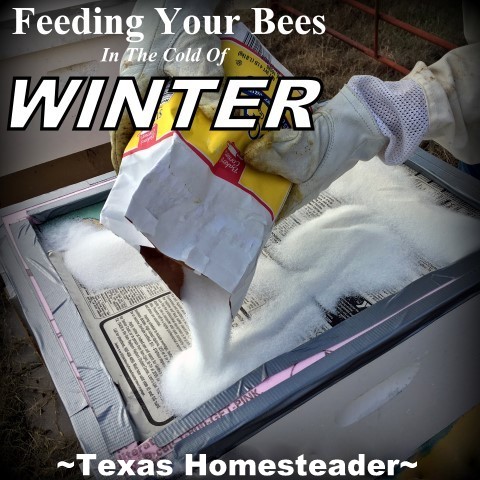 The bees will eat through this thin layer of newspaper to get to the sugar.  By then the small amount of condensation in the hive will have turned the sugar to a harder sugar candy for them.
Finally RancherMan carefully replaced the inner cover & the telescoping lid and strapped everything back down.  We're confident between their ample honey stores and the sugar we've fed them that they'll come through the winter healthy & ready to get to work come spring!
BEGINNING BEEKEEPING SERIES:
(You can see ALL our posts about beekeeping HERE)
~TxH~


C'mon by & sit a spell!  Come hang out at our Facebook Page. It's like sitting in a front porch rocker with a glass of cold iced tea – lots of good folks sharing!  You can also follow along on Pinterest, Twitter or Instagram.
If you'd like to receive an email each time a new blog post goes live it's EASY to

Subscribe to our blog!
Save
Save
Save