~by Texas Homesteader ~
There are many who are interested in raising bees, so we've been asked to blog about our experience. I've written about the beekeeping preparation steps that were necessary before we ever obtained our first bees in this Preparation Post.
And I've written another post about what to do when you actually Obtain your Bees. So if you haven't read those posts be sure to check them out.
But now that we have our bees, we can't just put 'em out there & let them do their thing… There's a rhythm to tending to the hives to assure a healthy, thriving, productive hive.

Observing New-Hive Activity
RancherMan visually checks the activity at the new hives each day by standing outside the bee pen that we've sectioned off for the apiaryt. He watches the bee's activity at each new hive, but he doesn't disturb the bees or their hives during these daily visual inspections.
He's using this visual inspection time to compare general activities of each hive. Do both hives look to be active? Are many bees coming & going from each new hive? Are there any stark differences between the two hives' activities?
But sometimes it's important to dig into those hives for maintenance & checking.
Feeding Your Bees
Especially when your hive is new the bees may need a little help with feeding by adding feeders filled with 1 part water to 1 part sugar. The feeder seemed to be emptied about every 5 days so RancherMan would refill the feeder as it was emptied.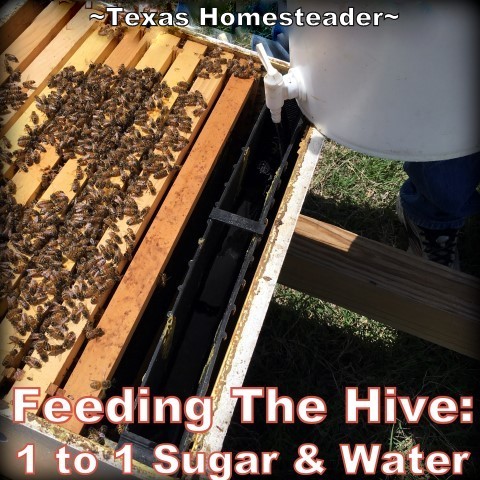 We loved the external feeder for the ease of refilling and monitoring the feed levels. But we found those external jar feeders leaked so bad that they attracted ants. We didn't like that at all!
We removed the external jar feeder from the entrance of the hives and RancherMan placed one of the frame feeders into each of our hives.
There are some drawbacks to using frame feeders though. It's certainly not as easy to refill the feeder since you have to crack into the hives to do so. And since it's inside the hive you can't monitor the feed level as easily either.
Plus you're removing a frame that the bees would be working to make room for this frame feeder. So you've lost a full frame's production too.
But even with these drawbacks, the internal frame feeder is our preference for times when we need to feed the bees.
Weekly Physical Hive Inspection
We've read that it's best not to disturb the hive unless you're doing a physical inspection. From what we're learning at our beekeepers seminars & association meetings, it's fairly typical for beekeepers to inspect the inside of new hives about once each week or so to check the health of the hive. (some beekeepers go into the hives more often, some less often but about a week is typical)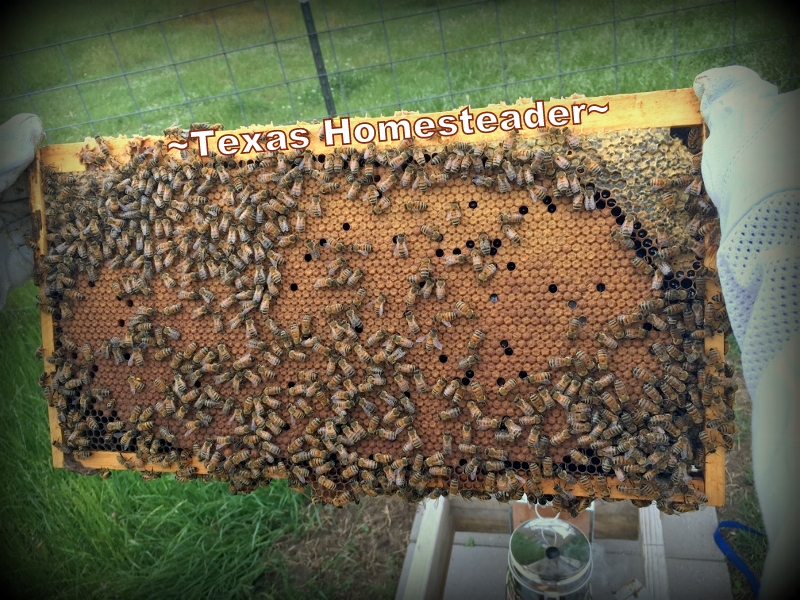 During these inspections you'll be answering these questions:
Do you see any hive beetles or Varroa mites? If so, now is the time to start taking action to assure they don't compromise the health of your hive.
Is the queen active & present? The queen is larger and pretty easy to detect.
What are the stages of the larvae (baby bees)?
Are new cells being formed and eggs still being laid?
How much comb is being drawn on the new frames?
You're basically checking the health & growth of the hive.
Protective Clothing
Now although there are all manner of beekeeping apparel available, RancherMan's typically comfortable with heavy jeans, a long-sleeve shirt worn OVER a short-sleeve tucked-in for double layering, leather boots, beekeeper's gloves and beekeeper's veil.
We've been told to ALWAYS wear the veil since bee stings in an eye can be very dangerous and damage can be permanent. So one way or the other we always are at least sporting a veil.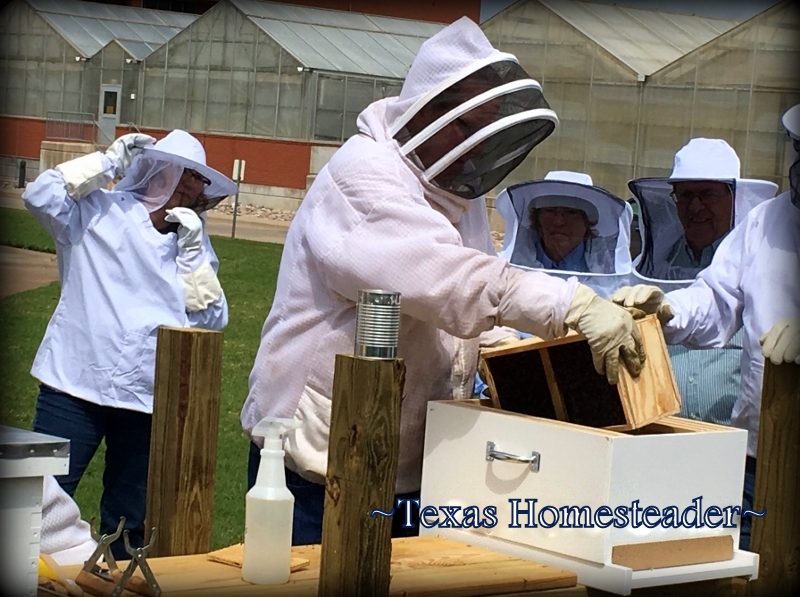 When inspecting the hive it's best to wait until middle of the day when many of the hive's occupants are out foraging. That way you're looking through fewer bees to more easily inspect the frames.
It's common to smoke the hive before opening up the hive boxes to distract the bees. Smoking the hive makes the bees believe there's a fire close by. So they go into a frenzied feeding mode to prepare themselves for this hardship. Even so, you don't want to get into/smoke the hive any more often than you have to.
Keeping A Bee Journal
RancherMan likes to keep a journal of his observations. He can compare notes from this inspection vs last inspection and see any trends or growth at a glance. His bee journal shows:
Bee Journal:
(DATE) First trip to open hives. Bees very calm.
First hive (brown) strong with bees already drawing small amount of comb on new frames. Queen found on 3rd frame in. Installed inner lid.
Second hive (yellow/blue) strong but not as strong as first. Almost no bees on new frames. Queen found on 2nd frame in. Installed inner lid.
Put on jar feeders with 1/1 syrup on both hives.
———————————————————————————–
(DATE) Second trip to open hives. Bees calm and very active.
First hive – comb growing on new frames,20% drawn. Saw queen 3rd frame in.
Second hive – very active. Saw new bee emerging. Still little activity on new frames. Did not see queen. One hive beetle.
———————————————————————————–
(DATE) Third trip into hives. Both hives very active and increased in size. Smaller hive appears to have caught up. All 4 exterior frames have significant comb on insides. Did not see either queen but saw lots of brood. No beetles.

Expansion Of Your Hive
It's important during these weekly inspections inside the hives to also determine the appropriate time to place another deep box with frames on a full hive.
If the bees have filled up all their current frames with brood and comb, they'll start looking for a place to expand. And oftentimes that means they'll swarm.
When they swarm they will take the queen and go look for another place to live. That's certainly a losing proposition for a beekeeper who has spent time & money to purchase & care for his own colony of bees.
So you want to make sure there's still plenty of frames for the bees to work so they won't get any movin' out ideas.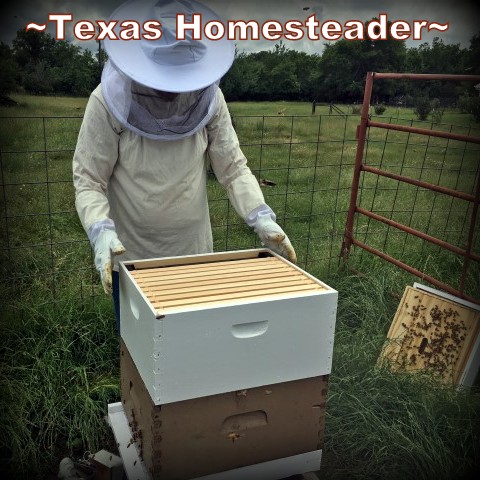 A second box with frames allows them room to expand and reduces the chances of swarming. It also offers opportunity to grow the hive. That means more brood, more bees, and of course more HONEY!
More often than not you'll determine after your hive inspection that all is fine. If so, you'll carefully close the hive and leave them to their bee bzzzzzness.
~TxH~
BEEKEEPING SERIES:
…And MUCH More!


C'mon by & sit a spell! Come hang out at our Facebook Page . It's like sitting in a front porch rocker with a glass of cold iced tea. There are lots of good folks sharing! And you can also follow along on Pinterest, Twitter or Instagram
If you'd like to receive an email when a new blog post goes live,
subscribe to our Blog!
Save
Save
Save
Save
Save
Save