by Texas Homesteader ~
Our apiary started out with two established single-deep beehives. That first beehive stand was built using repurposed 2″x6″ boards that were 6-ft long from raised beds that we tore out. We added a deep box to each hive last year & saw those bees safely through the winter.
This spring we split them into four hives. Now we needed another hive stand so we built another like the first from purchased 2″x6″ boards. Then we caught not one, not two, but FOUR Bee Swarms this spring! (I KNOW, how exciting!!)
But these swarms are being caught & brought to our fledgling apiary faster than we can build stands. RancherMan decided to change direction. He wanted to assemble the next stands using concrete cinder blocks and 4″x4″ 5-ft long wood posts.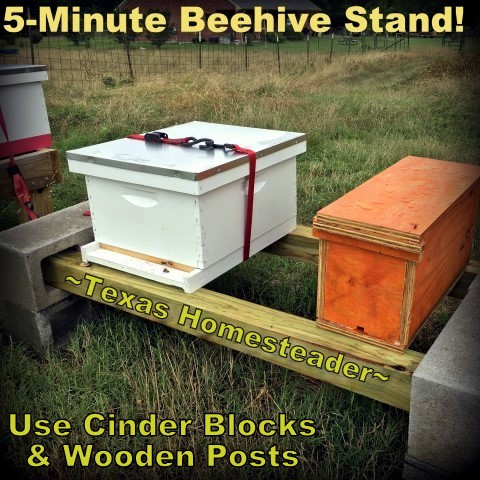 Beehive Stand Comes Together Quickly
Really, it couldn't have been easier. He needed two cinder blocks laid longways & 2 more stacked on top for each corner of the stand.
So for each 5-ft long beehive stand he'll need two 5-ft long 4″x4″ wooden posts and 8 cinder blocks that measure 8″x8″x16″. We built two 5-ft long hive stands in minutes!
After the concrete blocks were in place he slid the 4×4 poles through the holes in the cinder blocks. BOOM! Table for 25,000, no waiting!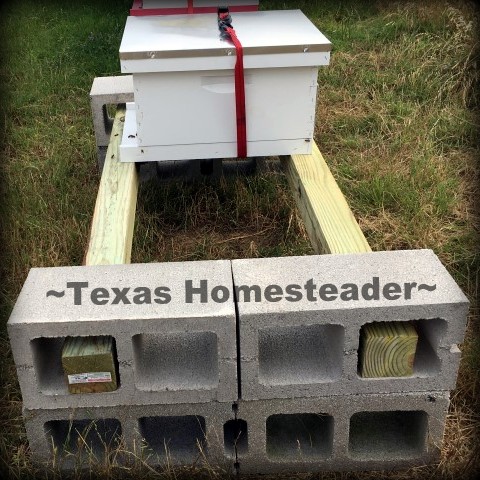 He could probably fit three hives on each stand, but he wants to limit it to only two hives per stand. He finds it's easier to work around them when the hives are not too close together.
In the picture shown in the first paragraph his hive stand is holding a regular single-deep hive and a nuc box with a recent swarm capture. Thankfully he can Build 4 Nuc Boxes from a single piece of plywood. So we had nuc boxes ready and waiting for the swarms.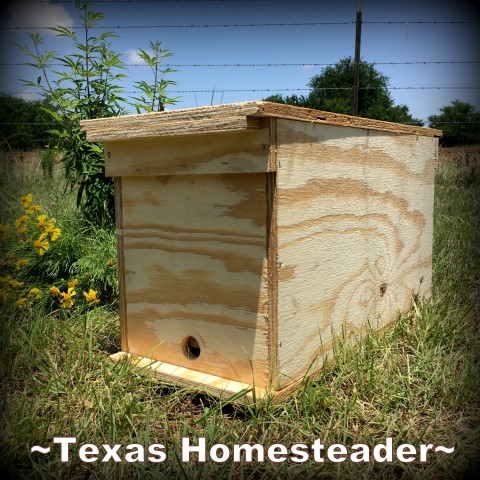 When we move this swarm from the nuc box to a deep box hive, the spacing between hives will be about right for his comfort.
A Comfortable Height
These stands are just a touch shorter than the other hive stands he built. But he found that he actually prefers them a little shorter.
Although he's my handsome 6′-4″ tall RancherMan, when the hives get two deeps and a honey super (or two) stacked, that's about shoulder high for him.
This slightly shorter stand actually makes it easier for him to lift those heavy top boxes off when he's inspecting or when we harvest the honey! In the picture below you can see the slight difference in height between our concrete block hive stands and the ones we built initially.
He loves that he can put these stands together in 5 minutes or less. Apparently this year with so many swarms available, time is of the essence! We already have one hive stand filled & another built and standing ready.
Let's learn from each other – what do you use for hive stands?
~TxH~
BEEKEEPING SERIES:
…And MUCH More!


C'mon by & sit a spell! Come hang out at our Facebook Page . It's like sitting in a front porch rocker with a glass of cold iced tea. There are lots of good folks sharing! And you can also follow along on Pinterest, Twitter or Instagram
If you'd like to receive an email when a new blog post goes live,
subscribe to our Blog!
Save
Save