by Texas Homesteader ~
A beekeeping nuc box is a hive box only large enough for small a nucleus hive – usually 1/2 the size of a regular hive. We can quickly build FOUR 5-frame nuc boxes from a single piece of plywood. Come see!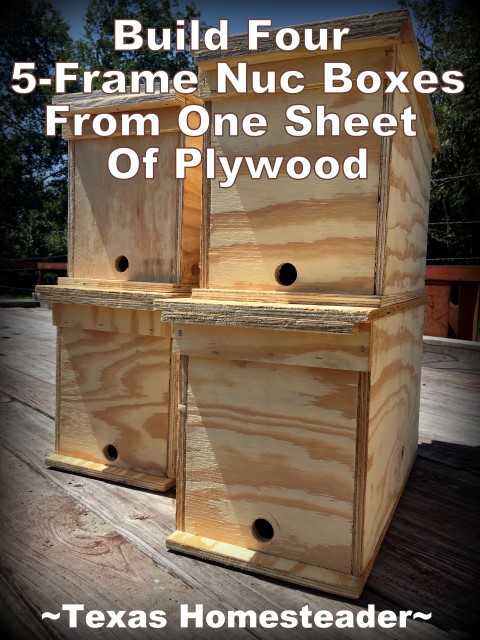 (Note: Some links in this post are for further information from earlier posts I've written. But links preceded with * are affiliate links. If you click them and buy something (almost anything, not just the item noted) I could receive a tiny commission. But the price you pay will NOT change. It's an easy way to support this blog without anything coming out of your pocket. So click often! Thank you!)
I've included a complete list of all our Beekeeping Posts at the bottom of this post. I encourage you to check them out. But today I'm talking about building a simple nuc box to hold a captured swarm.
Bees Swarm In Spring
Spring is an exciting time in beekeeping. The bees are finally able to get out of the hive & forage from the blooming plants.
The number of hives grow by leaps and bounds this time of year too. It's a good time to split the colonies to keep them from becoming too crowded.
But spring is also a time when some colonies will swarm. Sometimes when we capture a swarm we put the bees into an empty deep hive box with frames and let them get busy.
But sometimes so many swarms are caught that we don't have a deep hive box available. We needed to build a temporary nuc box for any swarms of bees we caught.
So we built some 5-frame nuc boxes for temporary housing for them. They're super quick to put together & you can build four nuc boxes with a single sheet of plywood!
It's a bad thing to see a swarm but have to let the opportunity pass you by because you have no boxes in which to place them. So these little 5-frame nuc boxes will be handy to have ready and waiting for times when they might be needed.
We didn't have any extra waxed foundation frames to fill our new 5-frame nuc boxes. So we first bought Deep Beehive Frames to fill the nucs when they were built. And we also purchased a 4×8 sheet of 1/2″ plywood.
Now let's get started building those little nuc boxes!
Materials Needed to Build A Bee Nuc Box
Each completed nuc box will hold five full-sized frames. And a single 4×8 sheet of 1/2″ plywood will make 4 complete five-frame nuc boxes. Here are the supplies you'll need:
4×8 Sheet of 1/2″ Plywood
Skillsaw
Measuring Tape
Marking Pencil
Framing Square
Air-Powered Trim Nailer / Stapler
Paint
The cuts are all basic and accomplished quickly using just a skillsaw. (Plans to build these nuc boxes were found online at BeeSource.com)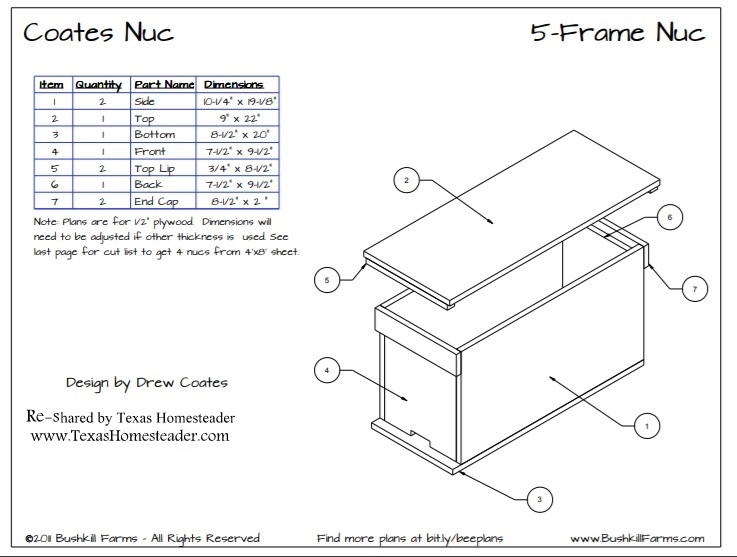 Measure & Cut Wood Pieces for Nuc Box
For each nuc box we marked off and cut:
Two 10-1/4″ by 19-1/8″ pieces for the sides,
Two 7-1/2 by 9-1/2″ pieces for the front & back.
One 9″ by 22″ piece for the top.
One 8-1/2″ by 20″ piece for the bottom to allow for a landing board for the bees.
Two 8-1/2″ by 2″ pieces for cleats to hold the frames inside
Two 3/4″ by 8-1/2″ cleat pieces to finish the lid.
So a single sheet of plywood would be cut up as follows to make four nuc boxes:
Talk about efficient use of the whole sheet of plywood! There's precious little that's wasted in cutting up that sheet of plywood. And I love that.
Each nuc box only has these few pieces to assemble: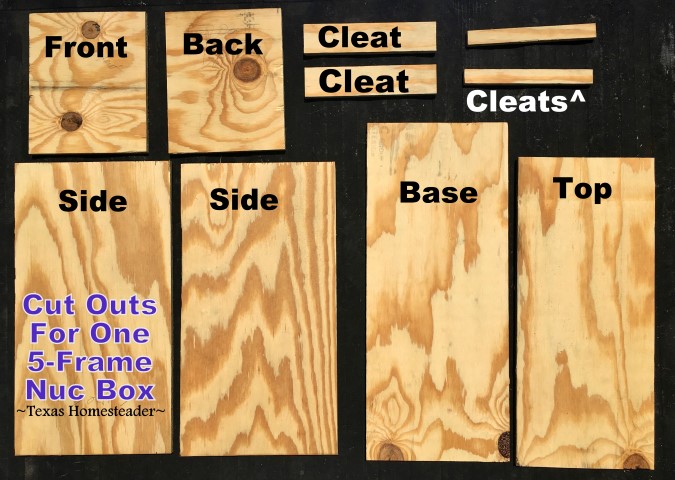 Drill An Entrance Hole In The Front
RancherMan decided to simplify the cuts for the front piece that has an entrance space for the bees to enter.
Instead of the more precise cut which allowed an entrance on that piece, he just cut the front piece into a straight rectangle instead. But he had a plan.
After all pieces were marked & cut RancherMan drilled a small 3/4″ hole for the bees entrance into the front of the box.
Assembling The Nuc Boxes
Now it's finally time to start assembling our nuc boxes.
We added a hearty bead of wood glue to the edges before attaching the boards securely with 1″ x 1/4″ staples. That glue will help to keep everything sturdy in the years to come.
There now, let's stand back & see how it looks… Yeah, I like it!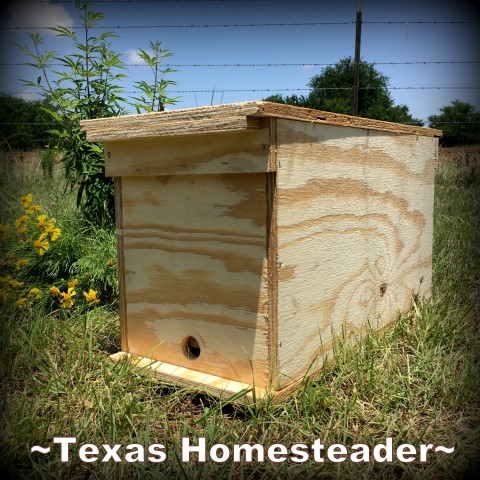 These little 5-frame nuc boxes are handy to have ready and waiting for times when you need a small box to hold a smaller amount of bees.
Catching A Bee Swarm
I mean, sometimes you'll look out your window and BOOM! There will be a big ball of bees that have swarmed. It's a good opportunity to capture the swarm and increase the number of honeybee colonies in your apiary.
The size of the hive box we use depends upon the number of bees in the swarm.
If the honeybee swarm is very large, RancherMan & I will put them into a waiting 10-frame deep hive. Then we'll just place them on one of the beehive stands in our apiary along with the others.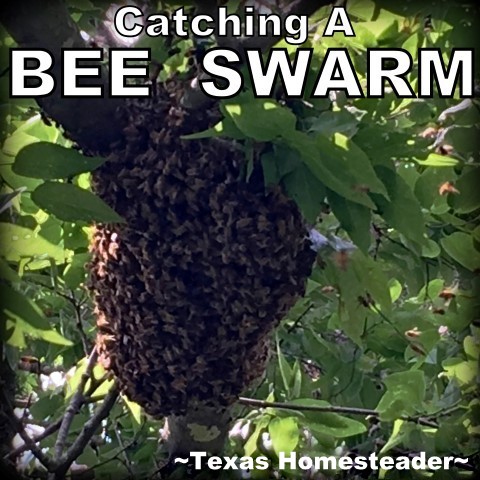 But for a smaller swarm it makes more sense to put the captured swarm into a smaller box with fewer frames. That's when these little nuc boxes really shine!
Once the colony gets more established and needs more room we'll move them to a larger 10-frame deep hive box then.
We'll probably build more nuc boxes and have them ready for any additional swarms we catch. I'm thankful that the boxes are easy and inexpensive to make. Give it a try!
~TxH~
BEEKEEPING SERIES:
…And MUCH More!


C'mon by & sit a spell! Come hang out at our Facebook Page . It's like sitting in a front porch rocker with a glass of cold iced tea. There are lots of good folks sharing! And you can also follow along on Pinterest, Twitter or Instagram
If you'd like to receive an email when a new blog post goes live,
subscribe to our Blog!