by Texas Homesteader ~
Around the end of March RancherMan & I start thinking about splitting our beehives. Splitting a hive accomplishes 2 things – it expands the number of hives in your apiary. (yea!) But it also gives the bees a little elbow room by putting empty frames in each hive allowing for expansion.
You see, if the bees get to thinking things are too cramped, they'll swarm looking for more space. And that's something no beekeeper wants since there's been lots of time & effort into managing their apiary. We did our splits by swapping empty frames for full ones. It was easy!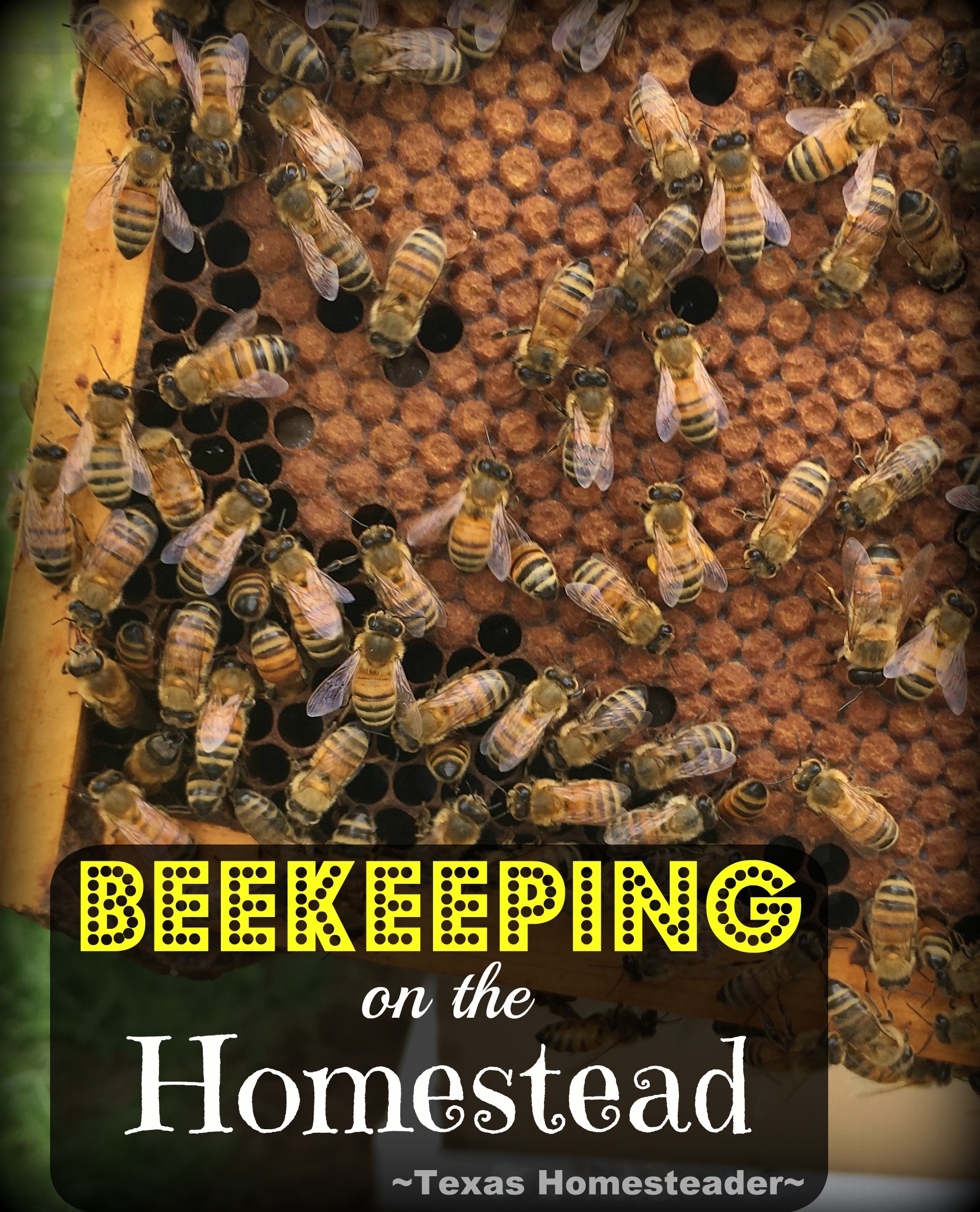 I wrote about the 'Walk-Away Split' we did in our hives last year. That time we did a Half-n-Half split.
Back then we simply took the top box of our 2-box beehive & placed it atop a new bottom board next to the existing hive. Then we put an empty deep hive box filled with empty frames on top of each hive and added a new lid to the new split hive & walked away.
Of course one of the hives will contain the existing queen. The other hive will simply make a new queen with one of the eggs contained in a frame.
But on this occasion we're doing a Frame-Swap Split instead. We feel it's not quite as hard on the hives.
Deciding Which Hives To Split
First we decided which hives would be split. We wanted to look at strong hives that could take the pressure of being split and still bounce back & provide a honey harvest. This Frame-Swap Split seems to make it easier for the hives to recover. On this day we chose 3 of our hives for a split. This will increase our apiary hive numbers by 3!
Locating The Queen… or Not!
So we pull the top & inner cover and inspect the frames in the top box of our strongest hive. RancherMan's looking for a good mix of frames to move to the new hive.
He wants some frames of honey & pollen, some of capped & uncapped brood and some with eggs.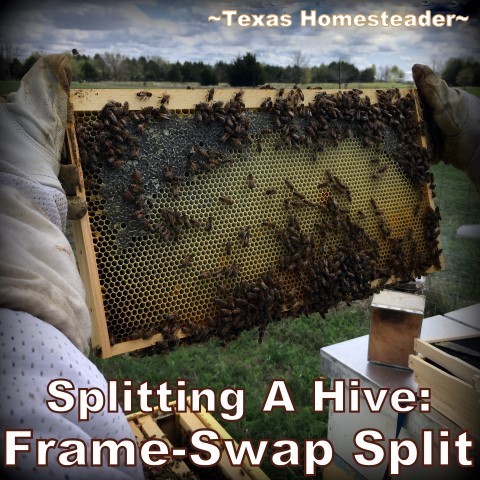 As he chooses the frames to move to the new hive box he keeps as many worker bees on the frames as he can, but he's looking for the queen.
He'd really like to keep her in the existing hive if possible.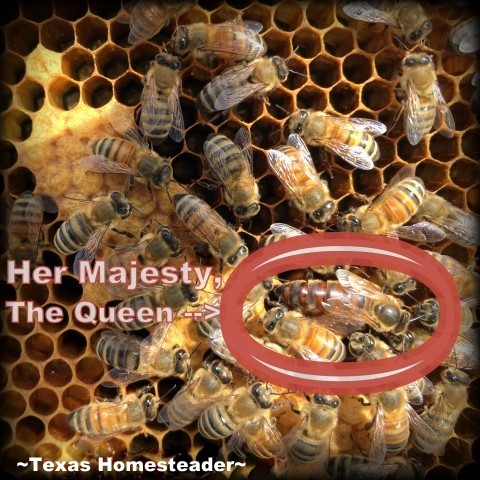 But since the existing hive is two-deep-boxes high, it's really not the end of the world if he doesn't lay eyes on her.
He just wants to see that he's not moving her to the new hive.
Splitting The Hives – 1 Into 2!
So after he's moved the 4 frames to the new empty deep hive box, he'll replace the frames he removed with empty frames.
And to the new hive box he'll add 4 empty frames and a feeder. He'll be feeding 1 part sugar dissolved into 1 part water to help the new hive along.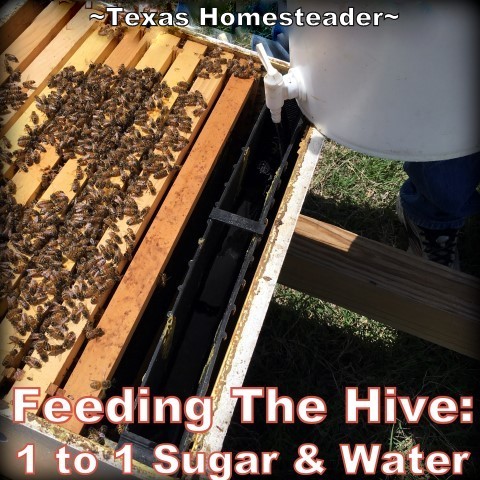 But we expect both the existing hive as well as the new split should be able to bounce back quickly & start filling the empty frames with brood and honey.
Follow-Up Care
We'll check the new hives in about 4 weeks to see if both contain a queen. One will contain the original queen of course, and the other should have hatched a new queen.
The new split hive probably won't be ready for a honey super box expansion yet. But we'll put honey super boxes on the existing hives so they can begin filling it with honey for our harvest. In this part of NE Texas our honey harvest is usually the first week of July.
~TxH~
BEEKEEPING SERIES:
…And MUCH More!


C'mon by & sit a spell! Come hang out at our Facebook Page . It's like sitting in a front porch rocker with a glass of cold iced tea. There are lots of good folks sharing! And you can also follow along on Pinterest, Twitter or Instagram
If you'd like to receive an email when a new blog post goes live,
subscribe to our Blog!