By Texas Homesteader ~
I've often thought about other people's perspectives on why I try so hard to provide for myself. (Although I'm focusing today on food production, homesteading encompasses providing many items for yourself, not just food.)
I love to garden and it brings me joy knowing I'm providing healthier food than can be purchased at any price. Healthy veggies are often fresh out of my garden and on the supper table in an hour or less! I also like to grow herbs & spices such as rosemary, thyme and oregano.
But from another person's perspective – why buy the seeds and plant them, water the plant until it grows?
And why bother weeding the beds constantly under that Texas summer heat? Why wait several weeks later harvest it, dry it and put it in a jar? You can just BUY a bottle of oregano for a couple of bucks!
I suppose it's true that it doesn't take much money to supply my family with oregano. So why do I even bother with this homesteading thing?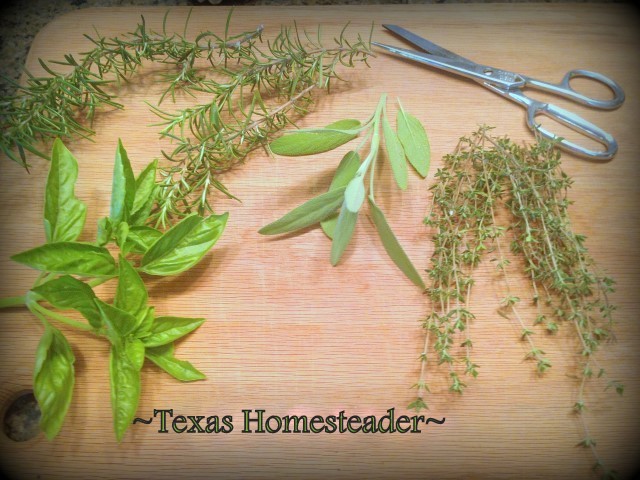 Homesteading, Why Bother?
Financial
Although it's not really about the money, oftentimes providing for yourself takes a little more of your time and lots LESS of your money. I'm amazed by the 'convenience at all costs' mindset these days. Our lives are often so over scheduled that we feel we need to buy convenience at a heavy price to hurry along parts of our lives to allow more time for other things we try to cram into our days. Although I realize it's all about moderation and there are certainly times when convenience foods play a part in our home, it really doesn't take much more time to plan out a meal. Or even better, use the "cook-once-eat-twice" cooking method so that a quick, healthy, fully-cooked homemade meal is as close as our freezer.
Health
When I provide home-cooked meals I know what is (and what ISN'T) in the food we're eating. For instance I know the oregano in my garden is at its peak of freshness when I harvest it. And I know my homemade yogurt is simply milk & yogurt starter, nothing else. I know how much salt has gone into that delicious bowl of homemade beef stew. And I know that egg is far fresher than anything that can be bought in the store – our chickens laid it just this morning!
Environmental
For several years now I have been on this quest to have lighter footsteps on our world. Actually it was for environmental reasons that I first started this push to provide for myself when possible. Back in those days although I loved yogurt and I ate it every day, I hated the plastic tubs yogurt was sold in. Our city didn't recycle that kind of plastic so even though I was very mindful of recycling I had to throw those small tubs away. Once I found out how easy it was to make my own yogurt I've never looked back! I typically make yogurt about every two weeks – in reusable glass jars. Actually this one action on my part combines the financial, environmental and health reasons all in one!
Independence
It allows me to focus on what's valuable to me. Instead of saving a little time by just buying what I need but then being forced to drive to work each day so I can afford to buy all the things I am not producing for myself at home. I'm able to be here on the homestead, a place that speaks to my heart, a place that I call 'HOME'. I'm not as reliant on my car to drive me to the store, the gas station to fill the car with gas, nor the company that sells the item I need. When I'm able to provide for myself – whether food or product, I know the craftsmanship that's used. I know the ingredients that are added. And I get immense pleasure and pride that I've been able to provide for my family.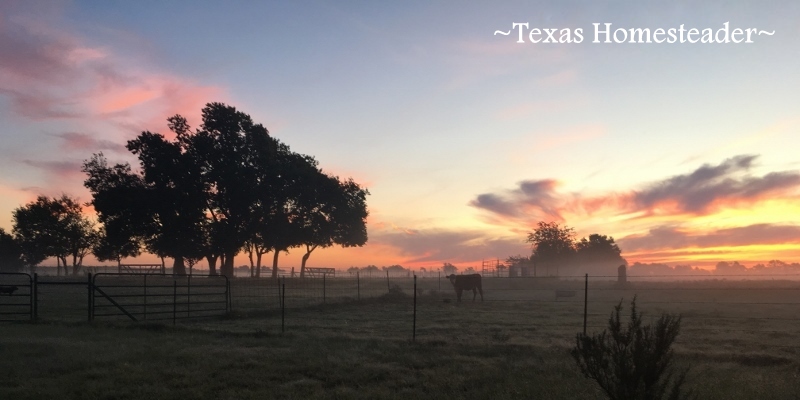 So why do I bother with this homesteading thing? I think maybe for me it's all the reasons above.
Financial so that I can live very comfortably with much less money than would otherwise be needed.
Environmental so that I won't be adding unnecessarily to the world's current landfill or pollution problem.
Health so that I can provide the healthiest food possible to my family.
Independence that I don't rely on other people or corporations to provide for me what I can so easily provide for myself.
I know it's not for everyone, we're all different and in different walks of life with different time restraints but it certainly works beautifully for me.
Homesteading – it speaks to my heart and I absolutely love the life we live here at the homestead.
What about you, why would YOU love homesteading?
~TxH~
Other Homesteading Articles


C'mon by & sit a spell! Come hang out at our Facebook Page . It's like sitting in a front porch rocker with a glass of cold iced tea. There are lots of good folks sharing! And you can also follow along on Pinterest, Twitter or Instagram
If you'd like to receive an email when a new blog post goes live,
subscribe to our Blog!
Save
Save