by Texas Homesteader ~
Although we don't eat lots of sweets, I love chocolate & RancherMan has a sweet tooth.
But with only two of us in the house these days I know better than to whip up a chocolate cake or the like when we're in the mood for something sweet (and CHOCOLATE!) So what's a girl to do?
Here's how the conversation went recently about an hour after supper:
RancherMan – "It sure would be nice to have something sweet."
Me – "OK, how about I make a hot homemade brownie just for you?"
Really, that's all the preplanning it took!
After mixing a few ingredients and 60-seconds in the microwave I presented him with a hot homemade brownie.
Yes I smeared a little flour on my cheek & came out of the kitchen looking like I had worked hard over his brownie treat… LOL
Here's how I made it: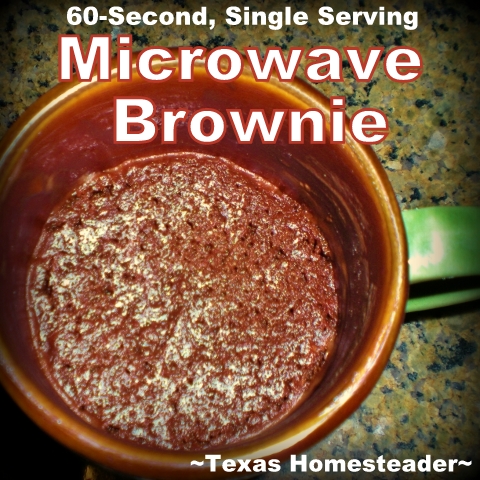 Quick Brownie Assembly
I measured 3 Tablespoons of coconut oil, 2 Tablespoons of cold coffee & a dash of salt into the mug.
Then I warmed it in the microwave for about 15 seconds to melt the oil as I was measuring the remaining ingredients. I like to premeasure my ingredients because it makes it easier to pull this recipe off with lightening speed.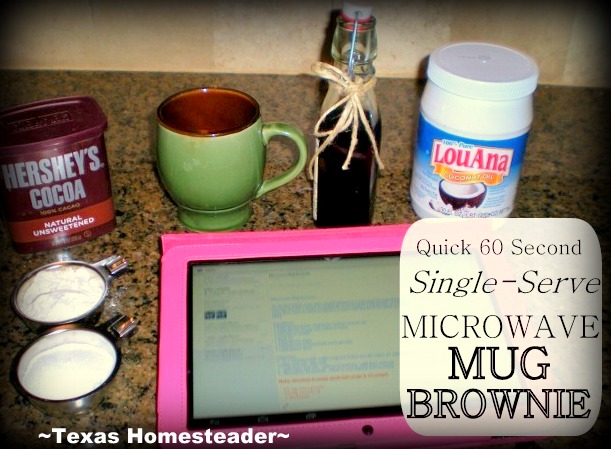 So while the mug was warming, into my individual ingredient containers I added 3 Tablespoons of sugar to one, 2 Tablespoons unsweetened cocoa powder to another and 4 Tablespoons flour into a third.
By this time the mug was warmed & the coconut oil was melted. After a quick stir I added 1/4 teaspoon vanilla then dumped the sugar into the warmed liquid & stirred to blend, then the cocoa and stirred, then the flour and stirred one last time.
Microwave For Only 60 Seconds!
Into the microwave for 60 seconds and bada-boom, bada-bing – homemade hot brownie in a single-serve mug! (your time could vary based on the power of your microwave of course)
I quietly slipped off my SuperWoman cape & hid it back in the pantry before emerging from the kitchen, the wafting aroma of chocolate filling the room.
This delicious chocolaty brownie is ready to eat after cooling slightly. But sometimes I like to stir up a drizzly mix-n-pour chocolate frosting to pour over the top for additional gooeyness.
Trust me, you're gonna want to add this no-cook melty chocolate topping to your brownie as well.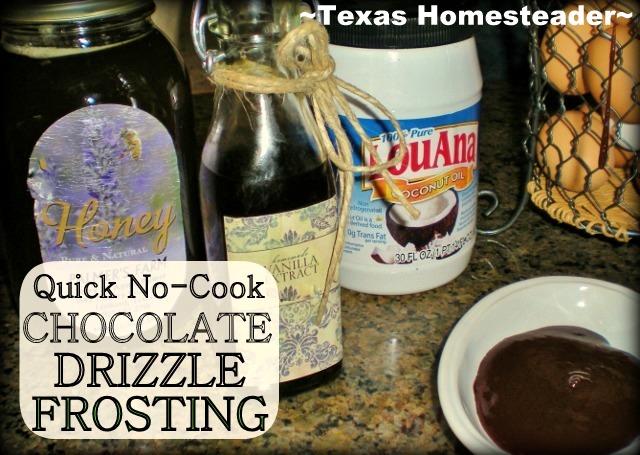 Here's your single-serving mug brownie recipe:
(SuperWoman cape not included)
Did you make this Microwave Mug Brownie? Please rate the recipe in your comment below!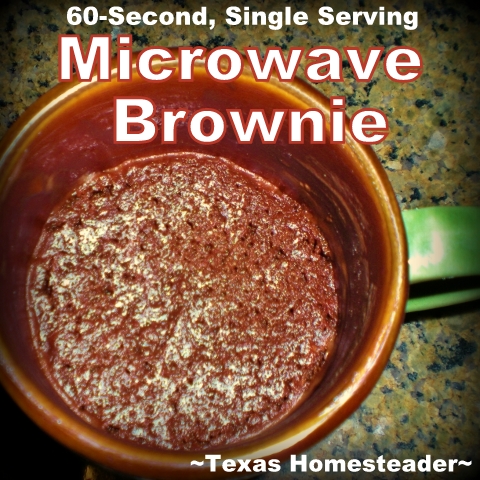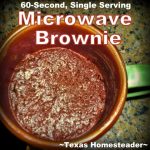 Single-Serve Microwave Mug Brownie
Ingredients
Ingredients:
3

Tablespoons

coconut oil

melted (or melted butter)

2

Tablespoons

water

(I always substitute with cold coffee here)

1/4

teaspoon

vanilla extract

dash

salt

3

Tablespoons

sugar

2

Tablespoons

unsweetened cocoa powder

4

Tablespoons

all-purpose flour
Instructions
Directions:
In a microwavable coffee mug mix 3 Tablespoons coconut oil, 2 Tablespoons cold coffee, 1/4 teaspoon vanilla extract, and a dash of salt. Microwave just long enough to-melt coconut oil. (about 15 seconds) Stir.

Add 3 Tablespoons of sugar and stir. Add 2 Tablespoons cocoa powder and stir. Add 4 Tablespoons flour and stir.

Microwave mug 60 seconds. Allow to cool slightly before eating.
~TxH~
Other Easy Desserts
Cakes, Pies, Cobblers
Muffins, Breads
Cookies
Puddings
Ice Cream & Other Desserts
Dessert Toppings


C'mon by & sit a spell! Come hang out at our Facebook Page . It's like sitting in a front porch rocker with a glass of cold iced tea. There are lots of good folks sharing! And you can also follow along on Pinterest, Twitter or Instagram
If you'd like to receive an email when a new blog post goes live,
subscribe to our Blog!
Save
Save