by Texas Homesteader ~
There are many easy ways to make do with what you have, keeping you out of the stores. I no longer buy cleaning products, trash bags, boxed mixes, etc. Good for the environment, good for my wallet!
But the thing is, it's really easy to do, it just takes watching for places to substitute.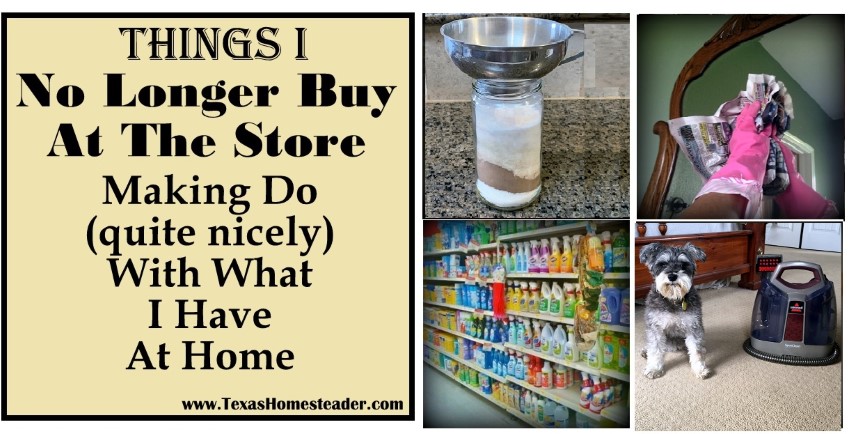 The more I learn to make do for myself the easier I find it is. And the easier it is, the more often I'm able to stay out of the store.
Good for my health, our budget, or the earth. Or all three sometimes!
There are so many things that I no longer buy at the store. Many times I'm typically able to make do (quite nicely, actually) with what I already have here at home. I've found it just took looking at things in a different way.
I'll often ask myself: "Do I already have something here at home that will take the place of that thing I used to buy?"
The answer is more & more – YES! Come see what I don't buy at the store anymore.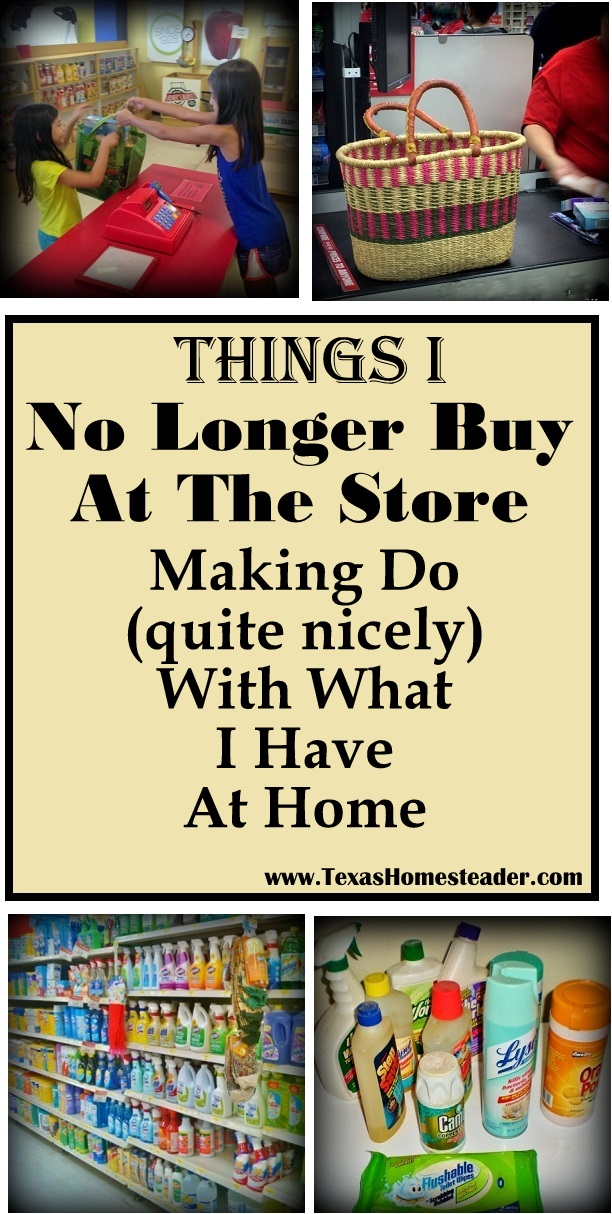 There are many things I no longer buy at the store. Trash bags, seasoning mixes, cleaners, etc. I've included a pretty complete list of the more natural ways I keep our home clean at the bottom of this post. I encourage you to check it out.
But the biggest ways I'm able to use what we already have to fill a need without going to the store are:
Commercial Cleaners
For instance I used to have a large cache of cleaners under my kitchen and bathroom sinks.
I had toilet cleaners, glass cleaners and tile floor cleaners. It seems there were cleaners specially formulated for cleaning only one specific type of surface.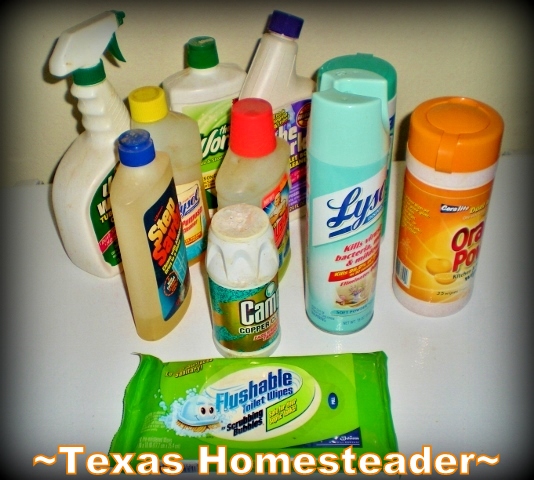 I really never thought about it, just blindly picked up each one and put it in my shopping cart as I danced down the aisles dreaming of the gleaming clean home in my immediate future.
Then reality set in… REALLY??!? A different cleaner for each individual surface?
So I started learning about more basic and natural ways to keep our home clean.
These days to get my household cleaners I don't need to go to a store. As a matter of fact, I need to look no further than my own kitchen pantry.
That's right, my all-purpose cleaners are just that non-toxic. They're so safe they can even be EATEN! What's my secret?
Those two ingredients which are typically included in my cooking can also keep my house squeaky clean!
My father taught me the secret to clean, streak-free gladd mirrors & windows when I was a child. It's served me well all these years.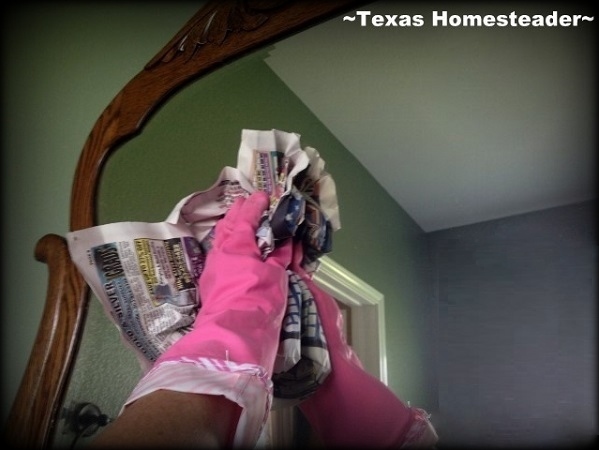 I spray on a little vinegar and 'polish' the glass with wadded black & white newspaper. Streak-free sparkling clean glass every time!
I keep a special container of baking soda in our bathroom for cleaning. It's mildly abrasive qualities will clean the sink or toilet bowl to a sparkling shine.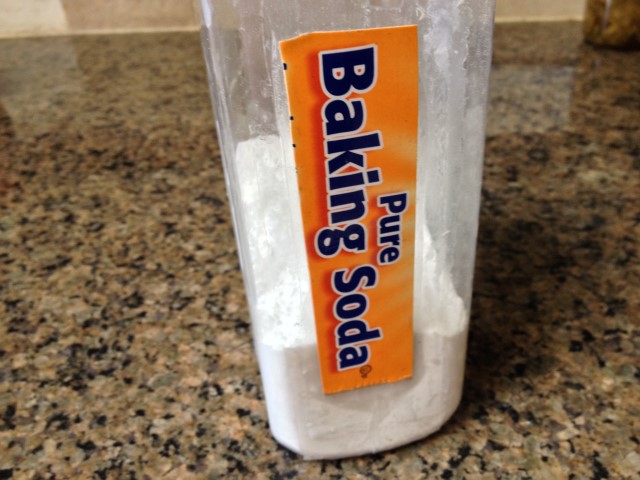 And vinegar not only cleans my mirrors but also keeps soap scum off the bathroom shower walls. Oh and it also cleans tile floors and disinfects the toilet.
With our mini-Schnauzer Bailey living with us, carpet accidents are bound to happen from time to time.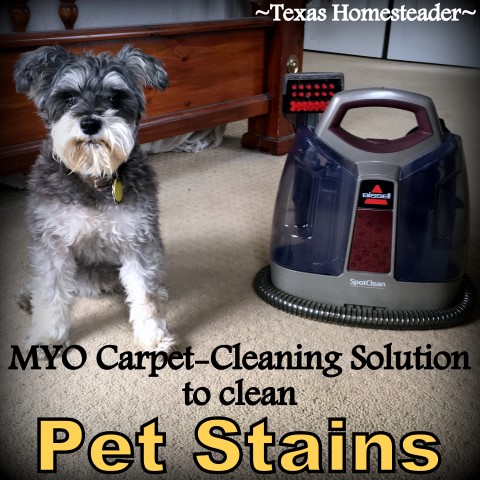 I have a small portable carpet cleaner and I make my own Carpet Cleaning Solution using salt, water and distilled white vinegar. It even removed pet stains that a professional carpet cleaning company couldn't remove!
Trash Bags
Trash bags are another thing I no longer need to purchase at the store. Since we now buy fewer cans, boxes and convenience mixes our trash output has been drastically reduced.
So now we only need to empty our trash can every 1-2 weeks. And our main household trash can is tiny – a small bathroom-sized one.
But even though I shun plastic, there's still plastic bags that automatically make their way into our home anyway. Things such as our family-sized package of toilet paper or food wrappings and such.
So if plastic is going to come into our home despite my best efforts, I'll at least make sure they get used. And I'll use them to replace a plastic item I used to buy – trash bags.
Now I reuse those larger plastic wrappers to line our small trash can.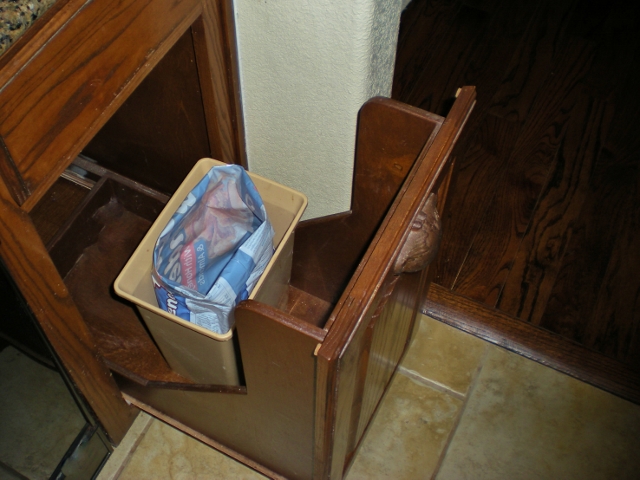 Since our trash can is so tiny I'm able to tuck it away out of sight. This smaller waste basket fits neatly inside a small slide-drawer we had built into one of our bottom kitchen cabinets.
I'm thrilled that I no longer have a large, ugly, bulky trash can pretending to be a mammoth decorator item in my kitchen!
Since I compost my food scraps, and recycle plastics such as milk jugs, etc. this waste basket only needs to be emptied every 1-2 weeks.
Convenience Mixes Are GONE!
Commercially-produced convenience items are rarely used here now. I've found it's super easy to whip up convenience items on my own
Homemade Chocolate Frosting
For instance, I was thrilled to learn that what's now become my absolute favorite fudge frosting recipe can be whipped up in minutes. And it doesn't even require cooking!
I just stir everything together in only 1 minute! Plus it contains simple ingredients – butter, honey, powdered sugar, coffee, cocoa and vanilla.
And ok, let's face it – how bad can that recipe be?? It has both cocoa AND coffee in it! LOL
Plus the taste simply cannot be matched by commercial frosting sold stores in a chunky disposable plastic tub. There's precious little trash when I make this quick homemade frosting myself.
Quick Homemade Chocolate Brownies
I can also whip up the most decadent brownies completely from scratch in about the same time it takes to mix the wet ingredients into boxed ingredients.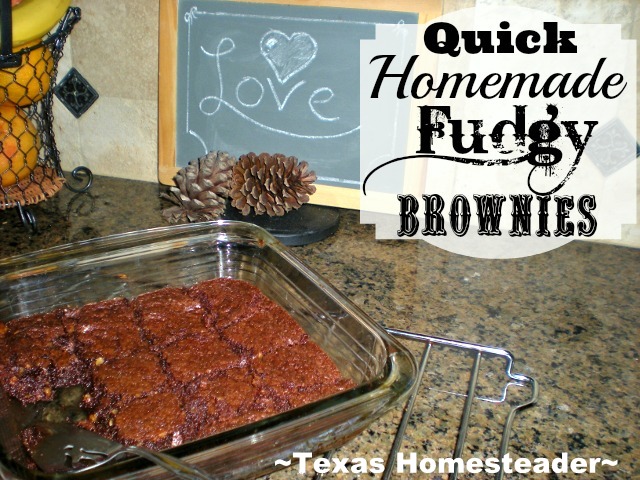 Simple Homemade Pancake Mix
And my pancake recipe takes no longer to mix up than the "premixed" kind in a disposable box or bag.
The benefit here is that all of these items are made with ingredients I already have in my kitchen!
Plus those ingredients are ones I recognize and can pronounce, unlike some of the strange-sounding ingredients on a box of pre-made mix.
And at substantially less cost both economically and environmentally.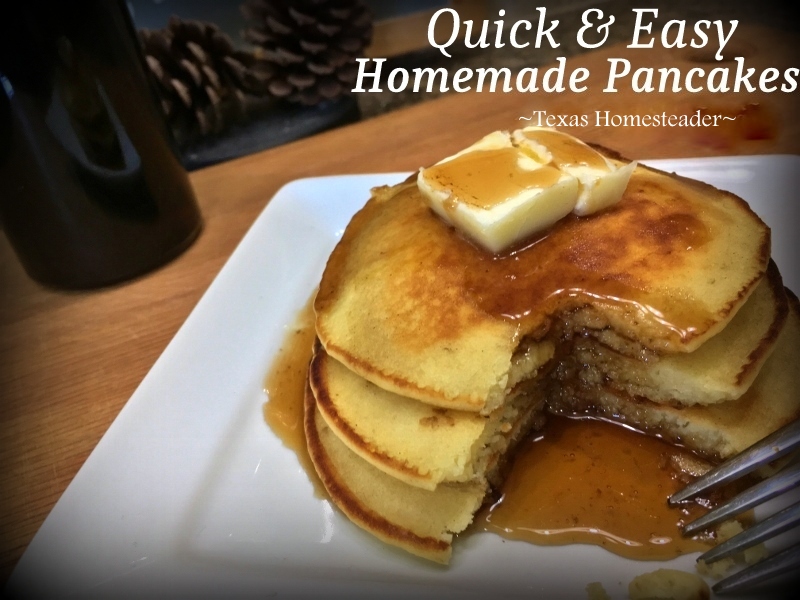 The kicker here (and believe me this is important):
It takes no more time than the "convenience" mixes!
I've learned how easy it is to make my own Homemade Taco Seasoning or quickly blend a Pinto Bean Seasoning mix.
I whip up my own Breakfast Sausage Seasoning to turn ground pork into breakfast sausage fast. Any number of homemade seasoning mixes can be mixed together quickly, y'all!
Now I'm not casting stones. I bought into the convenience mindset and didn't really think about the procedure itself.
It wasn't until I challenged myself to provide the things that I typically bought at the store that I found out how incredibly easy it was.
The bonus? Fewer runs to the store for household and recipe items.
Give it a try – you'll be pleasantly surprised!
~TxH~
Want To See Our Natural Cleaning Posts?
C'mon by & sit a spell! Come hang out at our Facebook Page. It's like sitting in a front porch rocker with a glass of cold iced tea – lots of good folks sharing! You can also follow along on Pinterest, Twitter or Instagram.
If you'd like to receive an email each time a new blog post goes live it's EASY to
Subscribe to our blog!
Save