by Texas Homesteader
Most of our family members live in suburban environments. Therefore they really enjoy coming to the ranch. And who wouldn't – there's so much to do here. And let's be honest – we live in a BEAUTIFUL place! Our guests are welcome to drop a line in the pond and fish for catfish or stroll through the pastures enjoying the untarnished flavor of wild blackberries, plums or persimmons picked fresh from the vine or tree, and of course the spectacular view of the star-speckled nighttime sky simply can't be beat!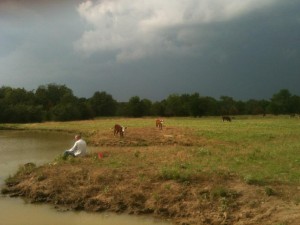 One of the ways we like to entertain is by target-shooting clays with shotguns but I'm dismayed at the enormous amount of trash it generates. You can now buy biodegradable clays but apparently there are no options for purchasing more environmentally friendly ammunition.  Although it could definitely be construed as bad hosting on my part, our guests know that after a round of clay shooting everyone sweeps through the immediate pasture to not only pick up the plastic shell ejected from the weapon but also the scattering of plastic trash that blankets the pasture afterward.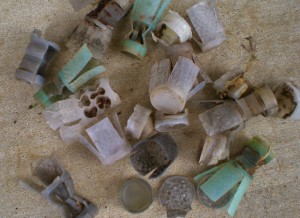 Thankfully my uncle graciously gifted a reloading kit to us and we are in the process of attempting to secure the proper components to reload our own shotgun shells using paper wads. Securing the fiber wads has still proven allusive and cost prohibitive, but we're putting our money where our mouth is and doing the right thing for us and our property. We visited a small independently-owned ammunition shop recently inquiring about purchasing fiber wads.  He didn't carry them and asked why we were looking. When we told him of our experience and added that we didn't want this trash in our pasture or being ingested by our cattle he replied "Humm..  I never even thought of that, no one has ever complained about that before"
In trying to eliminate our hosting faux pas of having our guests on litter patrol, we have contacted the three major U.S. ammunition manufacturers asking if they have other options such as biodegradable shot shell components. Federal responded that they do not offer biodegradable components at this time. Sadly neither Winchester nor Remington even bothered to respond to our query.
Am I the only one bothered by this? Am I being too "environmental" here in not wanting this non-recyclable plastic trash forever littering my pastures? I don't think so, this plastic stuff never goes away! And I care about our land and our cattle too much to let this go.
~TxH~
Other Great Posts About Reducing Plastic
Reducing Household Waste
…and Many More 


C'mon by & sit a spell!  Come hang out at our Facebook Page. It's like sitting in a front porch rocker with a glass of cold iced tea – lots of good folks sharing!  You can also follow along on Pinterest, Twitter or Instagram.
If you'd like to receive an email each time a new blog post goes live it's EASY to
Subscribe to our blog!