by Texas Homesteader ~
Do you wonder what it was like on a farm back in the 1880's? Come walk through our Homestead with me & hear the whispers of the past – the old 1880s barn, discarded housewares, animal pens, etc.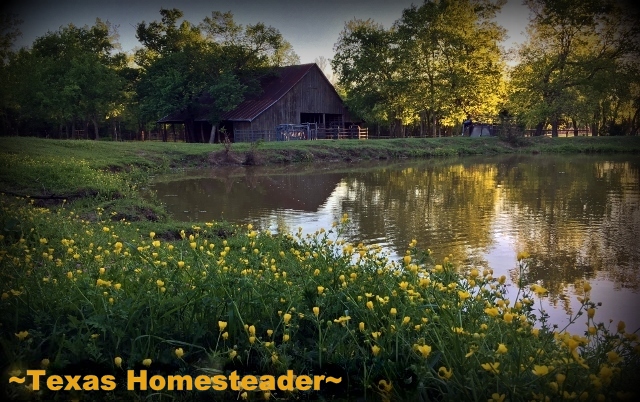 Strolling Around Our NE Texas Property
Recently I was taking advantage of the warmer weather and walked around the barn pasture enjoying the view.
I've written before about discovering some hints of the Home Life from the family who lived here before their home burned in the late 1950's. But today I'm enjoying the actual farming side of their history.
Our Old Texas 1880's Barn
I absolutely love our 1880's barn and I love the detailing they used in barn construction back then.
I try to imagine the purpose for each of the rooms and cubbies that were built into the barn. Whatever their reason, I simply love the look of the construction, the old weathered wood, the whispers of the past.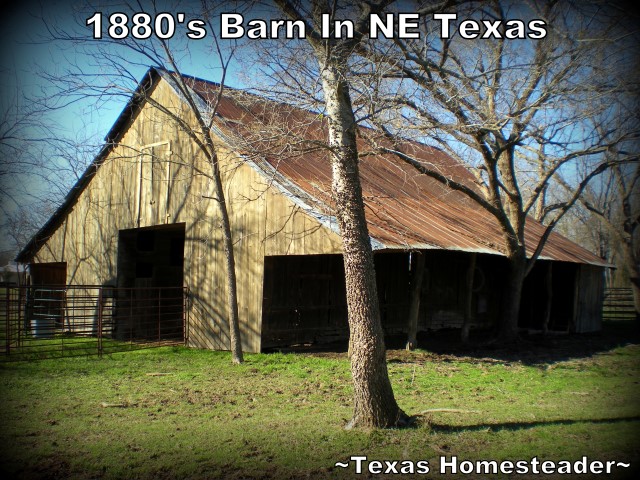 On the east side of the barn is an area that used to hold a manger and small pens.
We pulled away the rusting tin and rotting wood to open up this area and now utilize it for a loafing area for the cows.
Old Bois d'Arc Posts
We also tore down the crumbling pen around this area of the barn and set the old Bois d'Arc posts aside at the edge of this loafing area.
Our hope is to reuse these posts again in our own fence-building endeavors. The old twisted posts whisper the past much like the barn itself does.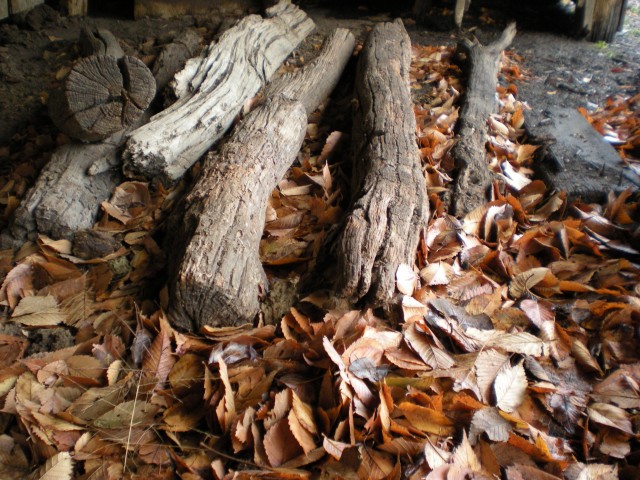 The fallen leaves have tucked themselves into the posts in their flutter earthward.
Bois d'Arc wood is beautiful when it ages. The wood is hard as iron and makes excellent posts due to it's rot-resistant nature.
Its twists and turns are beautiful to the eye as well. This twisted branch arcs gracefully close to the ground. Love it!
We're blessed to have many very old Bois d'Arc trees here on the ranch.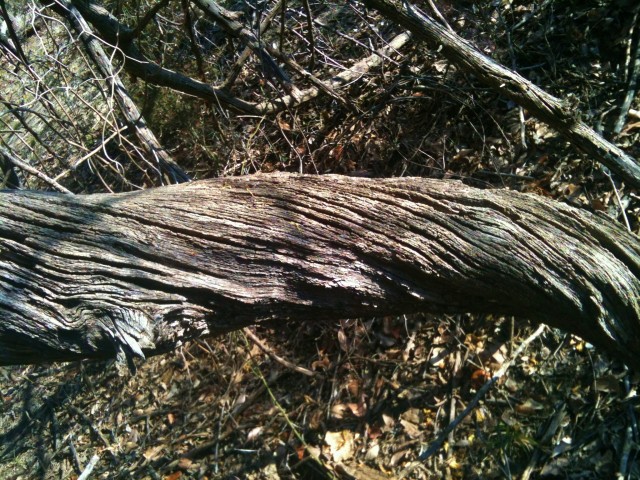 We love these old posts so much that we decided to do something with them. When our daughter got married she used some Bois d'Arc wood in her wedding decorations.
RancherMan & I like to make our gifts with our own two hands. So of course it made sense to use this old aged wood for a very special, personal gift for her and our new son-in-law.
This solar light feature was perfect for them! And even though the weathered post was decades old, it was still YELLOW when we cut it. Just. Wow.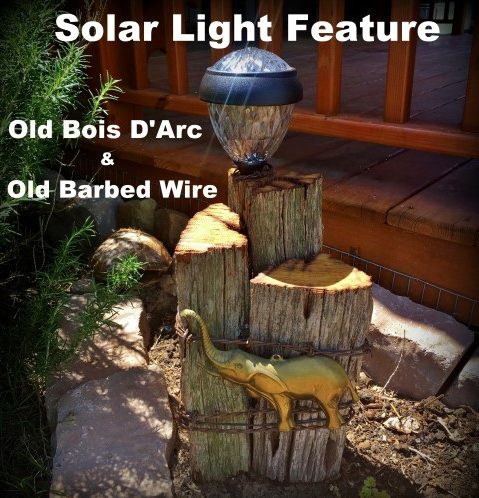 Old Relics Left Behind
It's also interesting to stroll around a property that has been in production for so long and try to figure out what the operation might have looked like so many years ago.
Behind the area that is now one of our ponds is a very old approximately 1930's or 1940's car body that had been hollowed out to use as a shelter for animals – perhaps goats?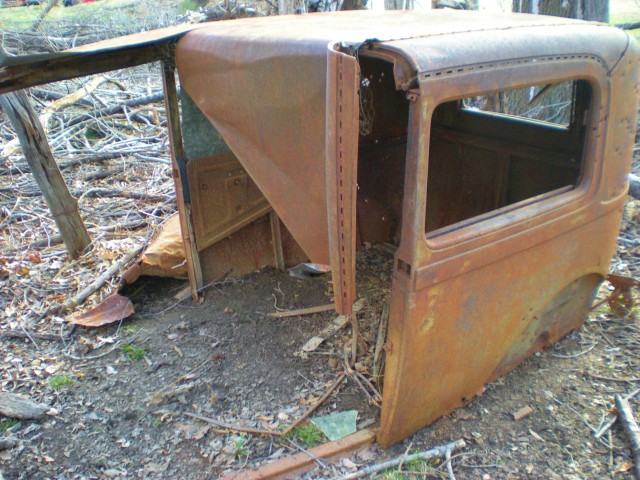 We've left it where it is. Since it's tucked behind the pond it's not an eye-sore.
And I love having a little piece of the old operation still evident along with the new.
This pen was apparently secured with a latch as evidenced by this old closure part found nearby on an old weathered board.
I wish I could have a glimpse into the actual setup of this old working property, how fascinating!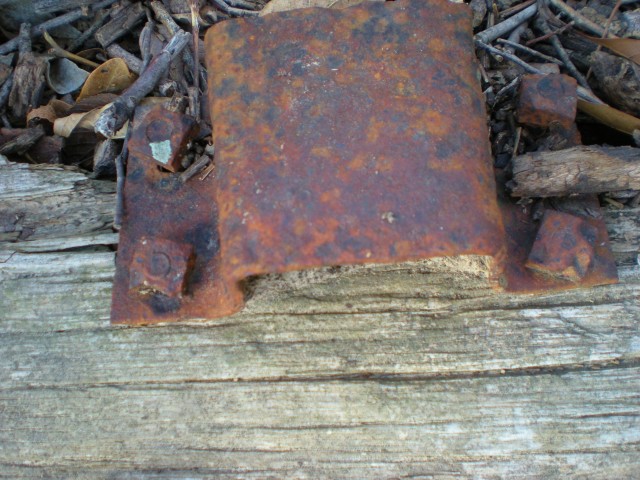 Antique Barbed Wire
At one time our entire property was probably completely fenced with this 1882 Elwood barbed wire.
Surprisingly enough we still see some of this Elwood barbed wire on our interior cross fences.
It's true what they say: They just don't make it like they used to!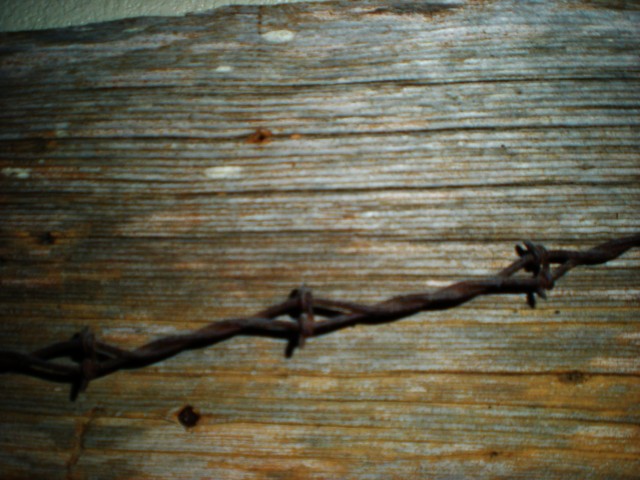 Rustic Barn Wood
I love the old barn wood and the old barbed wire so much that I asked RancherMan to build a large mirror frame using the aged barn wood.
And I embellished it with this Elwood barbed wire. It's absolutely beautiful.
A sentimental piece of art from our own property now displayed proudly in our home.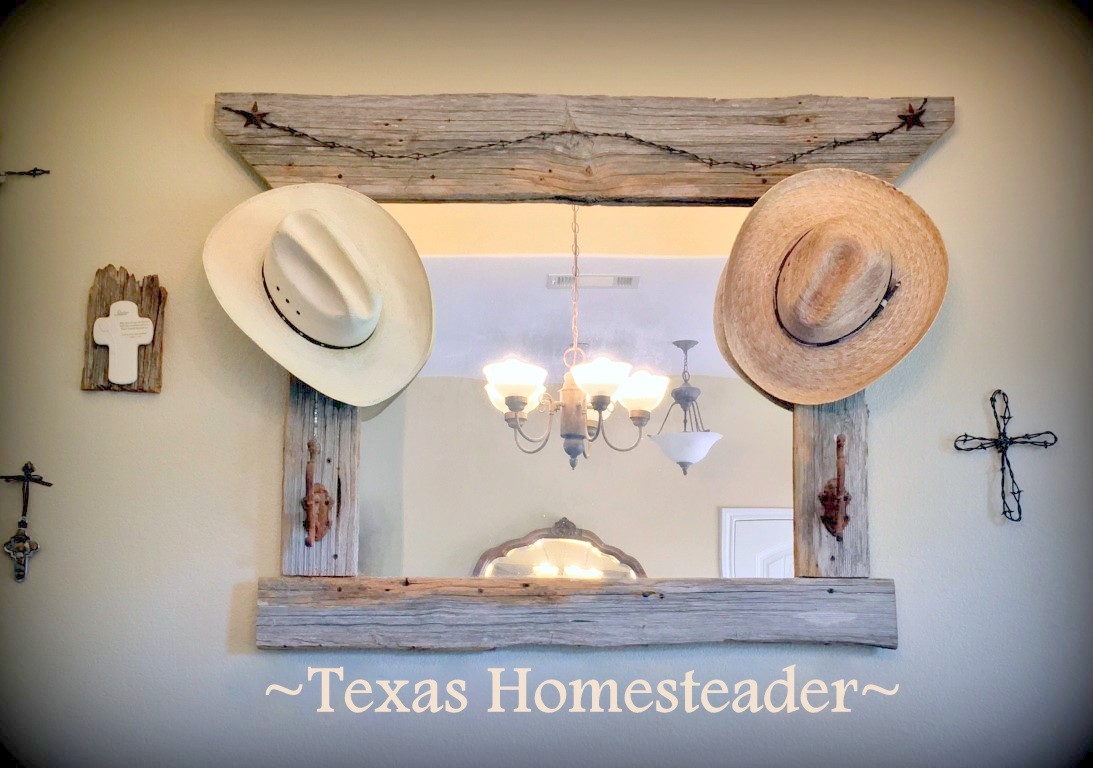 We've also fashioned other things with this old aged barn wood, including a bed Frame for our guest bedroom as well as a fun Photo Feature to hang on the wall in there.
Antique Bottles, Jars and Housewares
And of course we found all manner of glassware, canning jars, zinc lids and an old pitcher left by the previous inhabitants.
I've gathered what I could find and repurposed them in our own home.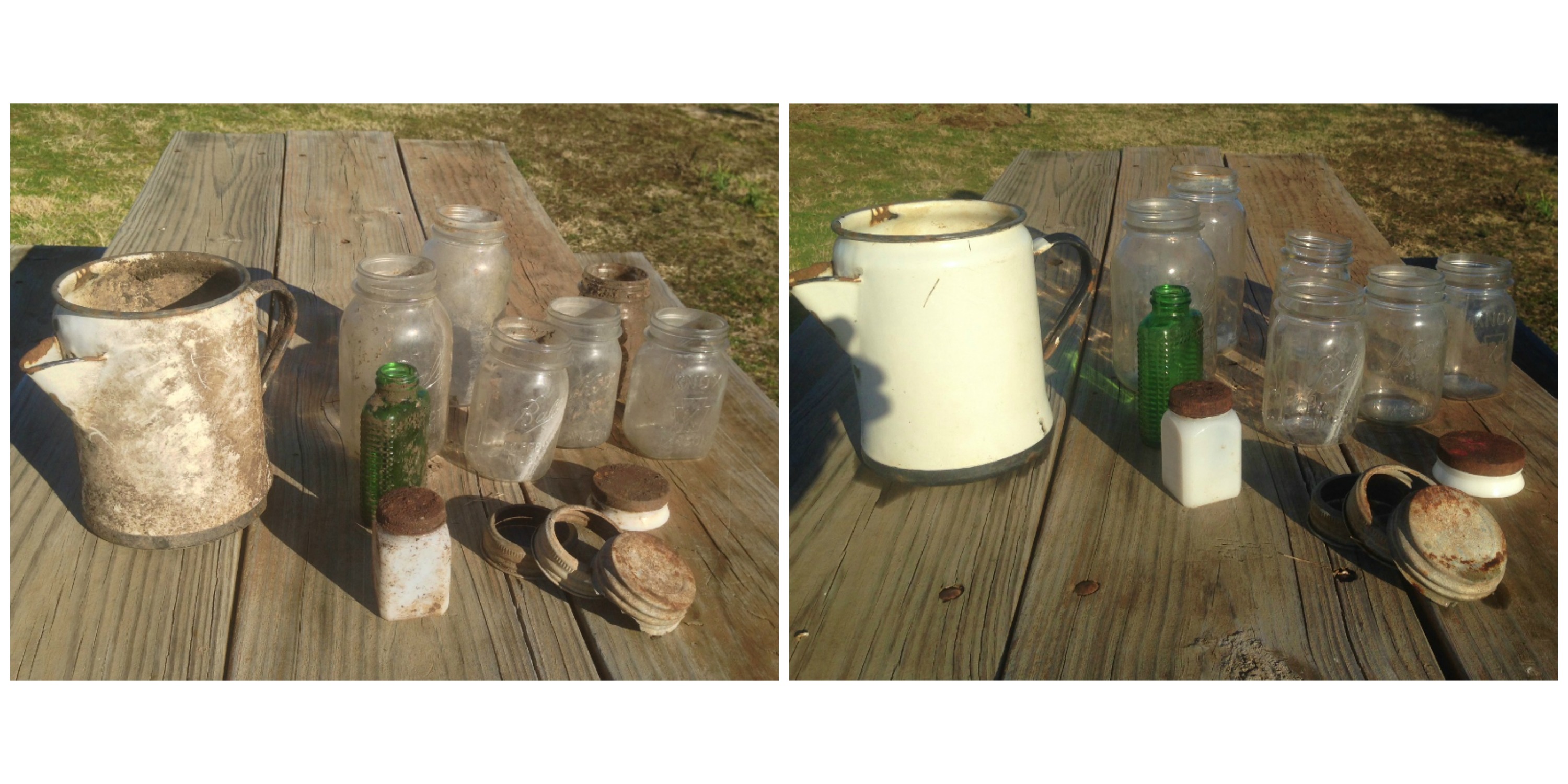 I use the glass jars for all manner of storage. And I've even fashioned one of the old jars into a country flower vase.
It was easy, and it makes for a beautiful arrangement when I gather the wildflowers out of the pasture, add some pretty blooms from my yard and bring them inside.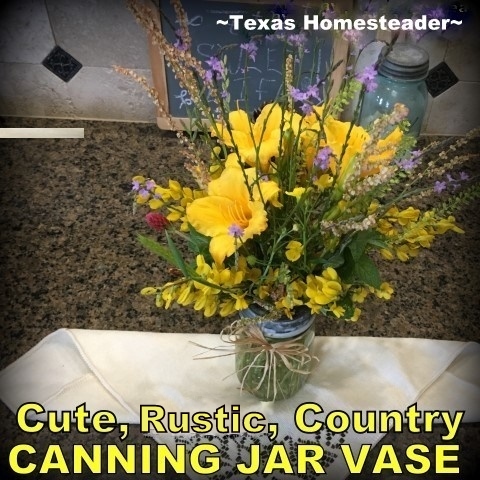 My mother loved this homemade vase so much I made one for her as well. She's also able to display bright beautiful flowers in her home using her canning jar vase.
Using things left behind by the homesteaders that lived here oh so long ago makes me happy. I love that our lives are now integrated with those here before us.
~TxH~
Love Our 1880's Barn? See More!
Other Homesteading Posts

C'mon by & sit a spell! Come hang out at our Facebook Page. It's like sitting in a front porch rocker with a glass of cold iced tea – lots of good folks sharing! You can also follow along on Pinterest, Twitter or Instagram.
If you'd like to receive an email each time a new blog post goes live it's EASY to
Subscribe to our blog!
Save
Save