Many of you know we run a small registered Hereford herd and that we breed our cows via A.I. That means action had to be taken for this little cutie 10 days prior to her conception with a synchronization program for her dam, then the actual A.I. procedure, then 28 days later the pregnancy was confirmed via lab blood test. From that very moment I've been anticipating this event, and oh my was she worth the wait!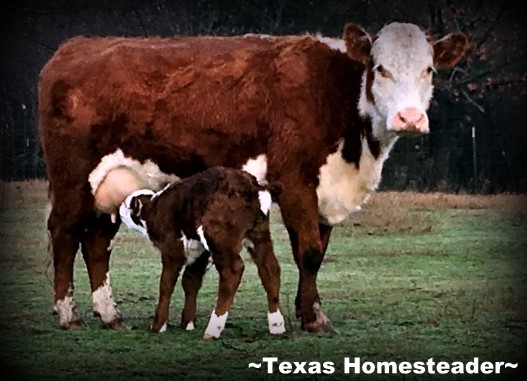 I immensely enjoy those first days when the new baby is learning to walk, trot, run and jump, her shaky legs way too long for her body. Her herd mates are all very protective of her and the other calves are very curious. And of course the interaction between this little one and her dam are enough to make you say: "AAAAAWWWWWW…"
Using A.I. To Breed Cows
The A.I. industry has come a long way in the past few years. Success rates are improving due to improved procedures, improved sync medications and higher quality inventories. Our primary operation is to produce a registered Hereford calf via A.I.. But we occasionally A.I. breed one of our Hereford cows to our Registered Angus bull to also have F-1 black baldie calves in our herd. Although our Angus bull no longer resides on our ranch, his great genetics are still being utilized.
Now that Angus boy was as gentle as a big puppy. But by the time he was fully grown he was 2,000 lbs of puppy! Everyone knows even the most docile bull will at some time "be a bull" and accidents can happen simply when a bull makes a wrong move and odds are that someone is going to get hurt, especially in the close quarters of a pen or chute.
A.I. completely eliminates this risk, while allowing preferred genetics.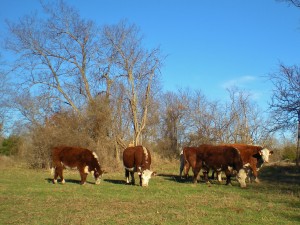 Also with A.I. we have a wide range of genetically-superior bulls to choose from alleviating the need for a high caliber and expensive bull being retained and fed on your ranch year round. We typically look for a bull with a specific heritage so we can maintain our preferred bloodline, but we can also utilize one of our herd bulls if he turns out to have the features we desire. We simply have him collected before he is sold and continue to use his genetics in our herd.
If you are not utilizing the A.I. system, I urge you to look into it as it can be very beneficial – particularly in a smaller operation.
~TxH~
Other Ranching Articles


C'mon by & sit a spell! Come hang out at our Facebook Page . It's like sitting in a front porch rocker with a glass of cold iced tea. There are lots of good folks sharing! And you can also follow along on Pinterest, Twitter or Instagram
If you'd like to receive an email when a new blog post goes live,
subscribe to our Blog!