by Texas Homesteader~ 
We utilize bovine artificial Insemination on our ranch when we want to mix up our herd pedigrees, blend breeds, or perhaps have a special cow deliver an extra-high-quality calf, etc.   I've written before about various ways AI is very beneficial to the rancher, especially for smaller ranches where it's often more difficult to buy & maintain a high-quality bull for just a few cows.
RancherMan is a certified A.I. technician. And we also have all our own AI equipment including medications, nitrogen tank, bull semen straws, etc. So we sometimes perform A.I. jobs for local ranches from time to time.  We recently received an email asking for help with a local man's heifers. After a few emails & phone calls the schedule was set to begin in a few weeks. We prefer to use a 10-day timed synchronization program & we wanted to follow the heifer protocol to offer the highest possibility for successful breeding.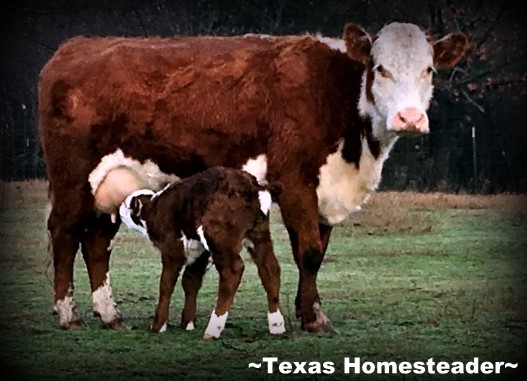 We were able to obtain straws from a very nice registered Angus high calving ease bull. I think the ranch owner will be pleased.
Weather Turned Cold & Damp
Temperate weather is a huge factor in successful breeding and maintaining the pregnancy so we always hope for good weather. Of course when we scheduled this procedure several weeks ago it was a crap shoot. This time of year the temps are starting to moderate some – you don't usually get those cold biting north winds & frozen precipitation that we've been dealing with the past few weeks, although rain is always a possibility.
We were excited to see when the start date was about 10-days out that the extended forecast showed we'd have sunshine and temps in the 70's for this day. But by the time the day actually arrived the forecast changed to 70% chance of rain and high temps only in the upper 50's.
A.I. Day
So, we donned our mud boots and collected our AI supplies & drove the short distance to the property where the procedures will be performed. The temps this morning were only in the 40's and light rain was falling as it had been doing for the past several days. Thank goodness for a 4-wheel drive truck!
The heifers were already penned as requested. So we approached the pen speaking softly to the girls to see how they would react.  Thankfully they all remained relatively calm.
Having allowed the heifers to become accustomed to us we set to our work.  We pulled out our AI bag which contained the synchronization drug we would be injecting today, the syringes, the CIDR inserts that will be inserted vaginally into each heifer to regulate their heat cycle, some towels, note pad & pen, etc.
One by one we walked each heifer into the ally the owner had fashioned and then into the chute.  We placed a heavy steel rod behind the heifer when she arrived in the chute to keep her from being able to back up or kick.  Then moving slowly and speaking softly so as not to alarm her Rancherman inserted the CIDR, gave her an intramuscular injection and released her back into the pasture.  When all three had been treated we packed up our supplies to head home.
7 Days Later
After 7 days we returned to these heifers for their second round of treatment.  We removed the CIDR's that were inserted last week and gave them a IM injection of another drug to make them flush so their cycle can start over.
Breeding Day
Three days later when the heifers are in heat we return to perform the actual AI.  By this time the continuous rain keeps our truck out of the pasture. We need to park our truck at the road and carry our supplies & A.I. tank to the corral in the pasture.
The owner wants us to send these heifers through two actual AI sessions to improve their chances for successful breeding.  We've already obtained the bull semen straws that the owner has requested. So it's a matter of walking the heifers back into the chute, giving them their final IM injection and inserting the straw containing the bull semen.
This part of the procedure requires quite a bit of patience & skill, as the straws must actually be guided gently & placed into the cervix via a complex action of cervical manipulation & guidance.  Positive pregnancy can be obtained without inserting the straw into the actual cervical opening, and sometimes you have to settle for that if the cow's cervical tract is twisted or difficult to manipulate for whatever reason.  But RancherMan took his time with each of the heifers and was able to actually hit his target perfectly all three times.
2nd A.I.
When we returned six hours later to perform the AI procedure again we repeated the process.  Although one heifer's tract was somewhat twisted at this point, using patience RancherMan was able to achieve success once again in reaching the target all three times.
As we released the heifers back into their pasture our fingers are crossed that they will all breed successfully. We can come back after 28 days to draw blood to send to the lab to confirm pregnancy.  The anticipation is exciting!
Not every ranch can afford a high-quality bull or has the manpower, fences or pasture to keep such a large animal.  Not every operation desires to have a potentially dangerous animal as part of their herd.  I love that when there's no desire for a ranch to own a bull, we're able to help get their cattle bred.
~TxH~
Other Ranching Articles


C'mon by & sit a spell!  Come hang out at our Facebook Page . It's like sitting in a front porch rocker with a glass of cold iced tea.  There are lots of good folks sharing!  And you can also follow along on Pinterest, Twitter or Instagram
If you'd like to receive an email when a new blog post goes live,
subscribe to our Blog!