by Texas Homesteader ~
Several weeks back a friend & I were talking about gardening. Her family had a huge garden when she was growing up and they relied on it to keep them all fed.
She was quizzing me on the different things I like to plant in my garden and I rattled off all the faves: Tomatoes, garlic, onion, bell peppers, jalapenos, cantaloupe, squash, green beans, etc.
She asked if I ever planted potatoes and I told her that in the past I'd planted them, but I could never successfully store them long term whether garden potatoes or store-bought. I know that freshly-harvested potatoes have to be cured but even when properly curing them, they would sprout within a short time.
She was surprised that I had any trouble keeping them long term and told me that they just used to store their potatoes on the ground in the barn and they lasted all season. I was intrigued…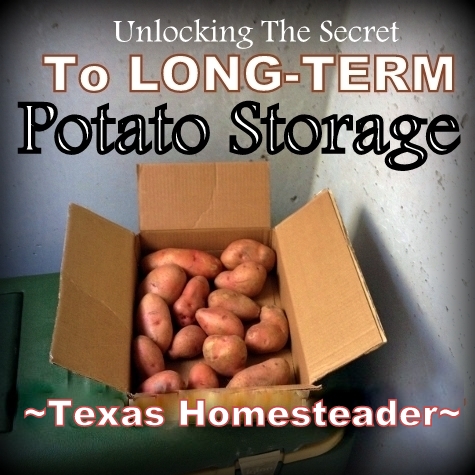 I asked her if they lost many of their barn-stored potatoes to critters. But she replied that they never had a problem.
So I asked how they stored the potatoes. Underground? In loose hay? On cardboard? In baskets?
She said they just laid a piece of heavy paper or cardboard right on the dirt floor & piled the potatoes on it. Nothing else was done.
When they wanted potatoes for supper they'd run to the barn & gather a few. They never had problems with sprouting or potato-stealing animals. And their potatoes lasted all season long.
Potato Storage Wisdom
Now usually when I have potatoes I follow all the traditional wisdom. Store in a dark, cool, dry place with plenty of air circulation, away from onions or apples.
I have an airy basket in my walk-in pantry that I always use to store my potatoes. Yet still in no time they begin sprouting.
Experiment: Store Potatoes In Underground Storm Shelter
But now armed with new ideas, I decided to conduct an experiment.
I had just purchased a small bag of potatoes. So I took half of them & stored them in a cardboard box in our underground storm shelter. There temps should stay cool but not too cold, and it's good & dark.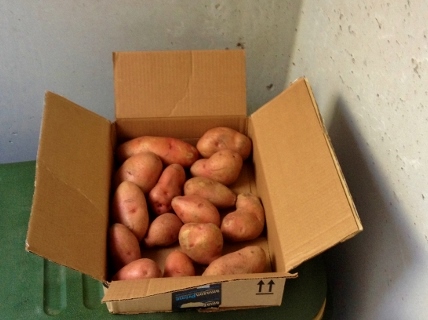 Store Some Potatoes On Barn Floor
I took some of the rest and stored them on a sheet of newspaper laid on the dirt floor in an area of the barn where the cattle don't have access.
Then I waited…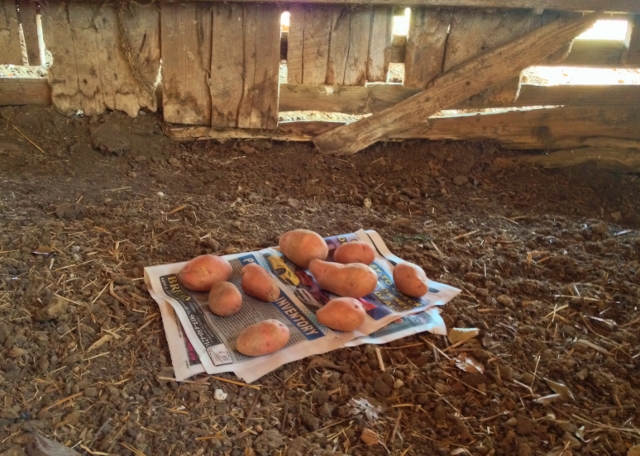 Results: Potatoes Stored Underground
Six weeks later I went out to check on things. The potatoes in the storm shelter were still firm but starting to wrinkle. But at least there wasn't much sprouting going on.
Thankfully the temps underground stay more moderated than temperatures above ground.
Plus in the time that I'd stored them down there we'd had some unseasonably cool weather. I'm sure that helped to keep the temperatures down even better inside the underground shelter.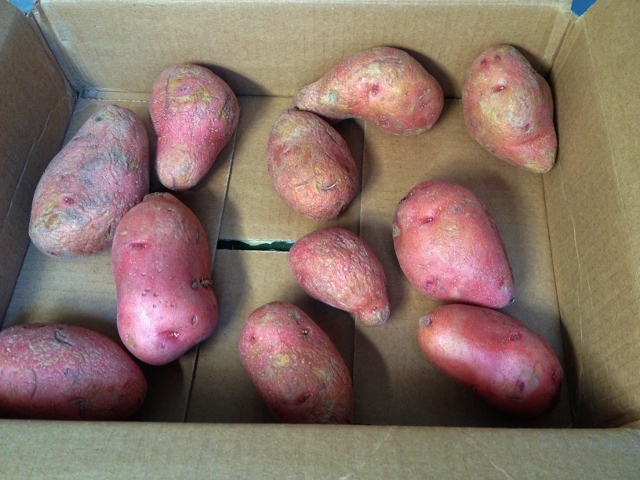 Potatoes Stored In Barn
The potatoes in the barn were, well, GONE!
Nothing was left except the paper I had laid them upon.
As I had suspected beforehand, some critter has been feasting on the all-you-can-eat buffet that I've apparently provided him.
My guess is this is the potato-stealing thief's address…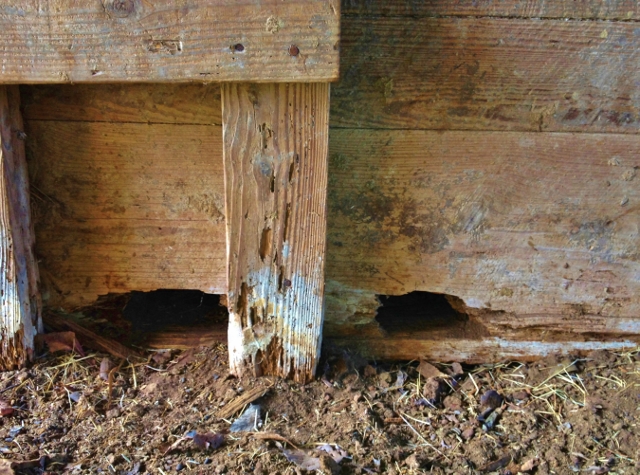 So, although the potatoes remained pretty sprout free in the storm shelter, they wrinkled more than I was expecting. Would they really have lasted all season?
I don't think so. But I've heard that you can store potatoes for months on end if you do it right.
I wish I knew the secret! C'mon y'all, hook a sistah up – I need some advice! How do you store your potatoes for the long term to keep them both firm and sprout free?
My Potato-Storage Method
Although how to store potatoes to use all winter long is still a mystery to me, at least I've learned a couple of things about storing potatoes: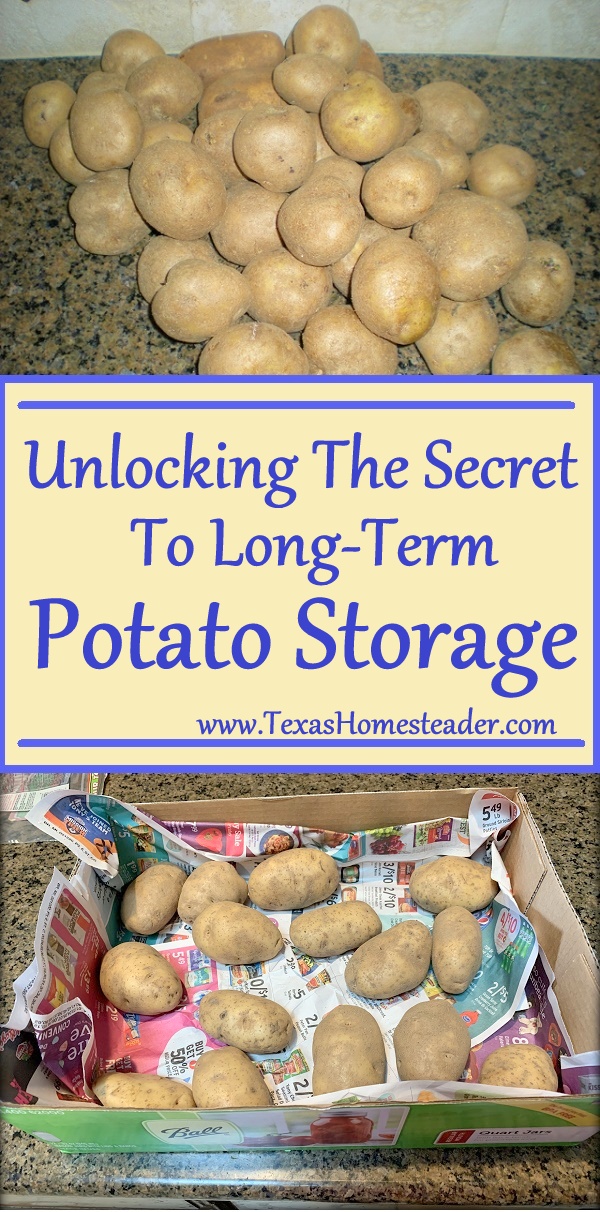 1) Always remove potatoes from the plastic bags they're sold in. That plastic bag just allows moisture to accumulate, which speeds rotting. And once one potato begins rotting, it accelerates the rotting of the potato it's touching, etc.
2) Never store potatoes with onions or apples because those things off-gas which cause the potatoes to sprout more quickly.
Storing Potatoes At Home
So if my potatoes are brought home in a plastic bag, the first thing I do is remove that bag. Then I dump the potatoes out and arrange them in a single layer in a cardboard box lined with newspaper. That paper layer is important.
I try my best to separate them if I can. If there is more than one layer of potatoes I try not to stack them on top of each other. Instead I'll lay another sheet of newspaper over the first layer of potatoes, then stack the next layer of spuds.
When the potatoes are all spread out and separated by newspaper I cover them all with a final sheet of newspaper. Then I store them on the tile floor in my pantry.
How Did Grandma Get So Smart?
You know, I watched my grandmother do this when I was a kid. Isn't it amazing that our grandmothers already knew all of this stuff – well before the internet put the knowledge at our fingertips?
~TxH~
This post categorized in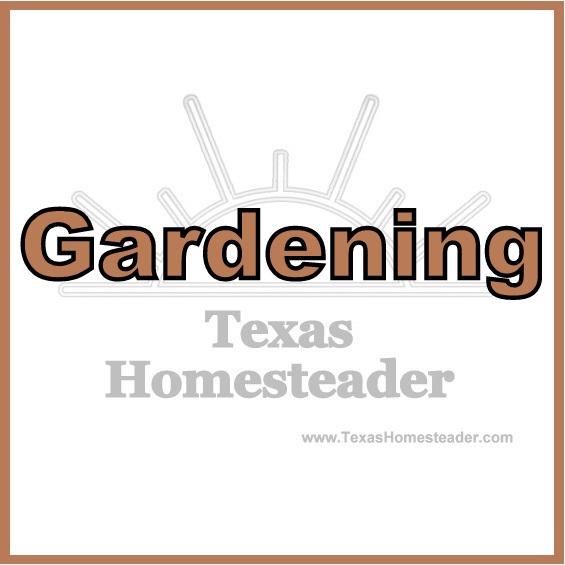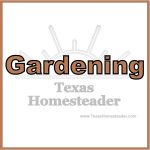 Other Food Preservation Posts
Preserving The Harvest Posts
…And Much MORE!
Dehydrating Posts

C'mon by & sit a spell! Come hang out at our Facebook Page. It's like sitting in a front porch rocker with a glass of cold iced tea – lots of good folks sharing! You can also follow along on Pinterest, Twitter or Instagram.
If you'd like to receive an email each time a new blog post goes live it's EASY to
Subscribe to our blog!