by Texas Homesteader ~
*contains affiliate link
We wanted to make a rustic, old-wood solar light feature. We used old, aged Bois D'Arc wood and old barbed wire. A metal elephant embellishment and decorative solar light on top finished this light feature piece. Perfect!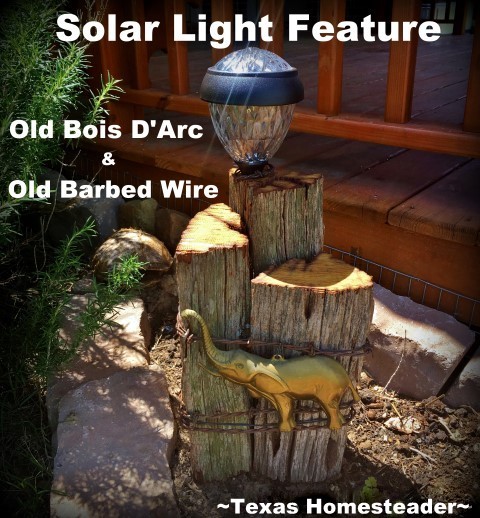 (Note: Some links in this post are for further information from earlier posts I've written. But links preceded with * are affiliate links. If you click them and buy something (almost anything, not just the item noted) I could receive a tiny commission. But the price you pay will NOT change. It's an easy way to support this blog without anything coming out of your pocket. So click often! Thank you!)
Homemade Gifts From The Heart
Y'all know that by making our gifts ourselves, RancherMan & I just feel we're sharing our love more fully.
Yes it takes much more time & effort than just going out & buying something, but to us the effort's well worth it.
We make our own Christmas gifts. And when gifting flowers for a hospital stay or special occasion I often bring fresh-cut flowers from our own homestead.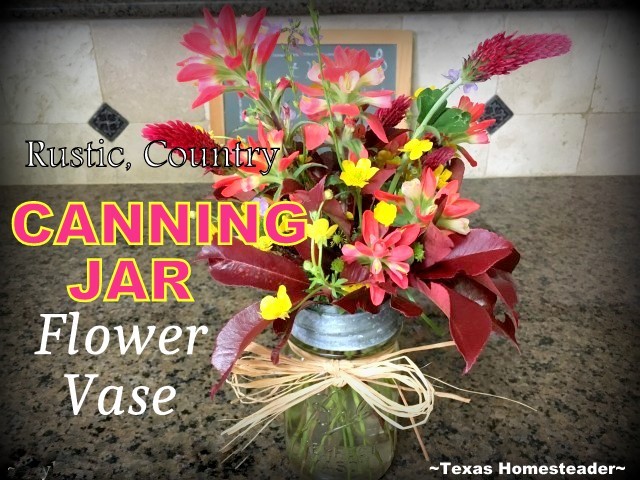 The gifts are always well received and the flowers are always gorgeous. And a little bit of our hearts are always wrapped up in those gifts!
Homemade Solar Light Gift
Recently RancherMan & I sat out to make a special gift for our daughter & son-in-law-to-be. We wanted something beautiful that was also functional and personalized just for them. Hummmmm…
They both love nature and are interested in woodworking, so we put on our thinking caps and came up with a great idea. A wood-based solar light feature!
We'd made a solar light years earlier for our own home and it turned out great. But it was made from a large cedar tree limb & was perfect for our solar light feature. But a bit more bulky than what we would be looking to make this time.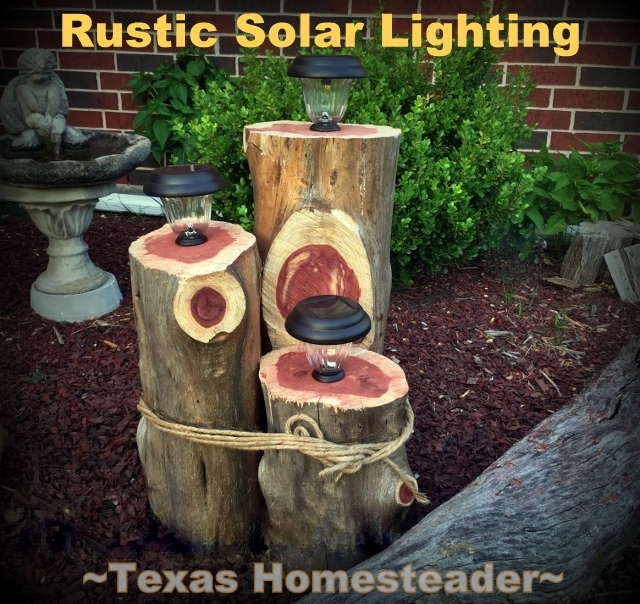 We wondered which type of wood would be best for our gift. Then we remembered something…
In preparing for their wedding, our daughter had previously asked us for a Bois D'Arc limb to cut into thin disks.
Then they stenciled their names & wedding date & mailed them out for their save-the-date announcements. The disks turned out super adorable – dang they're both so crafty!
Searching For The Right Bois d'Arc Wood
Since the Bois D'Arc from our property was now part of their wedding, we thought using Bois D'Arc wood in their light feature gift would be most personalized for them.
So we went searching for the oldest, most weather-worn hunk of Bois D'Arc wood we could find.
After much searching & debate over which would be best, we decided on a very old Bois D'Arc fence post. It was so old that it was beautifully weathered.
RancherMan cut it at ground level and brought it back to the shop. He then cut it into 3 different lengths. Even though it was very old, the wood inside was still yellow! Bois D'Arc is incredible wood that's for sure!
Binding The Pieces Of Wood Post Together
The post had originally been split into a wedge shape to be used for the old fence post, which made the 3 pieces fit together beautifully.
We bound those pieces together with heavy twisted wire. Then RancherMan cinched it all down tightly to keep the three sections together.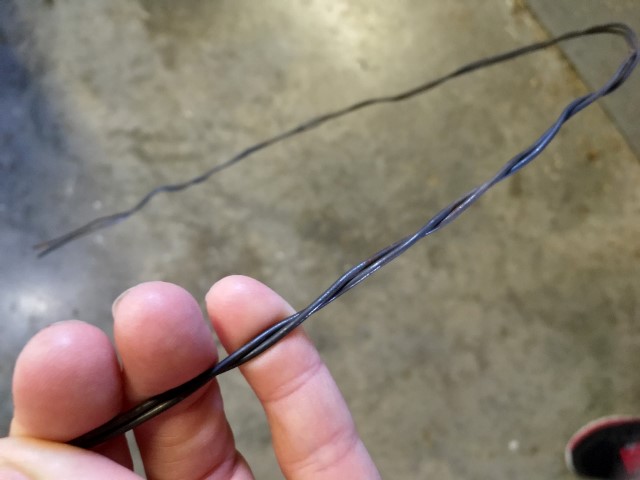 But we didn't want the wire to show. So we thought about ways to embellished it and also cover the wire.
Now when we made our own light feature I used jute twisted into a thick rope. Although it looked great, I'm not sure it will weather for the long term.
I thought using barbed wire would blend old & new together beautifully – the old wooden post & the new light feature. So once again out we went to search for old wire.
Covering The Binding Wire Rustically
As luck would have it, we needed to repair a place in one of the old fence lines at the back of our property. I asked RancherMan to try to keep those old pieces of barbed wire long so we could use it on this gift. We had to work with it carefully as it was old & brittle.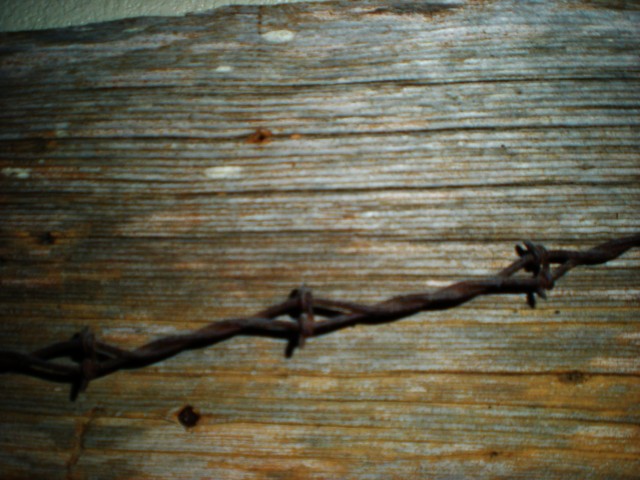 So we used sections of this old wire to twist around the logs, covering the wire that held them together and also offering a nice, rustic look.
RancherMan even used heavy fence staples to press them to the wood and hold them in place.
NICE! I like it.
Personalized Embellishment
I knew our daughter & her future hubby love elephants. So I went searching for a metal elephant to decorate the light feature specially for them.
This ended up being a much harder task than I thought it would be! I guess I was looking for something so specific – a metal elephant facing to the side with one flat side and one rounded side.
Of course I found cartoony Dumbo-styled elephants and elephants facing forward showing just their faces. But that wasn't the look I was after.
It took quite some time and many, many internet searches before I finally found this one. But I'm glad I started looking early & was persistent – it was perfect!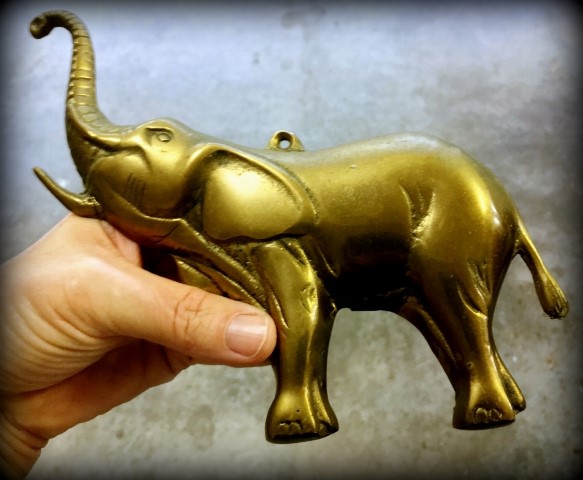 RancherMan fashioned a holder for the elephant out of old wire that already had an aged patina. Then he hung the elephant onto the wood post and we stood back to take a look.
So far, we love it!
Solar Light For The Top
Now for that light… Oh we debated back & forth whether or not to try to put a light on each tier. But the lights would have to be so small that we were afraid that it just wouldn't look right.
So RancherMan suggested one larger yet more decorative light on just the top tier. Yeah, I agree – let's do that!
So we went looking for the prettiest light we could find. And as luck would have it, we found the *Perfect Solar Light nearby at Wal-Mart. This one has glass on both top & bottom so the light shows very well.
I Like it!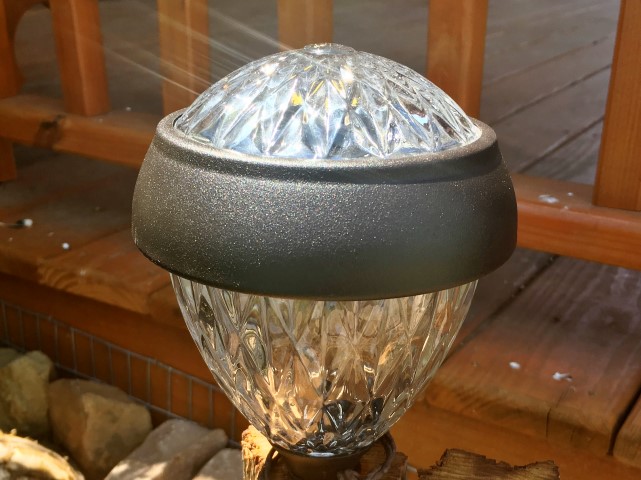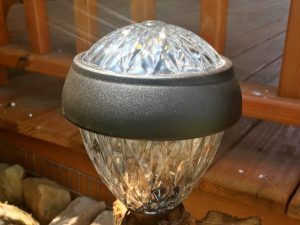 But RancherMan wanted to only permanently insert the pipe section that holds the removable solar light. That way if the light was ever damaged or if they just wanted another design, they could easily remove and replace it. (that RancherMan – always thinking on his feet!)
Keeping The Light Feature Changeable
So he started by drilling a hole in the top log the exact same size as the light's removable tube. He only bored that hole about an inch and a half deep.
Then he had to cut the light's removable stem to fit flush with the top of the post. That ended up being a little bit of a challenge too since the stem was such a lightweight metal.
He tried a hacksaw but that thin metal wanted to bend. In the end he needed a tubing cutter to make the edges smooth & straight.
Then he used powerful *E-6000 Glue on that stem & gently pounded the stem down into the wood to make it flush with the top of the wood post.
We popped the light portion of the solar light into the stem and stood back to look at our handiwork. Oh yeah, we like it!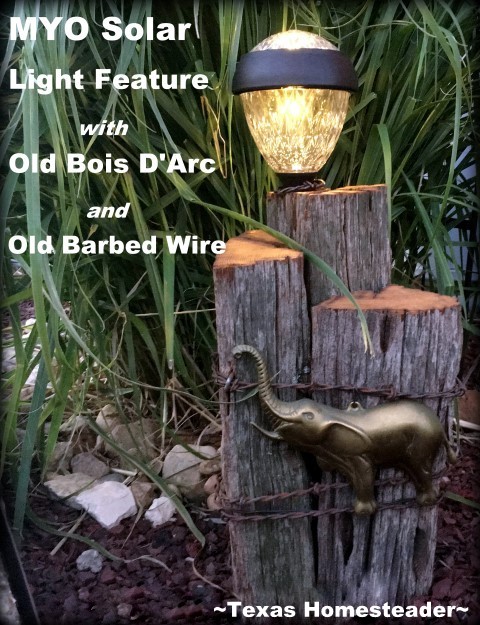 I wanted to twist one final piece of barbed wire around the light stem to give it a more finished look. Remember, that barbed wire was old & brittle so it took a careful and slow hand (and a few failed attempts.)
But finally I got it twisted into a small collar for the light. Perfect!
Presenting Our Gift
So several days later when we gathered with our daughter & son-in-law at her wedding shower, I whispered that although we'd brought a couple of things from their registry, her father & I had made something special that we'd like to present after the shower.
When the guests began to leave, RancherMan brought in our special gift and presented it to them. They loved it!
I know they realized how personalized it was specially for them, and how much of our love was wrapped up in this gift.
And that right there always makes it worth the effort!
~TxH~
This post categorized in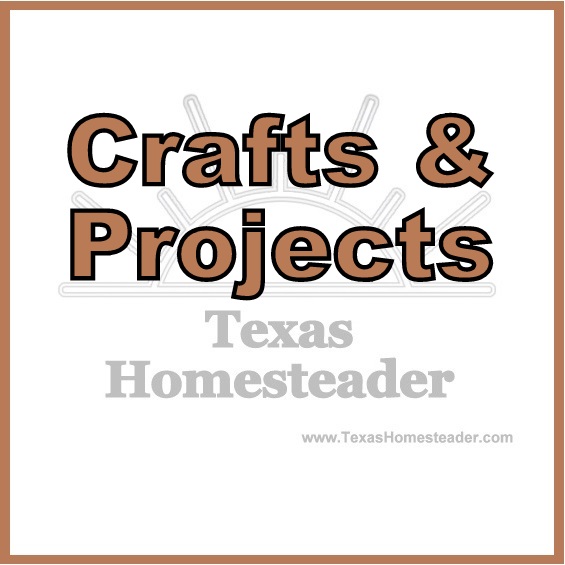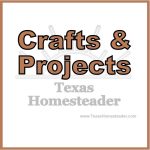 Read About Bois d'Arc
Eco-Friendly Gift Ideas: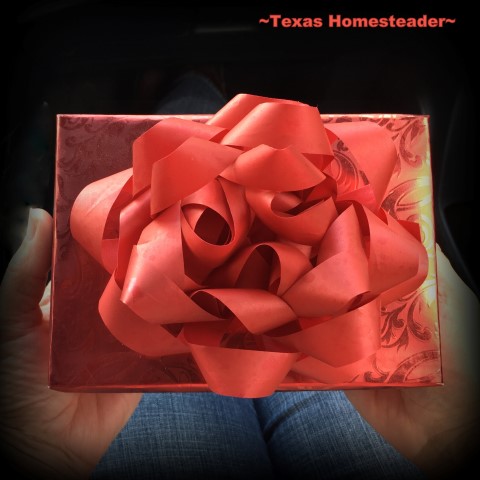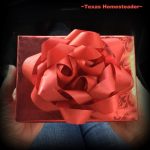 Low-Waste Gift Wrapping & Presentation


C'mon by & sit a spell! Come hang out at our Facebook Page . It's like sitting in a front porch rocker with a glass of cold iced tea. There are lots of good folks sharing! And you can also follow along on Pinterest, Instagram & Twitter
If you'd like to receive an email when a new blog post goes live,
subscribe to our Blog!
*Walmart or Amazon Affiliate