by Texas Homesteader ~
Several years ago our children requested no new toys for our grandbabies. They already had way too many toys! So RancherMan & I opted to gift them Experience Gifts instead. The experience gift option has been an absolutely wonderful solution for several years now. And what a win/win too. We get to spend precious time with our grandkids and create MEMORIES with them instead of giving them just another toy.
In past years we've taken them Rock Climbing and to a Ninja Warrior Obstacle Course. We've taken them to the Ft Worth Stock Show & Rodeo and to Museums. A couple of times we've taken them to Live Production Plays – Christmas Story and It's a Wonderful Life. Each one was so much fun for all of us.
But this year we decided to take them to an escape room. An escape room experience is where you're placed in a room and you're challenged to solve the clues one by one to find the key to escape. Come see the fun we had!
We decided to visit Downtown Escape Rooms in Sherman, Tx. We were even able to score a Groupon to save over 40% on our tickets!
The rooms have a max player occupancy of 8 people. So with our Groupon we were able to reserve the entire room to include only our group.
Gift Presentation
We wanted to have a fun way to present our gifts to the grandkids. So we purchased mystery-themed props such as oversized magnifying glasses as well as a small notepad & pen.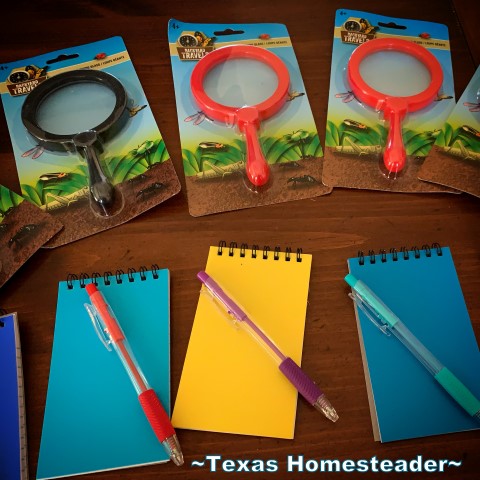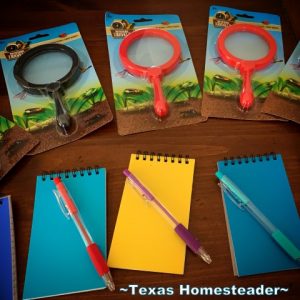 Then we printed out an invitation on card stock inviting them to join us for Blackbeard's Challenge. Oh man, this is gonna be FUN!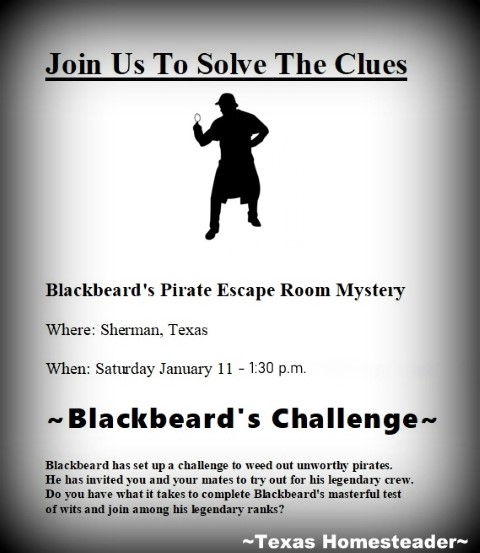 The kids were pretty excited to see an escape room experience in their immediate future. We figured out the grandkid's schedules & made plans to get together soon.
Gathering The Grandkids
On the day of our fun we arranged for our kids to meet us in a central location to allow us to pick up our grandkids. This sure saved us hours on the road going from first one house, then the next to pick them all up. But I feel that part of the experience for our grandkids is getting to spend time with their cousins and with us too. So this has always been a very important part of our gift. I'm so thankful that our kids are willing to help us with this transportation part.
When we finally had all the grandkids together we trekked to Sherman. It had been snowing earlier and the day was cold & blustery. So we stopped along the way to enjoy some hot cocoa. We all sat in that booth together drinking cocoa, talking & laughing. A nice start to our day of fun!
Escape Room Challenge
Then it was time for our escape room experience. Downtown Escape Rooms had 5  different room options with various levels of difficulty. There was a murder mystery room, two remote cabin themed rooms and Blackbeard's Challenge which was pirate themed. During the holidays they also have a Christmas themed escape room too.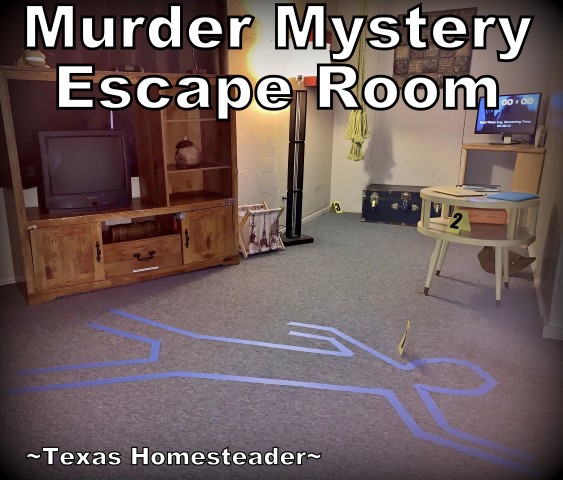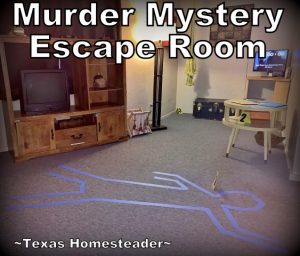 We thought Blackbeard's Challenge would be the most fun for the kids. I'd already contacted the venue and given them the ages of our young teenaged grandkids. They'd confirmed that this one was the most teen-friendly room for them.
The premise was simple: We'd  have 60 minutes to solve all of Blackbeard's clues and escape the room. We watched a short presentation video and were given quick instructions, then the owner led us into the Blackbeard's Challenge room. We all started solving the clues as fast as we could.
It was fun watching the teamwork that helped us solve the clues one by one. Some clues were easier to solve through one's perspectives. Yet another might see a completely different angle of a clue to help solve that one.
We were monitored by Escape Room employees. So when we got stumped, a hint would appear on the screen to keep us from just spinning with no help or going down the wrong path for too long.
Finally the last clue was solved and we found the key to escape Blackbeard's Challenge room and ring the bell. The kids all said this was a super-fun adventure for them and they had a great time. I'd highly recommend an escape room challenge if you're looking for experience gift ideas.
Lunch For Free
After our escape room excursion we were all hungry. RancherMan & I had previously obtained gift cards to Chili's Restaurant using only our credit card reward points. So no money had to come out of our pockets for lunch even though we had a large group of endlessly-hungry teens! This was an easy way to save some money during our day together.
We enjoyed endless chips & salsa and hearty specialty burgers and fries. Even with the grandkid's endless appetites, we were all stuffed and couldn't eat another bite.
After lunch we contacted our kids and told them we were headed back to their neck of the woods. Our son & DIL were out & about shopping so they met us at a nearby mall, saving us about an extra hour on the road. THANKS! The other grandkids were dropped off at their home before RancherMan & I finally headed back to our homestead in the country.
We had lots of fun together on this day. We were able to keep costs down by using a money-saving Groupon to purchase our escape room tickets and our credit card rewards to cover the cost of lunch. The grandkids got to spend some fun time with us and with their cousins too. What a fun day all the way around!
~TxH~
Gift Ideas
Eco-Friendly Gift Ideas:
Low-Waste Gift Wrapping & Presentation


C'mon by & sit a spell!  Come hang out at our Facebook Page . It's like sitting in a front porch rocker with a glass of cold iced tea.  There are lots of good folks sharing!  And you can also follow along on Pinterest, Instagram & Twitter
If you'd like to receive an email when a new blog post goes live,
subscribe to our Blog!
Links: Downtown Escape Room, Sherman, TX