by Texas Homesteader ~
Low-waste gift baskets can be low-waste and functional too. Make a food basket with reusable jars of homemade food and arrange it all in a handy tub. Brown paper can be composted or used in their fireplace.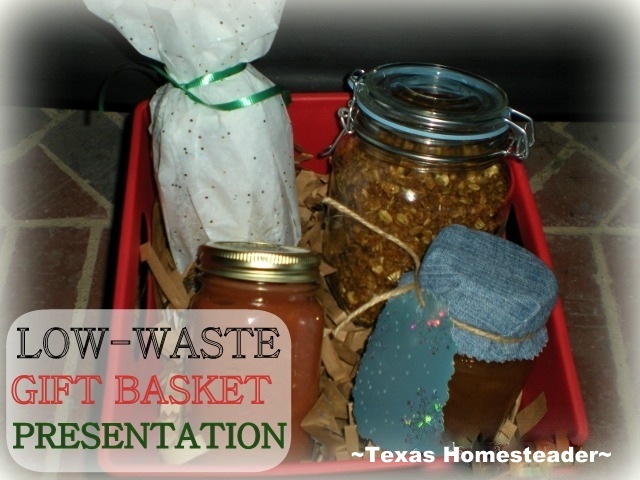 Awareness Of Trash Produced At Christmas
Years ago I became aware of the massive amounts of trash caused by gift wrapping. I hated that purchased wrapping paper, although beautiful, was simply trash seconds after that gift was opened.
There used to be mountains of it after our family Christmas celebration, all destined for our local landfill. Right then & there I began to search for lower-waste gift wrapping options.
Wrapping Gifts In Reusable Cloth
I've previously shared with you my method of using colorful bandannas and other festive cloth for our smaller gifts.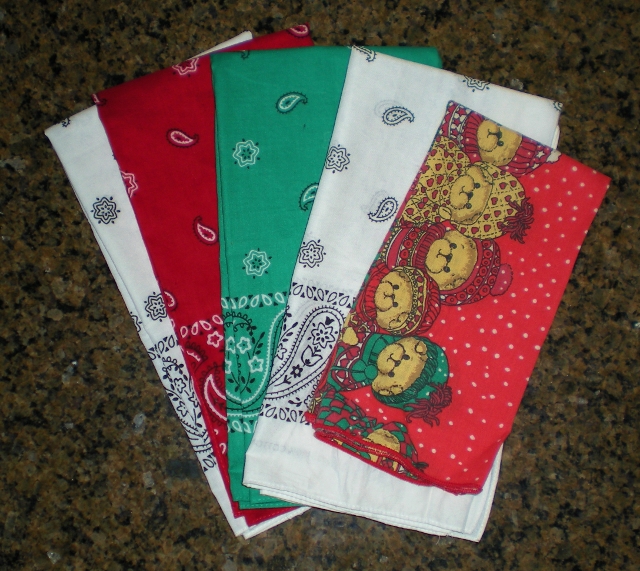 That cloth was either folded creatively or tied with ribbon.
My family knows these are my reusable wrappings & they happily return them to me after the gift is opened. I'm able to reuse this cloth to be used year after year.
And along the cloth-wrapping line of thinking is using the Japanese art of Furoshiki. Don't worry, it's EASY enough for a child to do. Just wrap & tie!
Gifts wrapped in cloth Furoshiki Style don't even need ribbons and such since the fabric is decoratively wrapped and tied instead.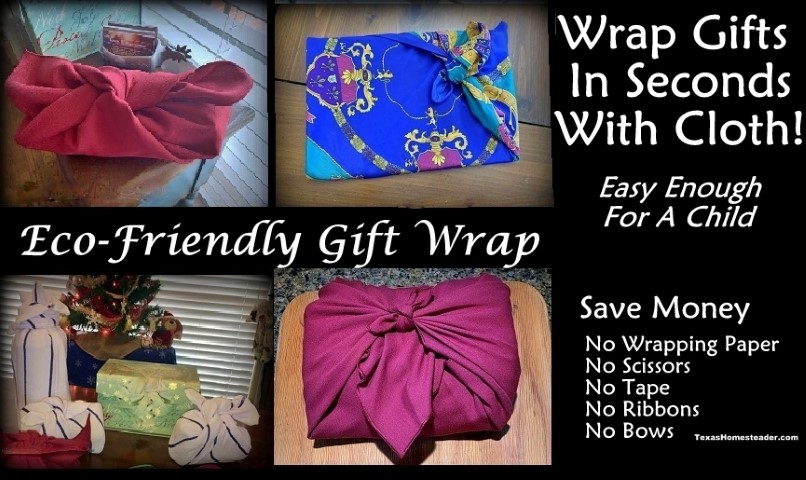 Low-Waste Gift Basket
But today I'm going to share with you our low-waste basket presentation.
RancherMan & I almost always make all of our gifts ourselves for Christmas. We often bundle those special homemade gifts into gift baskets.
One year we gifted all kinds of edible goodies from our kitchen. That year I included in our homemade gift basket:
Sometimes we'll add some kind of home-baked goodie too. (but we'll wait until the last minute to bake it to maintain freshness.)
Choosing The Container To Hold Our Gifts
For our baskets RancherMan & I picked up inexpensive colorful tubs to hold our gifts. We chose them knowing our kids could use them afterward in their homes.
Those small storage tubs can be used for our grandbabies' toys, DVD movies, kitchen storage – almost anything!
Now even though our simple gift from the heart involves several hours of labor for both myself & RancherMan, my mama always told me "Presentation Is Half The Gift". And of course she is absolutely correct!
So after the gift was assembled I looked for the prettiest way to present the basket.
In past years I used those large plastic basket wraps tied with a ribbon. But as you know, I absolutely hate disposable plastic items.
For the past several years I've pushed back against disposable plastic and Christmas is no exception!
So this year I wanted to present our gift baskets without additional wrapping. (which of course speaks to my crunchy-green heart.)
Repurposed Paper Filler For Gift Baskets
After pulling out the small gift tubs and figuring out what kind of space I needed to tuck in our gifts, I asked RancherMan to bring me a couple of completely shaken-out paper cattle feed bags.
I tore away the printed layer and was left with two large pieces of plain brown paper – LOVE IT!
I took one of the sheets and tore it down to size, wadded it up and used it to give an elevated bottom to the bucket, allowing for a prettier and raised display of our gift.
Then I cut another largish-sheet of brown paper and fan-folded it, careful not to overly crease it. Then I cut strips to make a cool-looking cover over the wadded-paper bottom. (some people could accomplish this with a shredder but we don't own one)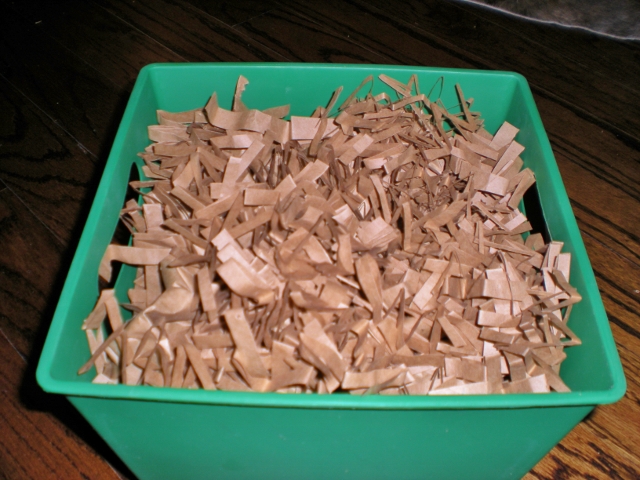 Our gift baskets were not only thoughtful gifts, but eco wins as well. They were primarily consumable food in reusable jars placed in a handy reusable tub.
And they were presented using only plain brown paper that can either be composted or used as a fire-starter in their own fireplace.
I really like the way the baskets turned out and our kids loved them too!
Merry Christmas, Y'all!
~TxH~
Other Christmas Posts You Might Like:
Gift Ideas
Eco-Friendly Gift Ideas: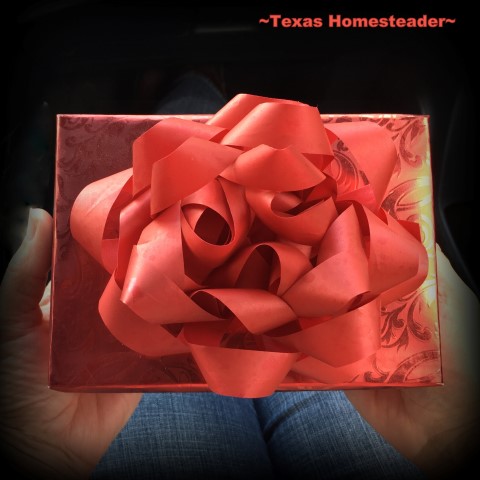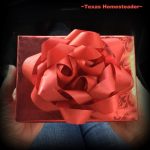 Low-Waste Gift Wrapping & Presentation

C'mon by & sit a spell! Come hang out at our Facebook Page . It's like sitting in a front porch rocker with a glass of cold iced tea. There are lots of good folks sharing! And you can also follow along on Pinterest, Instagram & Twitter
If you'd like to receive an email when a new blog post goes live,
subscribe to our Blog!
Save