by Texas Homesteader ~
What if I told you that you could not only save money on gift wrap, but your wrapping chores could be done in mere seconds as well? Furoshiki is the art of Japanese gift wrapping using reusable cloth. It's simple enough for children to do and the results are beautiful and eco friendly too.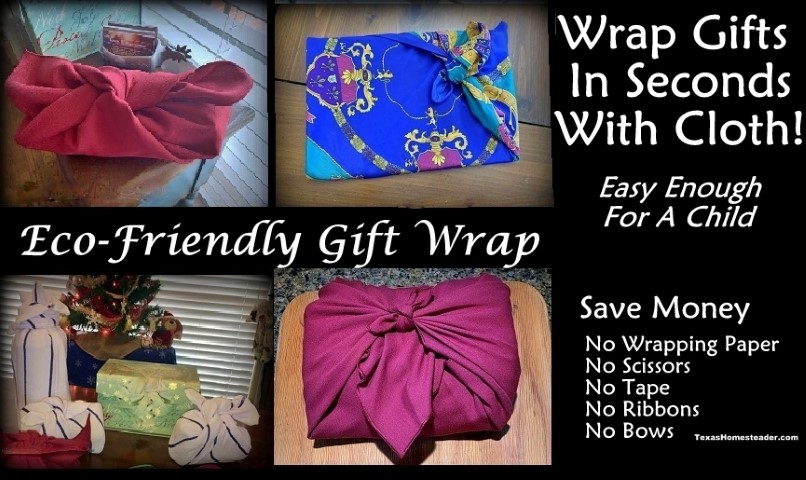 (Note: Some links in this post are for further information from earlier posts I've written. But links preceded with * are affiliate links. If you click them and buy something (almost anything, not just the item noted) I could receive a tiny commission. But the price you pay will NOT change. It's an easy way to support this blog without anything coming out of your pocket. So click often! Thank you!)
Reducing Gift Wrapping Waste
I've always hated the large amount of trash on Christmas morning. Pretty paper and bows covering a gift one minute, then a pile of trash the next. And a lot of it!
I've worked over the years to reduce (or in some cases completely eliminate) gift-wrapping waste. It's easier than you think and it can actual simplify gift wrapping.
Think about it – no scissors, no tape, no ribbon. My gift-wrapping chore for each gift is complete in literally seconds.
Previous Zero-Waste Gift Wrap Option
When our grandkids were young they used to get large fabric Santa-sacks to hold their gifts. They had no problem handing them to us after the gift was opened to be folded and used next year. (NOTE: we now do experience gifts with them so no wrapping is required)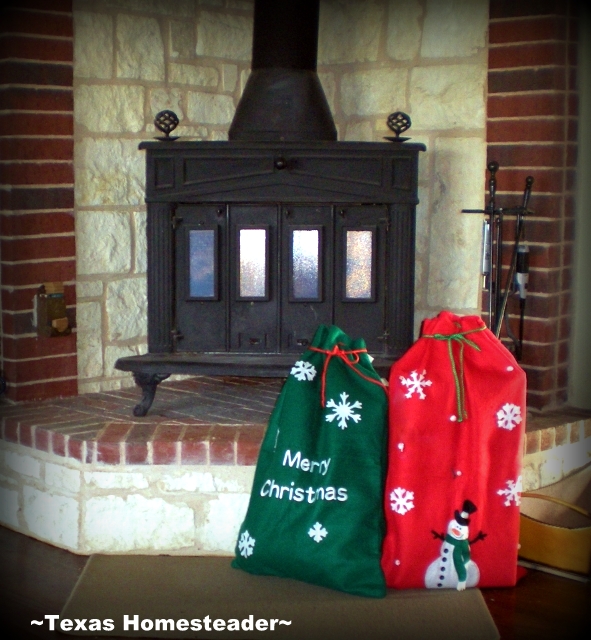 I also have a large holiday-themed tablecloth that I use if I have a larger gift to wrap. If it's not needed this year it's actually wrapped around the tote that holds our Christmas decorations. It looks like a huge gift!
That way it's hidden in plain sight until I need to store our Christmas decorations back in the attic after the holiday is over. It's simply removed, folded and placed in the tote with the rest of the decorations.
Wrapping Gifts In Cloth
But I knew there was another simple way to make our Christmas morning as zero waste as possible.
So I started wrapping our gifts furoshiki style. That's the Japanese method of using cloth fabric tied decoratively around the gift. I even make the 'bow' on the gift just by the way the cloth is tied. It's simple to do and takes only seconds.
Check out the video below where I show you exactly how quickly a gift can be wrapped!
And if you've used furoshiki wrapping, after gifts are opened Christmas morning the wrappings are simply folded and stashed away until next year!
Thank about it – No wrappings to buy every year, no tape, ribbon or bows. And most importantly – no trash.
Where To Find Furoshiki Fabric
It's not hard to find reusable fabric gift wrap. You can even *Buy Furoshiki Wrapping Cloth Online. They're typically lightweight fabrics so they're easy to fold/tuck/tie. And they come in such pretty designs too, as well as many different sizes.
But you don't have to buy reusable gift wrapping fabric. I often use bandanas for a festive and colorful flair.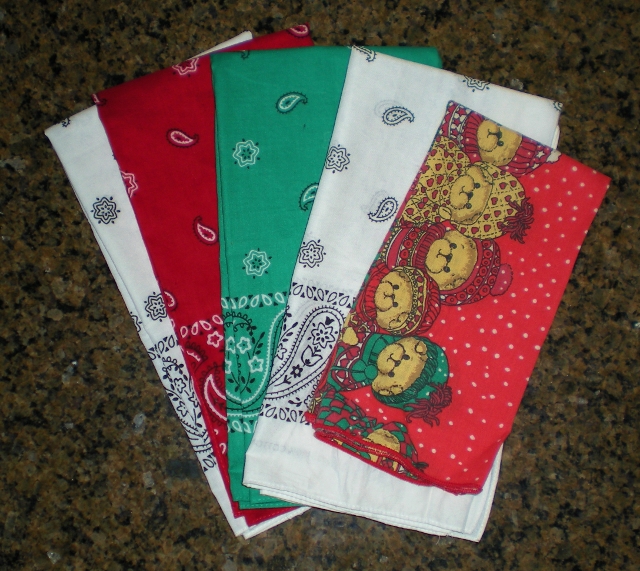 And I also like to repurpose my red or green cloth napkins for furoshiki wrappings for RancherMan's gifts. They all look so pretty under our tree.
And you can use various fabric items as part of the gift itself. Pretty napkins, dish towels, bath towels, washcloths, etc. all work and can add a little sumpin' to your gift.
But keep in mind that thinner fabrics are easiest to fold/tuck/tie. Those cloth napkins I use are about perfect!
You can use thicker fabrics as well such as those bath towels I mentioned. Just keep in mind that the thicker a fabric is, the harder it is to tie. So for thicker fabric you may need to use a ribbon to tie them closed.
Furoshiki Techniques
Now don't get me wrong, there are many out there who are certainly much more furoshiki talented than I! It's true I venture out with more unique tuck/fold/tie methods from time to time.
But my go-to simplest furoshiki tying method is to simply place a gift in the center of a cloth (I love these large deep-red napkins) and tie opposite corners into a knot. Then bring the remaining corners in & fold/tuck them decoratively.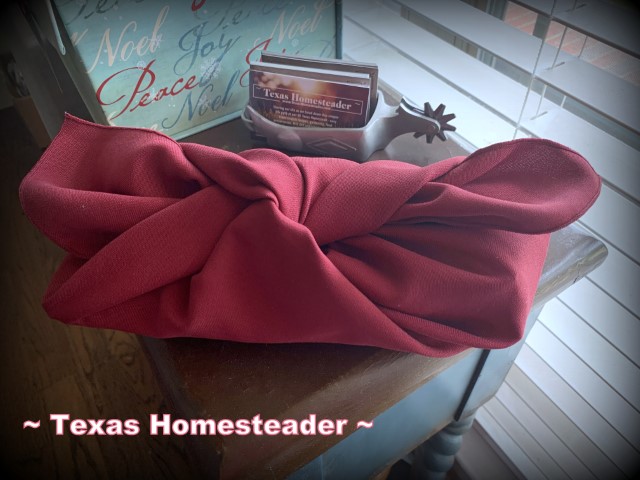 Wrapping Shirts –
Take these new long-sleeve T's I bought for RancherMan. They were easy to wrap – no scissors, tape, ribbons or bows were needed.
I didn't have to haul my 'gift-wrapping supplies' out, spread things on the floor, measure/cut paper, wrap, crease, fold and tape the gift. Then add ribbon & bow embellishments before gathering up all my supplies again and putting it all away. Truly this gift was wrapped in seconds.
This simple furoshiki style is my go-to for wrapping gifts.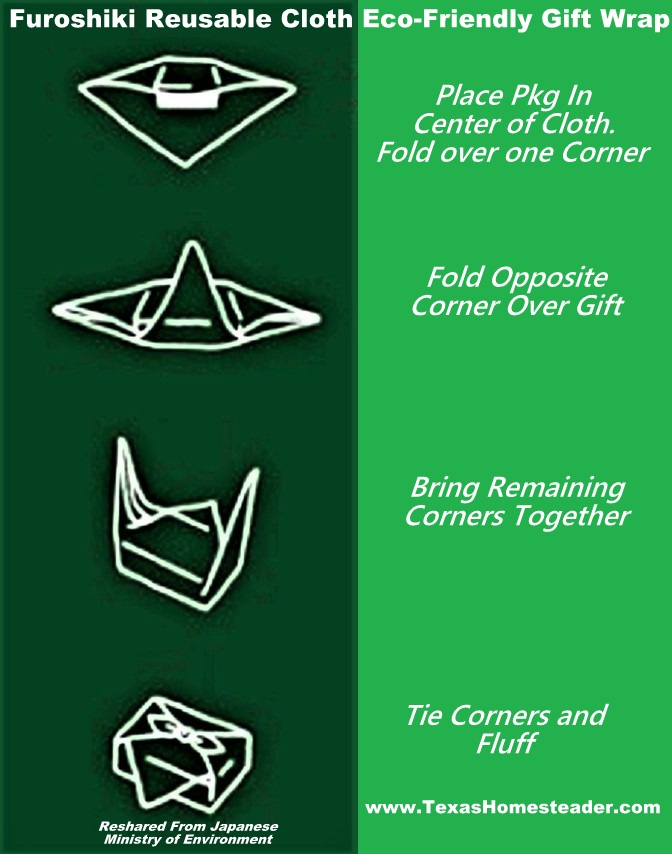 RancherMan's shirts were already folded. So I folded them over again into a tight-ish shape. You want the gift inside to be able to support its own weight.
Then I placed his shirt in the middle of our larger cloth napkin. I brought up two opposite sides and tied the corners in a knot. Then tucked one of the remaining sides beneath the ties and slid the other remaining corner through and fluffed it into an interesting embellishment. EASY!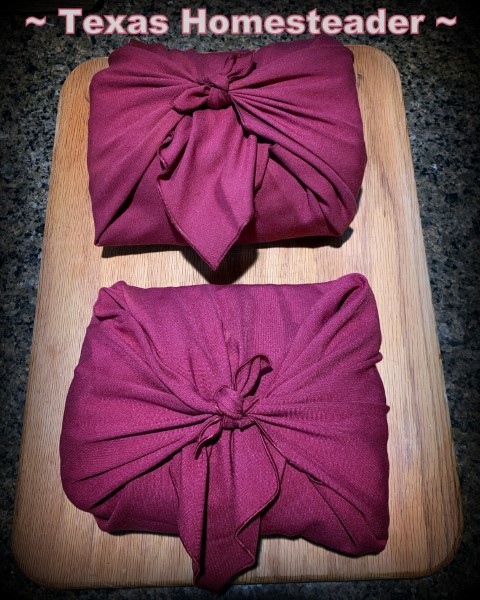 Wrapping A Book –
Here's how I wrapped a book I bought for my father recently. I used a large, lightweight scarf for this one. I placed the book across the bottom corner and folded, ending with tying the remaining tails together in a bow in the corner of the package. Pretty!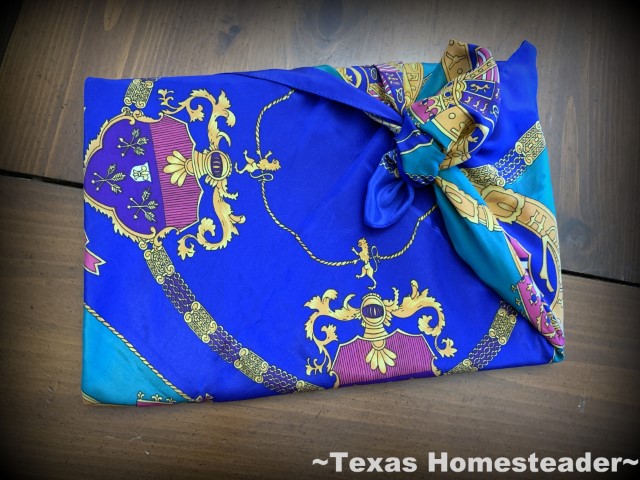 Wrapping Bottles Of Wine –
Sometimes I like to gift bottles of wine. There's even a furoshiki wrapping method for those!
Set the bottles in the middle of the cloth side by side. Then lay them over and start rolling your cloth around them.
When you get to the end of the cloth, stand the bottles back up and tie the two tails together. Pretty!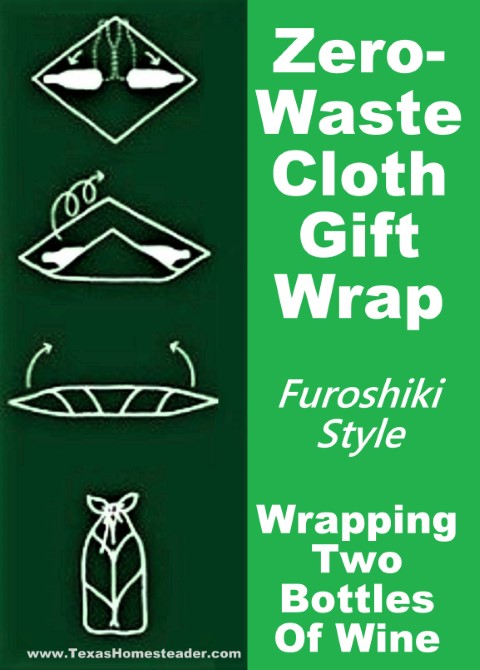 Many Different Cloth Wrapping Styles
So you see, just because you don't use disposable gift wrapping doesn't mean your gifts can't be absolutely beautiful and festive beneath your tree!
There are many different and interesting ways to fold your gift decoratively in cloth. I found this Furoshiki graphic online on the Japanese Ministry of the Environment website.
It demonstrates different and unique ways to fold various shapes and sizes of gifts. You can even fold a carrying handle for your gift!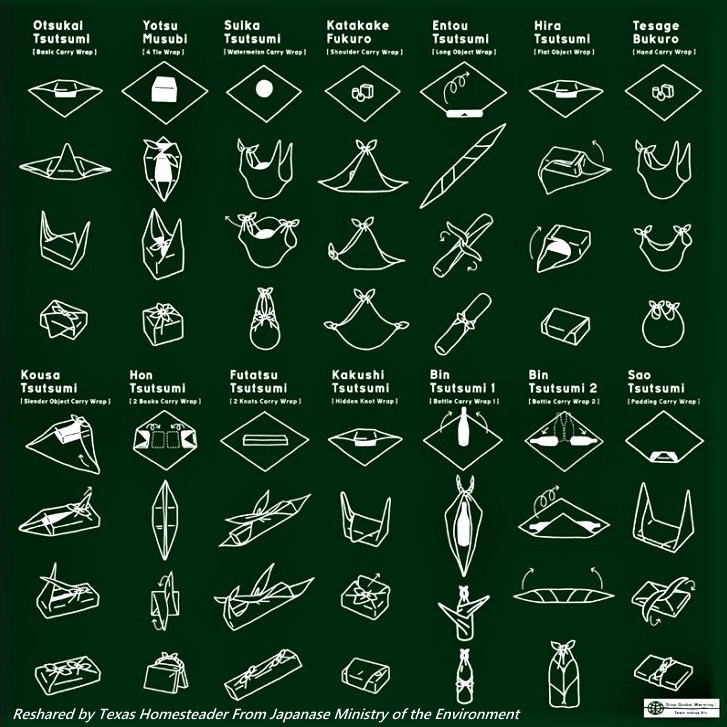 What About Getting Your Reusable Wrapping Back
My family has never had a problem handing the reusable cloth wrappings from their gifts back to me. But some readers have voiced concern about the awkward moment you ask for your wrappings to be returned.
The easiest thing to do is use reusable wrapping only for gifts for immediate family that are actually living in your home. That way there's no awkward moment of asking for wrappings to be returned. Those reusable cloths will just all be gathered up, folded and stored away until next year.
If, like me, your extended family knows of your crunchiness it's still easy to get those reusable gift wrap cloths returned as well. If you will be present when they unwrap their gift (as opposed to mailing it to another state, etc) then they can just return the wrappings after their gift is opened.
As I mentioned, my family knows I'm crunchy and they're happy to return the wrappings to me. Heck the typical option of years gone by was just wadding up disposable paper and throwing it in the trash anyway.
And many in my family have even begun using reusable fabric wrapping themselves. Aaaah, the power of example…
Wrapping As Part Of The Gift Itself
But what about those times when you might feel uncomfortable asking for your cloth wrappings to be returned? Well there are a couple of solutions for that too.
Sometimes for gifts for friends I'll just reuse a pretty paper gift bag I'd received in the past. Those decorative gift bags are also more apt to be reused again by the gift recipient. So at least it's a lower-waste than wrapping with disposable wrapping paper.
But for some gifts the wrapping cloth can actually be part of the gift itself.
Double-Duty Gift Wrapping
Bath-type gifts can be wrapped in new washcloths, hand towels or bath towels – whichever size is most appropriate. For instance, body spray can be wrapped in a new washcloth. Larger gifts can be wrapped in a hand towel or even bath towel.
Or a gift for the kitchen can be wrapped in pretty kitchen towels. For instance, one year I was giving a french press coffee maker and a couple of sample packs of different flavored coffees.
They were wrapped furoshiki-style – the French press in a new blue/white kitchen towel and the coffee flavor samplers in a pair of matching dish cloths.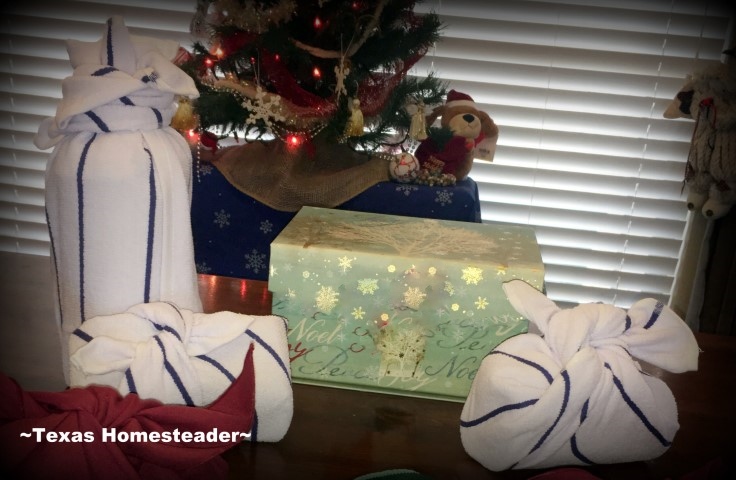 Grill accessories can be wrapped in a grilling apron. New driving gloves wrapped in a matching scarf. You get the idea. The wrapping can actually be part of the gift!
I love that our outbound Christmas morning trash has been significantly reduced to nearly zero. So has the cost of gift wrapping supplies for me.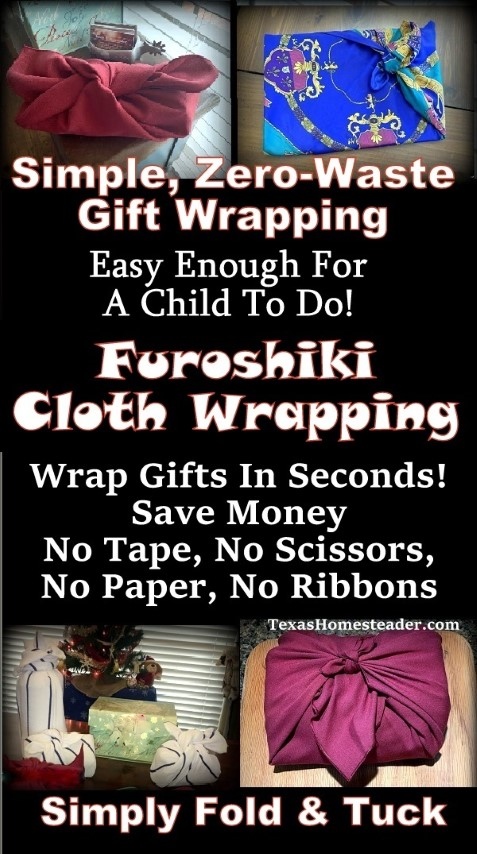 Plus, folding the wrappings after Christmas morning & tossing them in the basket for next year takes less time than gathering up the masses of trash & hauling it to the curb to be whisked off to hang out in the landfill for eons. Win/win for me.
Give it a try this year!
~TxH~
This post categorized in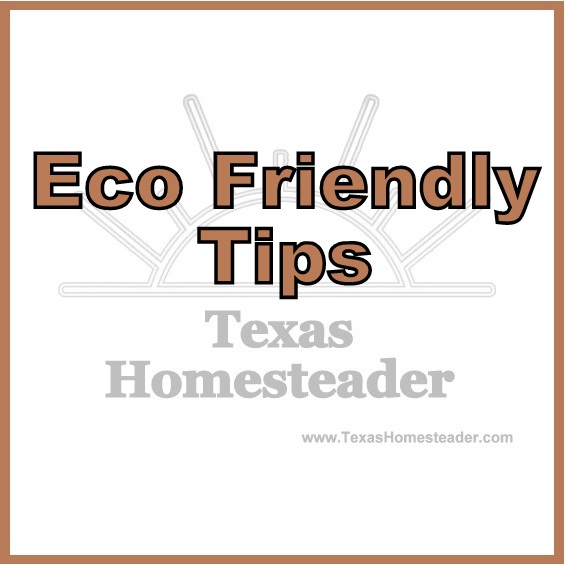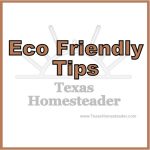 Eco-Friendly Gift Ideas: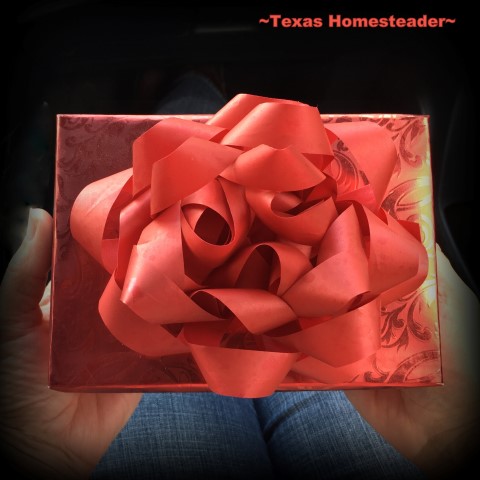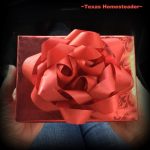 Low-Waste Gift Wrapping & Presentation


C'mon by & sit a spell! Come hang out at our Facebook Page . It's like sitting in a front porch rocker with a glass of cold iced tea. There are lots of good folks sharing! And you can also follow along on Pinterest, Instagram & Twitter
If you'd like to receive an email when a new blog post goes live,
subscribe to our Blog!
~ ~ ~ ~ ~ ~ ~ ~ ~
*Amazon affiliate