by Texas Homesteader ~
*contains affiliate link
With all the competition during the holidays to grab the attention of your Christmas gift recipients you've got to wonder, can you really give more environmentally-friendly gifts that they'll actually love?
As it turns out, yes.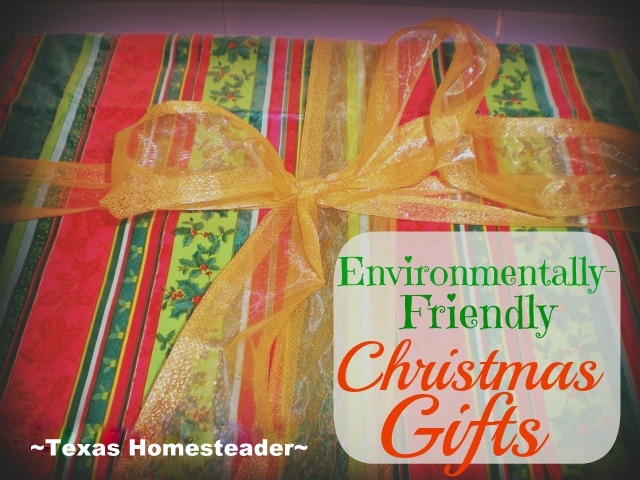 (Note: Some links in this post are for further information from earlier posts I've written. But links preceded with * are affiliate links. If you click them and buy something (almost anything, not just the item noted) I could receive a small commission. But the price you pay will NOT change. It's an easy way to support this blog without anything coming out of your pocket. So click often! Thank you!)
Eco-Warrior
I'm very environmentally aware in almost everything I do.
Now I don't expect everyone to see things the way I do. We're all different & that's a wonderful thing! But being very environmentally aware is just part of who I am.
For me, if at all possible I'd love to give gifts with a lighter footprint. Gifts that hold true to my values. But gifts that they'll love! Here are my favorite suggestions:
Low-Waste Hygiene
I hate those light-weight plastic razors. So I've owned and exclusively used a vintage Gillette safety razor for several years.
It's my most luxurious zero-waste move ever. But at first RancherMan still used the flimsy plastic disposable ones.
So I'm GIDDY that he has asked for a real honest-to-goodness safety razor for Christmas! No more plastic disposable razors in our household, can you hear the choirs singing?? This will be a favored of all environmentally-friendly gifts for him.
I got him a vintage nickel-plated Gillette SuperSpeed beauty from the 1960's and it's as clean as a whistle. (He wanted a vintage razor but you can buy new *safety razors very inexpensively too)
Low-Waste Razor Blades
As if that wasn't enough to get excited about, he ALSO asked for this box of *double-edged blades to go with it.
Why buy these blades when you can buy a little plastic box of five safety-razor blades at Dollar General for a buck??
Well these blades are paper wrapped and come in a cardboard box – no plastic at all!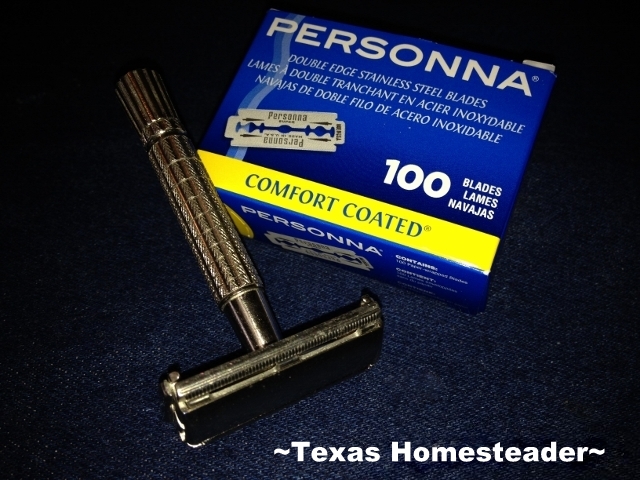 They were very inexpensive and 100 blades will last quite a long time for both of us. My little crunchy-green heart is just singing!!
Experience Gifts
There are other environmentally friendly options – what about giving "experience" gifts?
Although each year we usually gave homemade Christmas gifts. But back then we'd still purchase toys for our grandbabies.
Then one year something wonderful happened…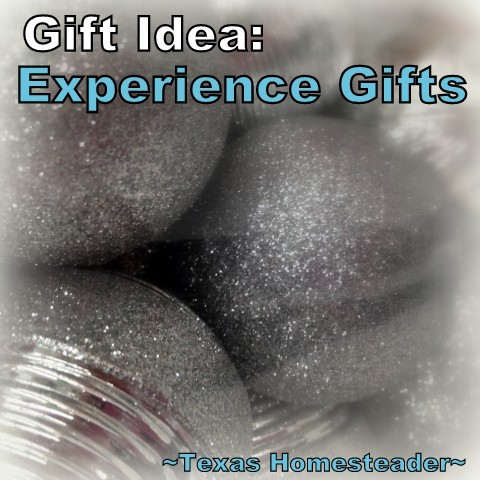 Our kids said that they wanted to pull away from the holiday excess that's been lavished on their children in the past. So they have asked for no toy gifts for the grandbabies.
RancherMan & I decided to give experience gifts to our grandkids each year (back then their ages were five to eleven).
There were lots of options and we had so much fun planning.
We really loved taking them to the Ft. Worth Stock Show & Rodeo. Aside from the stock show events they have a midway, petting zoo and lots fun things for kids to do.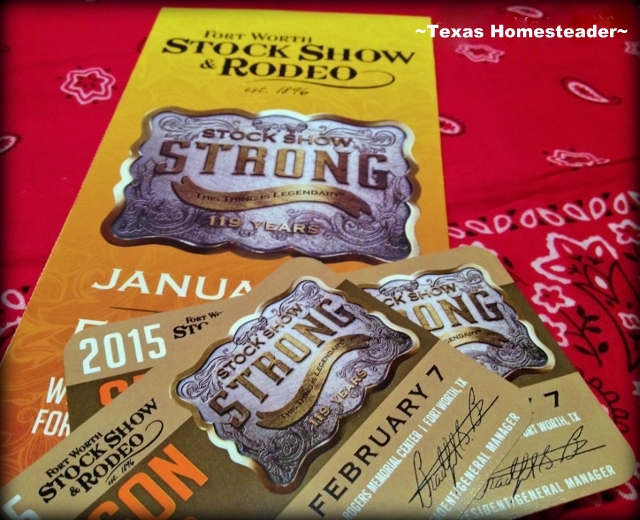 Of course there are many other experience-gift options such as taking them to museums, exhibits or maybe lunch and a movie with an ice cream treat afterwards.
We've taken them to the theater for live plays, Rock Climbing and enjoyed hours at a Ninja Warrior Obstacle Park. It's always a blast & we really look forward to our new tradition.
These memories will far outlast any toy we could have purchased for them. If you'd like you can see the list of all our Experience Gifts we've given them so far.
Edible Gifts
And of course gifts of food are often an environmentally-friendly gift option.
This year RancherMan is making for me one of my absolute favorite decadent treats: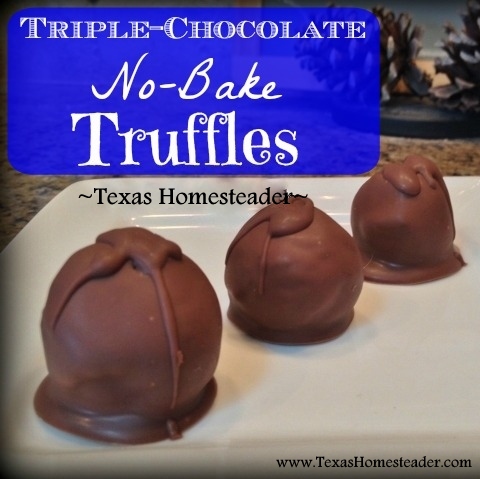 He'll be using the same recipe he used when he made me Mint-Chocolate Truffles for Valentine's Day. Oh my, I can't wait!
(although to be honest, I've asked for only a 1/2 batch this time because
I have no willpower want to watch my girlish figure. eh hem…)
In my opinion homemade gifts are priceless because they're presented with something that costs the gift-giver their time – true gifts of love.
We've been presenting homemade Christmas gifts to our family & friends for several years. I've written about our homemade gifts from years gone by – both food themed as well as projects.
Those gifts have always been made with love and have been well received by our friends & family.
Magazine Subscriptions
But what if your loved one lives far away? Magazine subscriptions are a fun way to give a gift over & over throughout the year.
One of my favorite publications is Mother Earth Magazine. It's chock full of hints & tips for DIY, MIY, self-sufficiency. And every now & then you might actually see an article published in this magazine from MOI! 🙂
There are endless options – children's magazines, specific hobby themed magazines and more. Something for everyone!
So there is a quick list of fun yet environmentally-friendly gifts. Delightful to give OR receive!
What about you – what are your favorite gifts to give & get?
~TxH~
Other Christmas Posts You Might Like:
Gift Ideas
Eco-Friendly Gift Ideas: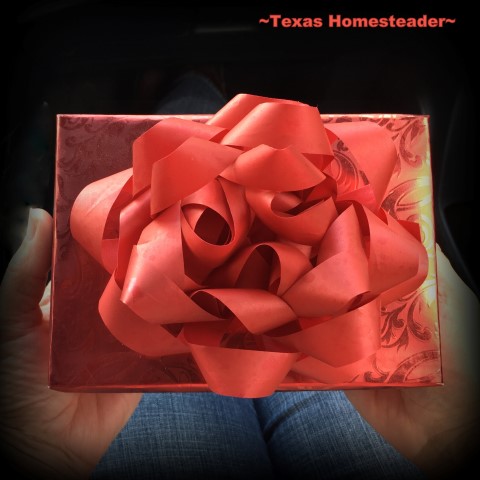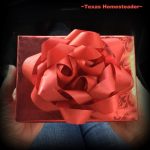 Low-Waste Gift Wrapping & Presentation


C'mon by & sit a spell! Come hang out at our Facebook Page . It's like sitting in a front porch rocker with a glass of cold iced tea. There are lots of good folks sharing! And you can also follow along on Pinterest, Instagram & Twitter
If you'd like to receive an email when a new blog post goes live,
subscribe to our Blog!
~ ~ ~ ~ ~ ~ ~ ~ ~ ~
*Amazon affiliate
Save
Save
Save