by Texas Homesteader ~
Do you know someone who loves to cook? Or maybe someone like me, who tolerates cooking and just needs tools to get it all done more quickly or easily?
There are tons of great gift ideas out there to make cooking more enjoyable. (and for me, most importantly – made EASIER! LOL) Here's a list of my favorite & most-used items in my Homestead kitchen: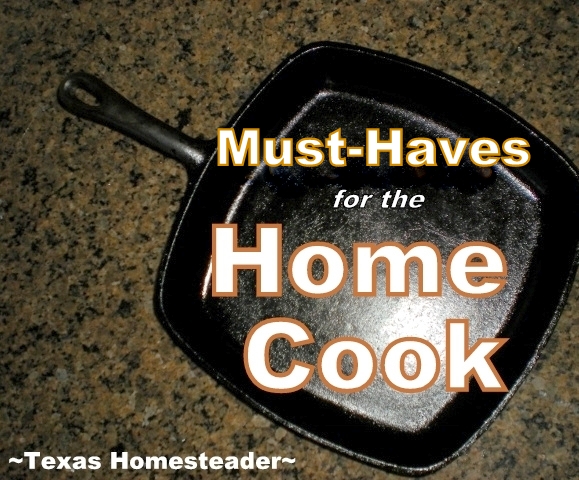 (Note: Some links in this post will take you to other related articles for further information. But links preceded with * are affiliate links. If you click and buy something I could receive a tiny commission.)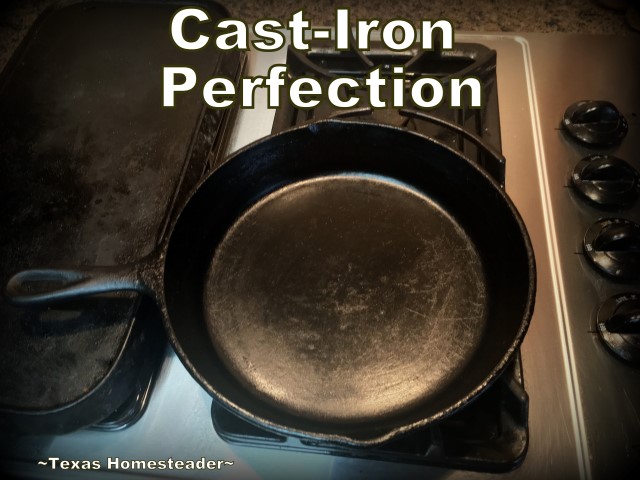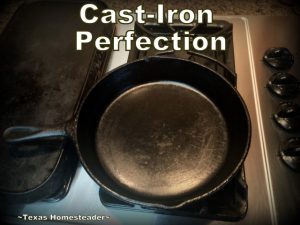 I have my grandmother's cast iron skillet and I absolutely love it.
But whether an old vintage one or a brand new *Cast Iron Skillet, it's a joy to cook with.
It can be used either on the stovetop or in the oven. And it lasts forever too!
Plus cast iron cooks evenly. And properly seasoned cast iron is virtually non stick as well.
It all adds up to a long-lasting, versatile win. Mine is going on 85 years of constant heavy use!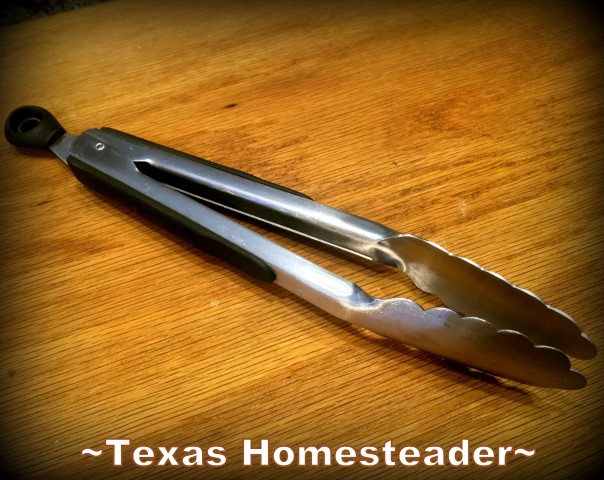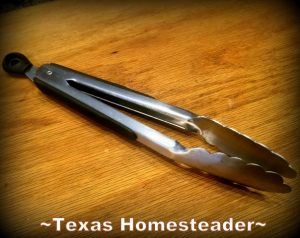 I use these *Tongs often. I especially love that they have a small lever on the end that closes them when not in use.
No longer does my utensil drawer get all jammed up trying to open/close it or remove items from the drawer.
I use them most often when turning food like fried chicken or crispy Southwest Eggrolls or serving up shredded pork.
But RancherMan uses them when he's grilling as well.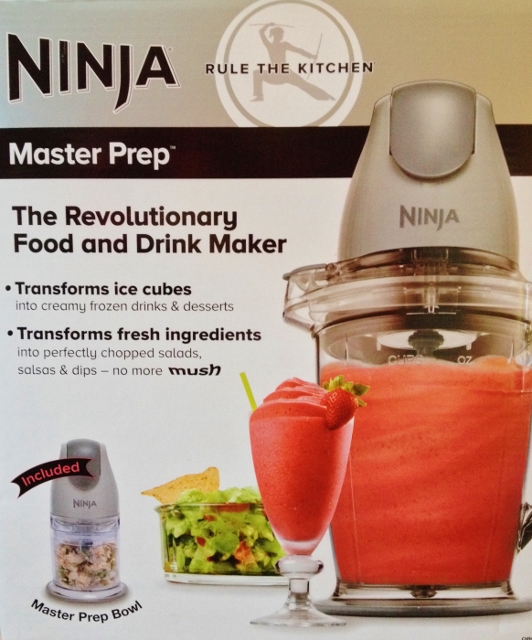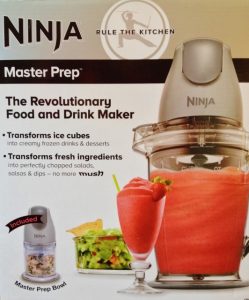 This little *Ninja Food Processor rocks my world. Seriously y'all, I could hit the road and be a traveling salesman for it.
I use it to whip up my homemade Sweetened Condensed Milk or to perfectly blend our healthier 'Ice Cream' that I make with frozen bananas.
We even use the blender that came with the set to make Watermelon Daiquiri's.
Yep, love, love LOVE my Ninja. And at the time of this writing the Ninja Master Prep Set I bought is still only around $35.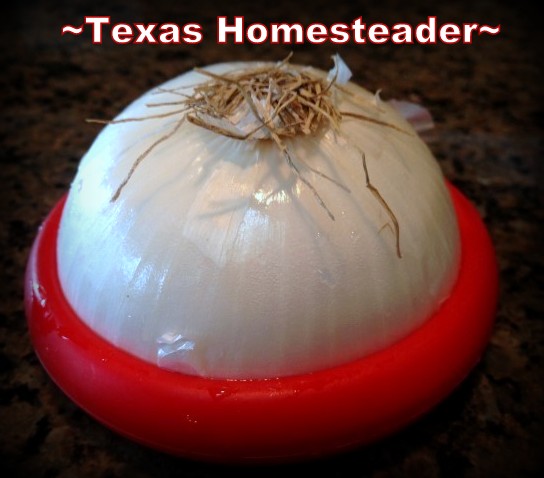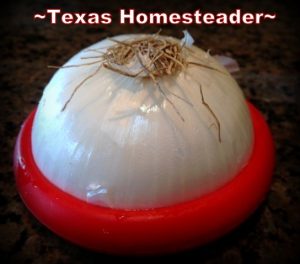 My sweet SIL bought these *Food Huggers for us several years ago as part of our Christmas gift.
I thought they were clever at the time of course. But since then I've grown to love them even more.
No need to use that disposable plastic wrap – these bad boys stand at the ready to preserve your food!
I'll snap that leftover 1/2 onion in one of these food huggers and pop it in the fridge. No onion smell escapes it!
I've used it for apples, bell peppers, onions and much more. The set I have has 4 graduating sizes.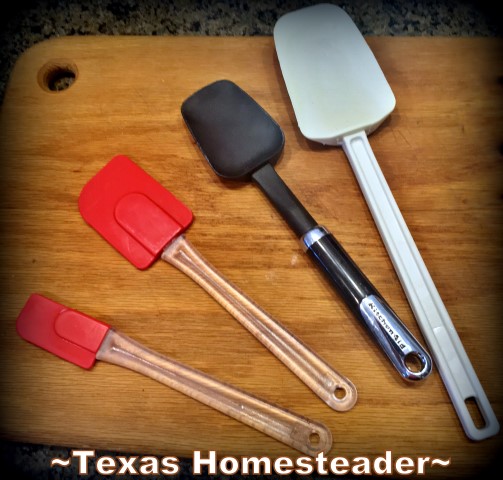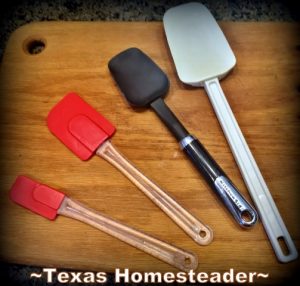 I read once that the lowly *Silicone Spatula is the most underrated workhorse in the kitchen. I have to say I agree!
Heck I can scrape enough peanut butter from that 'empty' jar to make a couple more sandwiches.
I can easily scrape that last bit of batter from the bowl and add it to my recipe.
And I have several different sizes and use them every day.
By using my spatulas, no food is wasted and fully-empty containers are easier to clean. And you know how I love that!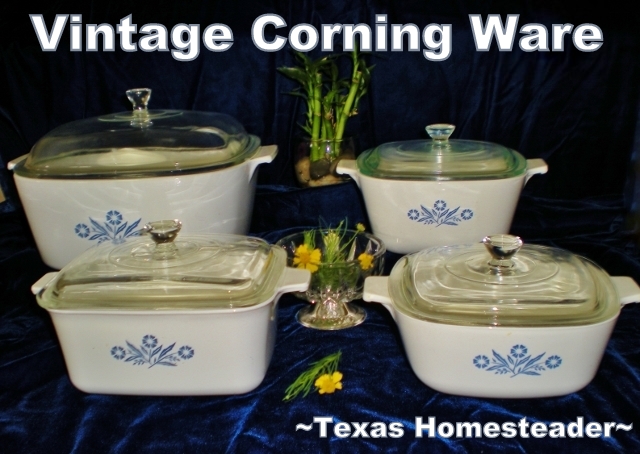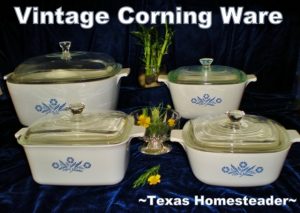 I have my grandmother's Vintage CorningWare Dishes and I love them. But you can certainly surprise that special cook in your life with new *Covered Casserole Dishes instead. They're helpful for so much more than cooking casseroles.
I use mine for cooking or baking of course, but I often use them for leftovers as well.
Since my big push of reducing Plastic In The Refrigerator, any leftovers are placed in the glass dish and the cover is placed on top. Into the refrigerator it goes. Using this method I can now cook supper, store leftovers, reheat leftovers and even serve in the same pretty dish. And fewer dishes to wash is a big plus for anyone in the kitchen #amiright??!!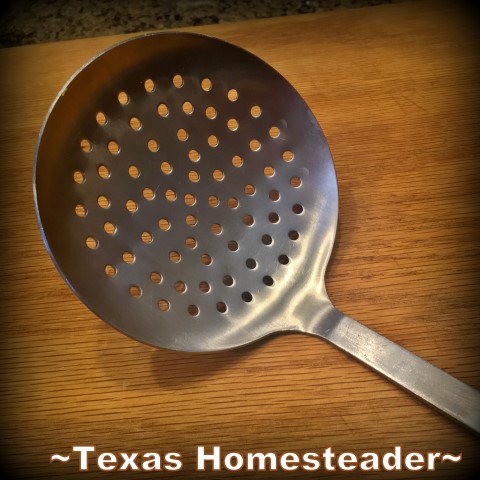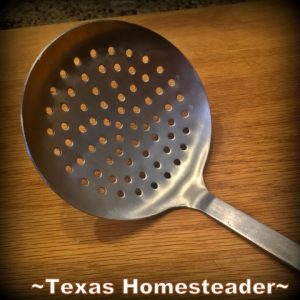 I actually bought this *Large Strainer Skimmer Ladle for myself several years back. I'm constantly commenting to RancherMan that it's one of the best gifts I've ever given myself!
I use this ladle for straining out the bones when I'm making my Homemade Bone Broth and it makes that chore a snap. Any time I need large amounts of food strained away, this large stainless steel ladle comes out. And it takes up precious little room in my utensil drawer too.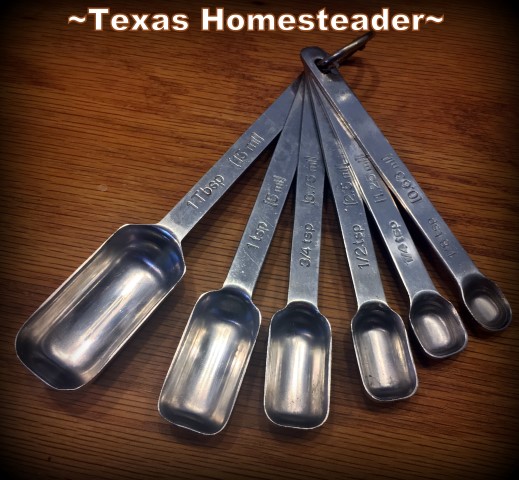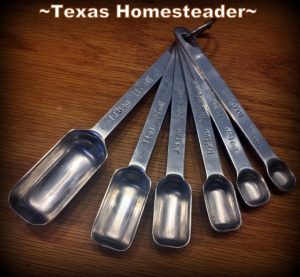 I have several sets of measuring spoons. But several years ago our daughter gifted these *Heavy Duty Measuring Spoons to me for Mother's Day. Oh how I love them!
The rectangular shape is specifically made to fit more easily into spice jars, etc.
And they're not lightweight like the other metal measuring spoons I own.
These bad boys can take it, whether I'm measuring out spices or Bacon Grease. I always grab for this set first.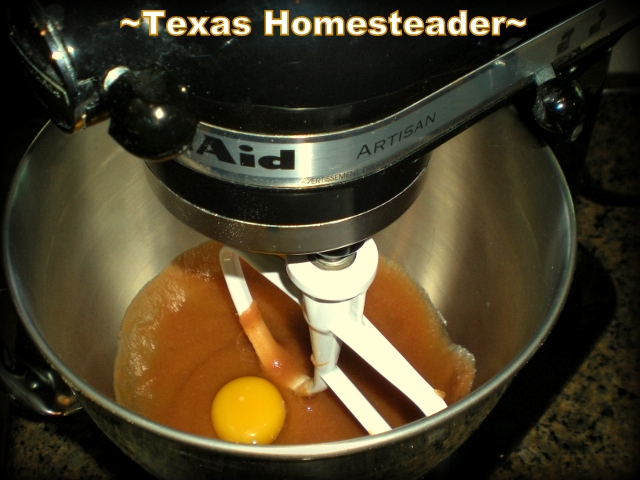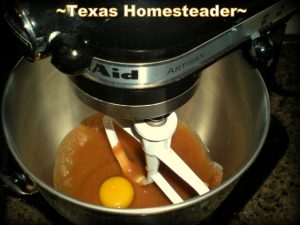 I use my *KitchenAid all the time. Of course I've used it for batters & such.
But I've also used it to whip up homemade butter from cream after I'd Milked One Of Our Cows.
I've used it to make my own Honey-Sweetened Whipped Cream too.
And of course it's a super important appliance when making my Homemade Sandwich Bread. This appliance alone is responsible for FINALLY being able to make my bread light & fluffy instead of heavy & dry. Success!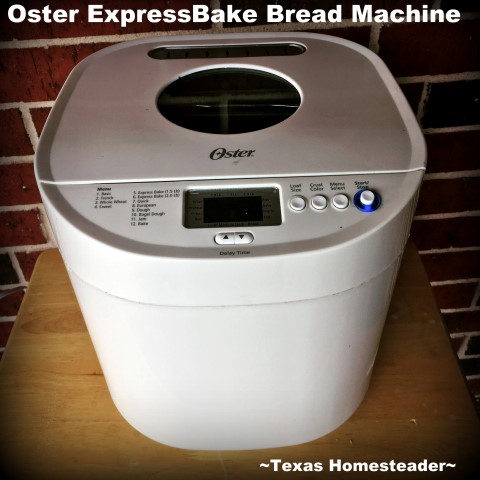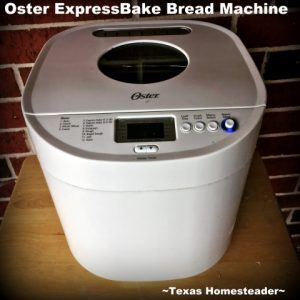 I've had bread machines in the past and always hated them. In a short time they were gone.
But my dad gave me an *Oster Bread Machine and I found that apparently bread machines have changed for the better!
Since baking bread is virtually push-button easy, now no matter how busy my schedule is I can always whip up a 2-lb Loaf Of Honey/Oatmeal Sandwich Bread for my handsome RancherMan.
That bread machine of mine is running several times each week.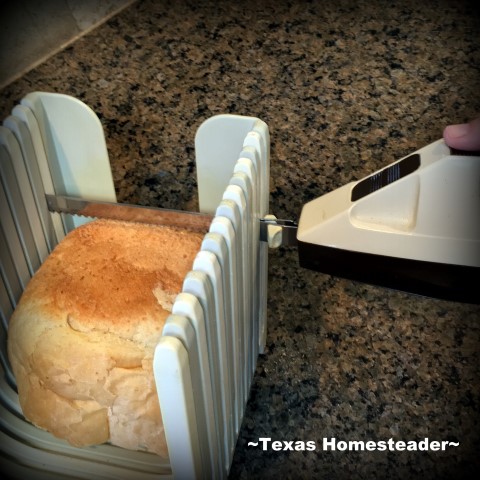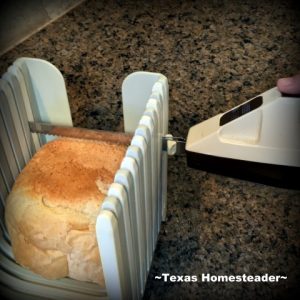 Speaking of homemade bread, this is the *Bread Slicing Guide I use.
RancherMan's a bread fiend so homemade bread is always being made fresh in my kitchen.
But dang I can't cut a loaf of bread straight to save my life!
This bread slicer guide is pulled out several times each week in my kitchen.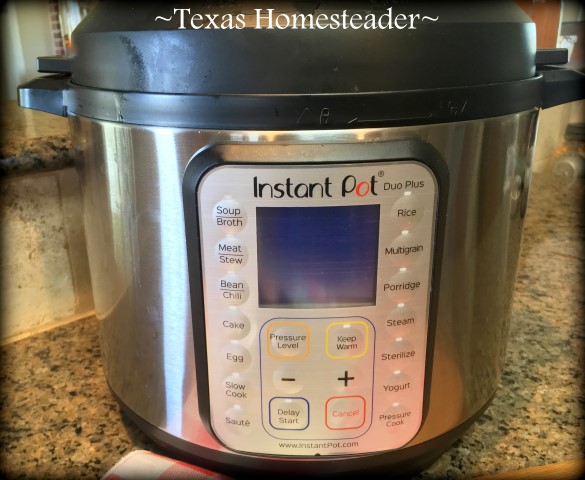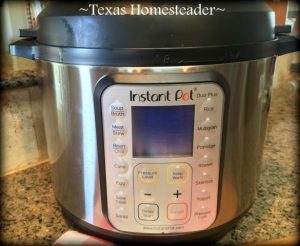 We researched heavily when we purchased our *Instant Pot.
We found that the Instant Pot brand was the highest quality & perfect for us. Is it worth the cost?
OMGosh y'all – YES! It makes my homemade broth with push-button ease.
And for me, Instant Pot Roast means a quick meal when time is short.
Making beans is a breeze with no pre-soaking required.
Heck I've even faced my fears of Homemade Cheesecake and made a surprisingly-easy yet amazing cheesecake in my Instant Pot.
And mine has an Instant Pot Yogurt feature too. Game changing!
If that favored cook doesn't yet have one – do it, do it, DO IT! This is a fantabulous gift idea.
So there ya go, my very favorite kitchen helpers. What's your fave?
~TxH~
*Products Mentioned In This Post: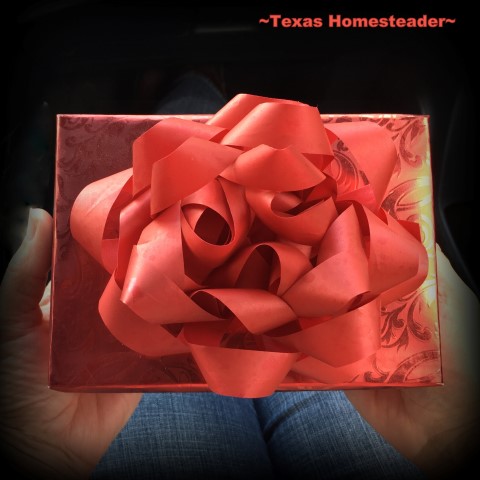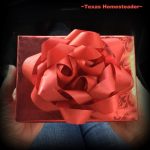 Gift Ideas
Homemade Gifts
Gifts Of Food
Gifts For The Home
Gift Wrapping & Presentation


C'mon by & sit a spell! Come hang out at our Facebook Page . It's like sitting in a front porch rocker with a glass of cold iced tea. There are lots of good folks sharing! And you can also follow along on Pinterest, Instagram & Twitter
If you'd like to receive an email when a new blog post goes live,
subscribe to our Blog!
~ ~ ~ ~ ~ ~ ~ ~ ~
*Amazon affiliate