by Texas Homesteader ~
*contains affiliate link
Come see 9 different zero-waste gift wrapping methods I use. It's easy, inexpensive, saves time & doesn't compromise the festive look beneath our tree.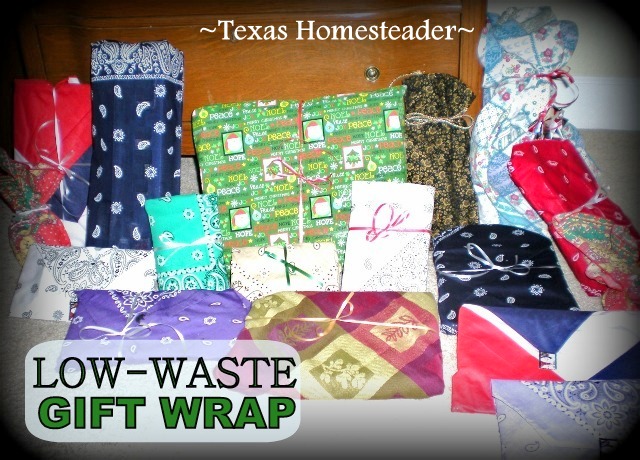 Realization Of A Holiday Filled With Trash
On a Christmas morning long, long ago I sat in our living-room floor with a steaming cup of coffee in my hands. My heart was full as I listened to the excited chatter of our children as they opened their gifts.
But soon after that gift-opening frenzy I stared with dismay at the mountains of trash that was left behind.
As I loaded up multiple mammoth trash bags with all that trash I thought there just HAD to be a better way!
I mean that paper was purchased (of course shrink-wrapped in dreaded plastic) and used to decorate that gift under the tree for such a short time.
Then in less that a minute that beautiful paper was turned into landfill-based trash. There just had to be a less trashy way to adorn my gifts without contributing to an already-bulging landfill problem.
So I sat out to change the way I wrap my gifts. But I didn't want to complicate gift wrapping, nor compromise the festive look of our packages beneath the tree. I was successful on both counts!
Sewing Drawstring Bags Not For Me
Now many more talented seamstresses would just sew very simple draw-string fabric bags with inexpensive fabrics for their gifts.
There's a problem with me using this as a solution though, I'm the polar opposite of a talented seamstress. And the extent of my sewing prowess is to sew a button back onto a blouse.
(ok, maybe calling it 'sewing prowess' is a stretch. But c'mon, give it to me will ya? LOL!)
(Note: Some links in this post are for further information from earlier posts I've written. But links preceded with * are affiliate links. If you click them and buy something (almost anything, not just the item noted) I could receive a small commission. But the price you pay will NOT change. It's an easy way to support this blog without anything coming out of your pocket. So click often! Thank you!)
Reusable Fabric Bags
Luckily even for me there are many options for reusable environmentally-friendly gift wrapping. You don't have to know how to sew, you can * buy reusable bags. The cost will still be less than buying wrapping paper year after year.
But several months ago at an estate sale I picked up a handful of little hand-sewn gift bags for a song.
Some day I hope to be able to sew my own gift bags using the denim from RancherMan's worn jeans (yes, I love EVERYTHING denim) but in the meantime these cute bags will fit the bill quite nicely.
UPDATE: I've learned to sew the cutest little denim baskets to hold many of our gifts.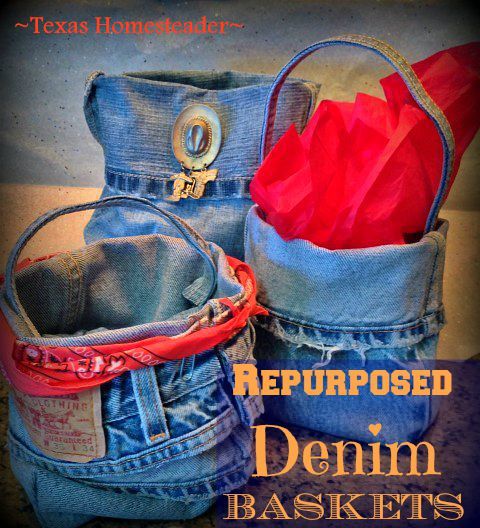 If you just don't have time to sew denim baskets, I often have them for sale in my Online Store. I'd be honored if you'd swing by for a little look-see!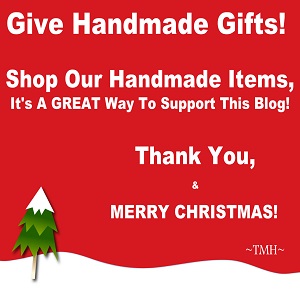 Homemade Goodies In Reusable Containers
There are other options as well. We like to give gift baskets filled with homemade goodness such as homemade Pumpkin Granola in reusable glass containers.
We always give special thought to the "basket" portion of the gift and try to package it all in something that's also useful and can be made part of the gift.
One year we made homemade pasta sauce & spaghetti and placed it all in stainless-steel spaghetti strainers.
Sometimes we'll package our goods in an appropriate-themed container such as a casserole dish.
Or like last year, these fun colorful chunky shelf storage baskets. Even the filler was repurposed & I previously wrote about presenting low-waste gift baskets.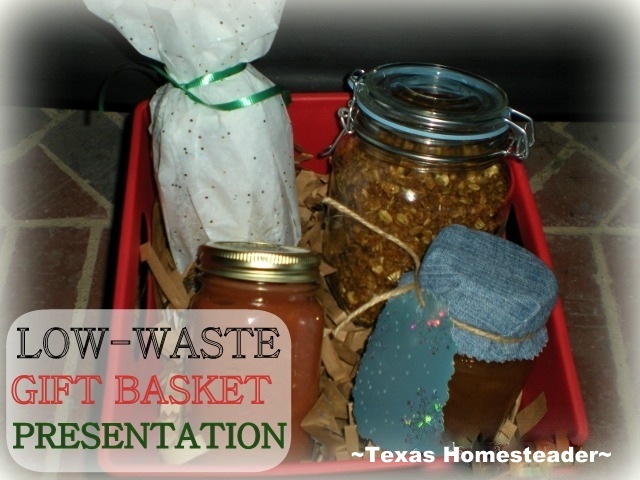 Colorful Bandana Gift Wrap
Wrapping smaller gifts is quick & easy using these colorful bandanas. I simply fold the bandana around the gift and tie it with string or festive ribbon.
I'm working on perfecting the art of furoshiki. That's where cloth is tied so decoratively & securely that there are no ribbons or strings are necessary.
Bandannas are great for wrapping those odd-shaped gifts. Plus they're so versatile and inexpensive it's easy to have many different colors to adorn the gifts under your tree for a fun splash of holiday color.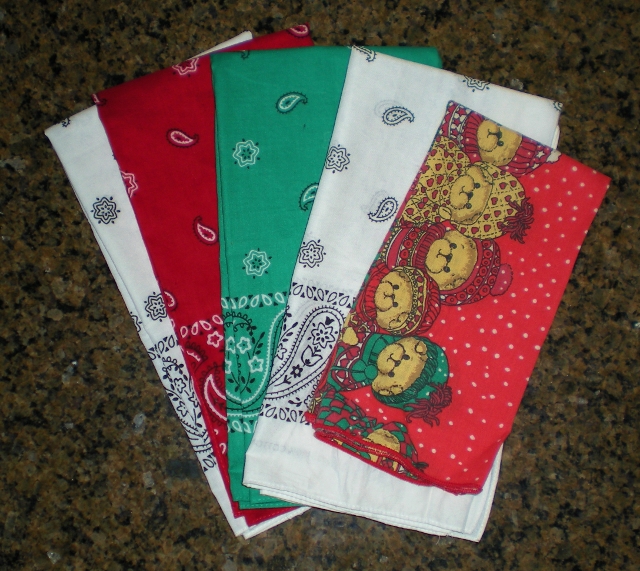 Fold,Tuck & Tie '

Furoshiki

'

Wrapping
This method of wrapping doesn't involve tape or ribbons at all! Your gift is wrapped in cloth, folded & tucked and then tied. The 'bow' is simply the ends of the fabric where you tied the fabric that's been flared out decoratively.
There are lots of different ways of wrapping furoshiki style, just have fun!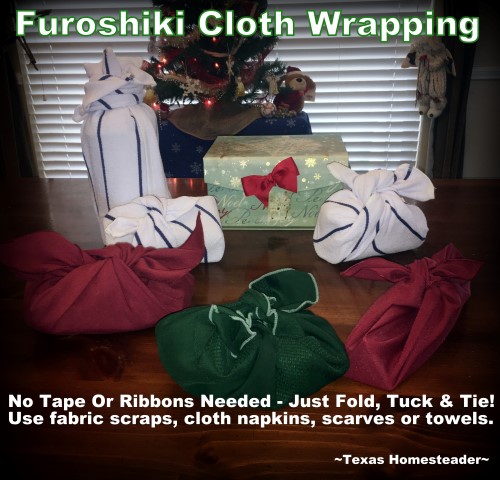 We often temporarily repurpose my red or green cloth napkins for RancherMan's & my gifts. And I sometimes include new tea towels and kitchen cloths for other's gifts.
Some people use colorful scarves, it's an easy yet pretty way to add another gift to their gift!
Oversized 'Santa Sacks'
For larger gifts we have *Santa Sacks that are used for our grandchildren's gifts.
A quick tie of the cord, attach a fun to/from label and these gifts are ready to go!
We also have mammoth-sized stockings that we use in much the same way. The grandkids know to return these wrapping bags when they've opened their gifts.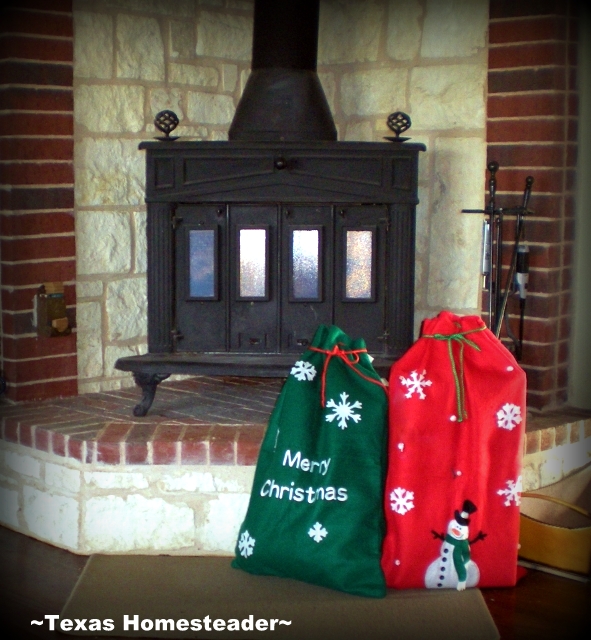 Christmas-Themed Tablecloth
For really large gifts I have a Christmas-themed fleece-backed tablecloth. It's not often that I need wrapping this large so if it's not needed for a large gift I use it to cover the storage box that our Christmas decorations are stored in.
When we bring that storage box down from the attic I'll often empty the box of its contents, wrap it in this tablecloth and set it beside our Christmas tree.
It gives me another surface to stack gifts on and keeps the Christmas package theme.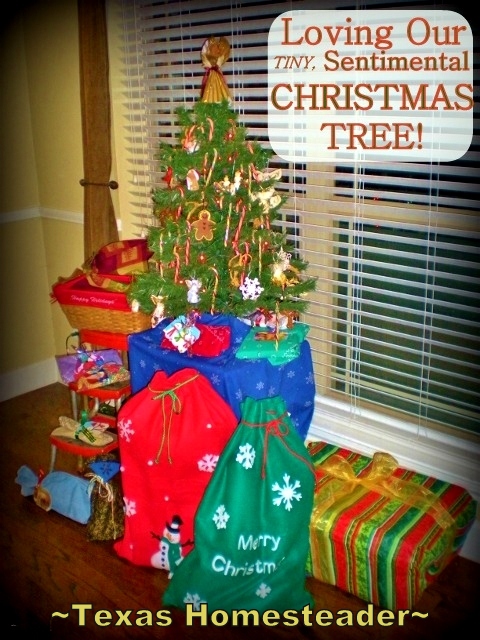 Repurposed Brown Paper Gift Wrap
And of course there's the old standby of wrappings from Christmases of days gone by.
C'mon now, sing it with me:
"Brown paper packages tied up with string, these are a few of my favorite things!"
Since we always have a blazing fire going on Christmas morning, a few of the smaller gifts that RancherMan & I place in each others stockings are wrapped in plain brown paper and tied with white cotton string.
That "wrapping paper" comes from the unprinted middle layers of our cattle cube feed bags and the white cotton string comes from these bags as well. So no additional product had to be produced nor purchased.
Sometimes I'll cut the paper with the fun scissors that cuts pretty shapes onto the edges. They look great and after the gift is opened, both the paper and string can be used for heating fuel in our wood-burning fireplace right then, right there!
Repurposed Christmas Card Gift Boxes
After the holidays what do you do with those beautiful Christmas cards? Save them!
You can easily and in only about a couple of minutes fashion an adorable small gift box from last year's beautiful Christmas cards!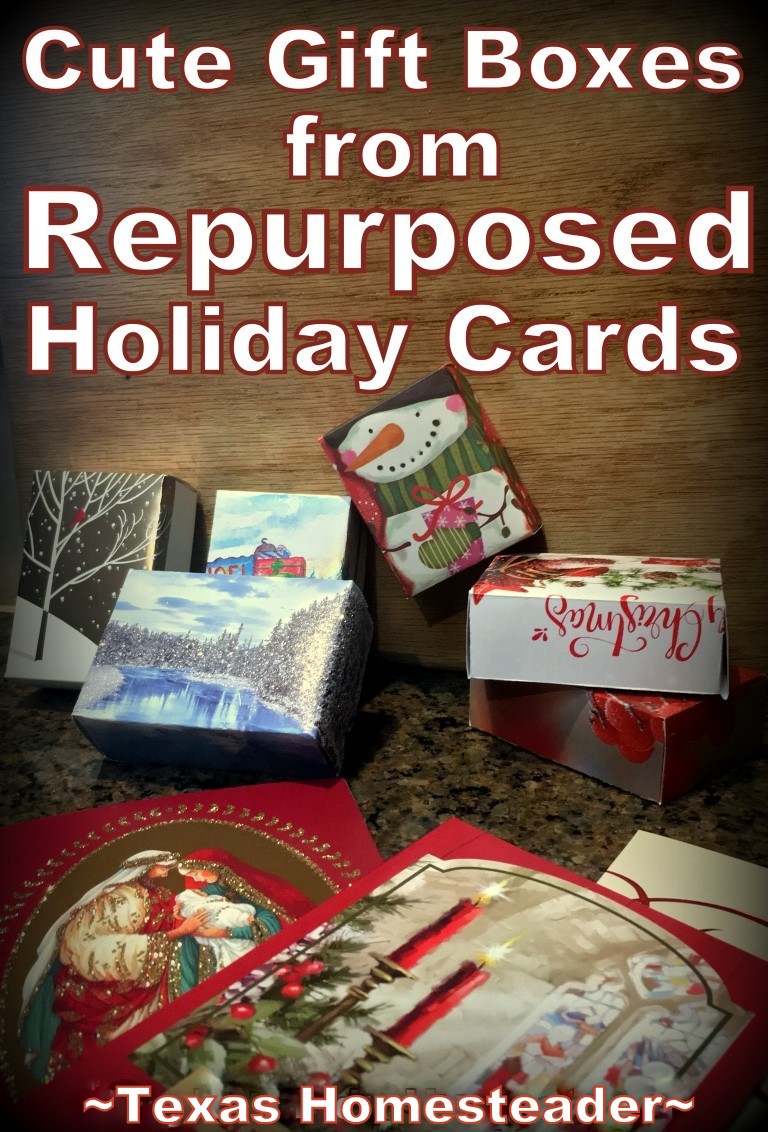 These small boxes are perfect for homemade soaps, cute bracelets, and various small gifts.
One year RancherMan & I made homemade soaps for our Christmas gifts. Each soap was gift boxed in a beautiful Christmas-card box.
You can see the simple tutorial for making your own Christmas-Card Gift Box Here.
Festive Gift Wrap Look Beneath The Tree
All in all my reusable gift wrapping still gives me the pretty and festive look under the tree that I crave. But my heart is happy since unlike that Christmas so long ago there's no trash being hauled to the curb.
After the gifts are opened my family is happy to return all the wrappings to me. I just fold them & put them away to be used year after year.
What about you? What are your favorite ways to reduce the mountains of trash on Christmas morn?
~TxH~
Other Christmas Posts You Might Like:
Gift Ideas
Eco-Friendly Gift Ideas: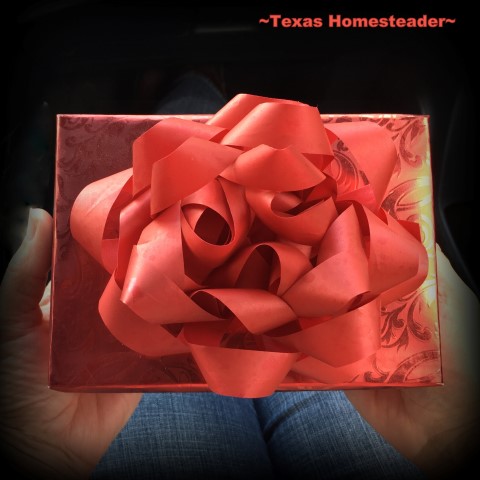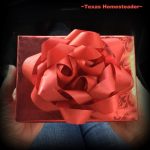 Low-Waste Gift Wrapping & Presentation


C'mon by & sit a spell! Come hang out at our Facebook Page . It's like sitting in a front porch rocker with a glass of cold iced tea. There are lots of good folks sharing! And you can also follow along on Pinterest, Instagram & Twitter
If you'd like to receive an email when a new blog post goes live,
subscribe to our Blog!