by Texas Homesteader ~
Everyone loves candied pecans! This simple recipe first coats pecan halves in whipped egg white, then coated with cinnamon and sugar. Just bake them slowly until browned and crispy. Sweet, salty and crunchy!
Plus, we like to give consumable gifts and these candied cinnamon pecans make a very fast and easy gift idea too!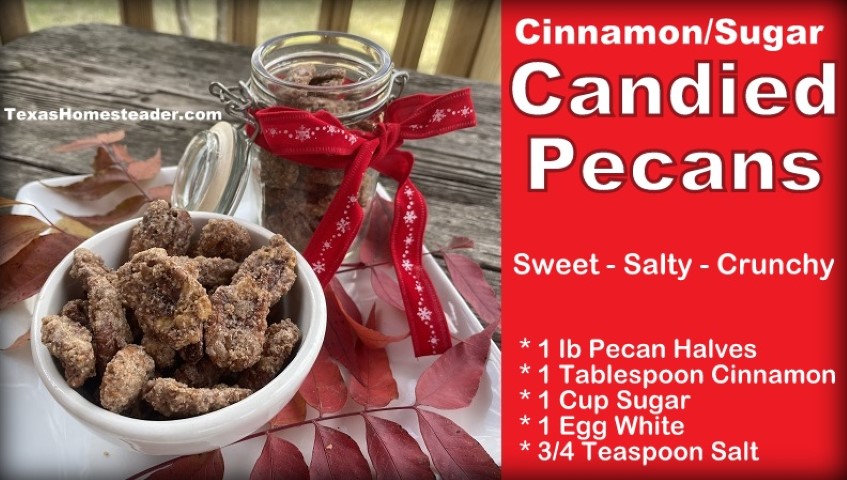 (Note: Some links in this post will take you to other related articles for further information. But links preceded with * are affiliate links. If you click and buy something I could receive a tiny commission.)
Candied Cinnamon Sugar Pecans
In the past I suppose I just assumed it must be a complicated chore to make candied pecans. But I was pretty surprised to find out how easy it is to make them.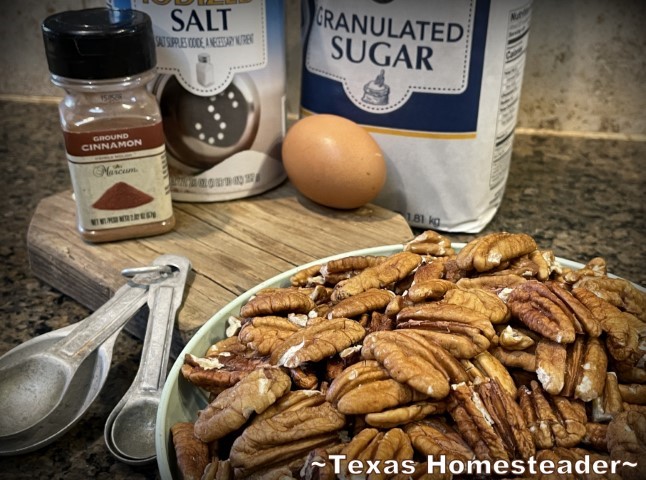 This super-simple cinnamon sugared pecan recipe calls for:
1 Pound pecan halves (about 4 cups)

1 Cup white sugar

1 Tablespoon cinnamon powder

3/4 Teaspoon salt

1 Egg white whipped with 1 Tablespoon water
I just blend everything together and place it in a 250 degree F. oven and let the pecans toast for about an hour. So easy, so good.
Homemade Consumable Gifts Are Loved!
RancherMan & I prefer to make our gifts homemade. And we often make sure those gifts are consumable too. In past years we've made:
…among many other homemade goodies over the years.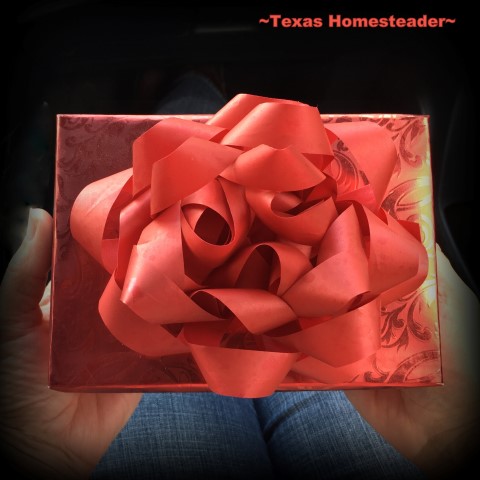 With consumable gifts there's no worry about the wrong color or size. No concerns about whether the gift recipients already have this expensive whatzit that we braved the stores and crowds to buy.
Just a delicious homemade gift from the heart. That's the way we roll… These sweet crunchy cinnamony pecans always go over well.
Candied Pecans A Sweet Christmas Gift Idea
I like to make candied pecans as a sweet treat to include in RancherMan's Christmas stocking. He loves them!
I sometimes place the pecans in a repurposed peanut butter jar and paint black buttons on the jar and tie with a red 'scarf' to make the container look festive.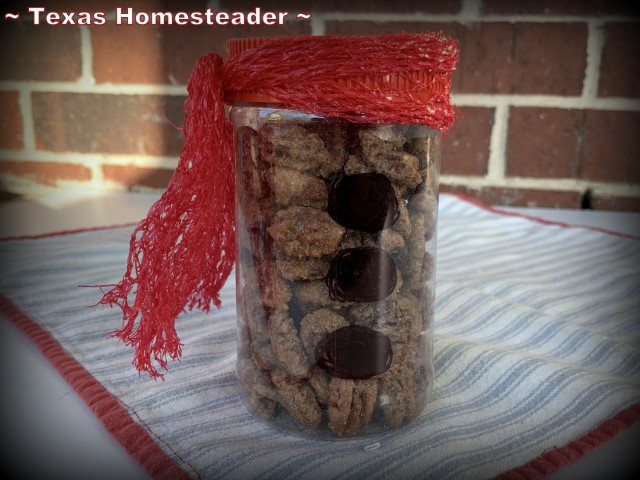 You can also pour these sugared pecans into glass canning jars with pretty ribbons or decorate the jar tops with scraps of festive material tied with bright ribbons.
I've seen some people buy those *Festive Small Treat Bags and gift these candied pecans that way.
However you present these sweet cinnamon candied pecans, they're sure to be enjoyed!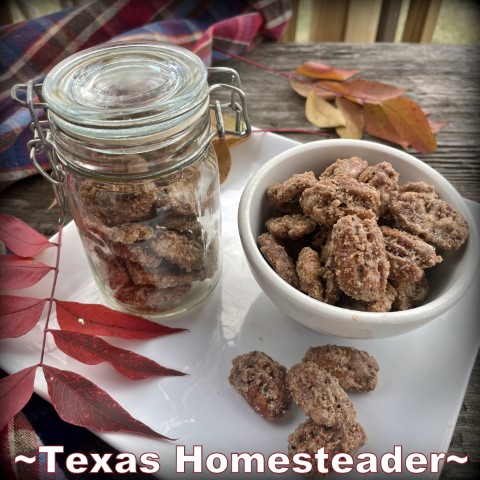 The recipe couldn't be easier, y'all. Check it out!
Did you make these cinnamon/sugar candied pecans? Please rate the recipe in your comment below!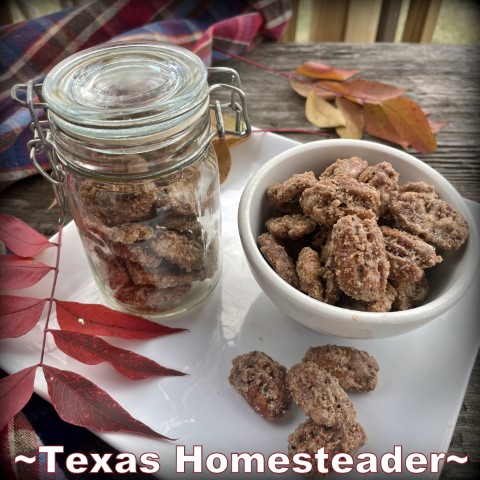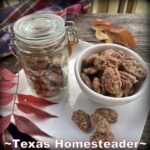 Candied Cinnamon Sugared Pecans
This simple cinnamon sugar candied pecan recipe is sweet, salty, crunchy and delicious. What a treat! And it makes a great gift idea too. #TexasHomesteader
Ingredients
Ingredients
1

pound

shelled pecan halves

(about 4 cups)

1

cup

white granulated sugar

1

tablespoon

ground cinnamon powder

¾

teaspoon

table salt,

(can reduce down to ½ teaspoon if desired)

1

egg white

1

tablespoon

water
Instructions
Directions
Preheat oven to 250 degrees F.

In a small bowl add 1 cup white sugar, 1 tablespoon cinnamon, and 1 teaspoon salt. Stir to combine & set aside.

In a larger bowl whisk 1 egg white and 1 tablespoon water until frothy and thickened. Add pecans to the egg mixture and gently fold to coat pecans completely.

Add sugar/cinnamon mixture to pecan mixture and fold again until pecans are evenly coated. Spread coated pecans onto a large baking sheet.

Bake in preheated oven for 1 hour or until evenly browned, stirring gently every 15 minutes.
~TxH~
This post categorized in