by Texas Homesteader ~
Do you need a fast, simple but inexpensive gift idea? No worries, I'm sharing a fun list here. Everything from a cute Santa sleigh made completely with candy to a fun way to present cash, and everything in between. Great yet fast & inexpensive for gifts for children, neighbors, co-workers, groups and more.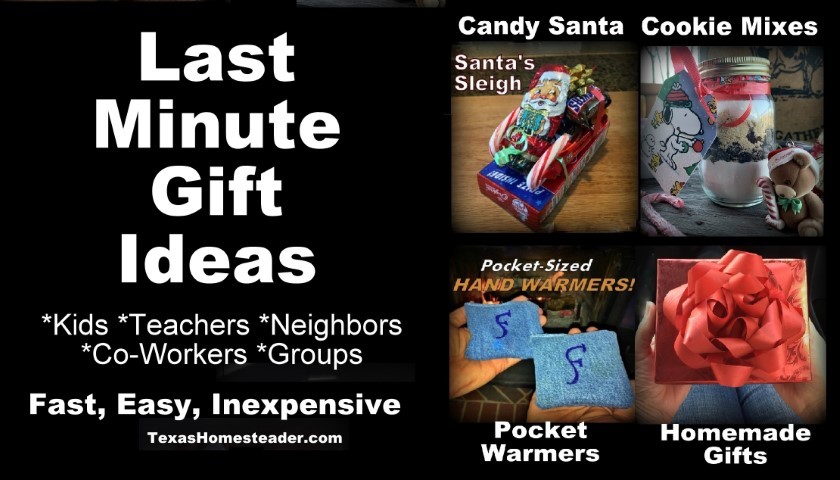 (Note: Some links in this post will take you to other related articles for further information. But links preceded with * are affiliate links. If you click and buy something I could receive a tiny commission.)
To See Individual Crafts
Below is a list of quick inexpensive gifts we've been able to make give over the years. And they're easy to multiply for a group such as co-workers, neighbors, clubs, etc.
If you click on the titles you'll be taken to a detailed post about that craft item where possible. (I don't necessarily have blog posts on all of them)
I've even included links preceded with * so you can check out individual components of the gifts. That keeps you from having to brave the stores – you can buy those makings of your homemade crafts to be delivered right to your house! #WorkSmarterNotHarder
NOTE: If you don't already have it, you can totally *Try Amazon Prime For FREE for 30 days. Then you can place your order & get your free shipping, etc. Keep prime for 30 days FOR FREE & try it out – streaming movies, music, free shipping – the whole 9 yards! If you don't want to continue you can cancel within 30 days and pay nothing for your Amazon Prime trial run.
You can see all our gift posts here –>
Also, there's a whole list at the bottom of this post for all things holiday. Gift ideas, wrapping ideas, low-waste tips, etc.
This Santa Sleigh is made entirely of candy! It can be put together very quickly. Go ahead & make several!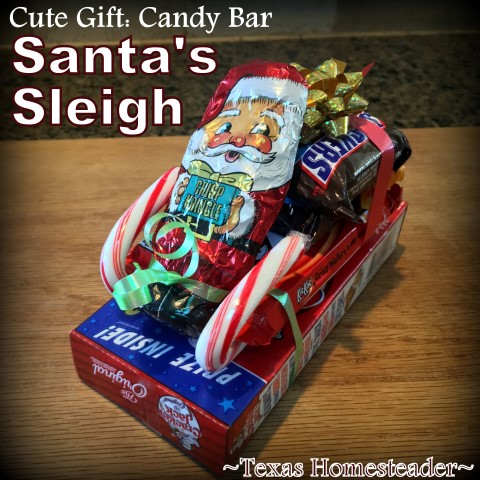 A few snack-sized candy bars, a couple of candy canes and a chocolate Santa is all you need!
This cute snowman is a nice gift all by itself using *inexpensive gloves & a bulky candy bar or boxed treat. We purchased ours at a dollar store.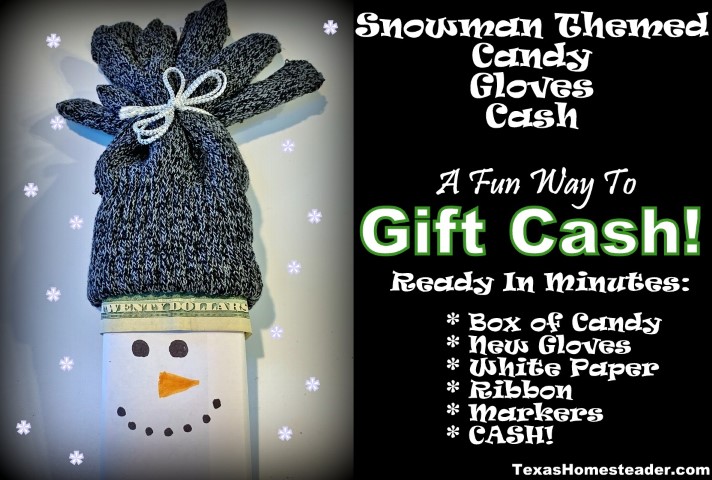 But it can also be a cute and inexpensive way to gift cash or gift cards too.
When we gifted Christmas Trail Mix to our grandchildren we presented it in a super-cute way. Using a repurposed jar with a snowman theme.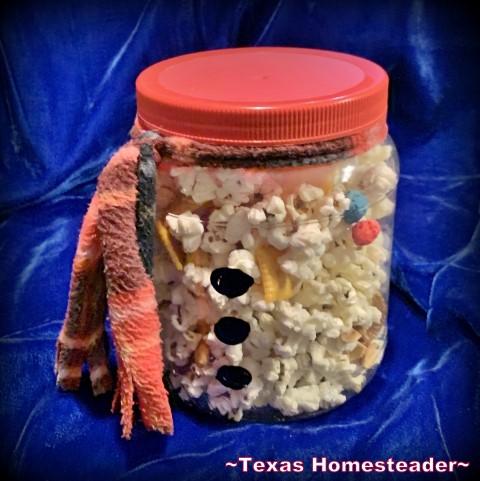 Just fill the snowman jar with whatever you like. I like sweetened popcorn because it's so fast & easy. Just pop *Bulk Popcorn and bake it for a few minutes coated a simple syrup made of water/sugar/butter.
Make the popcorn into more colorful Christmas trail mix if you like – tips below.
Christmas Trail Mix
This is a cute and delicious treat. Christmas trail mix!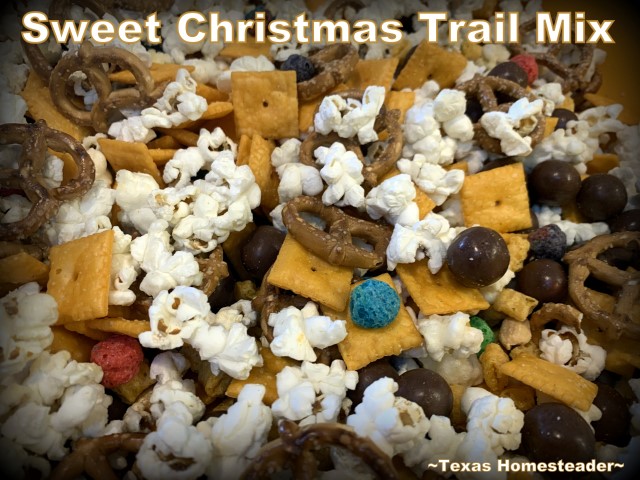 You can buy *Christmas Trail Mix already prepared. But we wanted to make our own.
The bulk of our sweet trailmix was just Sweetened Popcorn. (Oh so easy, and oh-so-cheap!)
Then we added various other things to add sweet/salty blend and color. For our Christmas trail mix we used:
colorful *sweetened cereal
It all combined perfectly to make the color pop & taste combination we wanted for our Christmas trail mix.
Sweet, salty, crunchy. These sweet candied pecans have it all and are delicious!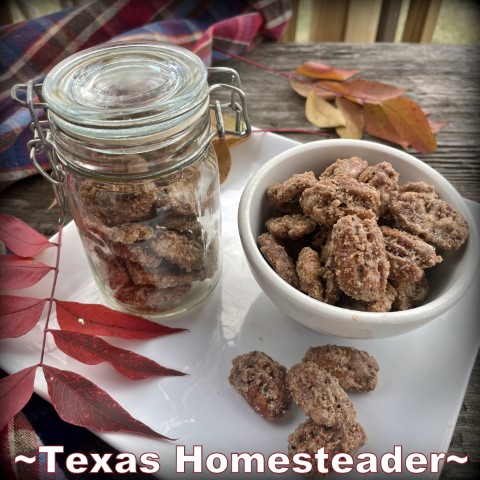 I never knew how easy it was to make candied pecans. But really – coat pecans in:
Slowly roast in an oven for 60 minutes.
DONE!
For those gardeners in your life – Gardener's Hand Scrub.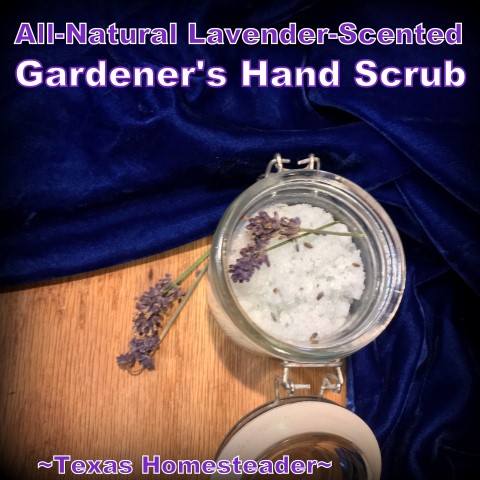 I mixed it up & put it all in a repurposed flip-top jar and added a cute label.
This hand scrub is simply made with
I scented my gardener's hand scrub gift with *Lavender Essential Oil.
Pink Himalayan Mineral Bath Soak Gifts
I made these cute gifts for a ladies group I belonged to.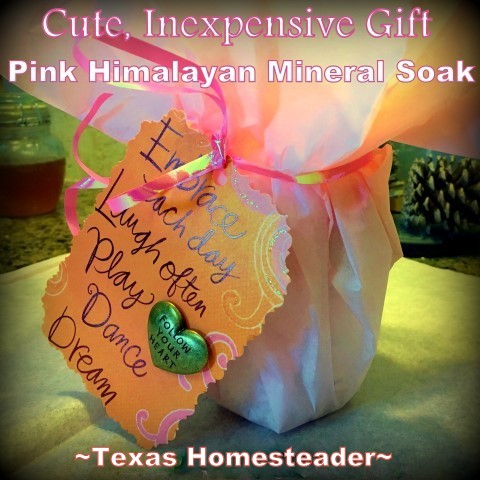 I used small 1/2-pint mason jars but you can use any repurposed glass jar. Then fill them from a larger bag of inexpensive *Mineral Salt Bath Soak.
You can make a jar for everyone in your office fast & for very little money and almost no time at all.
We made these for our grandchildren and also a slightly larger set for my dad one year. (Oh, and pairs for ourselves too – we love these!)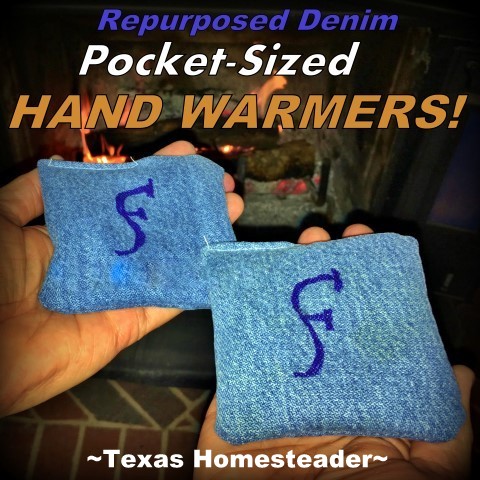 Just cut out squares of denim from old worn jeans, fill with cheap *Bulk Rice mixed with a few drops of *Essential oil fragrance.
You can embellish the front by drawing a design using a permanent marker. So fun, so quick & so easy.
For someone with a wood-burning fireplace or a camping enthusiast, these waxed pinecone fire starters were a hit.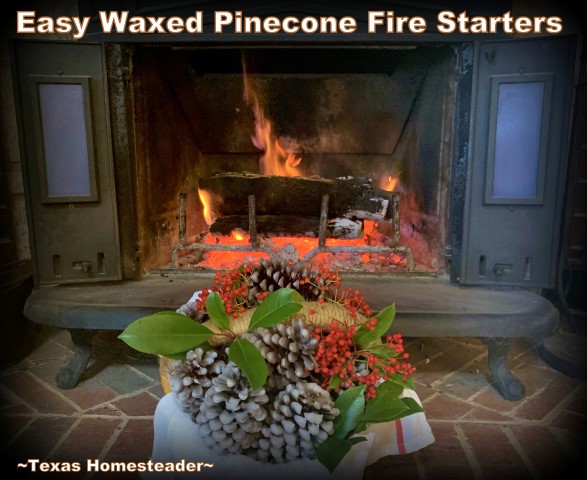 Simply pick up a few pinecones and gather a few old half-burned scented candles. Melt the wax and roll the pinecone in the wax to coat the tips.
I like to gift them in a large thrift-store basket. It makes a beautiful gift that's functional too, and it costs almost nothing.
I wanted a gift to go with some homemade vanilla I made one year. So I grabbed a clean pint jar and mixed up a chocolate chip cookie recipe in a jar.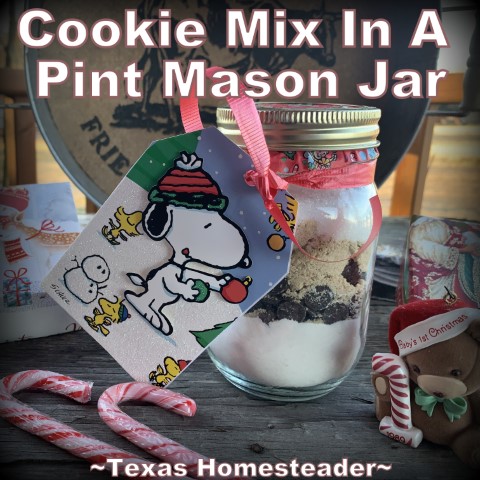 I like that I could use a 16-ounce pint jar instead of the larger quart-sized jars.
So you can make lots of these cookie mix jars in minutes with standard pantry ingredients & clean repurposed mason jars.
Homemade hot cocoa dry Ingredients can be placed in bags and tucked into large coffee mugs.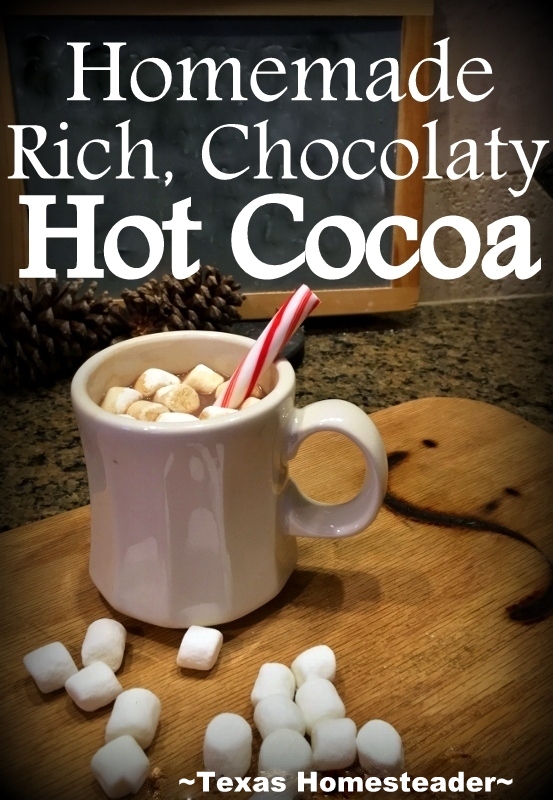 Add a candy cane stirring stick and you have a gift that comes together in minutes.
You can make this gift even faster using chunky thrift store mugs with packets of *Hot Cocoa Mix inside!
This has always been one of our favorites – experience gifts!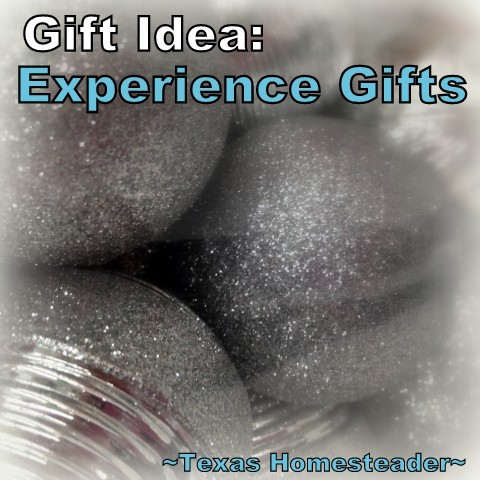 We often get to enjoy the gift right along with the gift recipients. We've gifted a 'dinner with us at a favorite restaurant' to our parents, and for our grandchildren we've gifted several different experience gifts that we enjoyed with them:
If you live far away you can still gift experiences such as zoo membership, concert tickets, museum passes, etc
Quick Homemade Food Gifts
Sometimes you want to present a food gift, but still don't want it to take too much time or money. I've gifted Homemade Granola and No-Knead Bread on numerous occasions.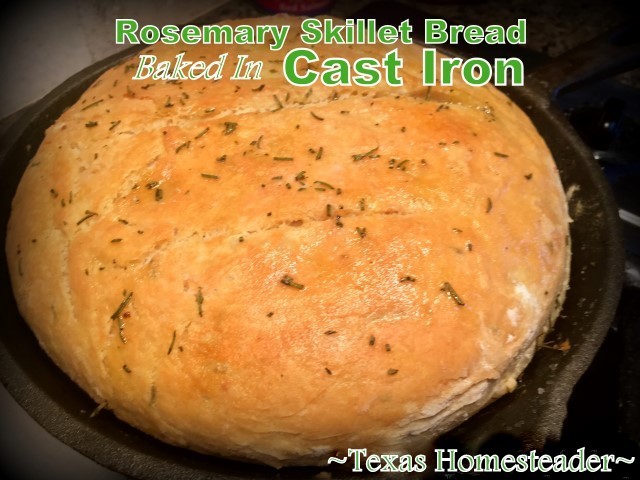 The Pumpkin Granola can be dressed up in a pretty jar. Add a festive ribbon & you're done.
The No-Knead Skillet Bread can be made & gifted in a brand new *10″ Cast Iron Skillet as part of the gift. Or simply wrap the bread with plastic wrap and embellish with a pretty bow.
These gifts of homemade food have always been very appreciated.
What are your favorite fast last-minute gift ideas?
~TxH~
Other Christmas Posts You Might Like:
Gift Ideas
Eco-Friendly Gift Ideas: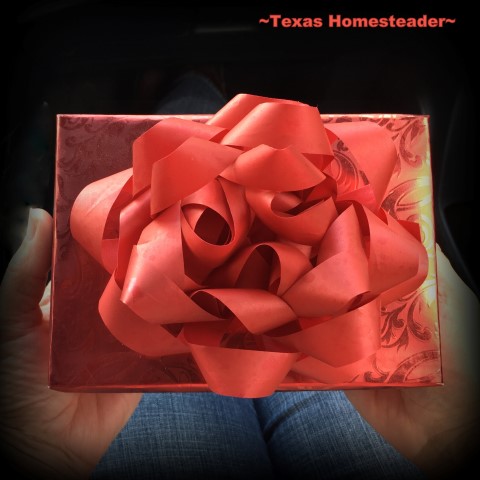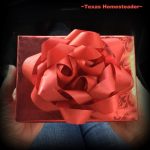 Low-Waste Gift Wrapping & Presentation

C'mon by & sit a spell! Come hang out at our Facebook Page . It's like sitting in a front porch rocker with a glass of cold iced tea. There are lots of good folks sharing! And you can also follow along on Pinterest, Instagram & Twitter
If you'd like to receive an email when a new blog post goes live,
subscribe to our Blog!