by Texas Homesteader ~
Looking for Christmas ideas? Everything from homemade gift ideas to how to quieten the noise and stress to create a holiday you love. Well you've come to the right place!
Today I'm sharing a roundup of my Christmas Ideas posts and there's some good reading here! So grab some coffee & come stay a spell…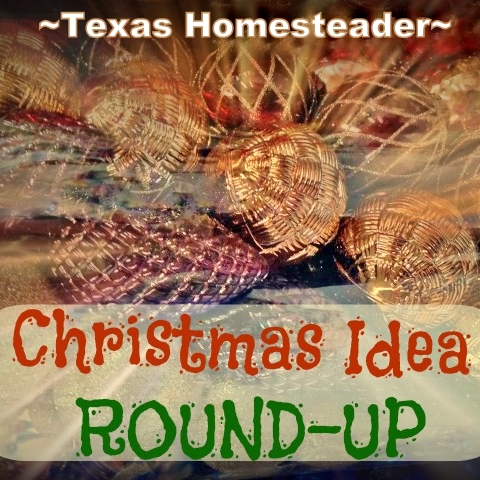 Whaaaa….?? Is it already time to start thinking about Christmas??? Well it is if you plan on giving homemade gifts this year – you'll need a running start so give yourself plenty of time.
I've written many times about our Christmas traditions here on the Homestead. RancherMan & I try to make our gifts homemade and we're almost always successful in giving our family & friends great gifts from the heart.
Of course there are times when gifts must be purchased instead but even then we try to make sure the gifts we give are gentle to the earth.
Make Your Holiday Meaningful
First things first. To make sure you enjoy the season to the fullest you need to review how you feel about the way you typically spend the holidays.
Are they fun and meaningful and viewed with anticipation or do you find yourself stressed and anxious each & every year?
If it's not all you wish it could be, maybe it's time to make a change. I'm sharing various posts about how we make our holiday more meaningful and less stressful. Links are included in each section to read more for each category.
How Will I Provide Christmas?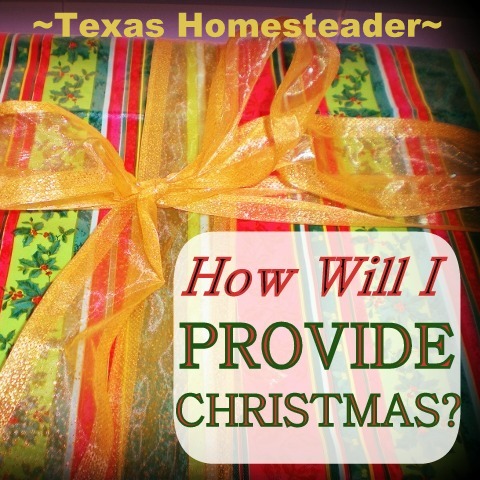 Sadly some families who are barely making ends meet are also struggling with how they will "provide" Christmas for their loved ones.
If that sounds like you, it's time to step back and take a look at your perceived obligations. It may be helpful to read my thoughts on exactly what it means to "Provide Christmas".
How To Scale Down Christmas Decorations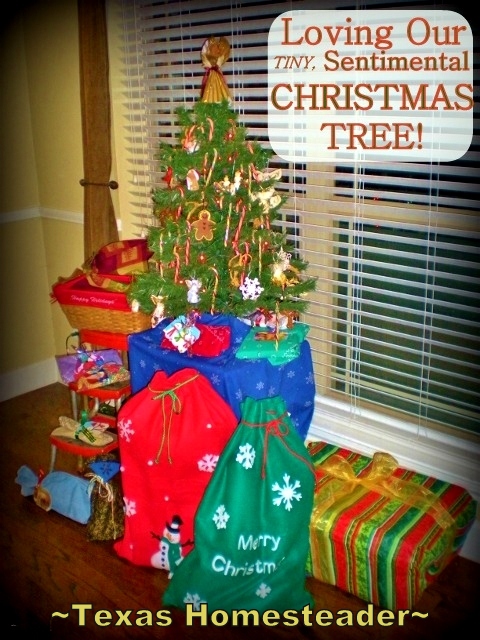 Do you silently groan at the thought of elaborate decorations during the holidays? RancherMan & I did too.
Oh we love Christmas and all the sparkly fun of it. But years ago we decided to scale it down a notch or two and we couldn't be happier with this new balance.
If you're looking for a way to relax the hubbub a bit, don't be afraid to bring rethink the extensive decorating of the holidays past and try smaller scaled-down Decorations this year.
Inexpensive Homemade Gifts From The Heart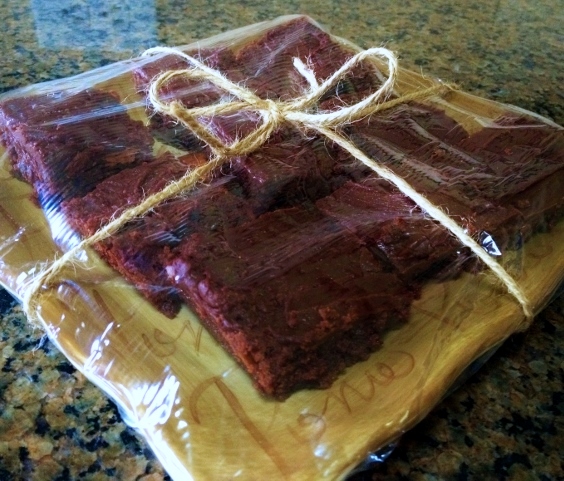 And how about homemade gifts? Several years ago we adopted a homemade gift policy and RancherMan & I try to make all our gifts ourselves.
Yes it takes more time, but we feel like we're living our values by providing fun or beautiful, meaningful gifts directly from our hearts and hands. And that's a gift that can't be purchased at any price.
If you're not sure where to start, check out the Homemade Christmas Gifts we've given in the past.


(Note, if you'd like to give handmade gift items but don't have time to to make them yourself, I often several of our handmade items in my e-Bay Store.
It's a great way to support this blog. Thank you!
Low-Waste Gift Basket Decorations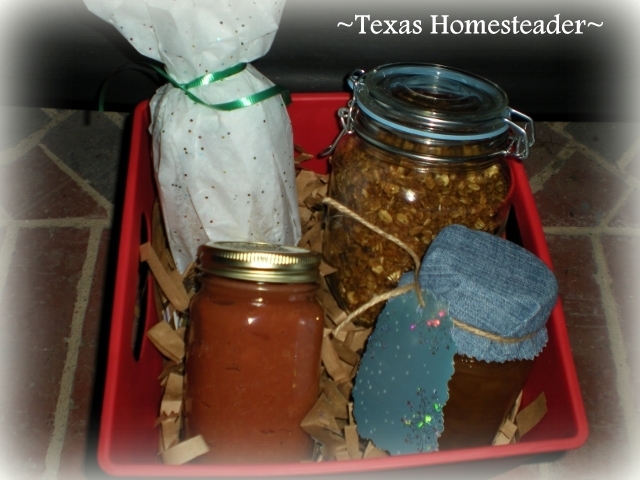 One of our favorite homemade gifts to present to our children are baskets of homemade goodies we've tackled throughout the year.
Included in our gift baskets can be anything from homemade soaps to bird feeders, gourmet pastas to home-grown and canned goodies.
Bonus points are scored for low-waste ideas we think about each year to present those Homemade Gift Baskets!
Environmentally-Friendly Gift Ideas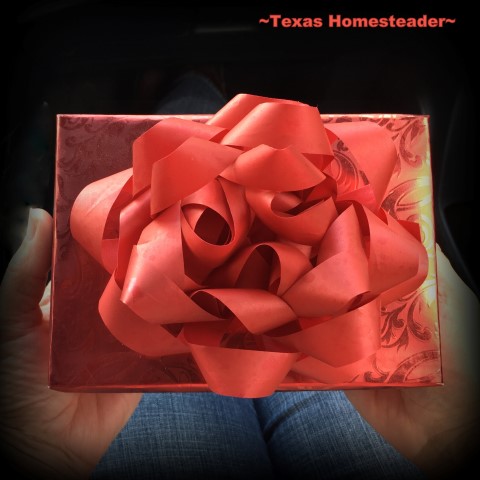 Sometimes even though you desire to make all your gifts yourself, it just won't work for everyone on your gift list.
We've found that there are still lots of fun Environmentally Friendly Gift Ideas out there. You can even read about RancherMan's & my favorite Gifts Received Last Year from our friends & family.
Low-Waste Gift Wrapping Options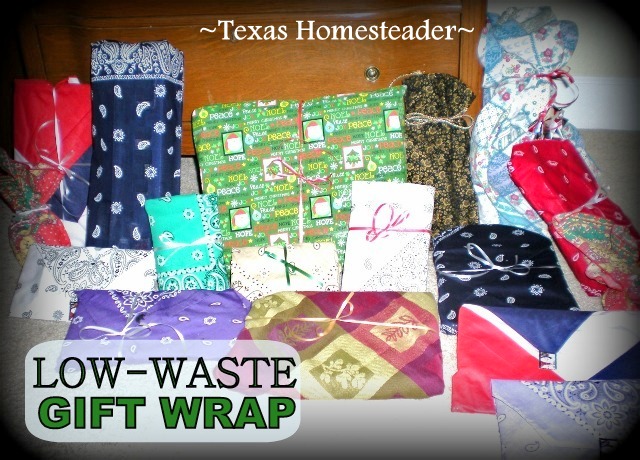 Speaking of reducing holiday waste – I've always been very disturbed about the massive amount of waste that surrounded gift giving during the holidays.
It seemed like there were ten minutes of frenzied unwrapping and then the room was piled high with trash – wrapping paper, bows, tags, etc.
So several years ago I incorporated a low-waste gift wrapping policy. No piles of trash headed to the landfill after Christmas gift unwrapping.
Looking for ideas? Check out my Low-Waste Reusable Christmas Wrapping Ideas.
Better Zero-Waste Cloth Wrapping Tip
I've always used low-waste wrapping principles for our gifts But an even faster & easier low-waste wrapping tip is to use Furoshiki. (the Japanese art of quickly wrapping & transporting in cloth)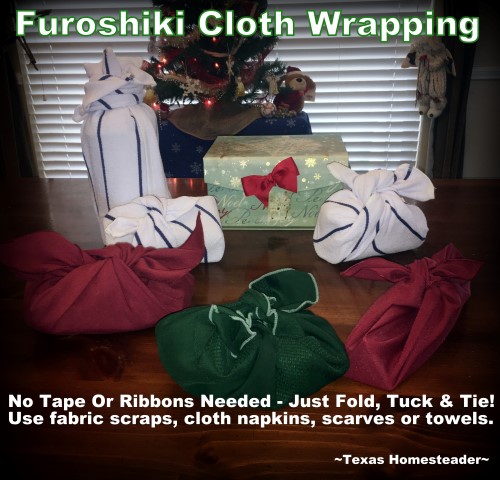 I can wrap a gift in seconds by wrapping/tying cloth. And I often just use our deep red or dark green cloth napkins to wrap RancherMan's gifts in. So pretty, so festive, so low waste!
Or you can use the cloth as part of the gift – a new scarf or new pretty kitchen towels for example.
Remember It's Not Always As It Appears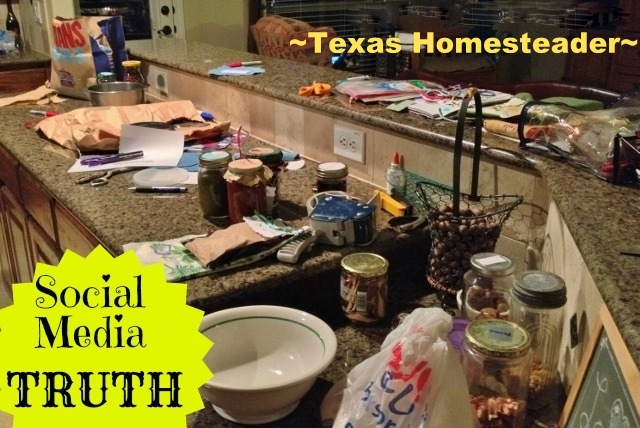 Christmas should be a fun and meaningful holiday. For RancherMan & me it's one filled with celebrating the birth of our savior and spending quality time with family & loved ones.
But sometimes people start to feel inadequate when reading about their friends' seemingly perfect M

artha-Stewart styled Christmases online.
They begin to compare their normal everyday life to the sparkly perfection they're reading about on their friends' posts.
Please, please, PLEASE don't mistake the Shiny Perfection you're seeing on Social Media with the whole story of that person's life. They're just sharing a fun day's activities online.
But they have their messy times too, just like you do. Trust me on this.
Find Your Holiday Balance
In the end, how you choose to spend your holiday is up to you. What works for some families won't work well for another.
So take charge and plan the holiday that YOU want it to be!
~TxH~
Other Christmas Posts You Might Like:
Gift Ideas
Eco-Friendly Gift Ideas: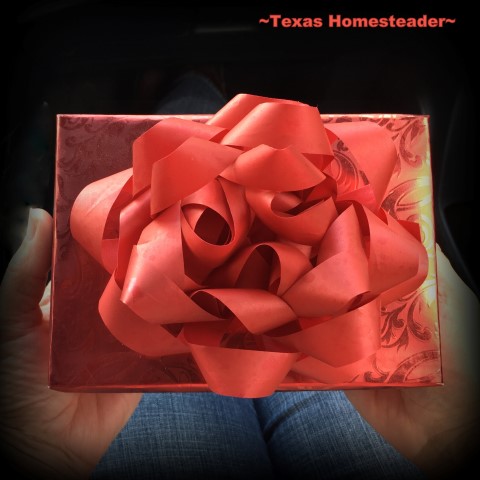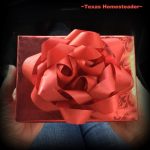 Low-Waste Gift Wrapping & Presentation

C'mon by & sit a spell! Come hang out at our Facebook Page . It's like sitting in a front porch rocker with a glass of cold iced tea. There are lots of good folks sharing! And you can also follow along on Pinterest, Instagram & Twitter
If you'd like to receive an email when a new blog post goes live,
subscribe to our Blog!
Save
Save