by Texas Homesteader ~
Earlier I told you about this year's experience gift to our grandchildren. We took them to a Ninja Warrior Obstacle Course called Urban Air.
This facility was a trampoline park as well. So there was lots of physical fun had by all the kids.
But since they came home with us to spend the night, we thought it would also be fun to take them to a rock-climbing experience the following day!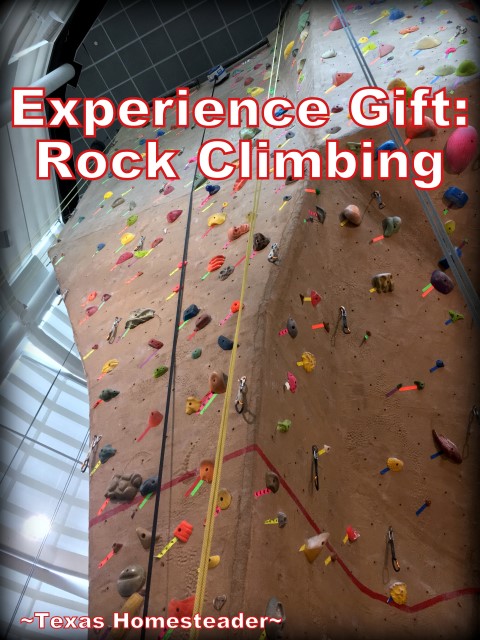 We try to plan our experience gift in secret without the kids knowing what it will be. We called ahead and found that the rock climbing facility we were looking at had plenty of beginner options and that none of the kids (ages 10 – 15) would be too young to participate.
Three of the four grandkids had never even been rock climbing before. Now that they knew that's where they were going, they were all pretty excited.
Rock-Climbing Gear
When we arrived at the rock-climbing facility there were liability forms to complete of course, and special rock-climbing shoes were issued to the kids.
The shoes fit pretty tightly and had flexible rubber bottoms to offer lots of grip to help them on their ascent.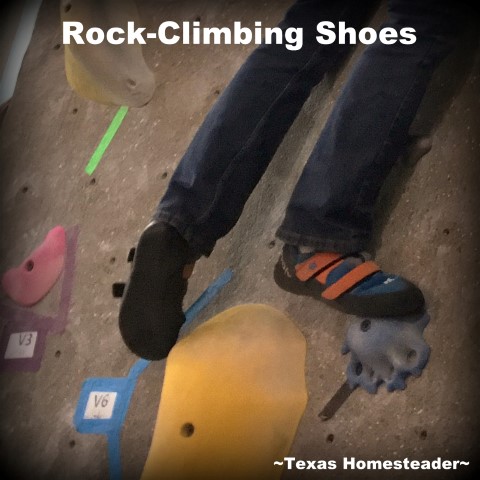 Then the staff member gave the kids instructions on how to fit into their safety harnesses. RancherMan & I helped them get into their gear and made sure everything was tightened down securely.
And RancherMan even decided to get into climbing gear as well and try his hand at rock climbing along with the kids. I decided that my job however was to take pictures. LOL
Tackling The Rock Climbing Wall
The kids were pretty intimidated at first when they looked up at the wall. It looked so high and dangerous!
But the instructor reminded them that they would be securely strapped to an auto belay device. This is a heavy rope & clip that are attached to an auto device which keeps tension on the rope as the kids climb. And if they fall, or even purposely release from the wall, it will let them down gently.
The first few climbs were pretty tentative and they only went up a few feet before their nerves got the best of them and they released from the wall.
But as they learned that the auto belay would not let them fall, they tackled that wall with relish!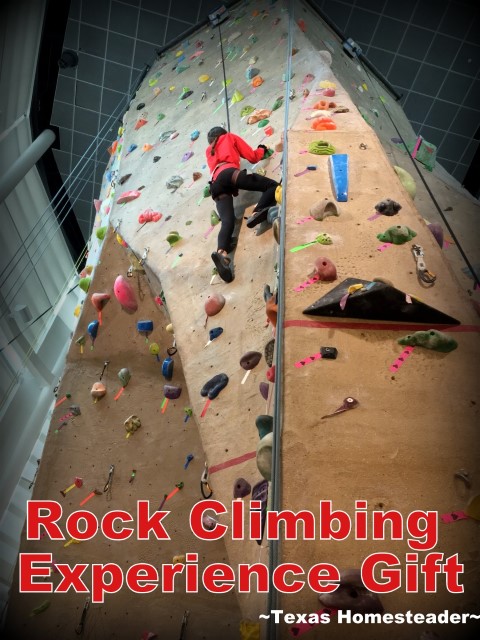 Bouldering Wall
Our oldest grandson climbed the wall a few times too of course. But he was more fond of the 'bouldering wall' which was another area of the rock-climbing facility.
It featured a wider surface mimicking a boulder with climbing grips the same as the rock-climbing wall had. It wasn't as high up so it didn't require a harness or ropes.
There were thick, soft cushions below to buffer your fall (or jump) from the boulder. The instructor did request if you were going to jump from the boulder that you descended a few feet just to make sure the fall was properly cushioned.
Different sections of the boulder were appropriate for different challenge levels. So the kids could start at one side of the boulder and work their way to more challenging climbs as they felt more comfortable. There was something for everyone.
Headed Back Home
When the kids had been climbing for hours and were thoroughly exhausted, we gathered them up and went for a bite to eat before heading back toward Dallas.
Thankfully our son and DIL were meeting friends for supper that night so they met up with us close to the restaurant. That saved us about an hour extra on the road than if we were going to their home to drop off the kids. Thanks son!
When all the grandkids were safely back home, RancherMan & I finally made the trek to our homestead. WHEW – we're exhausted!
But living out here, we don't feel we have near enough time to be with our precious grandchildren as we'd like. We had a blast being with the kids, and we know they all had a blast as well.
This experience gift idea is something that I feel benefits all – the kids get to have fun with us and with their cousins too.
And RancherMan & I get a chance to spend time with all of them as well. The blessing of family – what a wonderful gift!
~TxH~
Other Christmas Posts You Might Like:
Gift Ideas
Low-Waste Gift Wrapping & Presentation


C'mon by & sit a spell! Come hang out at our Facebook Page . It's like sitting in a front porch rocker with a glass of cold iced tea. There are lots of good folks sharing! And you can also follow along on Pinterest, Instagram & Twitter
If you'd like to receive an email when a new blog post goes live,
subscribe to our Blog!