by Texas Homesteader ~
RancherMan & I are able to live & work right here in a place we love. We hated city life, long commutes, office politics and the daily grind. But now living this life in the country means we need to be extra mindful of our financial resources.
The good news? It's super easy and isn't a sacrifice at all. It's just a different way of looking at various circumstances.
Take this week for instance. Here are 5 frugal things we did to effortlessly save money.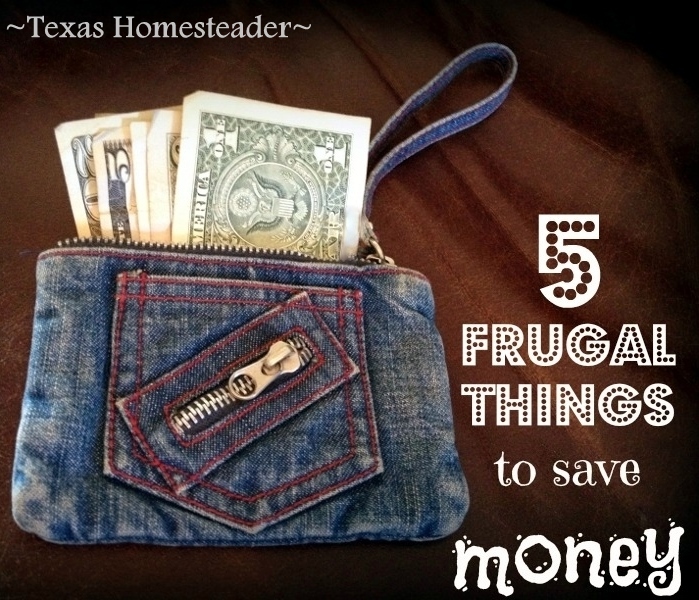 Our weather here in NE Texas has been wonky. One day it's nice, unseasonably warm and sunny. Then it's cold and rainy. There's even been snow! So I've tried to pick & choose my daily tasks to work with the weather. I choose outside chores on the warmer days, inside stuff when it's nasty out.
1 – Free Stuff For The Garden
On a sunny day I got into my garden and started preparing it for spring. I first worked on my garden walkways. My community volunteer work gives me access to lots of free cardboard. So I brought some home & laid it down in my walkways. Then I covered it up with FREE wood chips. it looks nice, keeps mud at bay and will save me from struggling trying to keep weeds away. All for free – SCORE!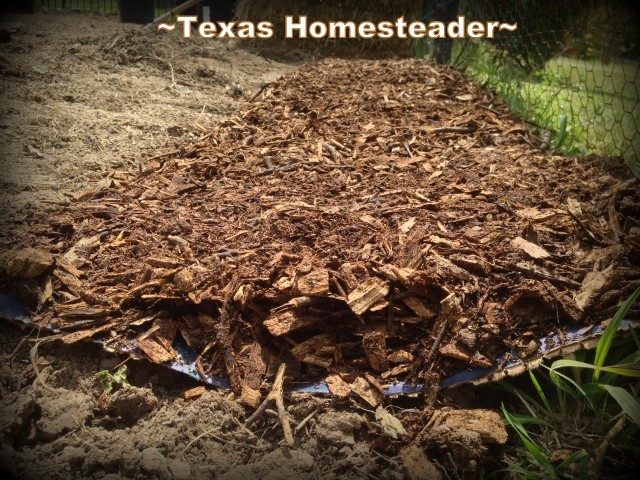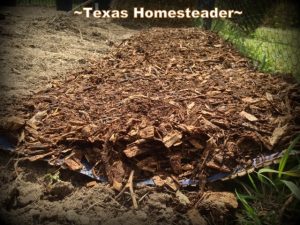 Then I moved some garlic I'd previously started in a large tub and relocated it into the garden. After it was replanted I mulched it with heavily for FREE with gathered leaves. The garlic loves this kind of mulch and it helps assure nice, plump heads at harvest!

2 – Diverting Food Waste Easily
On one of the colder days I stayed inside and focused on keeping our grocery budget low. I had some marked-down milk that had been frozen. Now's a good time to put it to good use. I thawed it and made it into Homemade Yogurt. RancherMan & I will enjoy it for breakfast and even as fruit & yogurt parfaits soon.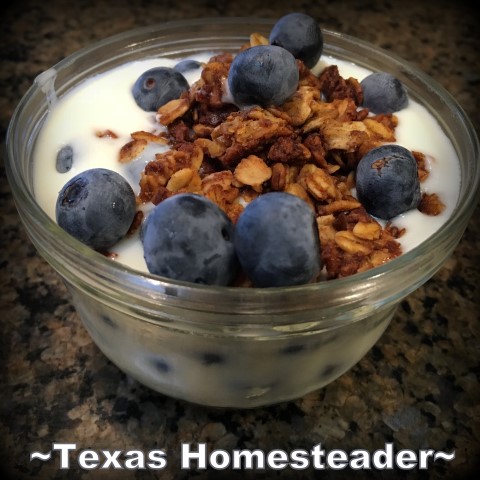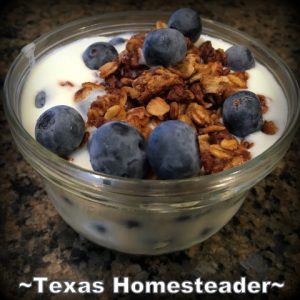 I also focused on fresh veggies that needed to be dealt with. For instance I had some gorgeous bright red bell peppers. But I was afraid they wouldn't all get used before they went bad. So I kept one back but roasted the rest for that delightful, deeper roasted flavor. Then I chopped them and froze them. They'll add both flavor as well as color to future dishes.
We also had a head of cabbage that I was afraid we wouldn't be able to use before it went bad. About 1/3 of the cabbage was cooked with onions & some of those gorgeous red bell peppers and it was delicious. Then I chopped the rest of it and used my *Excalibur Dehydrator to make Dehydrated Cabbage. I'll toss it into my simmering soups over the next few weeks.
3 – Inexpensive Treats & Desserts
I found a partial box of Rice Krispies cereal that was on the verge of going stale. So I whipped up a batch of Rice Krispie Treats for RancherMan's sweet tooth. There was no chocolate topping this time since I was just clearing out the stale cereal, but RancherMan still loved it.
That sweet tooth means RancherMan often likes to enjoy something sweet after supper. I have a nice repertoire of desserts I can whip up. But a heavy dessert after every meal just isn't a healthy option. So several times this week I placated him with a serving of canned peaches or fruit & yogurt parfaits topped with some of that homemade granola I'd just made.
4 – Coupling Coupons With Household Products
We were running low on several household items – toilet paper, toothpaste & such. So we eyed the coming weekend for coupons often offered at a local dollar store. Sure enough we were able to use that coupon to pick up those things and save $5 on our purchase.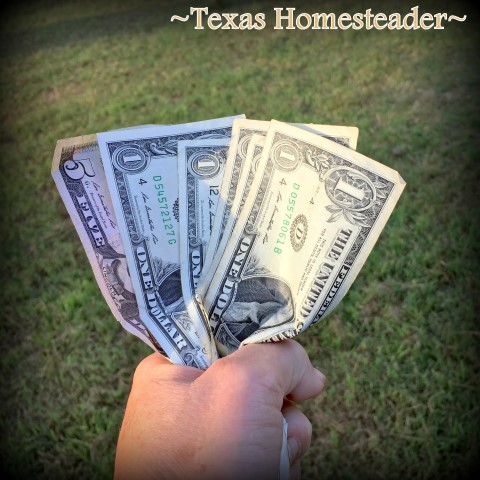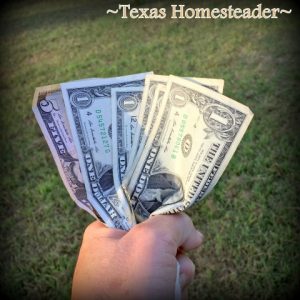 Sometimes it pays to hold off on replacing things until you can combine with a coupon to save some cash.
5 – Decluttered The House and Listed Items For Sale
On one of those cold and rainy days RancherMan and I started clearing out things we no longer used. We do this relatively often, it's our secret for Decluttering & Staying Decluttered. On this day there were several things I was able to offer to friends & family. I'm always delighted to be able to share. Several things went to the thrift store too.
But there were quite a few things that were listed for sale – clothes, makeup bags, mesh bags, etc. It's an easy way to pad the ole wallet while clearing out your living space too.
Frugality Every Day
There are other, I guess 'less post-worthy' ways we saved money this week of course. We ate our meals at home. It was easy, I use the Cook-Once, Eat-Twice method so there wasn't excessive time spent in the kitchen. This is a huge, ongoing money (and diet) saver, y'all!
I made yogurt and bread. Again, it didn't take lots of time in the kitchen. I now make Instant Pot Yogurt so it's pretty hands-off. And I've also adopted a delicious Honey/Oat Bread Machine Loaf so it's hands-off too. Hummm… I'm seeing a trend, aren't you? Yep it's true, I really don't like to cook. So shortcuts in my kitchen are a must.
We did laundry this week too. And even though it's January, we still hang our clean laundry on the line to dry. Sometimes it takes some planning around rainy days, but we're always able to either get it on the line or use our fold-out racks in the guest bedroom.
What are your favorite money-saving moves that you've made this week?
~TxH~
Links In This Post:
Other Frugal Tips
…and many MORE!


C'mon by & sit a spell! Come hang out at our Facebook Page. It's like sitting in a front porch rocker with a glass of cold iced tea. Lots of good folks sharing! You can also follow along on Pinterest, Twitter or Instagram.
If you'd like to receive an email each time a new blog post goes live it's EASY to
subscribe to our blog
Save