by Texas Homesteader
*This post contains an affiliate link
I have a raised-bed veggie garden and I love it. Gardening is in my blood and it's something I simply MUST do every year – it's not ever an option to forgo my veggie garden. There's just something about digging my hands into that moist dirt and coaxing plants from those tiny seeds, and then nurturing those plants until they produce healthy food for my family. I try to keep everything in my garden as natural as possible & I use a *compost tumbler to make my own compost – I can't recommend a tumbler highly enough.
It's especially beneficial for us living out here in the country since we planted our home right smack dab in the middle of a cow pasture. It's pretty native out here and there are lots of critters around outside – mice, rats, raccoons, coyotes, opossums and many more. My tumbler keeps my compost enclosed to keep the critters out of it. And it also speeds up the composting process. The task of turning the compost was something I had never been diligent about in the past, now I simply turn the barrel each time I empty something into it. Easy!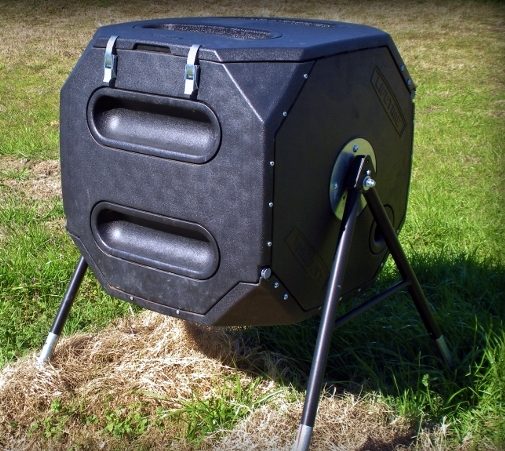 Convenient Composting
But as much as I love my tumbler, you'll never actually get finished usable compost if you keep adding fresh material to it. So when my tumbler gets semi-full I had been emptying it into a large feeder tub with holes drilled for drainage to allow it to sit a little longer to complete the composting process.
Then I begin once again adding fresh compostable material to the tumbler to start that process over. My tumbling composter is close to my kitchen door, but due to needing my garden area close to my underground cistern for irrigation, the composter isn't necessarily close to the garden.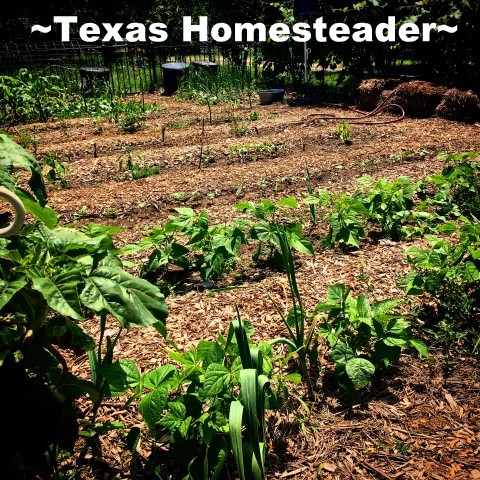 So in the past when compost was needed for the garden I would pull the finished compost out of the large feed tub and carry it to my garden to feed & nourish my veggie plants. But I hated toting it from one place to the other & I didn't like the look of the large hole-drilled tub next to my home – there just had to be a better way! I needed a compost bed right there in my garden area.
Building A Composing Area In The Garden
So at the end of the gardening season I had RancherMan bring the Bois D'arc posts that had been saved when we tore down the crumbling corral around the barn. Bois D'Arc is extremely rot resistant and highly valued for fence posts and building posts because of those characteristics, so we were careful to save them when we tore down the corral. He loaded them on the tractor and dropped them right over the fence into my garden area.
I lined several of them up against the garden's fence and laid heavy paper feed sacks along the ground in front of them to keep grass from sprouting up through my new compost bed.
Then I laid another line of Bois D'arc posts about 2.5 feet in front of the others and wrapped the paper feed bags up along the inside of those posts as well to make a paper tub to hold my compost while the posts keep everything contained. Then I added my finishing compost and topped it with hay cleaned out of our chicken coop.
This compost will now finish production right here in the garden area where I need it. I'll also use this compost bed to keep my grass clippings handy until they are thoroughly dried so I can use it to mulch those veggies during the heat of our Texas summers. I love that I have this important gardening feature right here in my garden now.
Soon I'll be getting ready to prepare my veggie beds for spring planting, and the compost is right there where I need it. Thank you RancherMan!
~TxH~
My Favorite Garden Hacks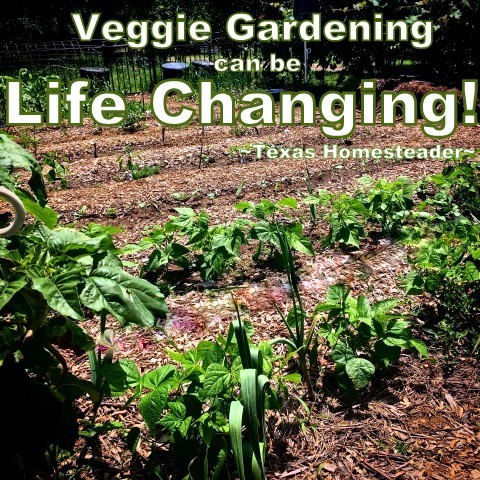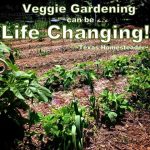 C'mon by & sit a spell! Come hang out at our Facebook Page. It's like sitting in a front porch rocker with a glass of cold iced tea – lots of good folks sharing! You can also follow along on

Pinterest

, Twitter or

Instagram

.
If you'd like to receive an email each time a new blog post goes live it's EASY to
Subscribe to our blog!
* A word about our Affiliate Link – We are currently enrolled as an Amazon Affiliate. Occasionally I will insert an affiliate link into one of my posts if I think it may be of interest to you, in this case a compost tumbler. I purchased the tumbler myself and receive nothing from the manufacturer, but I love it & thought you might too. If you click on any of my affiliate links and buy something (almost anything, not just what was linked) I get a small referral percentage from Amazon. But here's the really important part – the price you pay for your items is UNCHANGED.
When you buy something through the affiliate link it's a great way to support this blog without anything coming out of your pocket so please click often!