by  Texas Homesteader 
I like to cook from scratch whenever possible, and sometimes I have a little game I play that I'll call "How Homemade IS It??" Is it homemade in that I assembled the ingredients myself? That I grew the ingredients myself? That I even made the condiments myself?
Now let me make myself perfectly clear here lest some of you get the very mistaken idea that I'm a Kitchen Wonder Woman who only uses her own home-churned butter & homemade bread. Although I enjoy growing or making from scratch as much of our food as I can, it's not like I always prepare a completely from-scratch meal. And there are certainly convenience foods that play a part in my kitchen because for me it's all about moderation. But every now & then it's fun to play this game.
So pull up a chair & let's play the latest edition of the Texas Homesteader game: HOW HOMEMADE IS IT??

Turkey Salad Meat Was Almost FREE!
Today's contestant is a favorite sandwich spread for RancherMan – turkey salad. (applause…)
The base ingredient of course is turkey, which for today's contestant is the turkey meat that was remaining after a recent turkey dinner when the remaining carcass was boiled for my homemade broth. I'm always amazed at the amount of meat that is found after the broth is made. RancherMan & I are pretty ruthless in cutting away and freezing as much usable meat as we can from the bones before the carcass is relegated to the stock pot.
But each time I strain out the broth & begin to examine the remaining stockpot contents I'm surprised to see that after the bones, skin, etc are removed, there's still quite a bit of meat remaining. Enough today to make a hearty amount of turkey salad spread. So I chop the meat & place it in my container.
Homemade or Home Grown Ingredients
I add some chopped purple onions from the freezer. These are onions that I harvested from my garden earlier in the year. I had an amazing harvest of onions and I dehydrated several pounds of them as well.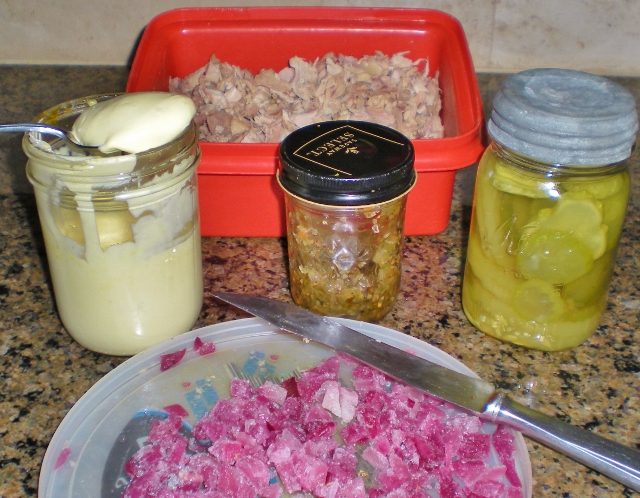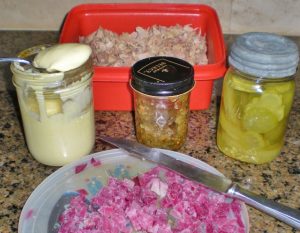 Now I bring out the sweet pickle relish. This jar was made from the cucumbers in last year's garden. RancherMan isn't a big fan of raw cucumbers but he loves sweet pickle relish to be added in his sandwich spreads. Cucumbers grow well here so I include them in my garden specifically for this use. (I've also discovered pear relish and RancherMan loves that even more!)
I also bring out my homemade dill pickles. These cucumbers were shared with me from a sweet friend's garden but they were not the special variety cucumbers for pickling so when I canned them the pickles came out a little soft. But soft pickles are perfectly fine when chopping finely to include in a sandwich spread.
Homemade Condiments Too
And finally I bring out my homemade mayonnaise. Sometimes I flavor my mayo with things from my garden such as garlic or herbs like thyme or rosemary. But today's mayonnaise is plain.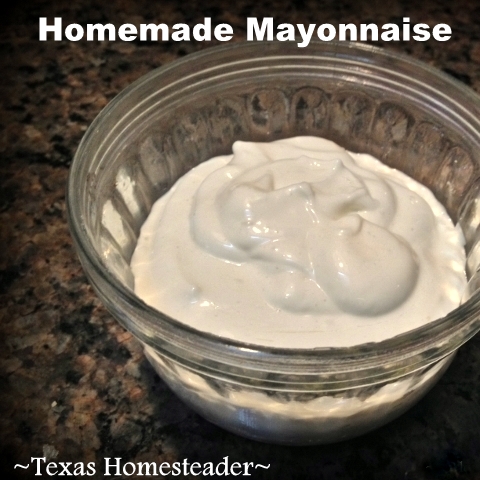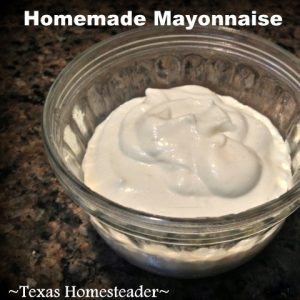 It's such a snap to make that I usually only make enough fresh to use in the spread and maybe a little leftover in the jar in case RancherMan wants a turkey-slice sandwich instead.
(UPDATE:  Here's the sandwich spread game-changer, y'all…  Baconnaise!)
After spreading the turkey salad onto RancherMan's favorite KitchenAid Sandwich Bread, I top it off with chopped chives from my kitchen windowsill and fresh greens from my edible landscape just outside the front door. I love that this delicious sandwich spread is for the most part VERY local & creates precious little landfill trash too.
So there ya go – the conclusion of today's episode of 'How Homemade IS It??' (applause…)
Do you ever play such games when preparing your family's meals?
~TxH~
Other Kitchen Homestead Hacks


C'mon by & sit a spell!  Come hang out at our Facebook Page. It's like sitting in a front porch rocker with a glass of cold iced tea.  There are lots of good folks sharing! 
And you can also follow along on  Pinterest,  Twitter,  Instagram
If you'd like to receive an email when a new blog post goes live,
subscribe to our Blog!
Save
Save
Save