by Texas Homesteader ~
*affiliate link
I always cringed when RancherMan would fill my tractor with fuel. He'd try his best to be careful not to spill fuel, but it's neigh impossible when the fuel lid is on the top of the tractor.
I found this fuel can design solves the problem of trying to hurry & get the spout into the fuel tank before spilling fuel. Love, love, LOVE THESE!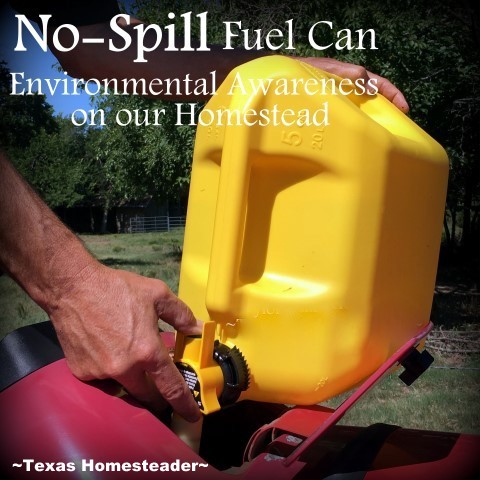 (Note: Some links in this post are for further information from earlier posts I've written. But links preceded with * are affiliate links. If you click them and buy something (almost anything, not just the item noted) I could receive a tiny commission. But the price you pay will NOT change. It's an easy way to support this blog without anything coming out of your pocket. So click often! Thank you!)
Tractor Chores
Living and working on a NE Texas ranch means RancherMan & I spend lots of time on our tractors. He has a heavy-duty red beast of a tractor and I have a smaller one that we affectionately call 'Ole Blue'. She's very reliable older-model Ford tractor.
When I became a breast cancer survivor, RancherMan painted the wheels of Ole Blue bright pink in celebration! (How much do I love him??)
Aaaaanyway he often prepares for the day's tasks by fueling both tractors. As much as I love 'Ole Blue' it always made my crunchy-green heart CRINGE when RancherMan would put fuel in her. Almost every time the fuel would spill all along the top, drip down the sides and onto the grass.
Of course I'd never say anything to him. He knows how I hate it and he tries his best to deliver the fuel without spilling but the design of a typical fuel can makes it almost impossible…
Fuel Can Design
With the design of the typical 5-gallon fuel can it was always hard to get the fuel from the can to my tractor's fuel tank without splashing corrosive diesel on my tractor and even spilling some onto the pasture grass.
OOHHHH, my heart! There just had to be a better way!
So I did some research and found a No-Spill fuel can. At once I decided I needed to have this on our homestead ASAP!
I contacted the No-Spill people and explained my environmental frustration. Oh happy day – they agreed to send a No-Spill can to us for our review.
Now although this can was received at no cost to me to try out & review, please remember that my words will be my own. I'll share the real story with y'all, no fluffy obligatory stuff from me, oh no!
Receiving My No-Spill Fuel Can
So they shipped the can to us & after much anticipation it was finally received, I couldn't wait to try this bad boy out! You can see from the picture below how the design is very different than our old traditional fuel can.
The red one on the left is the fuel can we typically use. The spigot on top is flexible and it's designed for you to put the spigot into the fuel tank. To dispense fuel you must tip the can once positioned on top of the tractor.
But since the fuel cap is on the top of the tractor you have to tip such a long way to get the spigot into the tractor's fuel tank. In our experience there's always a hearty splash of fuel on top of my tractor that drips down to the grass. (wince!)
But the yellow fuel can on the right is the No-Spill can. Its design is supposed to make it easier to fill tanks that are on top of the equipment such as our tractors.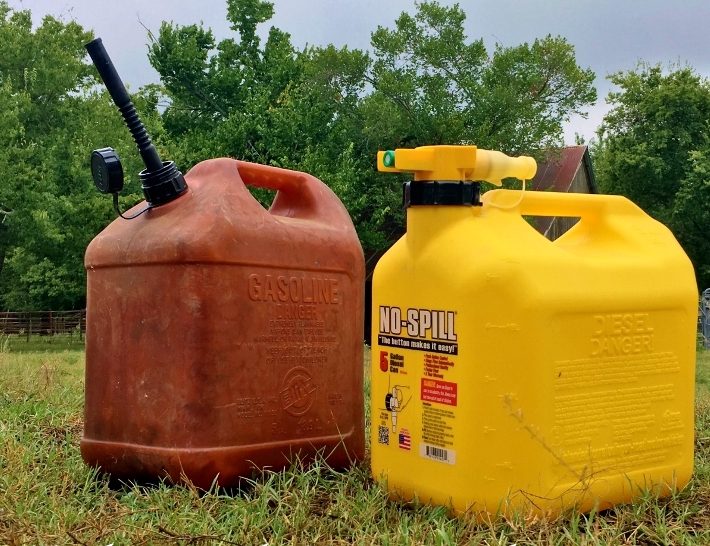 This is accomplished because you can position it first – then and only then do you start dispensing the fuel.
Sure that sounds like a great design but does it really work that way?? Let's try this bad boy out…
Trying Out The No-Spill Fuel Can
So RancherMan took a quick trip to the gas station, filled the No-Spill fuel can and brought it back to the Homestead. He removed my tractor's gas cap & hoisted the 5-gallon can to the top of the tractor.
Then he leaned the gas can over & put the spigot into the tank's opening. No splashes, no spills.
Oh man, I can already tell I'm gonna LOVE THIS!
When he got the fuel can into position he simply pressed the button on the fuel can's spigot and fuel began to flow into my tractor's tank.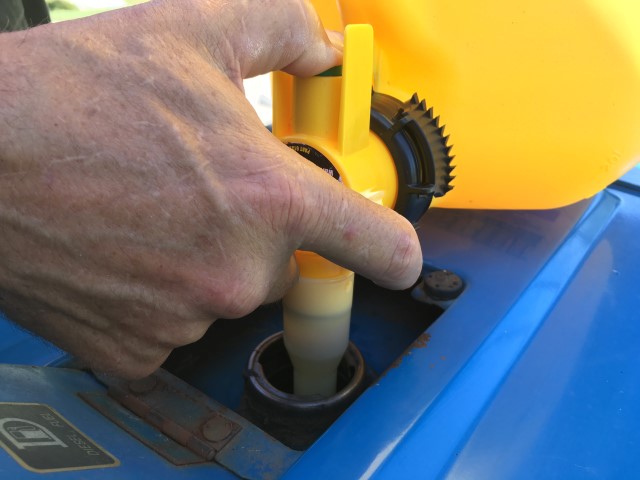 The spigot has an automatic vent so he had to do nothing further. As long as he was pressing the button on the spigot, fuel would flow.
When he released the button the fuel stopped flowing (but I'm reading that the spigot design causes the flow to stop automatically when the tank is full.) When he removed the no-spill fuel can there was nary a drop of fuel on my tractor nor on the ground.
OMGosh why haven't we had these nifty fuel cans all along??!! Now I know I'm full-on sounding like a star-struck groupie here folks but truly:
I. Love. This. Thing!!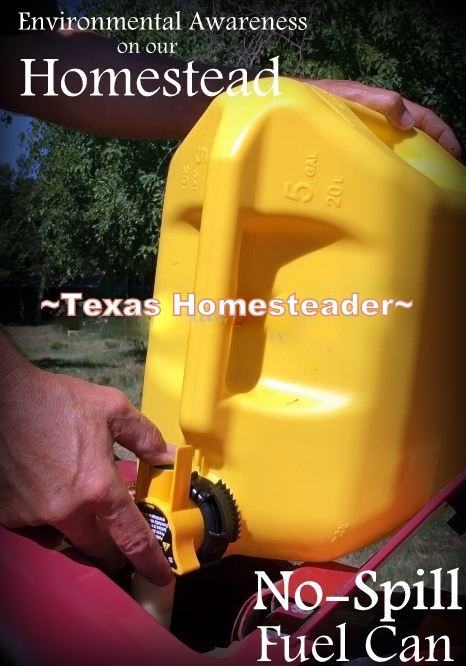 Don't Walk, RUN and Get One NOW!
In reading the specs I see that the can has a self-venting, self-sealing nozzle to dispense fuel smoothly without spilling. Plus it's said it flows up to 3 gallons per minute!
It's made in the good ole U.S.A. & comes with a 3-year warranty too. Dang y'all, I'm just seeing no drawback whatsoever to this No-Spill fuel can!
If you hate spilled fuel as much as I do don't wait. Go get this No-Spill fuel can NOW! I found them online at *Amazon here so you can have it shipped right to your door!
Now that I can properly protect Ole Blue's paint job as well as show environmental responsibility in our pastures, peace & harmony reign once again at our Homestead!
~TxH~
Other Eco-Friendly Posts
…and Many More


C'mon by & sit a spell! Come hang out at our Facebook Page. It's like sitting in a front porch rocker with a glass of cold iced tea – lots of good folks sharing! You can also follow along on Pinterest, Twitter or Instagram.
If you'd like to receive an email each time a new blog post goes live it's EASY to
Subscribe to our blog!
*Affiliate link Amazon
Save
Save
Save
Save